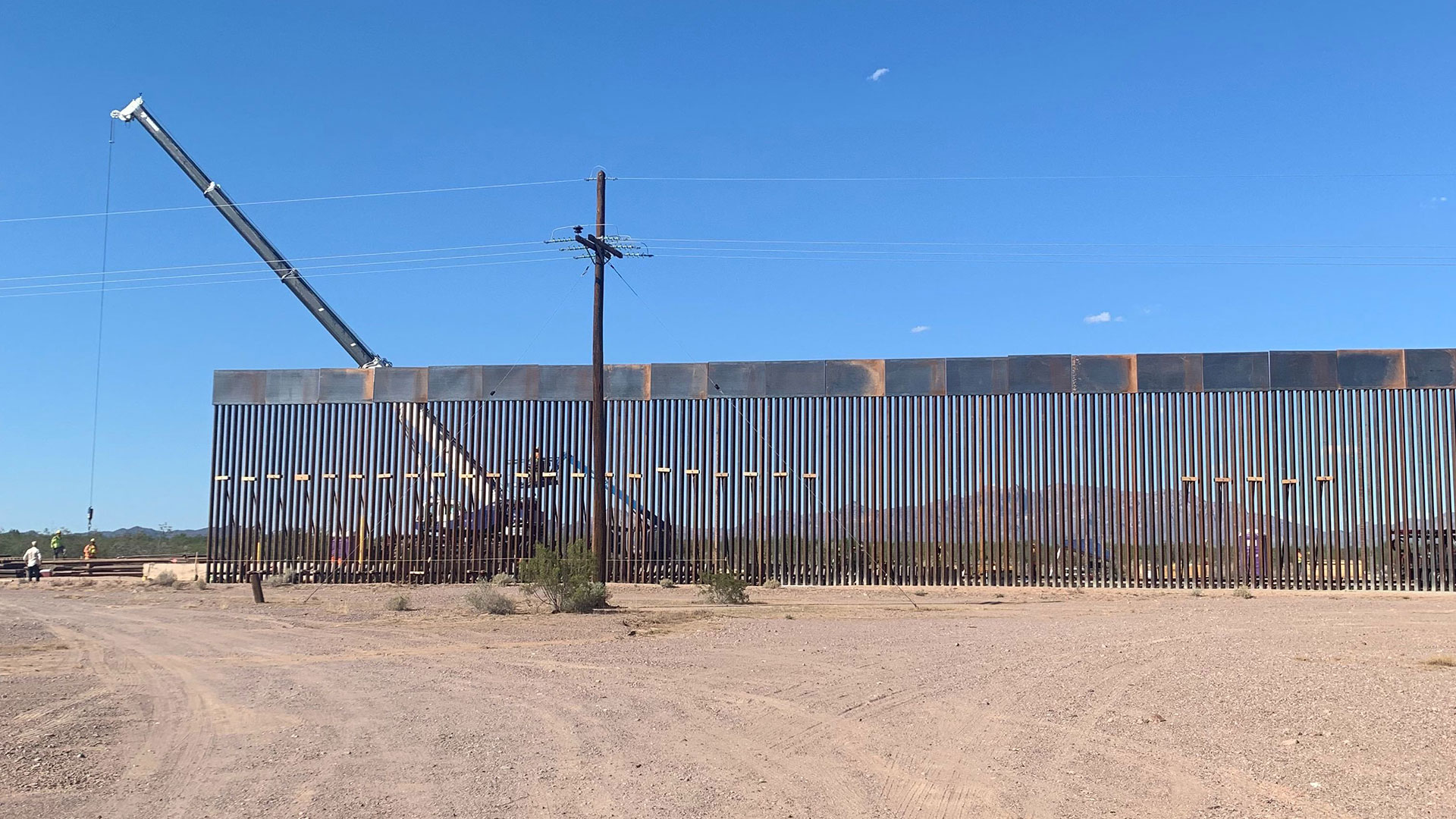 Construction on new border wall fencing at Organ Pipe Cactus National Monument in September, 2019.
Vanessa Barchfield/AZPM
Construction of new border fencing could destroy up to 22 identified archaeological sites and harm lands important to area tribes for centuries, according to a report by the National Park Service.
In June, archaeologists with the National Park Service surveyed about a third of Organ Pipe Cactus National Monument's 30-mile border with Mexico. Previous archaeological studies of the so-called Roosevelt Reservation — the 60-foot stretch of land on the international boundary — identified 17 sites which "likely will be wholly or partially destroyed by forthcoming border fence construction," according to the internal report obtained by the Washington Post.
The team identified five new sites during the June survey, two of which they recommended as eligible for listing in the National Register of Historic Places because of their anticipated importance regarding precontact occupation and trade patterns.
The Trump administration has been racing to get its promised border wall built. After the Department of Homeland Security awarded contracts for wall construction in Arizona earlier this year, the National Park Service decided to gather baseline archaeological information on previously unsurveyed areas in Organ Pipe Cactus National Monument.
According to the report, archaeological evidence of human presence at perennial desert spring Quitobaquito extends back thousands of years. The land encompassed by Organ Pipe Cactus National Monument has been an important regional trade corridor, with Quitobaquito serving as a vital stopping point for O'odham traveling to the Gulf of California for salt.
That history remains important to tribes today. According to the report, living members of various O'odham communities trace their lineages to a village near Quitobaquito, and the area continues to play a critical role in the social, economic and ritual lives of present-day O'odham groups.
Tohono O'odham Nation Chairman Ned Norris Jr. told the Washington Post that his tribe remains opposed to any new border fence construction.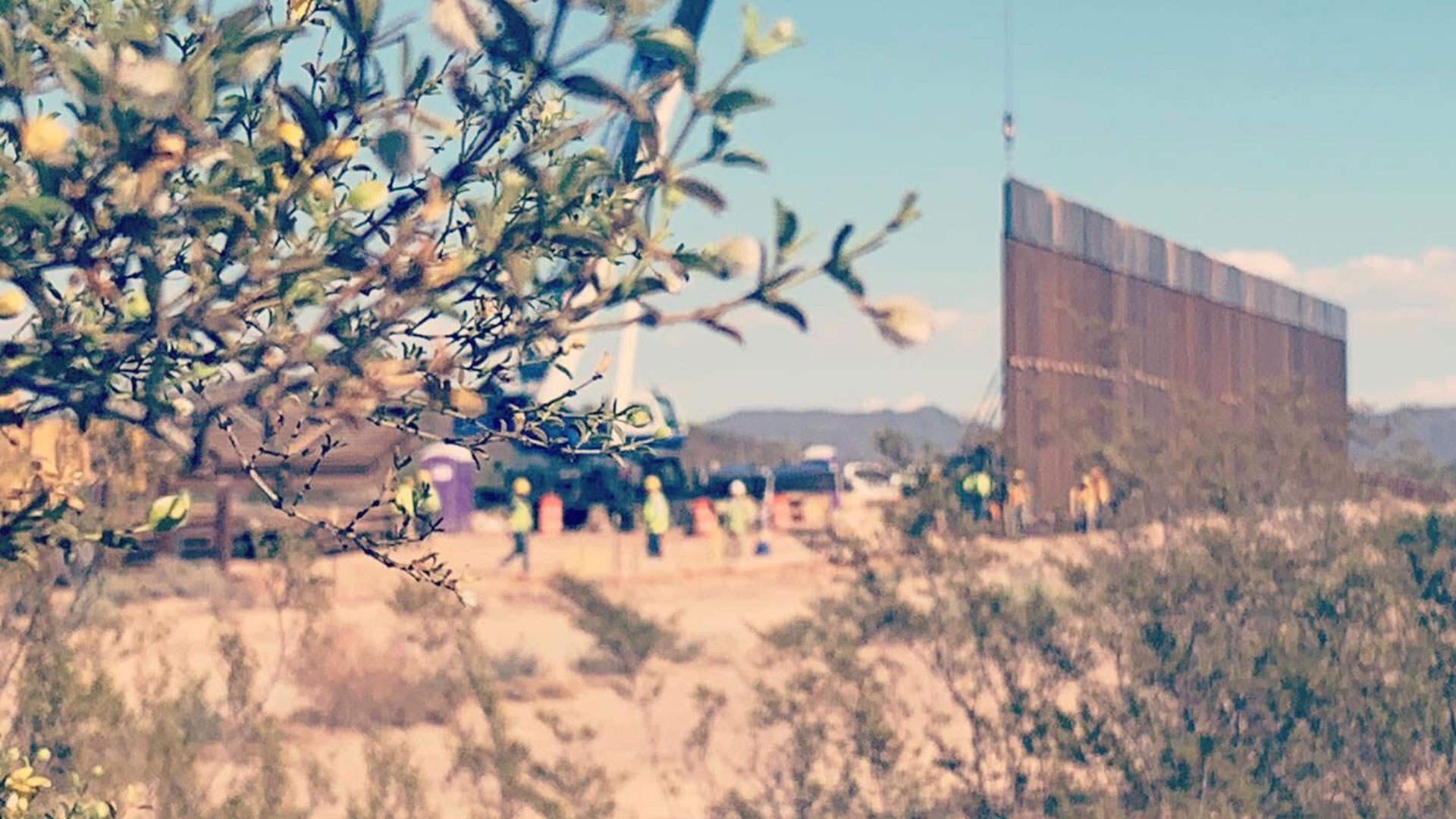 VIEW LARGER New 30-foot high steel bollard-style fencing being installed along the U.S.-Mexico border at Organ Pipe Cactus National Monument.

Vanessa Barchfield/AZPM
Customs and Border Protection has been scant on details about the border wall. But the basics include replacing existing barriers with 30-foot high steel bollard fencing, with a foundation 8-10 feet deep. The project also includes building or expanding roads and installing spotlight and surveillance equipment. Construction of such fencing in Organ Pipe has already begun on a 2-mile section near Lukeville.
In addition to the 22 identified sites, the report states there are likely more significant, unrecorded buried archeological sites that will be destroyed during border wall construction.
The report also points to evidence of the damage existing border wall fencing has done to one site, by acting as an inadvertent dam and allowing erosion from floodwaters coming across the border.
According to the report, Organ Pipe Cactus National Monument resource managers are now developing plans for the broad-scale recovery of threatened archaeological resources along the park's southern boundary.
National Park Service officials routed interview requests to Customs and Border Protection, which neither made anyone available for an interview nor provided a written statement.