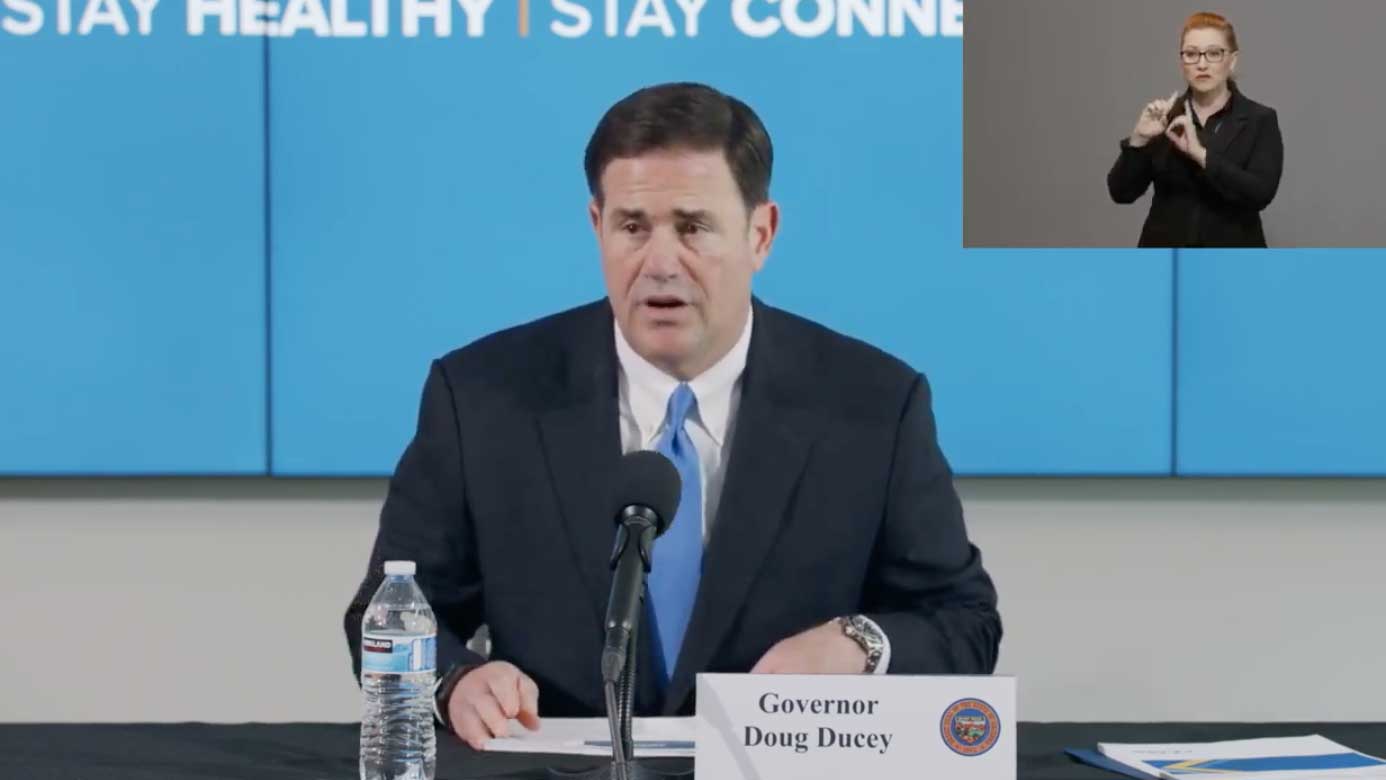 Arizona Gov. Doug Ducey gives an update on the state's COVID-19 response May 12, 2020 in this still image from his media address.
Office of the Arizona Governor
Arizona Gov. Doug Ducey continued down the path of reopening the state by setting Friday as the day his stay-at-home order expires.
The governor also named a few more dates for the reopening of other venues. Pools and gyms can open Wednesday, May 13, and major league sports can return, without fans, on May 15. All need to follow CDC guidelines and public health protection measures.
In a Tuesday media update the governor and state health director framed the decision by touting Arizona's response to the COVID-19 pandemic, citing what they say are downward trends in influenza- and COVID-like symptoms as well as the percentage of positive cases to tests.
"This is not a green light to speed. This is a green light to proceed, and we're going to proceed with caution," Ducey said.
The news came the same day as Anthony Fauci, a top infectious disease expert, warned of the possibility of new outbreaks and "suffering and death" if states open too quickly and ignore federal coronavirus guidelines. Ducey in the briefing said Arizona had satisfied the criteria for "Phase 1" of White House gating guidelines and said the state had adequate hospital capacity.
Cara Christ, director of the Arizona Department of Health Services, said the state would continue to expand testing, including at long-term care facilities and prisons. She said the state had implemented "enhanced" contact tracing, which involves getting resources to county health departments.
The governor stressed that existing CDC recommendations about social distancing, hand-washing and avoiding crowds will continue, and encouraged vulnerable people to continue to stay home.
Restaurants were allowed to resume dine-in service Monday and salons and barbershops were given the go-ahead to reopen last Friday. Hundreds of businesses signed a statement suggesting the decision to open up came too soon in the state's timeline of the pandemic.
Read the executive order here.