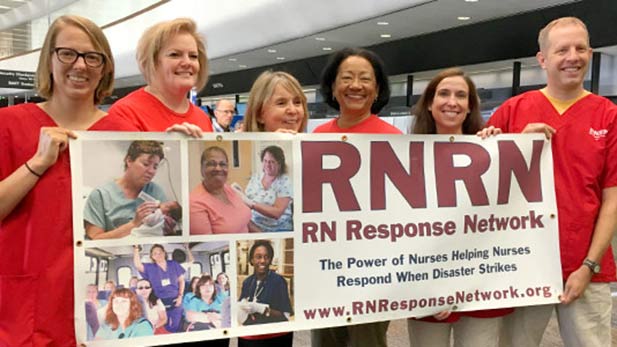 Volunteers with the Registered Nurse Response Network.

RNRN
Nurses with a disaster relief project have spent 13 weekends traveling to a Tucson shelter to bring medical treatment to migrants.
Three nurses from across the country arrived at Casa Alitas last Friday to treat migrants who'd been released from federal detention.
Nancy Rudner, one of the registered nurses who volunteers with the Registered Nurse Response Network, says it is her duty as a nurse to offer medical aid to migrants. Rudner says she and the other volunteers come to Tucson on the weekends to let local nurses get a break.

"This is the humanitarian response. Refugees are coming to our border and they need our help, and how could we do anything but help? Our government policies right now are just putting obstacle in front of obstacle of the most needy, most vulnerable people, making them more vulnerable," said Rudner.
This was her second visit, and Rudner says the first time she was at the shelter the majority of the cases she saw were for flu, malnutrition and pneumonia.
According to a press release, the nurses have continually underestimated the ages of children at the shelter due to their stunted growth and malnutrition.
"We've seen chickenpox. We've seen lots of flu, lots of bronchitis and pneumonia — and those are diseases that come from crowding conditions, malnutrition, exhaustion," said Rudner.