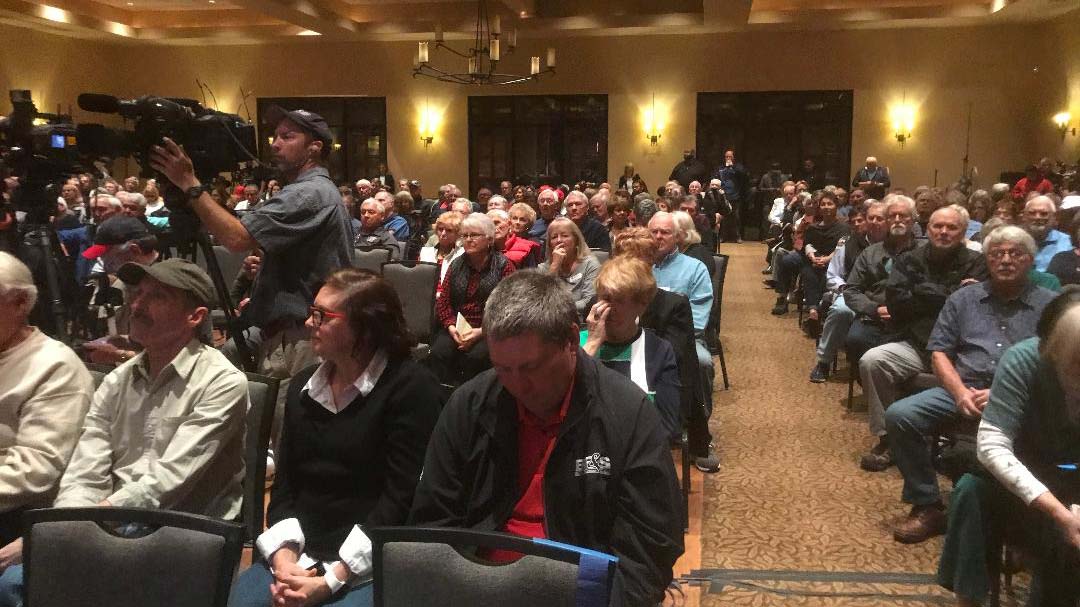 Four-hundred people at Republican-sponsored event featuring Steve Bannon and a GoFundMe effort to raise private money for President Trump's wall, Feb. 8, 2019.

Nancy Montoya/AZPM
They may share retirement communities, but they don't share political beliefs on President Trump's wall.
Last Friday night the Quail Creek Republican Club sponsored an event featuring a triple-amputee veteran and onetime Trump aide Steve Bannon. The event was to raise money to independently fund President Trump's wall.
U.S. Air Force Veteran Brian Kolfage was given a hero's welcome by almost 400 people in the audience. He told the group that so far, his GoFundMe, Build a Wall Campaign has raised more than $20 million. He said building a privately funded wall along the Arizona-Mexico border is tricky.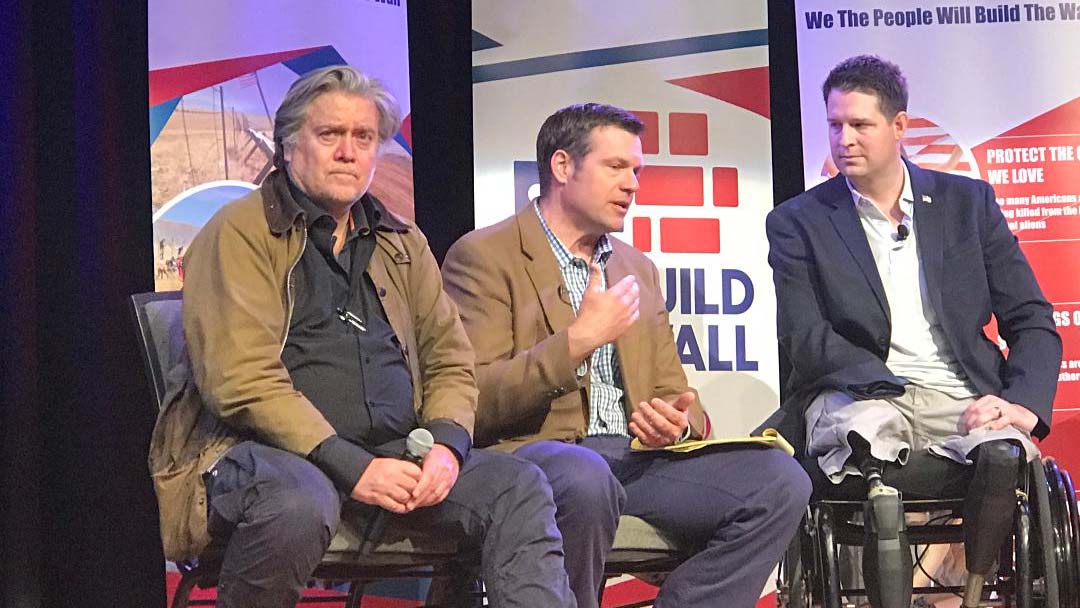 Steve Bannon, left, former adviser to President Trump, is joined by former Kansas Secretary of State Kris Koback, and Brian Kolfage, founder of "We Build The Wall," during a private event at Quail Creek Country Club, Feb. 8, 2019.

Nancy Montoya/AZPM
"The issue with Arizona is that there are very few private property land owners a lot of land is federal or state, so we can't touch it. What we're doing is working with private property land owners."
While he wouldn't say where — Kolfage said they have identified private property along the Arizona border. He was joined on stage by Steve Bannon, who was adamant that a wall is only part of what he called "the illegal immigration problem."
"We got to go after the companies that employ the illegal aliens, it's just not looking at illegals or visa overstays — it's across the board."
The group's website shows that more than 350,000 people have donated to fund the private border wall. Kolfage said they'll be ready to break ground on a wall in Arizona and Texas in two to three months.
While the MAGA group supports President Trump's building of a wall to keep migrants out — the Green Valley Samaritans are out in the desert leaving food, water and blankets to help migrants survive the Arizona desert.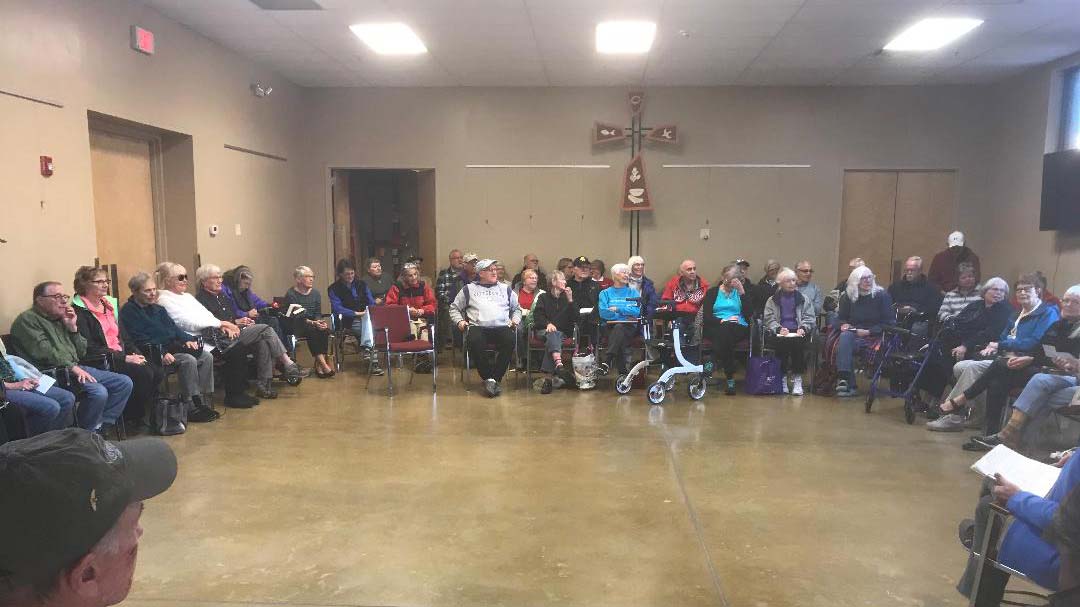 60 members of the Green Valley Semaritans nonprofit group meet to discuss teams doing desert runs with water and food, Feb. 11, 2019.

Nancy Montoya/AZPM
Their mission is to save the lives of desperate migrants who may have crossed the border into Arizona illegally, and now find themselves with no water in a hostile part of Arizona's southern desert.
Randy Meyer led today's Samaritan meeting.
"We really are at ground zero of this issue that really is consuming our country."
Meyer says the Green Valley Samaritans support border security — but want it done in a way that protects migrants running for their lives. And, he says the conversation should involve those who live and work along the border, not just the Border Patrol.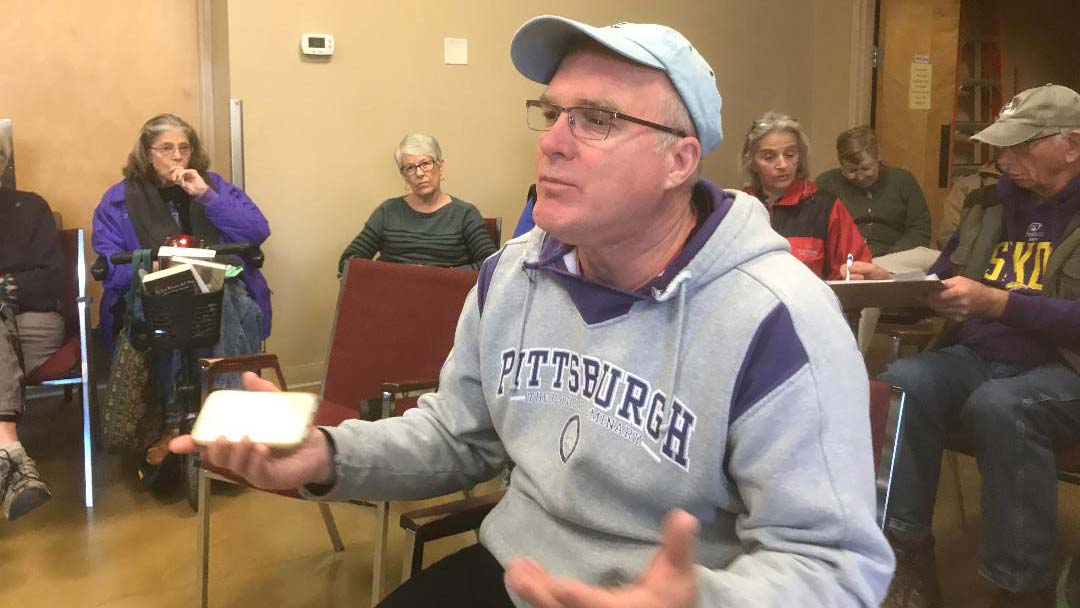 Randy Meyer leads a Green Valley Samaritans group meeting, Feb. 11, 2019.

Nancy Montoya/AZPM
"Imagine, making decisions and not really having conversations with people that are directly on the ground that are affected by that. That's the lunacy of what's happening right now."
No question border-wall advocates who met on Friday, and the Green Valley Samaritans who met this morning have love of country in common — but there is little else they agree on.