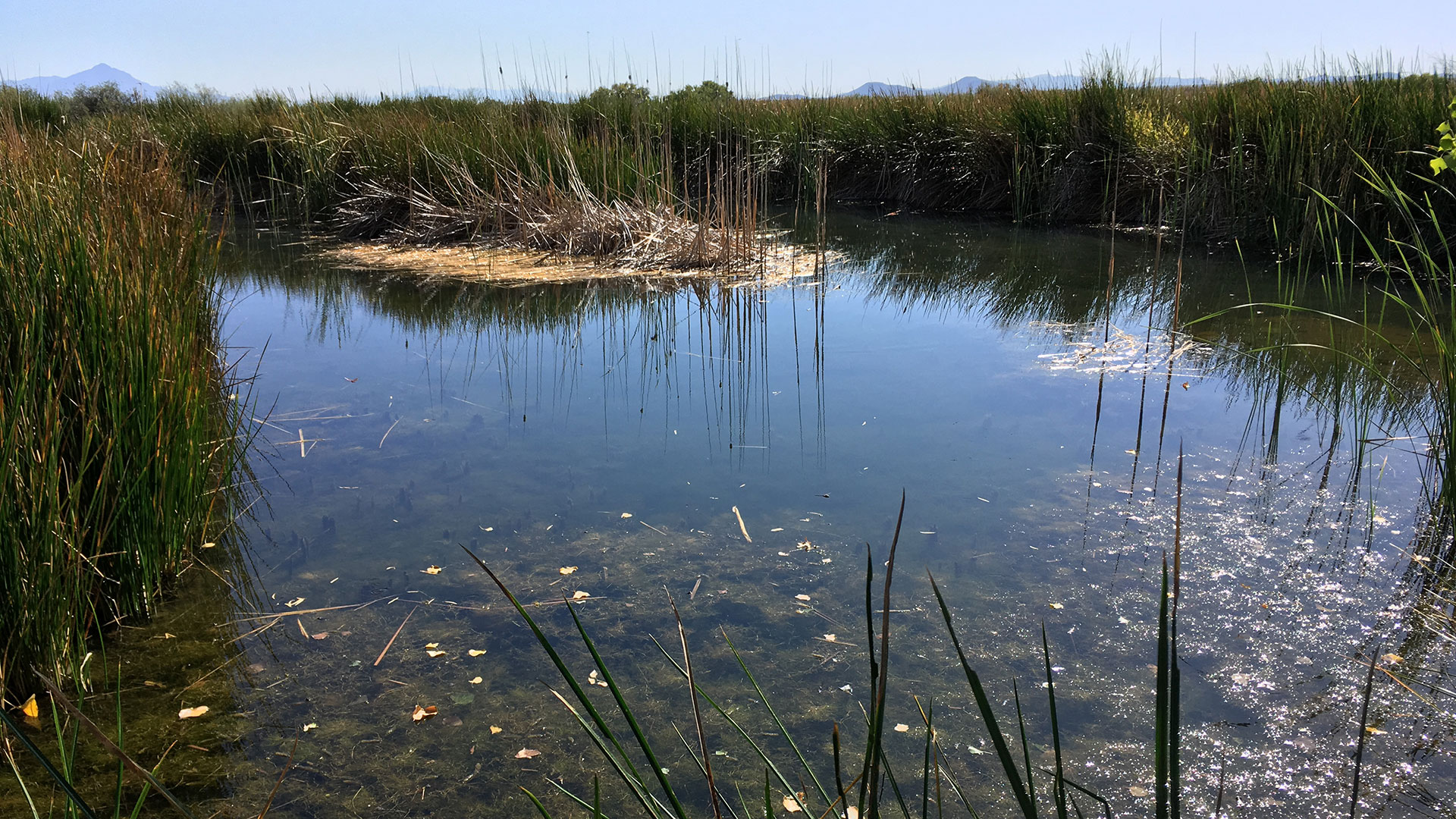 One of the spring-fed ponds at the San Bernardino National Wildlife Refuge in October 2019, which sits up against the U.S.-Mexico border.
Ariana Brocious/AZPM
President Trump's tireless promise to build a border wall was a source of mockery during the 2016 campaign, but as the 2020 election starts ramping up, his administration is racing to get it built. That includes 60-some miles of new wall in Arizona, mostly across federally protected lands.
I traveled to the border east of Douglas to see the start of construction on the latest section. A few miles outside town the road turns to dirt. Several trucks pass by, owned by Southwest Valley Constructors, the contractor building the wall. In another minute I arrive at their staging site, a swath of cleared desert. Stacks of the 30-foot-tall panels lie flat, dwarfing the construction workers who will assemble them into a wall.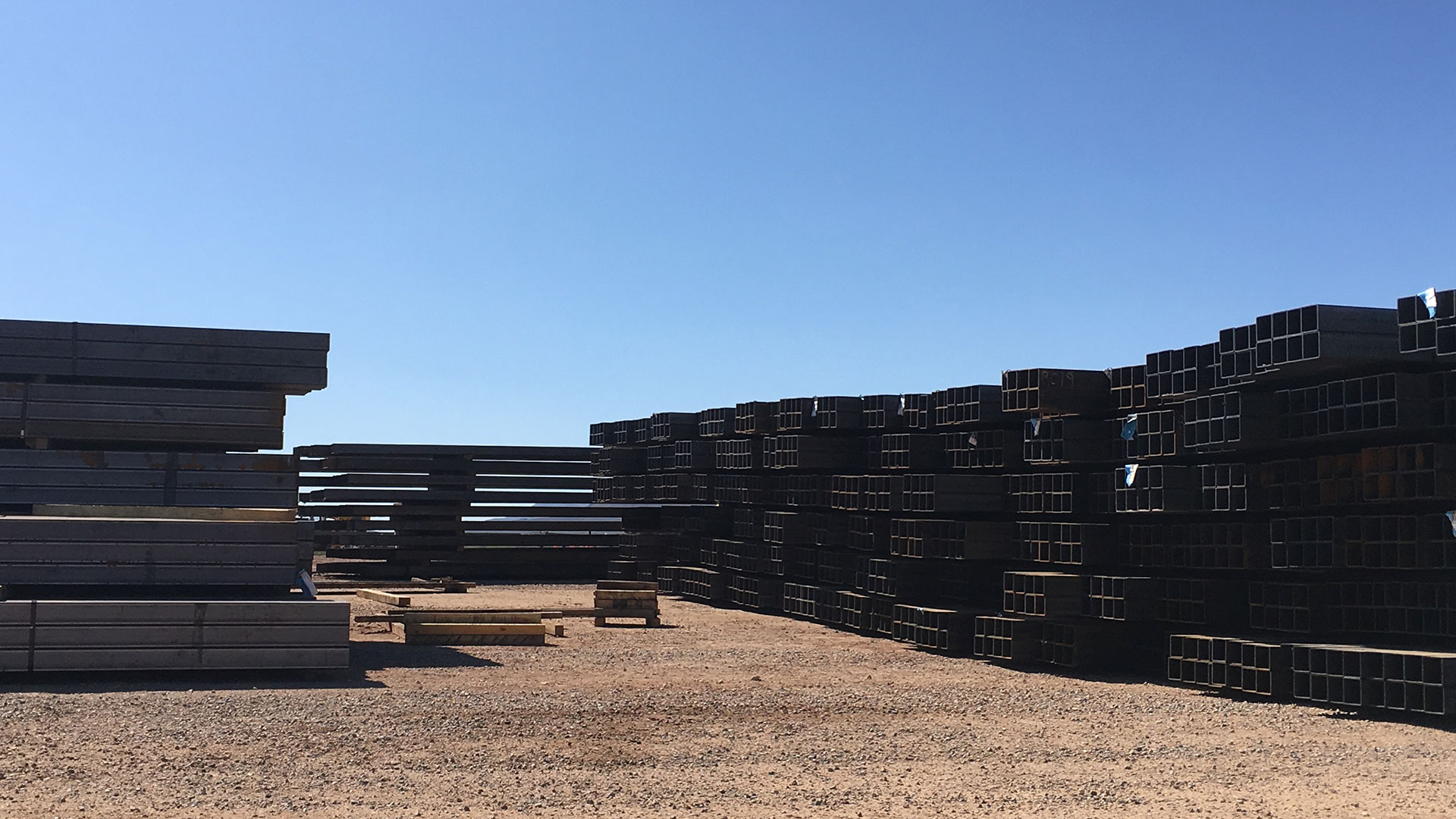 VIEW LARGER Stacks of border wall panels sit at a staging site near the San Bernardino National Wildlife Refuge.

Ariana Brocious/AZPM
Down the road a few more miles is the historic Slaughter Ranch and Museum, which sits within view of the U.S.-Mexico border. Inside a modest white building ranch managers Vickie and Fred Dunn offer information to visitors from all over the country.
A small portion of the original Slaughter Ranch is now the San Bernardino National Wildlife Refuge, managed by the U.S. Fish and Wildlife Service. The land sits atop an artesian well field — unusual in the Sonoran Desert. The Dunns are concerned that nearby groundwater pumping for the wall construction could deplete the aquifer, and the acre-and-a-half pond just outside their front door.
"We have had a driller tell us, he said it's possible that our pond could actually toilet-bowl, you know, like a flush," Dunn says.
Their ponds are home to a few endangered species, including the tiny San Bernardino springsnail and the Yaqui topminnow. The Dunns, who've been on the ranch for 4.5 years, say they can't understand why the Trump administration wants to build a wall in their backyard.
"There's no purpose for it here," says Vickie Dunn, because the installation of Border Patrol surveillance towers in 2016 has deterred nearly all border crossers.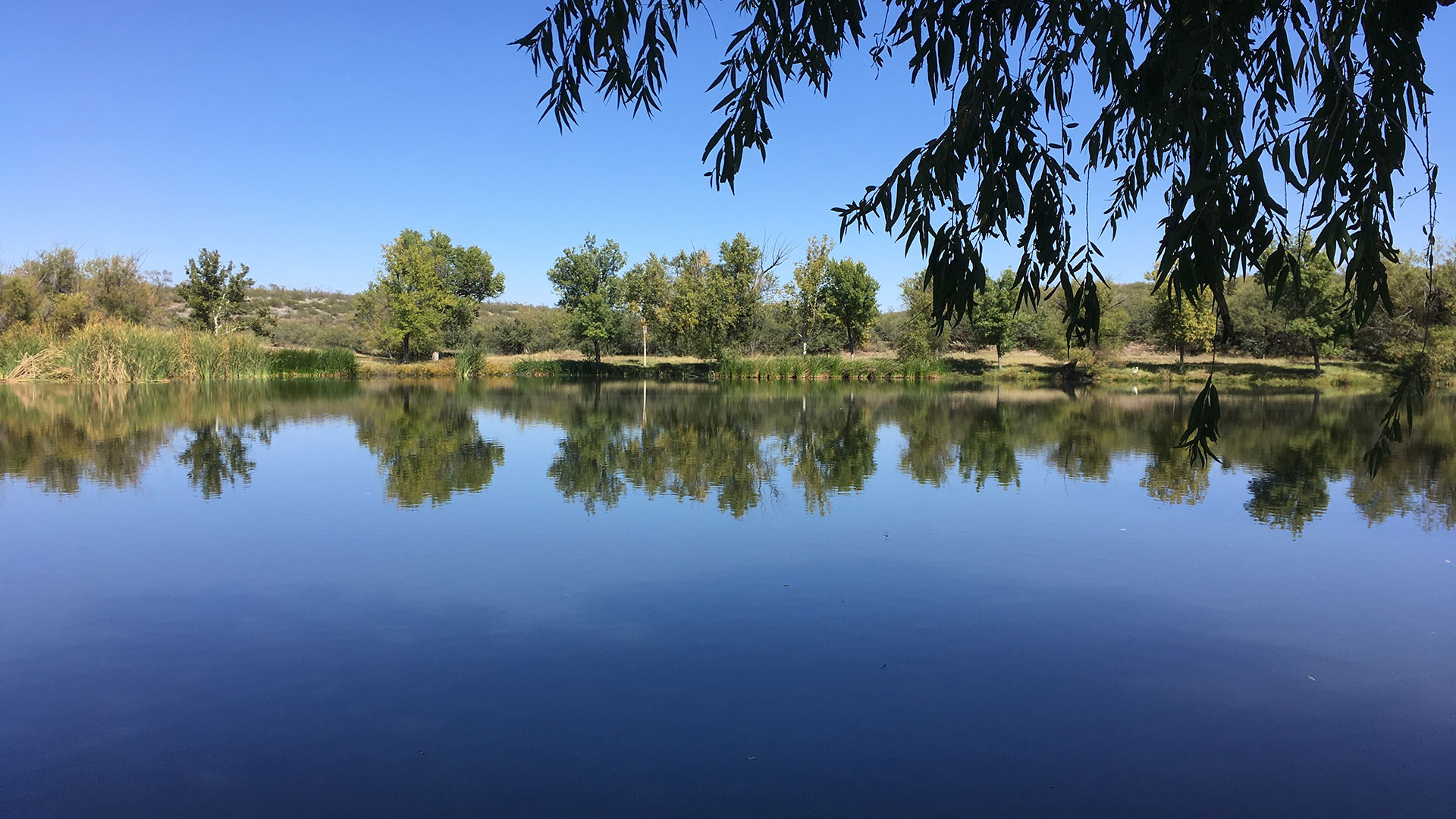 This pond at the historic Slaughter Ranch is home to a few endangered species, including the San Bernardino springsnail and Yaqui topminnow.
Ariana Brocious/AZPM
From the Slaughter Ranch, Dan Millis and I walk up a nearby ridge covered in mesquite shrub with expansive views to the south into open ranchland in Mexico. Millis has been working on borderlands issues for the Sierra Club for the last decade. From here he points to one of the spring-fed ponds that make the San Bernardino refuge so special.
"These are wetland ponds that have been restored. This is an old cienega, meaning kind of swampy area. It's one of a very rare sets of ponds in this area because it's water in the desert," he says.
Millis says the Fish and Wildlife Service has spent many years and lots of money restoring these ponds after decades of overgrazing. As a result, he says it's a haven for wildlife on both sides of the border, including three dozen species of concern and some that are federally endangered.
"So it's a very unique, very precious jewel in the desert, and unfortunately we're about to see a 30-foot monstrosity blasted right through the middle of it," Millis says.
The Sierra Club, along with the American Civil Liberties Union and Southern Borders Communities Coalition, have filed two separate lawsuits against the border wall projects. Millis says that's because border walls affect people and the environment.
"The folks who care about civil liberties and the border communities — majority urban folks, people of color, mostly lower-income, Spanish-speaking and the environmental interests — we're all in this together," he says.
We hike down off the ridge toward the pond. As we approach it, Millis points to the nearby border road, where a huge wall contractor water truck is spraying for dust control.
"That's water that's pumped out of this same aquifer that these natural springs depend on. And we just don't know that the hundreds of thousands of gallons per day that they're talking about pumping, we don't know to what extent that's going to drain this wetlands," he says. "And that's the type of question that would be answered if they would comply with the environmental laws. But they're not doing that."
"It's a very unique, very precious jewel in the desert, and unfortunately we're about to see a 30-foot monstrosity blasted right through the middle of it."
Normal projects of this magnitude would be vetted by a whole series of federal environmental and cultural resource laws. But the Trump administration has waived dozens of such laws to expedite construction of the wall.
The pond is a quintessential desert oasis. Hidden by stands of tall grasses, its glassy surface reflects the blue sky under the shade of a few cottonwoods. It's easy to see why wildlife flocks here.
A spring-fed pond at the San Bernardino National Wildlife Refuge, a stone's throw from the U.S.-Mexico border. This property is managed by the U.S. Fish and Wildlife Service.
Ariana Brocious/AZPM
The Fish and Wildlife Service referred an interview request to Customs and Border Protection, but in comments they filed with CBP they identify many harmful impacts from border wall and nighttime lighting on wildlife like jaguars, ocelots and Mexican gray wolves. Those impacts include limiting or ending wildlife movement, habitat destruction, reduced genetic diversity and death. The agency suggests CBP alter the design of the wall to allow wildlife to continue to cross the border.
Charles Trost, public lands liaison with the Border Patrol's Tucson Sector, says they're working with land managers and are still in early phases of the design for parts of the wall project.
"We are actively reviewing and incorporating as much as we can into the designs that allow for the requirements of CBP and the border wall but also allow for some allowances for the land managers or land owners to have their input and address the issues that have been brought up," Trost says.
He says they're still figuring out how much water the project will use. Even though they're not required to follow the normal set of environmental laws, Trost says his agency is carrying out its own environmental stewardship plan with limited public input.
But beyond the environmental impacts, Millis says the Sierra Club's lawsuits focus on the funding source for the wall projects.
"This is being done with money that's intended for Department of Defense counter-narcotics activities, it's money that's been stolen basically by the Trump administration from these other accounts as an end-run around Congress," he says.
Some, like Mark Adams, would like to see that money directed to other projects. He's co-leader of the binational Presbyterian ministry Frontera de Cristo in Douglas and Agua Prieta. He says for the last 20 years his ministry has been advocating for demilitarization of the border.
"We didn't understand this border as a place to fear, a place to divide and to destroy landscapes for the majority of our history of our two countries. It's a relatively new phenomenon," he says. His ministry is part of the Southern Border Communities Coalition and party to the Sierra Club's lawsuit.
"And so for us it's fiscally irresponsible, morally reprehensible because the more we've militarized or built up our border, the more deaths have occurred of people crossing into the U.S.," he says.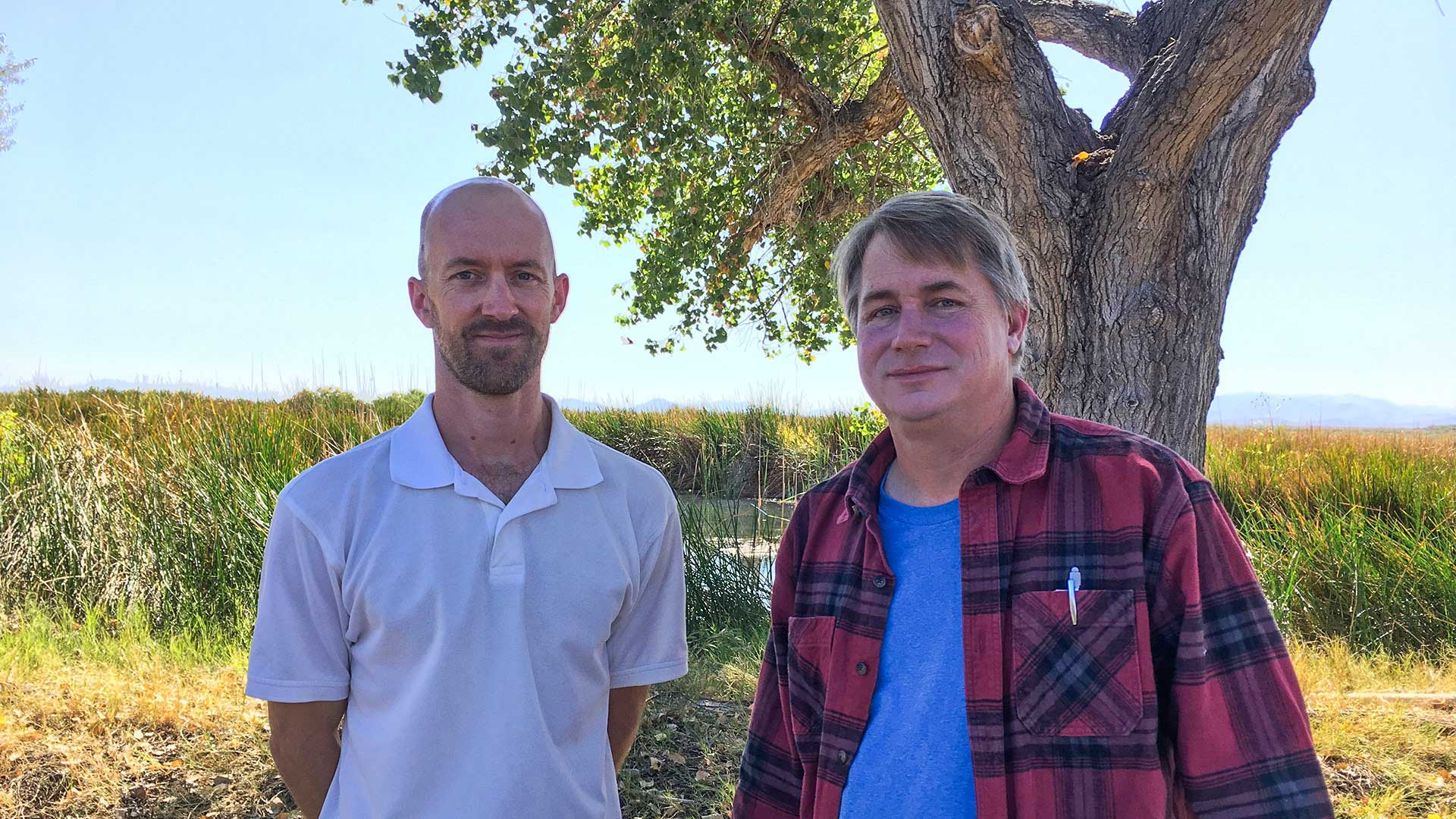 VIEW LARGER Dan Millis with the Sierra Club, left, and Mark Adams with Frontera de Cristo stand next to a spring-fed pond at the San Bernardino National Wildlife Refuge.

Ariana Brocious/AZPM
The city of Douglas is gaining some short-term economic benefit from the wall construction east of town by leasing land and selling some water to the contractors. But Adams says he'd rather see the border wall funding spent on improving the Douglas port of entry, an effort he says the community has been pushing for 20 years.
"In the last six weeks we've seen a huge increase in wait times to cross from Agua Prieta to Douglas," Adams says.
He's not the only dissenting voice. Rancher Kelly Glenn Kimbro's family has owned the ranch surrounding the San Bernardino refuge since 1960.
"We didn't want the wall because we don't think it's strategically needed in this valley," she says.
She's letting the wall contractors use her land and one of her groundwater wells for the project, "because we're hoping it will hold out for them and they wouldn't go somewhere else like the refuge and start using their artesian wells," she says.
Kimbro says that well was actually drilled by federal contractors a decade ago when the Bush administration was building vehicle barriers along the border. Like others, she says the wall isn't necessary because border traffic in the area has plummeted. And she says putting a 30-foot wall across washes in the valley could be disastrous.
"We get at least three floods per summer that are massive — 60 yards wide and 8 feet deep. It's not like this is a little trickle," she says.
She's in regular communication with CBP about her concerns and supports border security, but says this effort is misguided. While she says some of her neighbors support the wall, to her, it's not a solution.
"I don't care how big this wall is or how deep it is in the ground, I bet in six months there's trafficking through, under or over this wall," Kimbro says.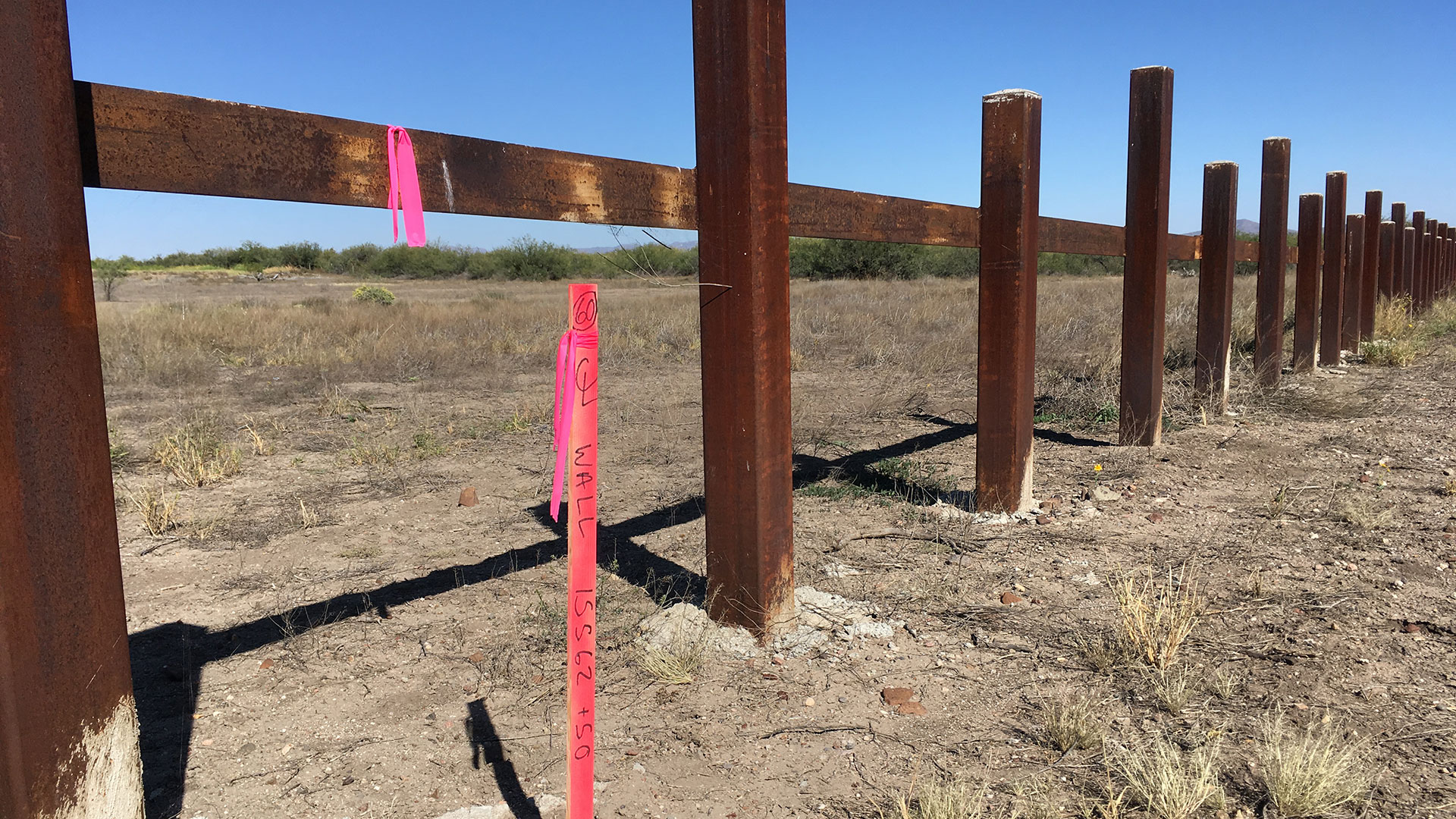 VIEW LARGER A survey stake for the new border wall against existing vehicle barrier along the border. This barrier along the San Bernardino National Wildlife Refuge allows for the passage of wildlife, something wall opponents say will not be possible with the new 30-foot high bollard wall that will be built here.

Ariana Brocious/AZPM
Back on the refuge, Millis and I walk from the pond to the nearby international boundary. A pink-tagged survey stake sits in the ground. Two parallel sets of vehicle barriers sit on opposite sides of the border road. One was built by Fish and Wildlife to block border traffic, the other by the Bush administration years later.
Millis says these kinds of barriers are fine for most wildlife, "and that's why it's such a tragedy that Trump administration is starting with vehicle barriers. Everywhere they're building a wall right now, they're replacing a vehicle barrier," he says.
CBP has said they need to build new wall for border security. Contractors have started building the portion of the wall east of the wildlife refuge but CBP says they're still working on the designs for remainder of the wall, including the sensitive areas and low-water crossings.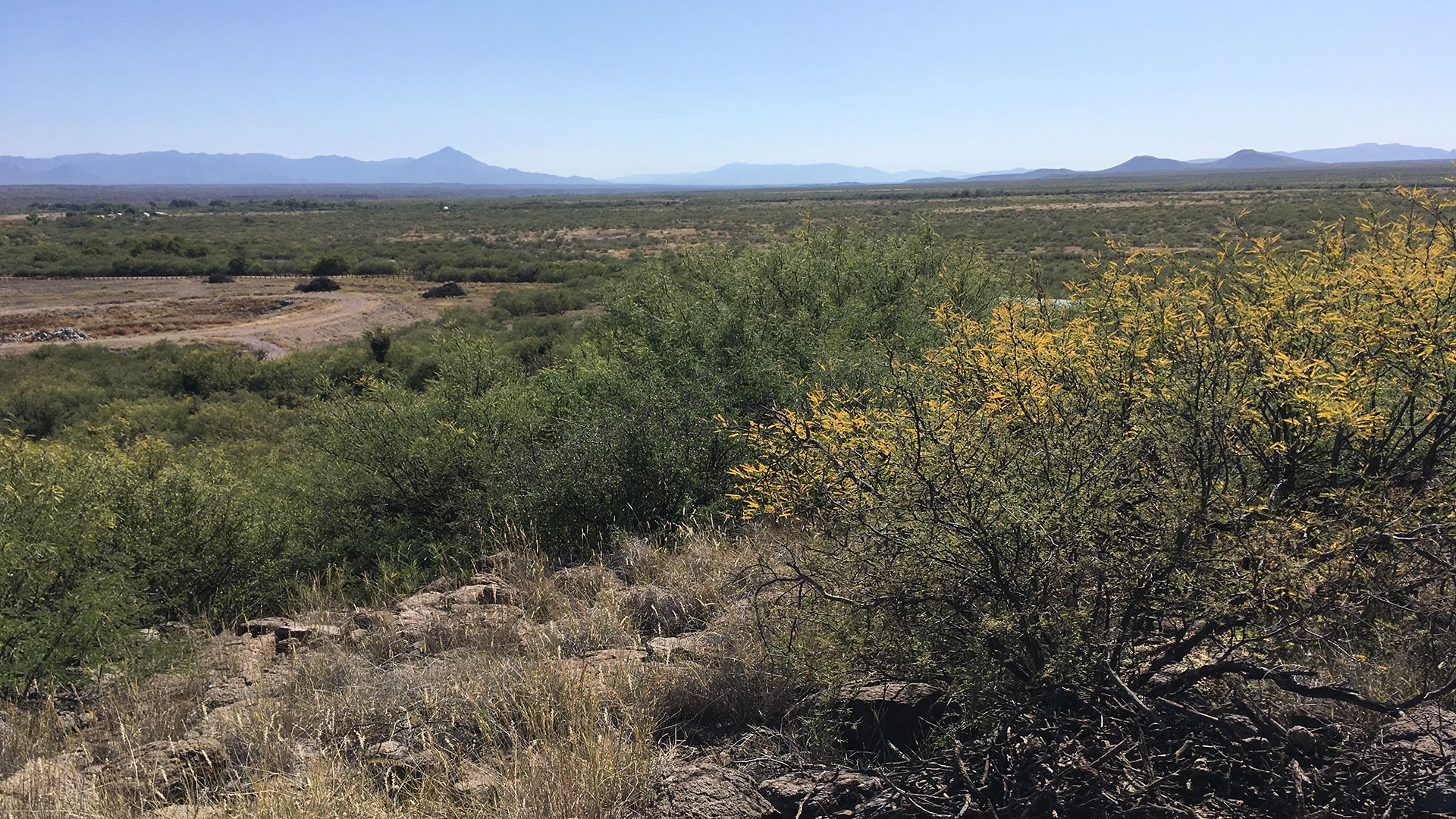 VIEW LARGER The view from a ridge on the Slaughter Ranch, looking south across the international boundary road and vehicle barriers into ranchland in northern Mexico.

Ariana Brocious/AZPM
Millis points across the border road to the distant mountains and open desert of northern Mexico.
"That's really what hits me hardest, is changing the land. Changing what we see. Instead of seeing beauty, we'll just see hate," he says.
Construction on this section likely won't start before the end of the year. Millis hopes the wall will be stopped before then. The Sierra Club lawsuits have hearings in mid-November. A judge could rule to block the projects or grant a temporary injunction, or let the projects continue. Until then, wall construction moves ahead.