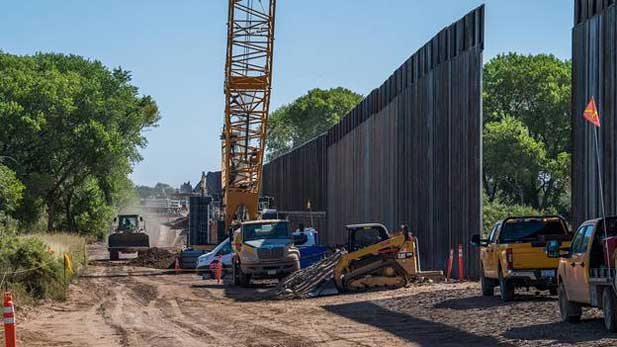 Construction nears the end on the wall section across the San Pedro River in October 2020.

Courtesy Robin Silver.
On Thursday, the Department of Homeland Security commemorated the 400th mile of wall built under the Trump administration. In a recent interview with AZPM, Customs and Border Protection Acting Commissioner Mark Morgan touted the speed with which crews have continued building, even during the pandemic.
"We are building more miles per day, more miles per week, than we did pre-COVID. Right now we have about 370 miles of wall system built, and by the end of this calendar year, I'm absolutely confident we'll have 450 miles of new wall system in the ground," Morgan said.
Last May, the Trump administration announced it was planning to build 63 miles of new border wall system in Arizona, mostly across federally protected lands. Despite lawsuits, protests and opposition from members of Congress, the walls keep going up. Now, nearly all 63 miles have been completed.
Much of that construction is severing critical cross-border migration corridors and access to water sources. One of those is the San Pedro River.
"The 30-foot wall itself is basically up, nearly complete. What they're working on now are the gates that will be opening and closing," said Casey Hammond, principal deputy assistant secretary for lands and minerals. His branch of the Department of the Interior includes the Bureau of Land Management, which operates the San Pedro Riparian National Conservation Area, a congressionally designated swath of protected land through which the San Pedro flows.
Last year, the local BLM office raised concerns to CBP about the plan to build a wall across the river, which they said could act as a dam during monsoon floods and damage the riparian habitat and river banks. The BLM also cited 21 threatened and endangered species that could be impacted by the construction.
Hammond said CBP responded to those concerns and changed the project design accordingly, putting gates in the bottom half of the steel bollard walls.
"I think what Border Patrol has done through their engineering is put together a system that will allow them to continue to address any debris that does get caught up. The gates that they installed are larger than I anticipated and should allow a great deal of flow through there," Hammond said.
But Kate Scott, who runs a nonprofit borderlands wildlife center, disagrees. She went down to the river to see the construction progress last week.
"[The gates] are reasonably large but if you've ever witnessed the San Pedro in full tilt mode, one cottonwood laying across it the right way would be enough and a couple, it'd be a dam," she said.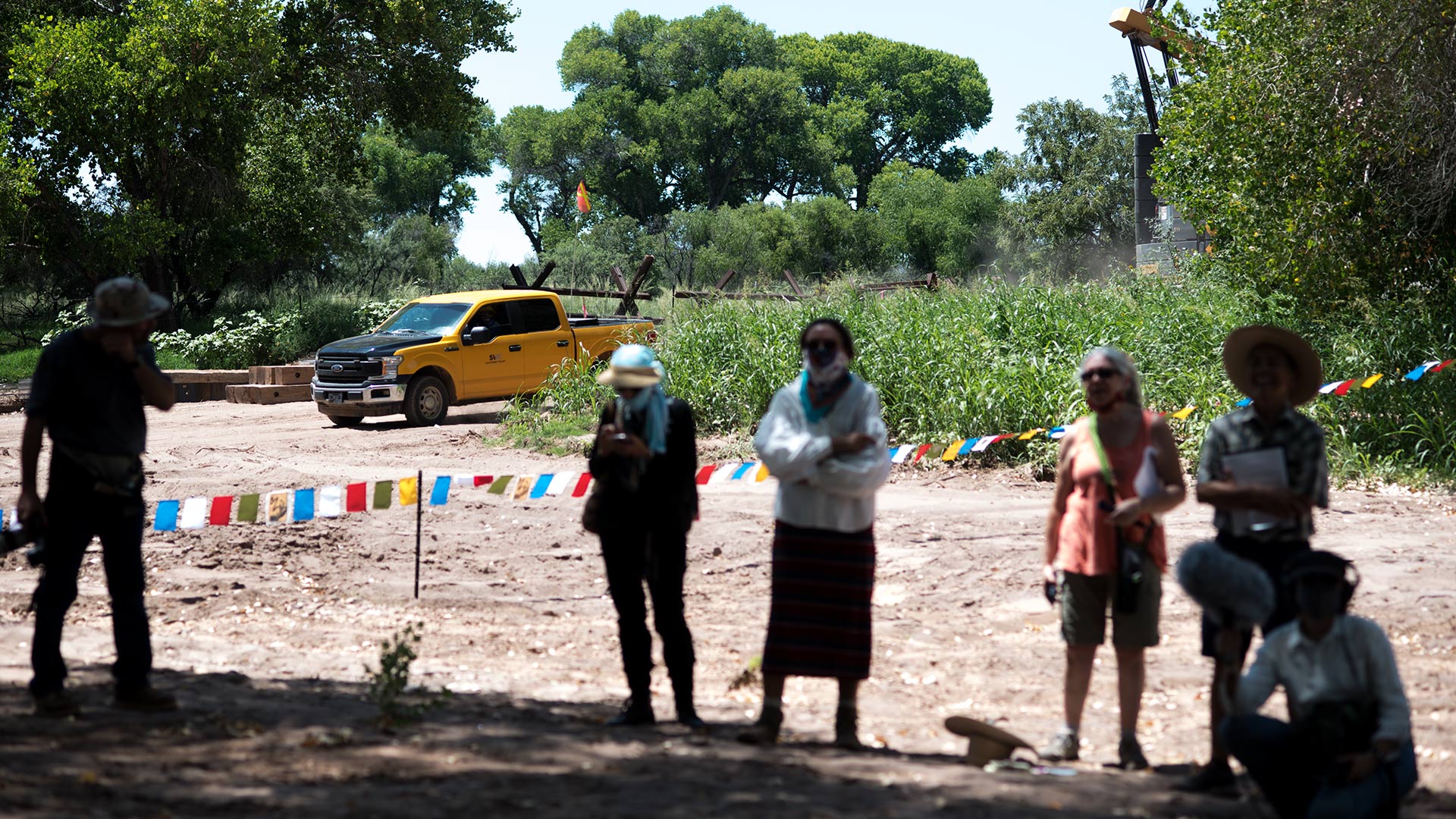 VIEW LARGER A construction truck drives across the San Pedro river bed behind anti-wall protesters on Aug. 15, 2020.

Alisa Reznick/AZPM
CBP has said the gates will be left open during monsoon season, from June through September, during which time wildlife may also gain passage through the wall. But Scott said she wants to know what wildlife will do the other eight months of the year.
"We were told (by CBP) we'll have these 8.5 inch by 11 inch openings, 52 of them along the Tucson Sector," Scott said. "Well, we don't know where those are and how can those be accommodating to all forms of wildlife?"
Those openings, about the size of a doggie door, likely won't be large enough for many of the animals known to traverse the river corridor, including mountain lions, jaguar, deer and javelina.
The Trump administration has waived more than 60 laws to speed wall construction, exempting contractors from all the standard federal reviews for environmental or cultural resources that would typically apply.
By the time CBP released its own environmental stewardship plan for these 63 miles of new wall in September, construction was nearly completed.
And conservationists like former Interior Department biologist Roger McManus have already taken issue with it.
"There's no real reference to authorship or requirements of analyses or anything of that sort that would suggest that it's verifiable," he said.
McManus said the report lacks basics like research citations normally found in environmental review documents. Meanwhile, most of the report focuses on the immediate and short-term impacts of the construction, rather than the long-term effects of the structure itself.
The report acknowledges the project could have "minimal impacts on visual resources and character of the land" on federally protected lands, including Organ Pipe Cactus National Monument, San Bernardino National Wildlife Refuge and the San Pedro Riparian National Conservation Area. The report notes the potential for "minor to moderate adverse impacts" on groundwater, and "negligible to minor" impacts on wildlife. In McManus's view, the report downplays the project's real impacts.
"I have never seen such a thing. It's basically a promo piece, and we paid for it," he said.
McManus and Scott are two of many area residents who have been actively opposing the border wall projects, particularly at the San Pedro River. Conservation groups like the Sierra Club and Center for Biological Diversity have filed numerous lawsuits against the projects. Yet in spite of opposition, wall construction has continued unabated.
A spring-fed pond at the San Bernardino National Wildlife Refuge, a stone's throw from the U.S.-Mexico border. This property is managed by the U.S. Fish and Wildlife Service.
Ariana Brocious/AZPM
This summer, U.S. Fish and Wildlife officials documented significant groundwater depletion at the San Bernardino National Wildlife Refuge related to wall construction, and, in emails obtained by the Center for Biological Diversity, indicated that CBP and the U.S. Army Corps of Engineers disregarded requests by FWS to minimize water withdrawal.
"They've quite clearly asked for a buffer zone around the refuge to protect the species that live there," Laiken Jordahl, borderlands campaigner with the Center, said in August. "The documents we obtained show that Border Patrol completely ignored those requests and drilled a well 500 feet from the well boundary — right after being asked not to do so."
Hydrologists have also documented significant declines in the water levels at Quitobaquito Springs and pond, a rare desert oasis. Quitobaquito has become a flashpoint recently as protesters, mostly led by Indigenous activists, have been arrested in repeated demonstrations against the wall and closure of access to their ancestral lands.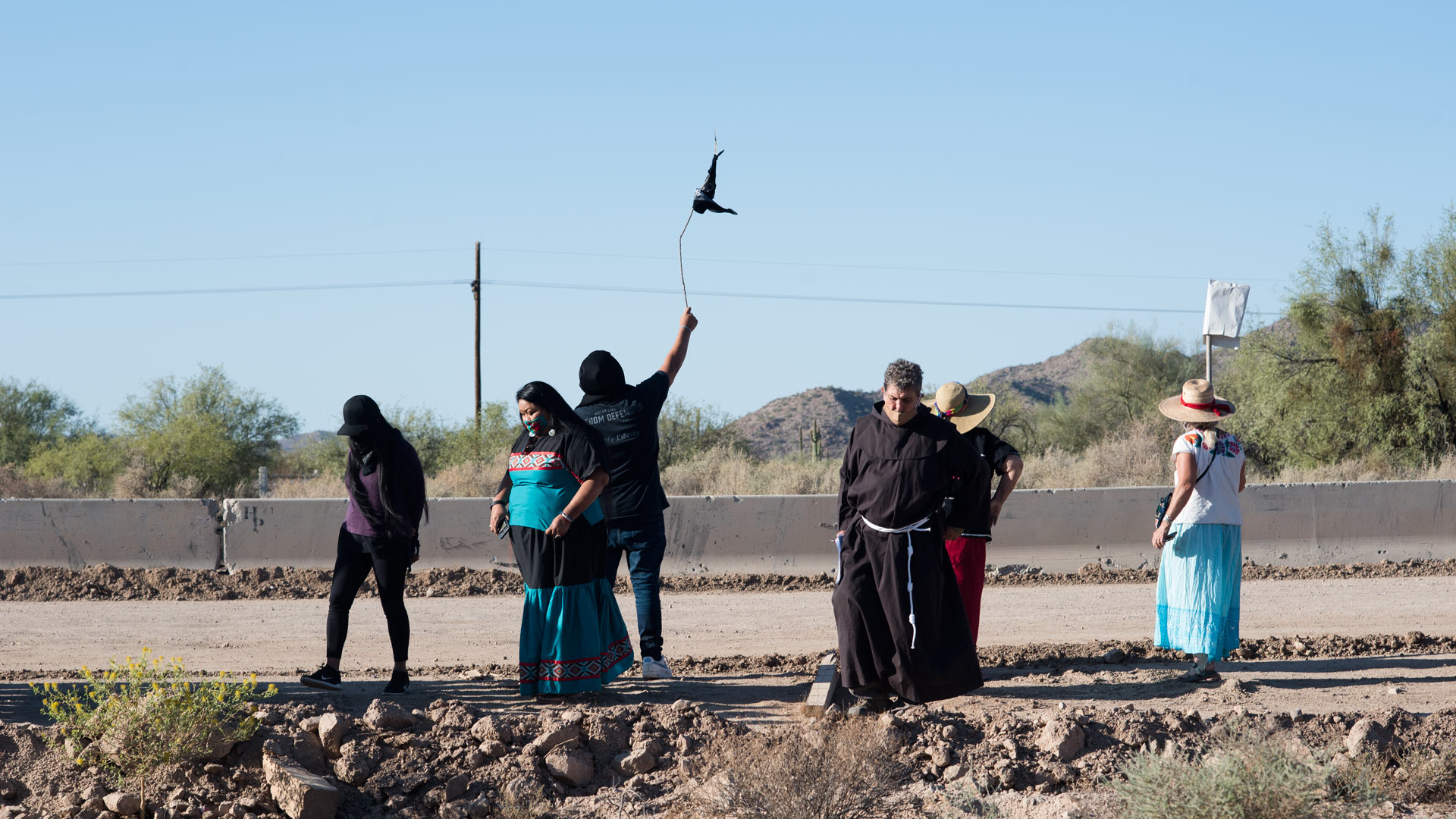 Tribal members and supporters gather in front of the construction line to wave down O'odham runners coming from Sonora ahead of a cross-border ceremony at Quitobaquito Springs on Sept. 27, 2020.
Alisa Reznick/AZPM
Border Patrol Tucson Sector Chief Roy Villareal insisted they've taken a hard look at the environmental impact at Quitobaquito and in other areas.
"This is not a haphazard effort, it's planned out. We do take into consideration the concerns of the community, which includes ranchers, the Tohono O'odham Nation and the community as a whole. We take all that into consideration, we've made every effort to reduce or minimize the draw of water in those areas, Quitobaquito Springs is one of great concern," Villareal said.
He said the contractors aren't drawing water within five miles of the spring and work to bring in outside water rather than use local sources when possible.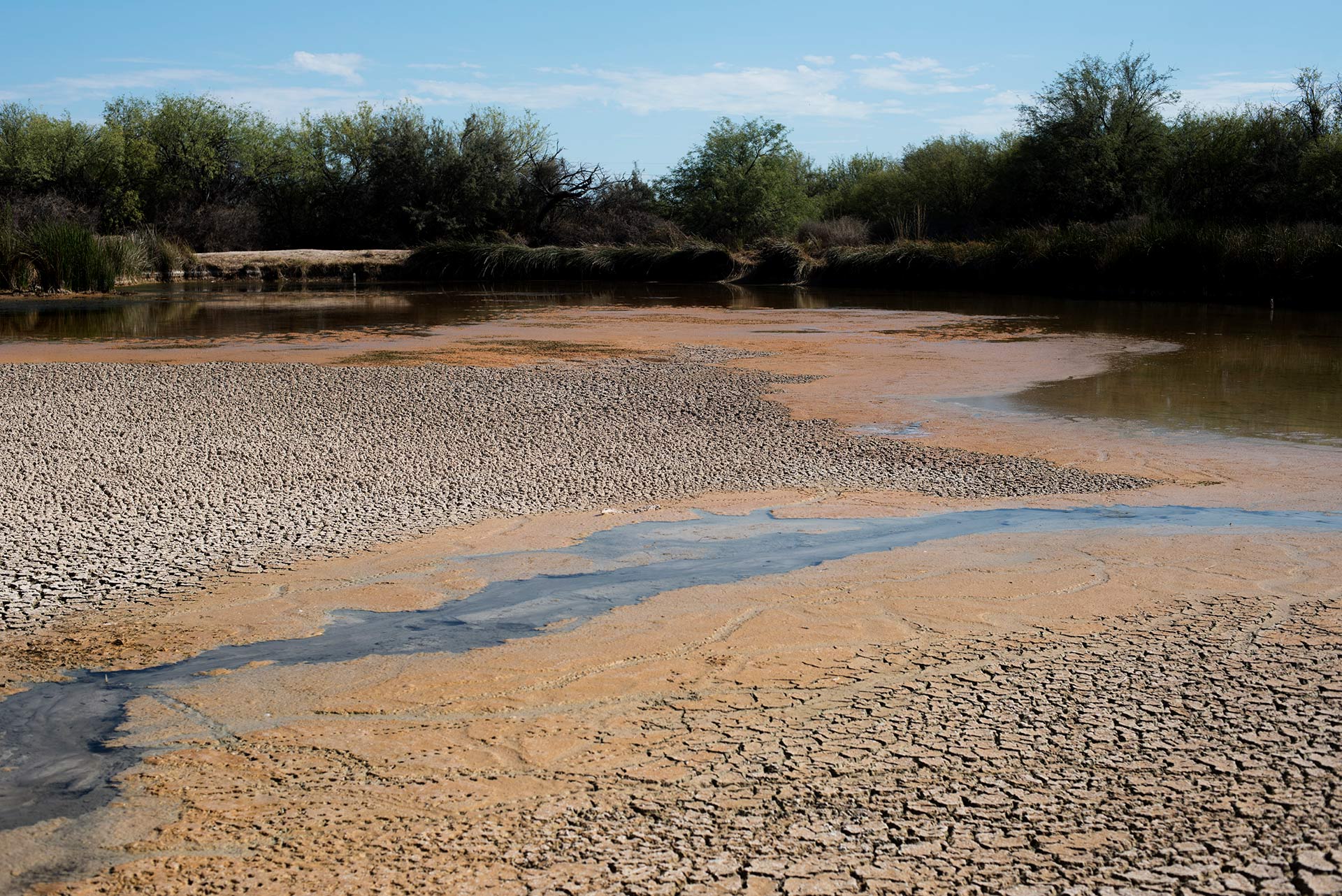 VIEW LARGER Cracked mud flats appear on the surface of Quitobaquito pond on July 18, 2020.

Alisa Reznick / AZPM
Hammond, with the Department of Interior, said he takes the bigger picture view in terms of the environmental impacts of wall construction, noting that undocumented border crossers have also damaged sensitive lands.
"Wilderness in particular has been damaged for years and years and years now because we've created funnels, areas where there's limited border security. Once we have this security system in place, we're going to continue to see positive outcomes in sensitive areas, particularly wilderness areas, and also to protected species," Hammond said.
CBP's environmental stewardship plan states that "if unavoidable impacts result from project construction, CBP may implement mitigation measures....CBP will assess the actual impacts from the project after it is complete."
Conservationists like Kate Scott and Roger McManus plan to continue advocating for mitigation strategies to lessen the impacts of the final design, especially for wildlife.
"But the environmental damage has been done, you know?" Scott said, since putting the wall in the ground, building new roads, and pumping groundwater has already had an impact.
She said she tries to stay positive, even as the final sections of wall are being built across Arizona's last free-flowing river.
"When you see the environmental damage that's being done and it rips through your heart, and you say, okay now what do I do? Well, I stand up and I speak out and I stand tall," Scott said.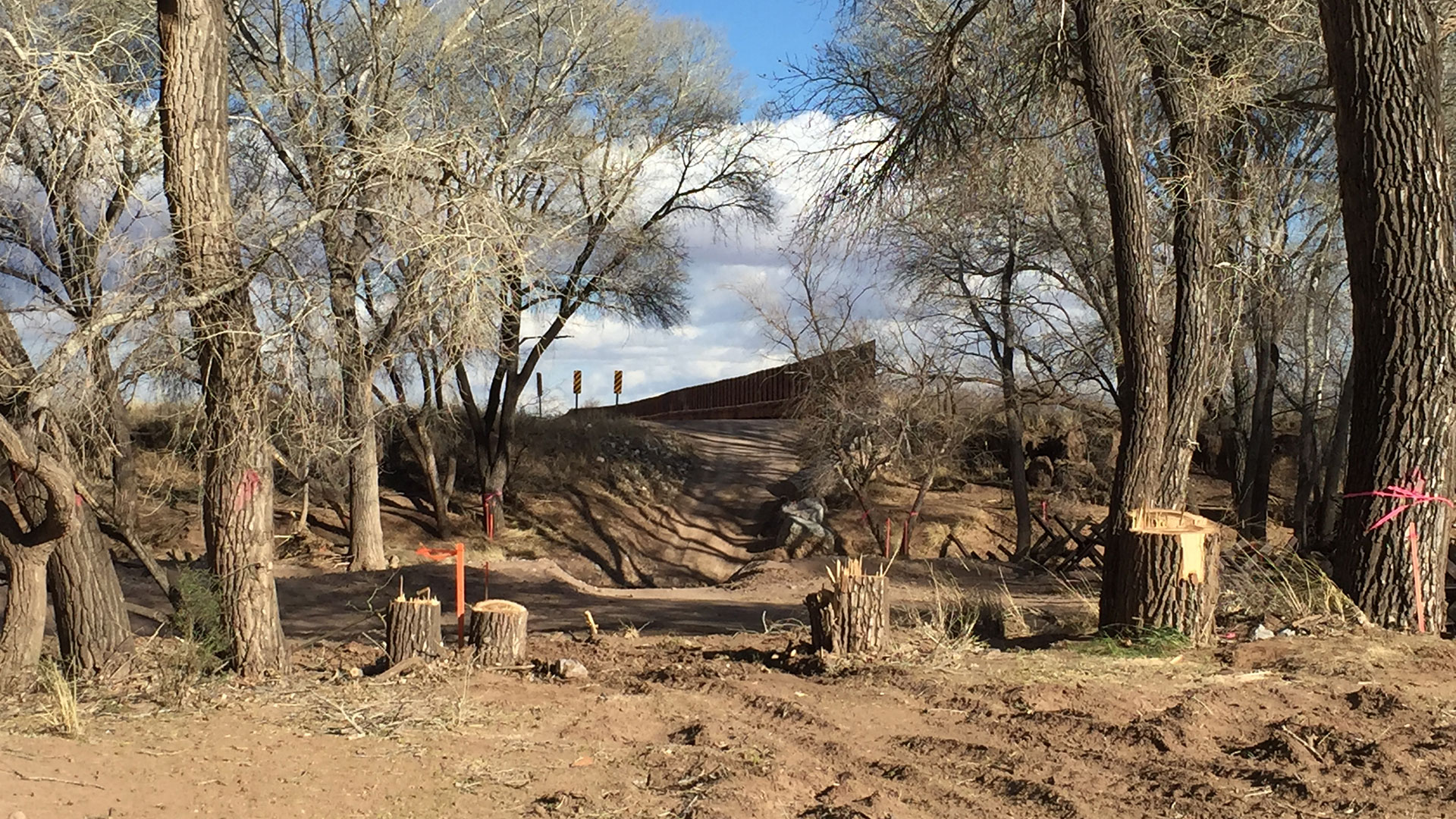 Cottonwoods along the San Pedro River channel cut down for pending border wall construction across the river in February 2020.
Courtesy Jeff Sturges
While the first 63 miles of Arizona wall projects are done, more remain under construction. CBP plans to build a total of 137 miles of new border wall system in Arizona.
Scott and others said they'll try to make a case to future administrations to modify or maybe even remove sections of this new wall in places like the San Pedro River, where, in their words, "such a structure never should have been built."