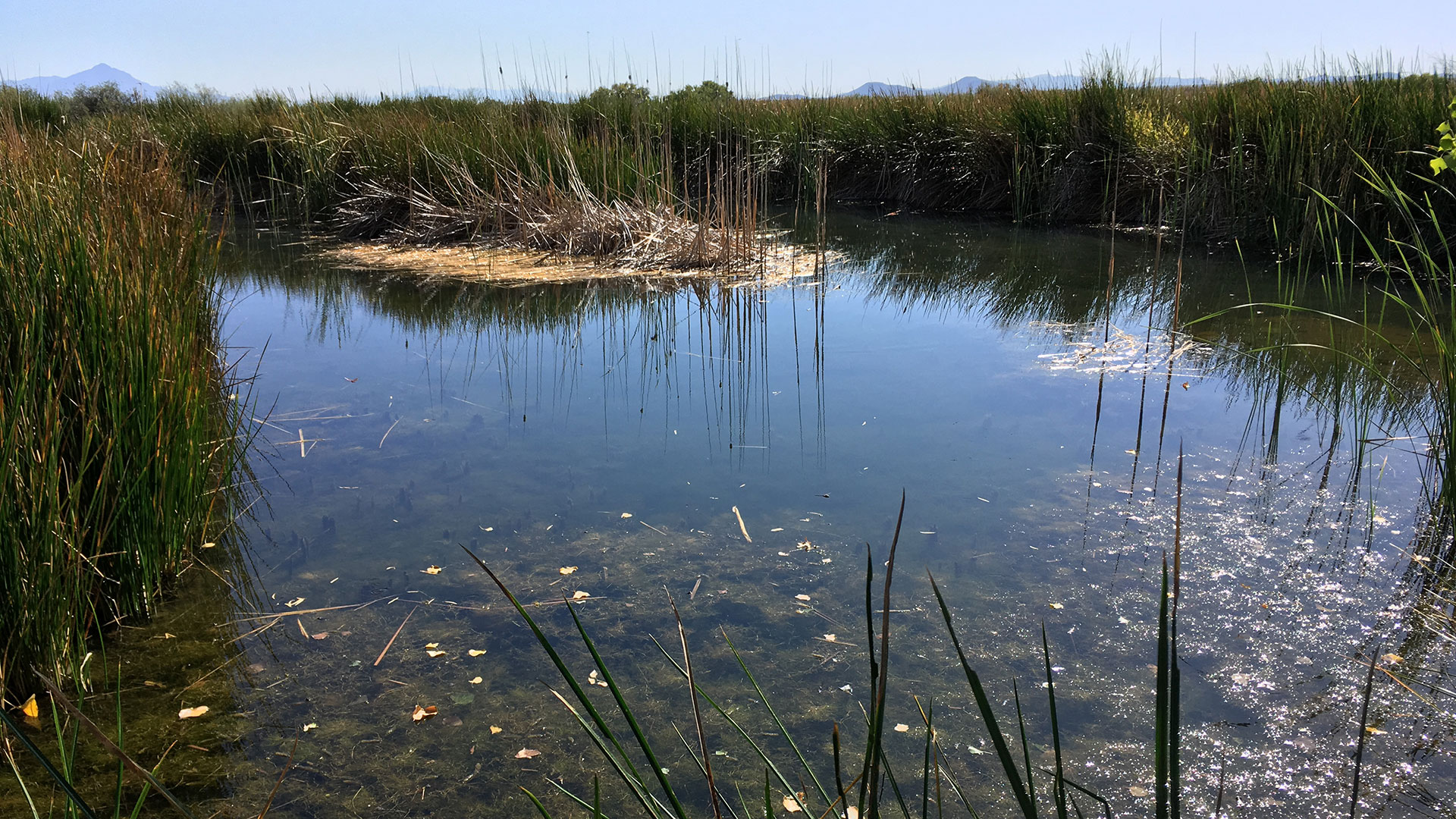 One of the spring-fed ponds at the San Bernardino National Wildlife Refuge in October 2019, which sits up against the U.S.-Mexico border.
Ariana Brocious/AZPM
For months, wildlife officials have been concerned groundwater pumping for new border wall construction at the San Bernardino National Wildlife Refuge east of Douglas is threatening the area's natural artesian springs. Evidence of that concern came to light this week through documents obtained through a Freedom of Information Act by a conservation group.
The San Bernardino National Wildlife Refuge is home to several endangered and threatened species including the Yaqui chub, Yaqui catfish, and Yaqui topminnow, as well as the Chiricahua leopard frog and Mexican garter snake. The refuge is managed by the U.S. Fish and Wildlife Service. Natural groundwater springs feed ponds and wetlands that sustain those animals. The area is part of President Trump's new border wall, and contractors have been installing 30-foot high steel bollards along the border for months, pumping local groundwater to make cement.
When border wall construction began last fall, Refuge Manager Bill Radke expressed concern that the area's artisan wells would be depleted by groundwater pumping, which the U.S. Army Corps of Engineers had told him would amount to 700,000 gallons per day, for 13 months. That's according to documents obtained by the Center for Biological Diversity through the Freedom of Information Act.
Comments in an email from Bill Radke in October 2019 indicate U.S. Customs and Border Protection and USACE disregarded requests by FWS to minimize water withdrawal and observe a buffer around the refuge when drilling, and at the time had not provided updated water use numbers to the agency.
Laiken Jordahl is borderlands campaigner with the Center for Biological Diversity.
"One thing we've seen through all these documents is Fish and Wildlife is continually asking the Department of Homeland Security to make certain concessions. To not drill wells in certain places. They've quite clearly asked for a buffer zone around the refuge to protect the species that live there," Jordahl said. "The documents we obtained show that Border Patrol completely ignored those requests and drilled a well 500 feet from the well boundary -- right after being asked not to do so."
In an email to other agency officials in late December 2019, Radke said the ongoing water withdrawal adjacent to the refuge was considered "the current greatest threat to endangered species in the southwest region." He went on to explain steps for a team of hydrologists to track and document damage to the aquifer and determine when "such damage is essentially permanent - can never be recharged."
The documents show Fish and Wildlife officials have allowed some wells to go dry and moved fish in an effort to protect the species as water levels drop.
"We can say now beyond a shadow of a doubt that groundwater extraction for the border wall is pushing these fish to the brink of extinction," Jordahl said.
Jacob Malcom is director for the Center for Conservation Innovation at Defenders of Wildlife. They released a separate document tracking levels of a groundwater well on the refuge and one just off the refuge used by contractors. Malcom said the analysis was compiled by FWS officials.
"As that has been pumped more and more for border wall construction, the on-refuge well has continued to drop," Malcom said.
Malcom and Jordahl said the evidence is clear -- groundwater pumping at this level is unsustainable and is threatening the existence of the wetlands and species that depend upon it, all for a wall they said is unnecessary. They pointed to the waiver of dozens of environmental laws which would normally apply to these projects, which both said would have likely prevented the new border wall projects from moving ahead.
"This [is a] basic violation of national policy, it is our policy not to drive species extinct, that's why we have a Endangered Species Act," Malcolm said. "They're (CBP) just ignoring that and doing whatever they want and I'm hoping that action will be taken to change course."
CBP was unable to respond to specific questions by deadline but in response to a general question regarding concerns raised about groundwater pumping recently said via email that it works with the U.S. Army Corps of Engineers and construction contractors to monitor water levels in sensitive areas and implement mitigation strategies where possible.