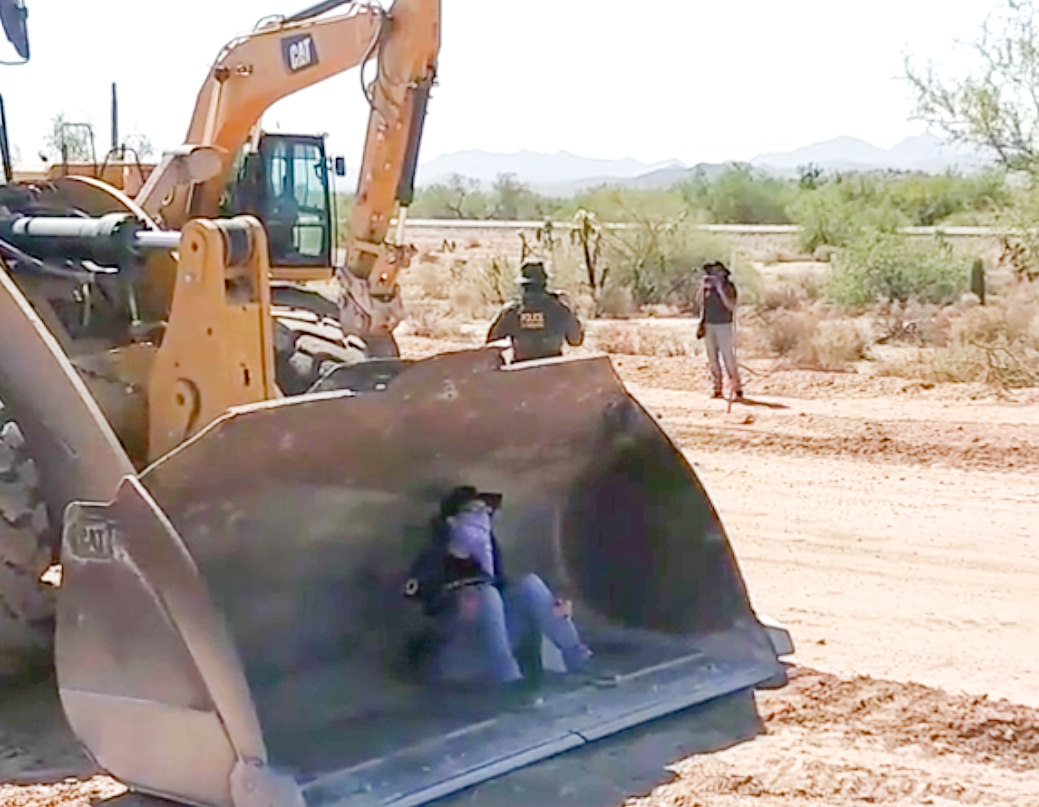 VIEW LARGER A Hia-Ced O'odham protester sits inside a vehicle to block construction on a stretch of border wall going up in Organ Pipe Cactus National Monument on Sept. 9, 2020.

Courtesy of O'odham Anti-Border Collective
A demonstration against border wall construction near Quitobaquito Springs led to two arrests Wednesday morning.
The protesters are Hia-Ced O'odham, a tribe not federally recognized that used to live at Quitobaquito Springs before it became part of Organ Pipe Cactus National Monument in the 1950s.
Protesters stopped construction there for more than an hour by preventing machinery from moving. A video shows a demonstrator sitting inside the bucket of a backhoe as law enforcement officers come into frame.
"This is O'odham land, this is sacred area, this is where our ancestors are from. You do not have permission to be here," someone can be heard saying in the video. "We need you to cease and desist. Take your machines with you."
The demonstrators are part of O'odham Anti Border Collective and Defend O'odham Jewed, a network of Akimel O'odham, Tohono O'odham and Hia-Ced O'odham activists at the center of recent demonstrations against wall construction on ancestral tribal land across Central and Southern Arizona.
Quitobaquito Springs is a historic homestead that is sacred to several Indigenous communities and a rare source freshwater in the sprawling Sonoran Desert.
The spring system and its pond have been in a slow decline for years due to agriculture in neighboring Sonora and leaks in the man-made pond. Activists and scientists familiar with the source argue trenching, dynamiting and water pumping for the border wall is exacerbating the problem.
The spring's flow dropped to a record low of 5.5 gallons per minute in mid-July. In a letter to U.S. officials back then, 25 ecologists, biologists and hydrologists estimated the pond has dropped 15 inches in the last three or four months, leaving some three quarters of the remaining pond with less than a foot of water.
Now, activists say construction is zeroing in, with trenches for wall segments visible from the site.
A handful of demonstrators went to the park again on Thursday morning.
"This is a live call out to all O'odham, we need you here on the front line to stand for our sacred site, the one that has been here for time immemorial, longer than we as O'odham people," a Tohono O'odham protester said in a live video from the scene. "That water has given us life, purpose and meaning in these lands, and they have robbed us."

Located a few paces from the U.S.-Mexico border, hydrologists estimate Quitobaquito Springs have existed for some 10,000 years. The pond they feed used be home to Hia-Ced O'odham and Tohono O'odham tribal communities and is the site of burial grounds.
Another Indigenous organizer, who declined to give her name but identified as Onk-Akimel O'odham, said the demonstrations sprang into action when activists saw how close machinery was getting to the spring.

"I think that people have just forgotten," she said. "I think they've forgotten the connection they have to Mother Earth. And it's time to remember that, it's time to protect her and stand up for her because she's given us so much."
A Customs and Border Protection spokesperson said Tucson Sector Border Patrol agents aided National Park Service officers who made the arrests. Indigenous activists said the two are in custody on misdemeanor charges of violating a closed order and interfering with a federal function.
Both women are being held in U.S. Marshals Service custody at the Florence Correctional Center and are scheduled for remote initial appearances at the U.S. District Court in Tucson on Thursday.