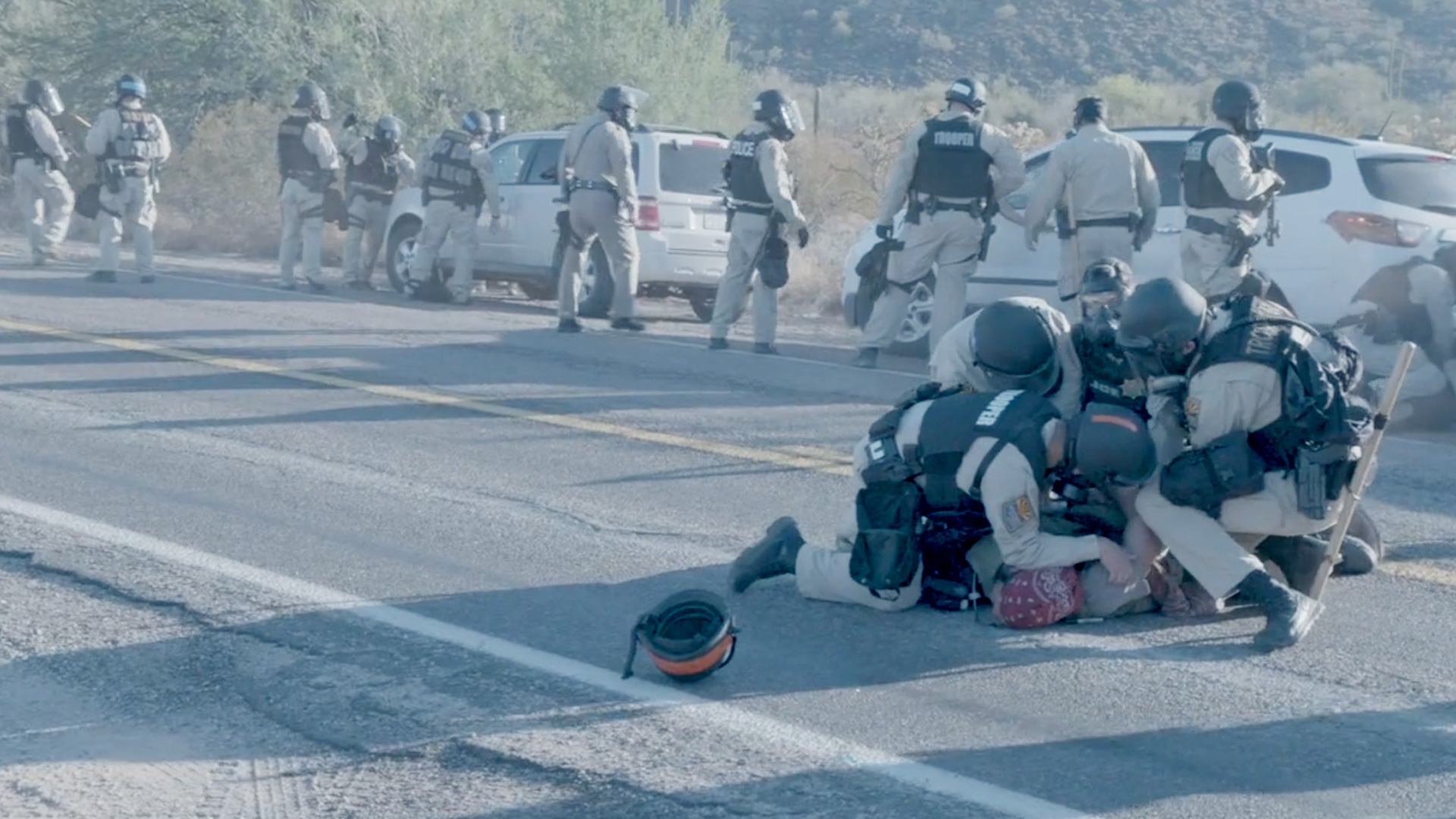 VIEW LARGER Arizona Department of Safety officers surround and handcuff an Indigenous demonstrator during an O'odham-led blockade at a Border Patrol checkpoint on Highway 85 on October 12, 2020.

Rafael Samanez
Indigenous-led demonstrators say they were subject to tear gas, rubber bullets and arrests Monday morning during a nonviolent protest against border wall construction at a Border Patrol checkpoint in western Pima County.
The checkpoint is located less than 30 miles from the Lukeville Port of Entry on Highway 85. About 30 demonstrators spread out in front of the site early Monday, blocking traffic from both sides and holding banners reading "Respect the land," "Stolen Land," and "No one is illegal."
The action is the latest in a series against wall construction and surveillance on ancestral Indigenous land.

One Tohono O'odham organizer who gave the name V said demonstrators were praying and singing for over an hour before officers began firing tear gas and rubber bullets into the crowd. A video shared by the group shows more than a dozen Arizona State Troopers pressing into a crowd with batons as plumes of smoke rise into the air.
"They were in ceremony," she said. "They were speaking with conviction to Border Patrol and any other agent on the field, of the desecration they are doing, the harm they are doing to the land, the harm they are doing to the people."
Similar demonstrations have been ongoing since this summer, organized by a network of Akimel O'odham, Tohono O'odham and Hia-Ced O'odham organizers called Defend O'odham Jewed and O'odham Anti-Border Collective. Not all those tribes are federally recognized, but have ancestral land that spans central and southern Arizona.
An Arizona DPS spokesman said the agency needed more time to answer questions, but confirmed some arrests were made. In an email Tuesday night, the spokesman said eight adults and three minors were taken into custody. He said troopers deployed smoke canisters, tear gas and "less-lethal" impact munitions because protesters failed "to comply with a lawful order."
Eight adults who were arrested were taken to the Pima County Jail in Tucson. Supporters gathered there Monday evening to await their release. Charges have not been announced.
Demonstrations have centered on Quitobaquito Springs, a freshwater source and pond along the border in Organ Pipe National Monument that's part of the Hia-Ced O'odham traditional homeland. Park service officials closed the road to Quitobaquito amid mounting demonstrations there as wall construction advanced.
V said the 30-foot steel bollard wall now extends beyond the site, and O'odham will keep organizing as long as construction continues.
"We're continuing to mobilize as people, as Indigenous people and as allies, because of this continued desecration," she said. "They're not going to stop, we won't stop."

On Friday, around 100 people showed up for a rally in Tucson where O'odham speakers described how border surveillance had changed their communities.
One Tohono O'odham speaker said on the Tohono O'odham Nation, everyone has a story about a Border Patrol interaction.
"There's solidarity among Indigenous tribes all along this border because we are tired of the surveillance, we are tired of the brutalization and we are tired of the genocide that this border has brought to our homeland," she said. "This militarization isn't normal, and thinking of my nieces and nephews who have to grow up in this, they're never going to know what it was like to live on the land without being surveilled."
This week the Trump administration announced 360 miles of border wall were complete. On Saturday, a federal appeals court ruled the administration's use of $3.6 billion in military funds for construction was illegal.
Monday's demonstration comes on the heels of an Indigenous People's Day celebrated by a dozen states and more than 100 cities across the U.S. In a statement sent to media, organizers asked supporters to mobilize to protect sacred sites like Quitobaquito.
"Everyday is Indigenous People's Day," the statement read. "We are here to remind the world that this is, was and always will be Indigenous O'odham land, and we will do what is necessary to protect it."
This story was updated Tuesday afternoon based on new information provided by DPS, including the number of people arrested. An earlier version of the story reported a number provided by Customs and Border Protection.