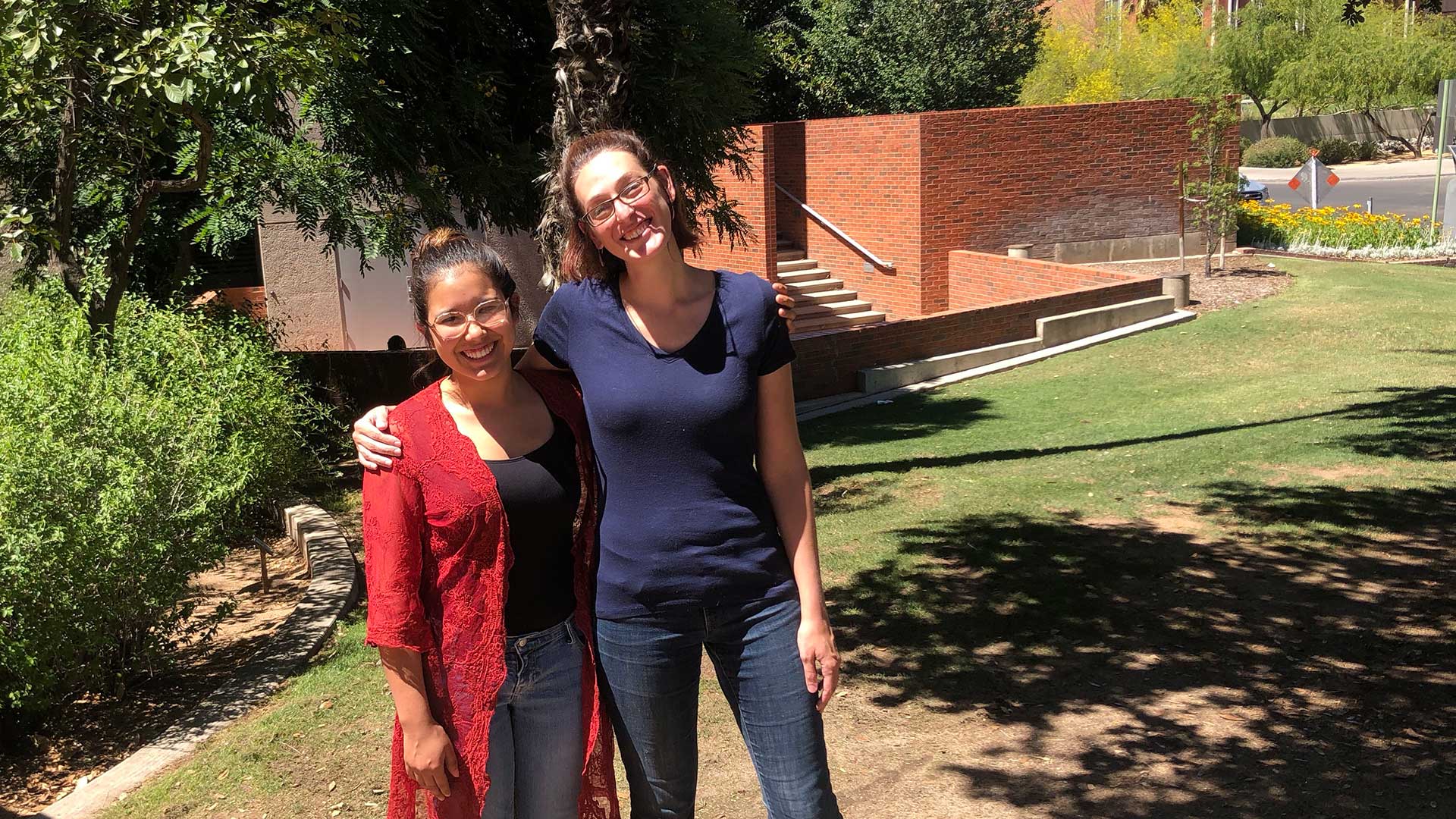 Rashel Olalde and Bethany Neumann
Duncan Moon/AZPM
Homeless students
The national Kids Count report released in mid-June shows housing affordability in Arizona continues to drop. The state now ranks 39th in the country, and that is making it more difficult for families to find and keep a home. On any given night, nearly 10,000 Arizonans are homeless. Many of them are children struggling to stay in school and graduate
On a recent June afternoon near the main University of Arizona library, rising sophomore Rashel Olalde is meeting with a mentor. It's an everyday occurrence on a university campus, but Rashel is not your ordinary student
Not long ago, she was one of those homeless students and almost didn't make it through high school. Going on to college was not something she really thought about.
"I felt alone and hopeless," she says. "I didn't think I would make it through high school, because of that loneliness."
Rashel was born in Phoenix to Mexican immigrant parents. When she was 6 or 7, her family was forced to go back to Mexico. She lived there for 8 years, but in ninth grade, her parents sent her back to the U.S. hoping for a better education. At first she lived with a family member in Tucson, who said she would care for Rashel as her own daughter. But that didn't happen. She didn't want to buy Rashel clothes, so she had to wear the same thing every day.
"I only had one pair of shoes for the entire year, and it was embarrassing for me," she says. "Most of the clothes that I had didn't fit me anymore. I saw how my classmates looked at me, like, 'Wow, she's wearing the same shoes every day.' And I didn't know what to do."
Rashel says she often went hungry and eventually decided she had to leave and strike out on her own. She stayed for a while with two ladies from church, and did a lot of couch surfing and felt overwhelmed by the uncertainty and instability, but then her Spanish teacher at Tucson High introduced her to Youth On Their Own, a charitable organization designed for students just like her.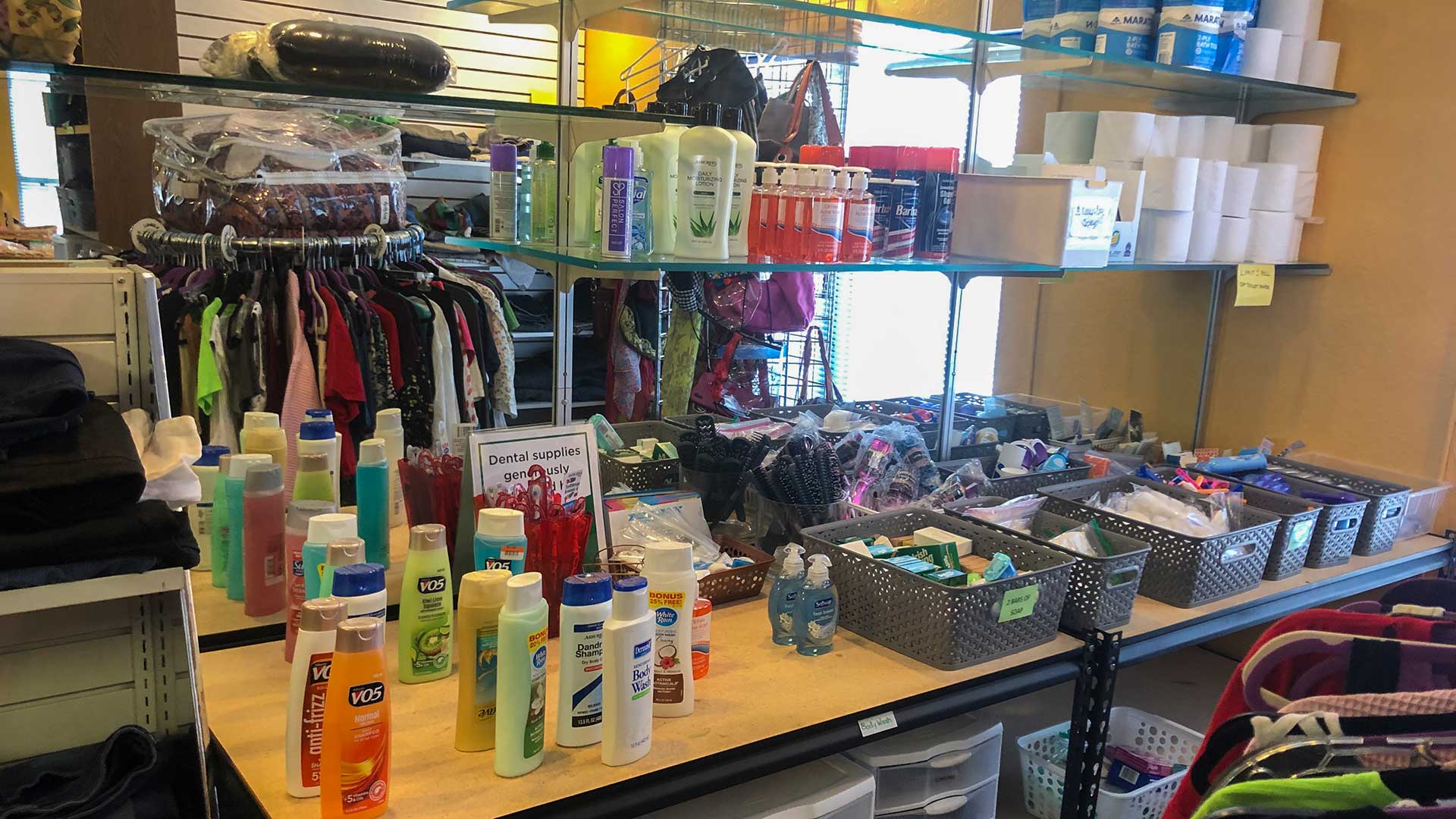 VIEW LARGER Toiletries and clothes at the Youth On Their Own Store in Tucson, June 2019. Homeless students enrolled in the program have free access to these and other resources.

Duncan Moon/AZPM
YOTO, as it's known, provides practical needs to homeless students — not a home, but a monthly stipend, food, clothing, personal hygiene supplies, computer access and a place to study, and even loaner bicycles and free bus passes to get around. Bethany Neumann, the Development Director for YOTO, says the number of homeless students they serve is growing.
"We've seen a huge increase in enrollment," she says. "We've seen a 17% increase over last year. "
That's more than 300 students. She says it's daunting to keep up with the cost and the logistics of that kind of growth. But without the kind of support YOTO offers, homeless kids are at an overwhelming disadvantage. That assessment is reinforced by Patrick Studdard Kennedy, a teacher at the Agave school and a YOTO in-school liaison.
"They come in here not even thinking about the academics," he says. Their first thought is: 'Where's the cafeteria? I want breakfast. When's lunch?' Oftentimes, they'll fall asleep in class because it's the first warm environment they've been in."
Both Neumann and Kennedy agree that as important as it is for them to meet day-to-day needs, it's just as vital to show the students individual care. Kennedy says you first have to build trust, and show the students that someone sees and values them.
"And then perhaps they'll say: now I'm ready," he says. "Now I see you really care about me as a person. Now I'm willing to engage the academics."
Dana Wolf Naimark says without both practical and emotional support of the kind that YOTO provides, homeless students lack stability necessary to succeed.
"Kids really need that stability," she says. "It's an essential part of what allows them to grow into new phases and to learn. When that is threatened, the stress is enormous; kids cannot focus on anything more than just finding their next meal and where they will spend the night. It makes it very difficult for them to break out of the cycle of homelessness."
YOTO's Neumann says there are approximately 5,600 homeless youth in Pima County. YOTO served 2,045 this year, but so many more fall through the cracks.

As she enters her sophomore year at UA, Rashel says without YOTO she might have fallen through those cracks, too. Their support made it possible for her to find her way, but she says there is one more thing that homeless students must have to succeed, and that's a compelling purpose — something that gets them out of bed in the morning.
For her, it was her three younger brothers in Mexico. She knew they were watching and she didn't want to let them down. She says now when she tells them they can make it, they have a good reason to believe her.

Part of a AZPM news radio series covering housing and issues of access, affordability, historic discrimination, cultural identity, and the changing neighborhoods of Tucson. More from this series
here
.