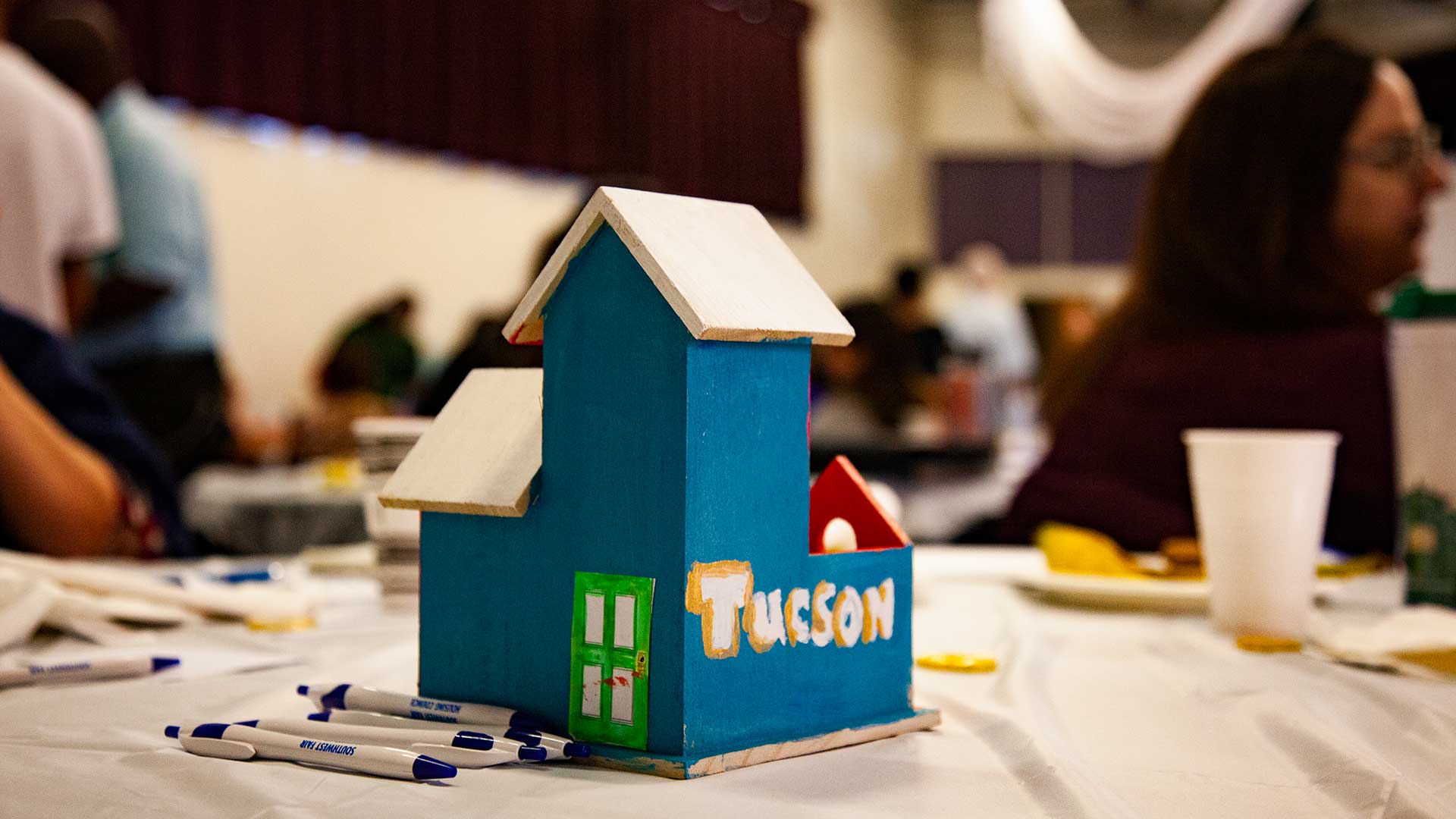 Tables at an event organized by the Southwest Fair Housing Council, October 2018.
Nick O'Gara/AZPM
Like most of the country, Tucson implemented racist and discriminatory housing practices during the twentieth century. This week we're taking a look at the roots of housing discrimination in Tucson and its present-day ramifications, as part of AZPM's series on housing in Tucson focused on discrimination, access and affordability, called Finding Home.
Jay Young, director of the Southwest Fair Housing Council, says racist policies like redlining, which was created by the federal government to indicate to lenders "high" and "low" risk areas based on race or ethnicity, created the housing patterns that still exist today.
Young said while it's unclear whether Tucson had official redlining, many neighborhoods enacted restrictive housing covenants, specifically barring them from selling or renting to people of color or certain religions.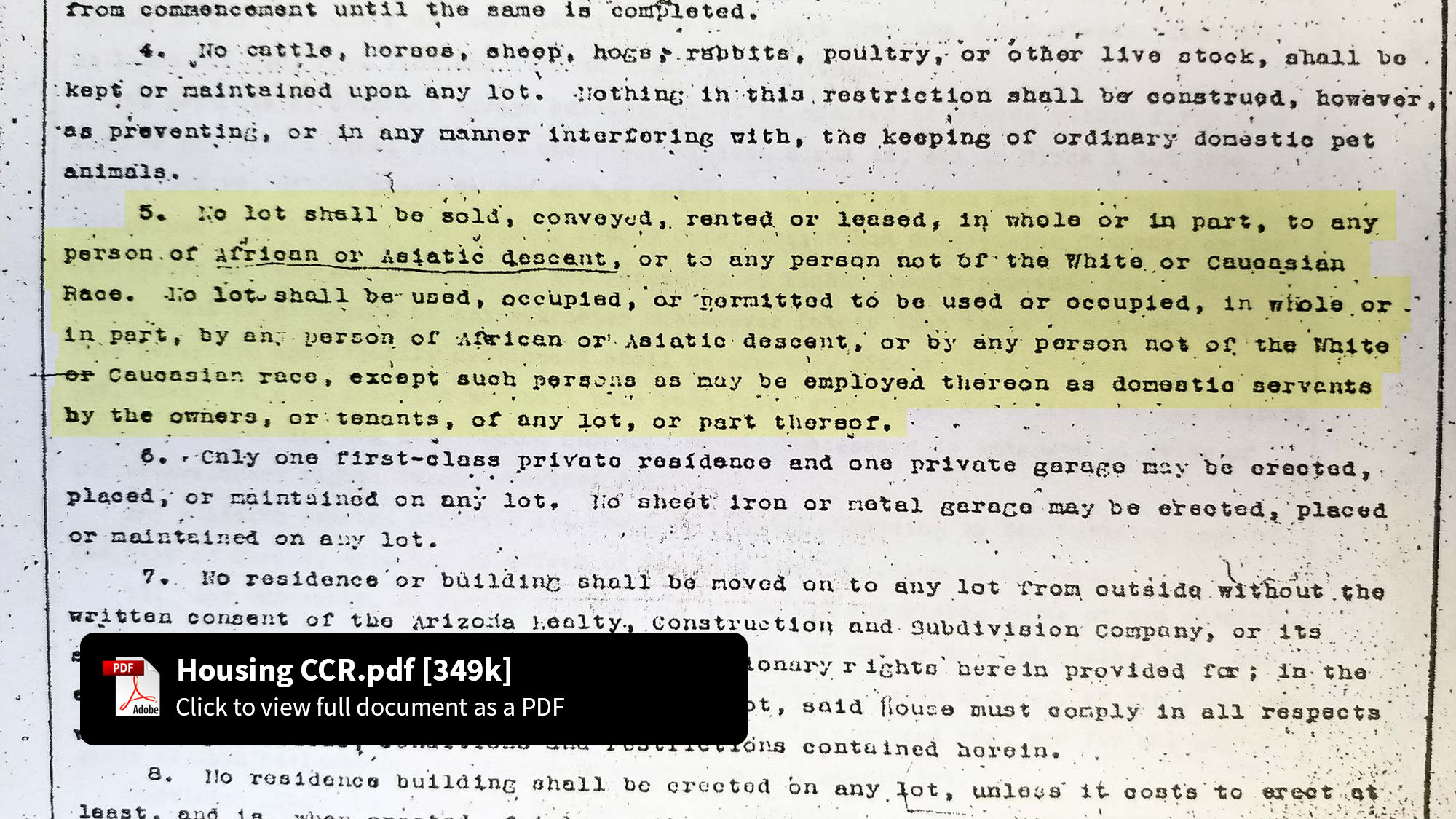 VIEW PDF [349k] 1930 restrictions for new houses being built in Tucson's San Clemente neighborhood. The documents are part of the official records held in the Pima County Recorder's office.
AZPM
Young told The Buzz that while the 1968 Fair Housing Act did outlaw housing discrimination, it also charged the nation with "affirmatively furthering fair housing," an effort he says has not been carried out.
Learn more about the work of the Southwest Fair Housing Council, including how to report if you've been a victim of housing discrimination.
---
Lola Rainey is a community organizer who grew up in Tucson. Her work as a prosecutor, attorney and member of Black Lives Matter Tucson gives her a unique lens on the housing landscape.
She told The Buzz about historic black neighborhoods in Tucson, including "A" Mountain (also called "Little Africa"), Meyer-Dunbar, Rillito-Marana and Sugar Hill, and how the history of those black residents has been erased and displaced as housing patterns have changed over time, and some parts of town have gentrified.
"You can see that there's a racial divide in housing. We know that our schools are some of the most segregated schools because of housing patterns," Rainey said. "Those are not accidental situations, they reflect policies and practices that continue to reify white supremacy and shift economic and political power from one group to another."
She said the practices of the past have created a wealth gap among different races today, and that there still is not enough being done to address discrimination, fair and affordable housing and opportunity for all people.
---
Joel Turner was a native of Tucson who grew up in the Dunbar neighborhood in the 1930s and 40s. After graduating from the University of Arizona with a chemistry degree, serving in the Korean war and graduating from dental school in Tennessee, he returned to Tucson in 1965 and began looking for a place to live. Turner related his experiences with housing discrimination in what is now central Tucson.
Stanley Feldman's family moved to Tucson from New York in 1938 hoping the desert climate would help his mother's health. After a series of rentals, the family moved into today's Colonia Solana, where they faced an anti-Semitic neighborhood association.
These two stories were produced by Aengus Anderson and come from the UA libraries special collection's Archive Tucson oral history project.
---
Next week The Buzz will look at what local groups are doing to address affordable housing in Pima County.
In July, AZPM will be hosting a live event focused on gentrification and neighborhood change in Tucson. We want your thoughts! Call 520-621-5999 and leave us a voicemail about how has your neighborhood changed, and how has that affected you.

The Buzz
airs Fridays at 8:30 a.m. and 6 p.m. and Saturdays at 3:30 p.m. on NPR 89.1. You can subscribe to our podcast on
iTunes
and NPR One. See more from
The Buzz
.