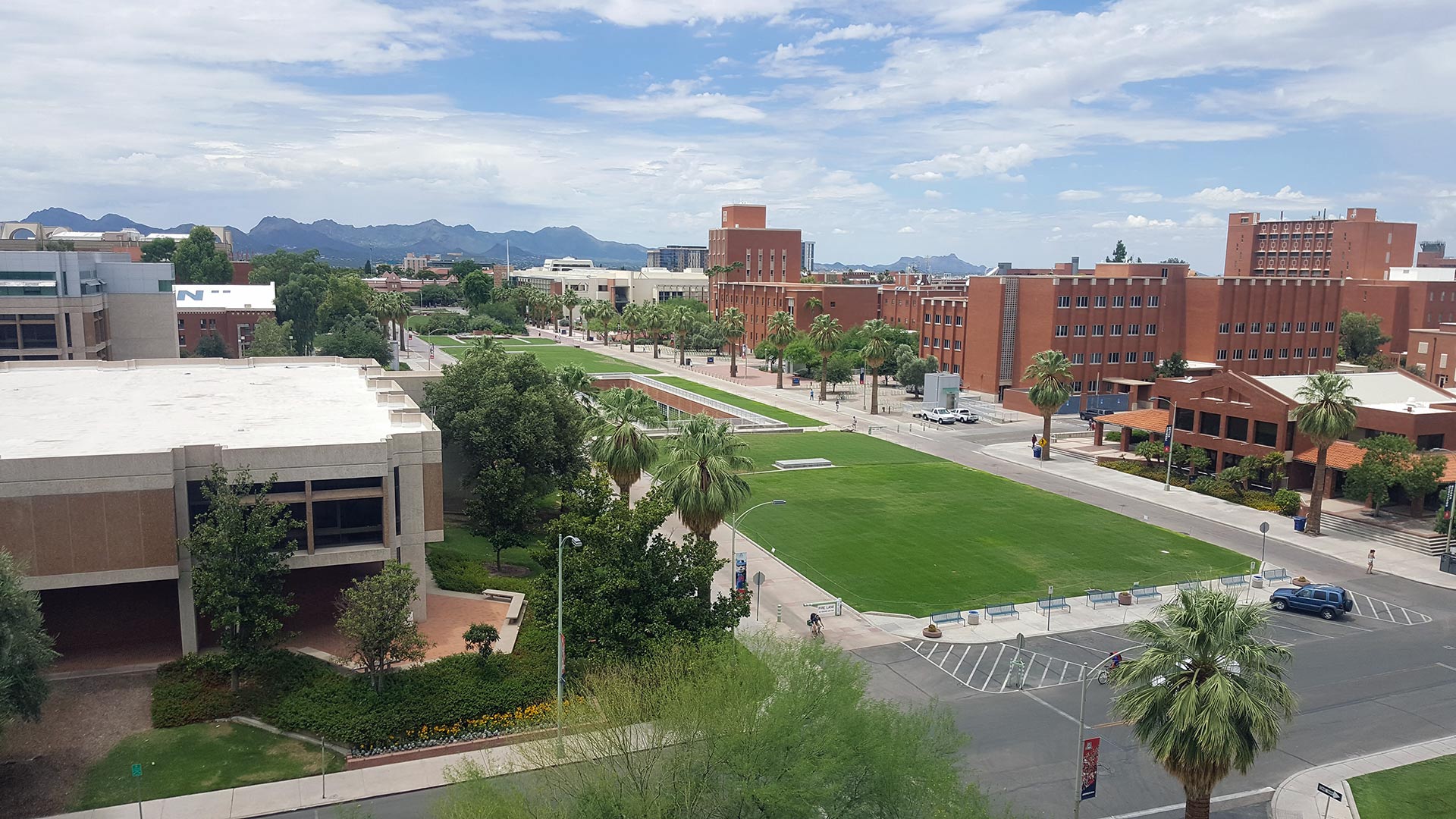 The University of Arizona campus.
AZPM
Dorm rooms, classrooms, laboratories, rec centers, student unions and libraries — it takes a lot of energy to power the University of Arizona.
Forty percent of that power comes from the university's own natural gas-powered turbines, but the rest is supplied by Tucson Electric Power. By the end of 2020, all the power UA buys from TEP will come from new wind and solar projects.
"Through this deal with TEP we're mitigating 100% of our scope 2 emissions, which is about one-third of the university's carbon footprint," said Trevor Ledbetter, director of the university's sustainability office. Scope 2 emissions are those generated from buying power from utilities. Ledbetter said the university considered buying that renewable power from other providers but in the end chose to work with TEP.
"From the university's perspective, one of the things we were looking to do was drive the addition of new renewable energy sources on the grid. And that's one of the driving factors that led us to stay in the state of Arizona as well as benefit our local community," Ledbetter said.
Having enough renewable energy to supply the university's needs did help drive TEP to invest in more carbon-free resources, according to spokesman Joseph Barrios. TEP had already announced plans to build a new 100 megawatt solar and storage facility south of Tucson and 100 megawatt wind facility in New Mexico. Then they announced plans for a second wind farm in New Mexico.
"After that [announcement], we learned that that the University of Arizona was interested in pursuing its own renewable energy and sustainability goals, and so that certainly was a factor in ultimately expanding the scope of that third project," Barrios said, adding that cost was another factor.
TEP expanded the resulting Oso Grande Wind Project by another 100 megawatts. Once all those projects are online, about 8% or 9% of TEP's renewable power will go to the UA, Barrios said.
"So the amount of energy that we'll be delivering to them is significant. We'll continue to expand our own resources so that percentage will go down over time," he added. TEP has a goal to provide 30% renewable power to its customers by 2030.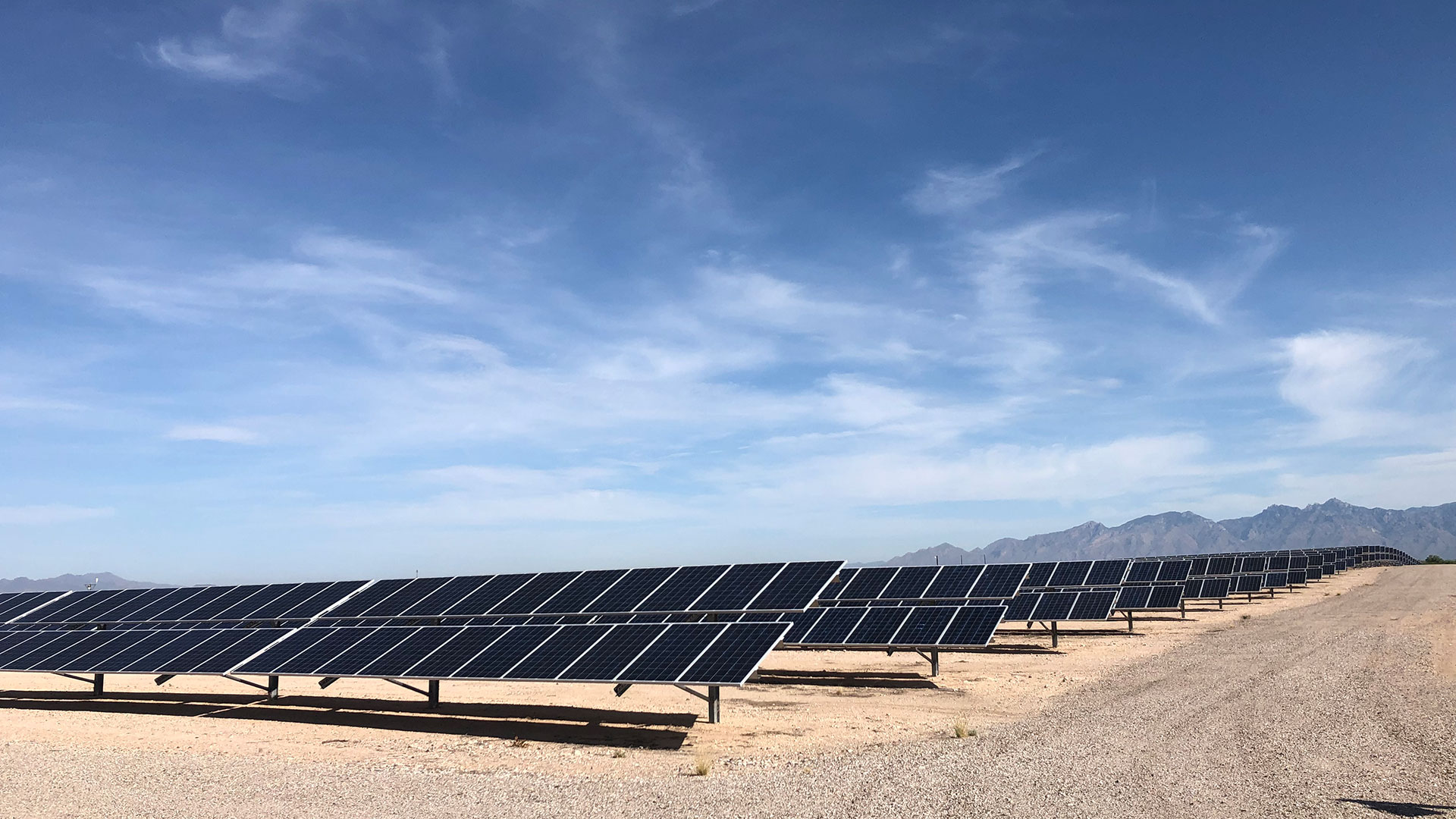 A solar array used by Tucson Electric Power to add renewable energy to the grid, August 2019
Christopher Conover/AZPM
Universities around the country have faced pressure from students and alumni to reduce carbon emissions and divest themselves from oil and gas investments, according to Joshua Rhodes, a senior energy analyst at Colorado-based clean tech consulting firm Vibrant Clean Energy. He said the UA-TEP agreement is part of a movement by companies who partner with utilities to reduce their carbon footprint.
"For a lot of companies, the most amount of energy they use comes from electricity. So if they do want to clean up their footprint, they are having to basically clean up someone else's footprint, because they're reliant on someone else to provide them that energy," he said.
Rhodes said big power users can have a louder voice in making requests of utilities. But considering renewable energy projects, once built, don't require utilities to pay for traditional fuel like coal (the cost of which is expected to rise), power agreements like this also make financial sense for both parties.
"With tech like wind or solar or storage, 99% of your cost is getting your concrete and steel in the ground today, and you basically know what the price of your electricity is going to be next year, and in five years, and in 10 and 20 years. That's a valuable thing," Rhodes said. Plus, the Southwest has really strong solar and wind resources.
This agreement will be cost-neutral for the university for the first three years, then generate cost-savings over the remaining length of the 20-year contract, according to Chris Kopach with UA Facilities Management.
Barrios said while the agreement with the university is unique, TEP continues to work with clients from residential to industrial scale interested in pursuing their sustainability goals.
"We want to help you. In some cases that's not simply making sure the lights come on, it's having a conversation about where the power comes from. And more and more we're having conversations like that," he said. The UA-TEP deal still needs to be approved by the Arizona Corporation Commission.
Ledbetter says the UA has a goal to become carbon neutral by 2040, which will require them to transition off of the on-site gas turbines. So why not install more solar panels on campus, for example?
"Economics, in one word," Ledbetter said, because of the high cost of steel supports.
In addition, Ledbetter said the roof condition on many buildings won't support solar installations, but as part of this deal the UA will be looking at installing two new on-campus solar arrays in the coming years. His office is also beginning a campus-wide sustainability planning process, focused initially on the main campus.
The UA is part of the University Climate Change Coalition, which is committed to reducing emissions and improving research on climate change policy across universities in North America.
"As an institution we don't have a clear sustainability action plan — climate action plan — in place like many other institutions of higher education, so for our first go around we're really looking at what can we do … and how are we going to make that realistic, but also not aspirational in a way that pushes the institution to do what we need to be doing," Ledbetter said.