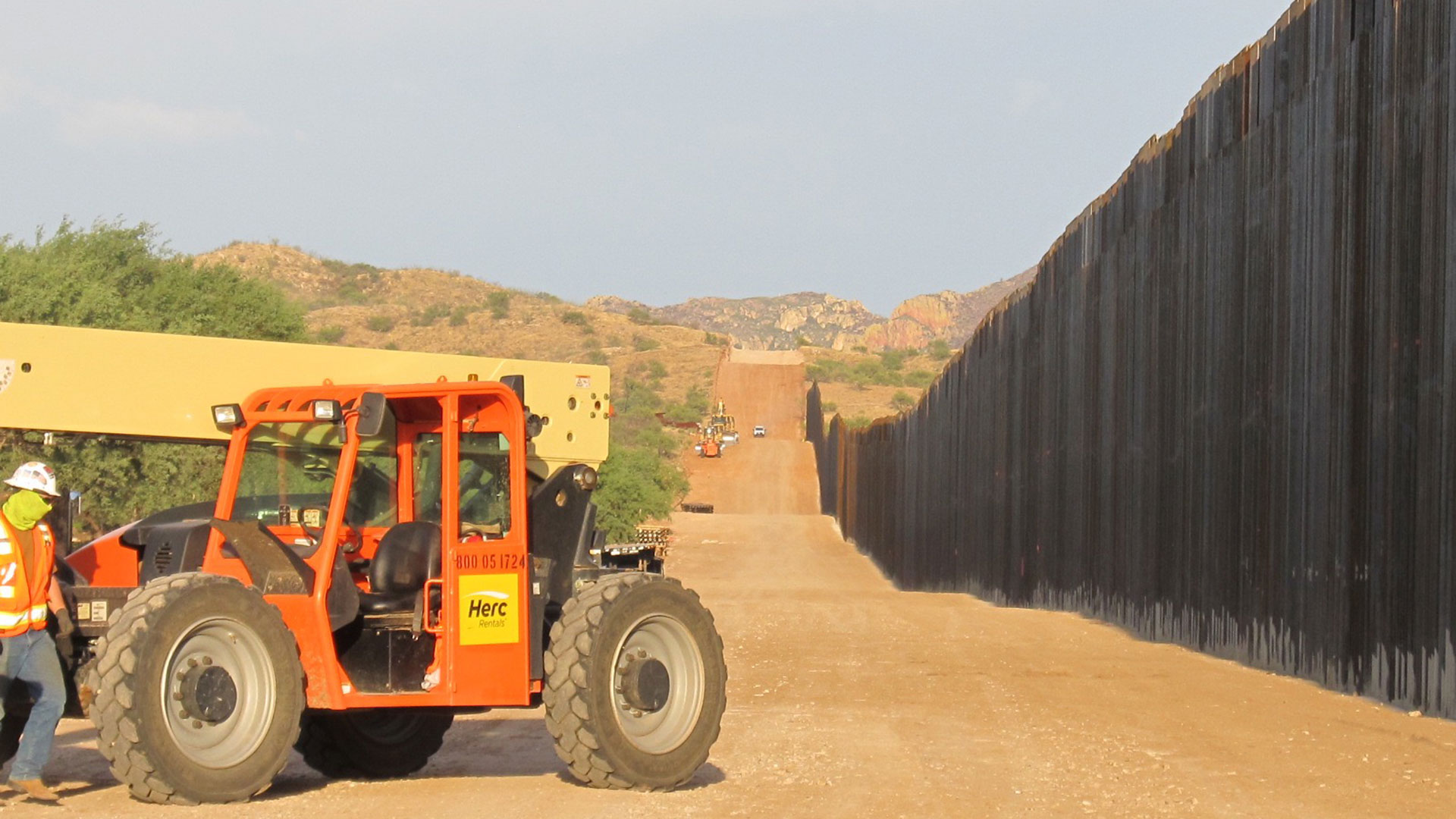 Construction of 30-foot high steel bollard wall on or near the Buenos Aires National Wildlife Refuge near Arivaca in July 2020.
Courtesy Sierra Club
Construction of President Trump's border wall is continuing along more than 130 miles of the Arizona-Mexico border.
Since May 2017, U.S. Customs and Border Protection has received more than $12 billion for wall building along the southern border.
The Office of Inspector General recently issued an audit of the Department of Homeland Security's wall-building projects along the southern border as directed via President Trump's executive order in 2017.
They found Customs and Border Protection did not properly analyze alternatives to select the most effective and affordable solutions to obtain operational control of the border or use what they called a sound methodology to identify and prioritize which sections of the border would best benefit from physical barriers, and lacked an implementation plan for securing the border.
The Office of Inspector General made three recommendations in its report:
CBP do an updated analysis to find the most effective and appropriate solutions for controlling the southern border.
Border Patrol revise its way of prioritizing investments in border security, including using multiyear data.
DHS determine the need for an implementation plan to secure the border.
In its written response, DHS objected to the report's findings and disagreed with the first and third recommendations. The agency said it was following the administration's specific order to build a wall.
CBP declined an interview request and did not respond to a request for written comment.
Much of current border wall construction is happening on federally protected lands, like Organ Pipe Cactus National Monument and several national wildlife refuges.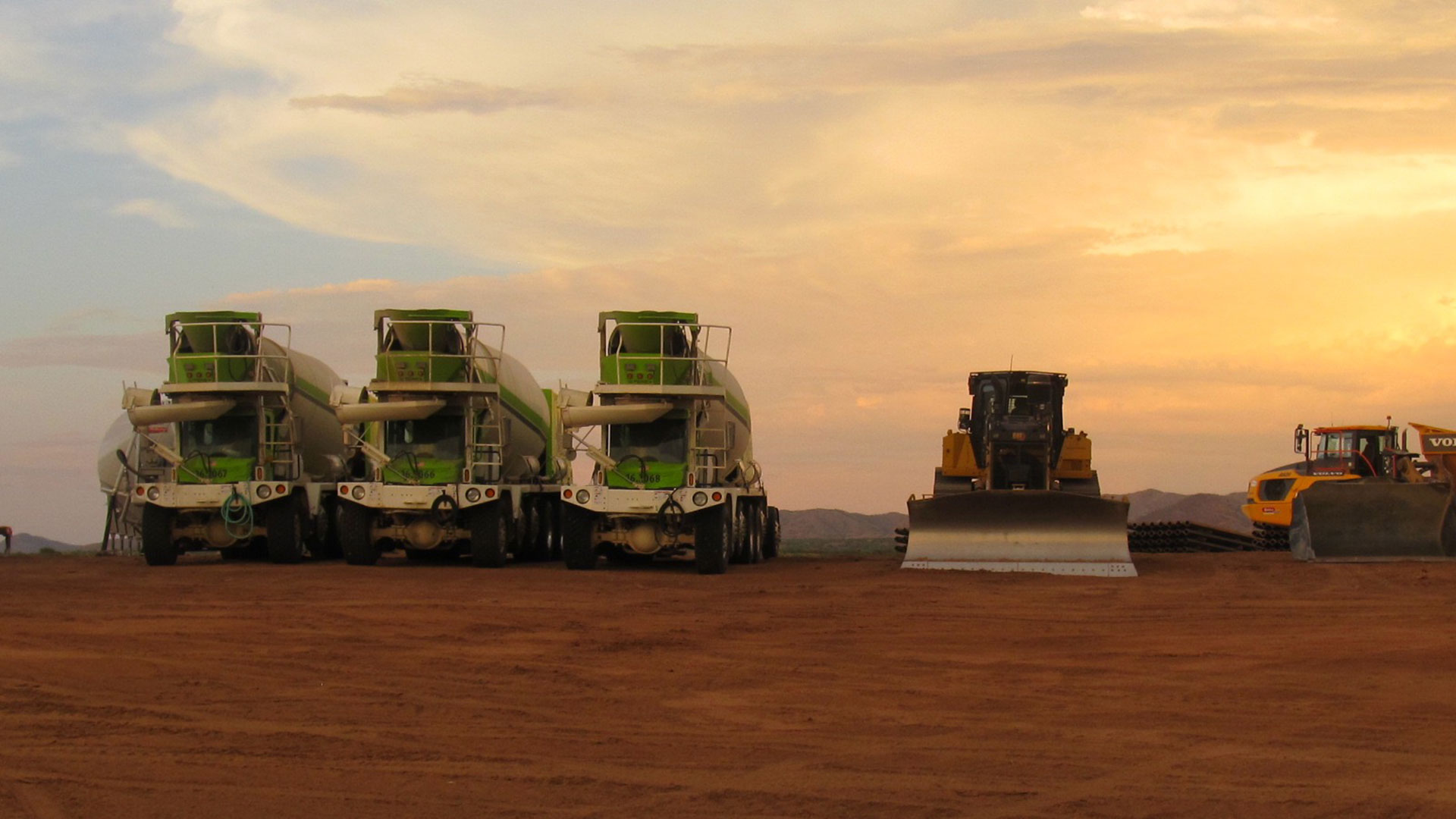 VIEW LARGER Heavy machinery sits ready for construction of new border wall in July 2020.

Courtesy Sierra Club
Border security laws created in the early 2000s, like the Secure Fence and the Real ID acts, have allowed DHS to waive a slate of environmental protections and many other national and local laws.
That has led to fervent opposition, and several ongoing lawsuits to the walls from environmental groups and local activists. Last week, the Sierra Club and American Civil Liberties Union asked the U.S. Supreme Court to lift a stay it issued last year, which would have the effect of halting border wall construction because of other legal rulings. On Friday July 31, the Supreme Court decided to leave that order in place, allowing construction to continue, while the underlying legal challenge moves through court. [Eds: This story was updated Friday afternoon following the high court's action.]
Much of the opposition to new border construction has focused on one place in particular: the San Pedro River, and the national conservation area through which it flows.
In January, Jeff Sturges and his wife Liz Lopez organized a peaceful protest called "Hands Across the River" that drew hundreds of area residents to demonstrate their opposition to the border wall planned across the San Pedro River. By early July, construction had begun.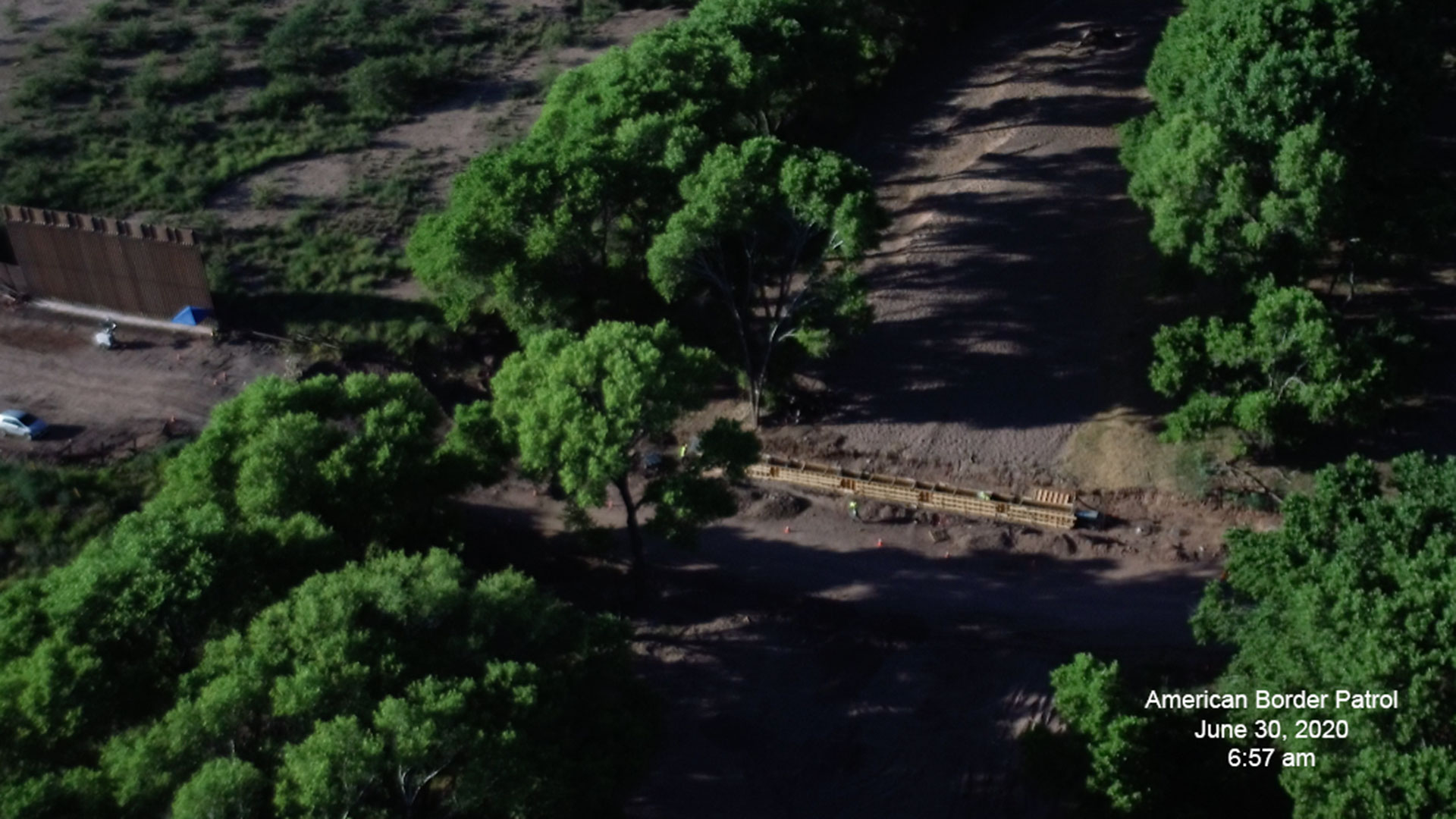 A drone photo shows construction work beginning in the San Pedro riverbed on June 30, 2020.
Courtesy Glenn Spencer.
The San Pedro wall section will be a bollard-style barrier with gates and a free-standing bridge over the river. The gates at the bottom of the wall open to accommodate monsoon floods, but Sturges said that confounds the barrier's purpose for border security, since it would be open for a few months each year.
Sturges said taxpayer money could be better spent on more effective methods. He has been urging his fellow citizens to contact their local elected officials to ask them to speak out, but he's not expecting things will change.
"I don't have a lot of hope ... that the federal government is going to listen to us 'cause they haven't listened to us for six months or more about our view," Sturges said. "They want to build their wall."
Others who live in the borderlands feel differently. Joe and Patricia Scelso are ranchers who live about two miles from the international border. They've had their ranch for 25 years, and in that time, Joe Scelso said they've seen a lot of illegal crossing. He said federal border crackdowns in the '90s in California and Texas funneled illegal crossings and drug trafficking into Arizona.
"We had about a six-year period where we never got a full night's sleep," he said. "At least four to five times a night we'd have to call the Border Patrol cause we'd have people coming across our property."
He said in the last 15 years they've continued to see traffic across their ranch, though it has slowed recently with President Trump's immigration policies. He said he's supportive of the new wall barriers.
---
For millennia, Quitobaquito Springs has sustained wildlife and Indigenous communities with freshwater in the Sonoran Desert. It feeds into a pond that used to be home to Hia-Ced O'odham and Tohono O'odham tribal communities. But the water source at Organ Pipe Cactus National Monument is in peril and some worry that ongoing border wall construction may be to blame.
As Alisa Reznick reports, more than 25 hydrologists and ecologists have co-signed a letter asking Department of Homeland security officials, National Park Service leaders and Arizona legislators to halt construction within 10 miles of the desert oasis.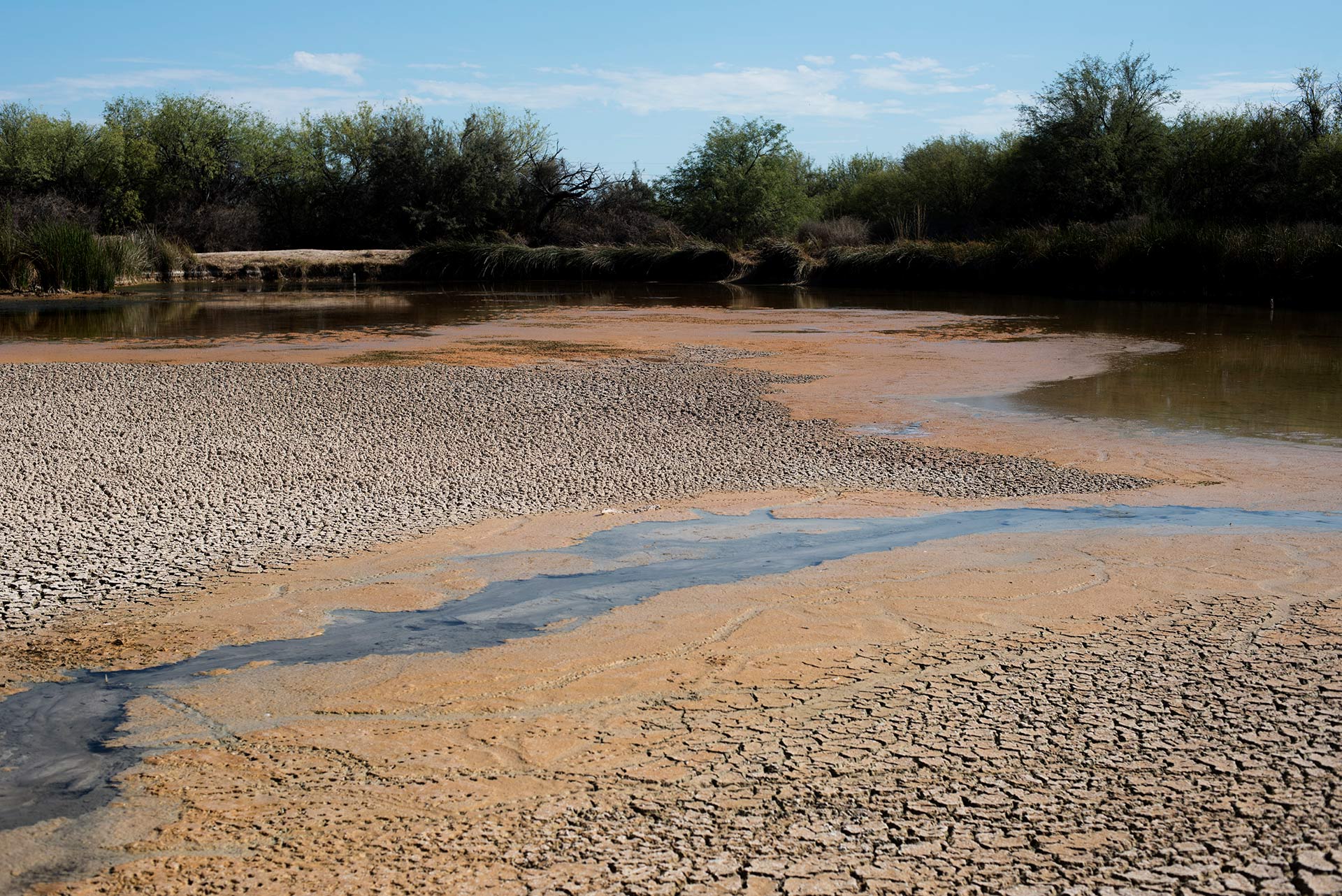 VIEW LARGER Cracked mud flats appear on the surface of Quitobaquito pond on July 18, 2020.

Alisa Reznick / AZPM
---
The Sky Island Alliance is a nonprofit that works to protect mountain ecosystems and habitat between mountain ranges in the U.S. and Mexico. Program Manager Emily Burns said they've set up a network of 60 remote cameras along the border, spanning 34 miles on federal and state land. They've also put cameras in Mexico.
"We are really interested in documenting the wildlife community that's living in the borderlands and migrating between sky island mountain ranges," Burns said.
So far, the study has identified 71 species, though Burns said that number might increase. Right now, the organization is using the cameras to gather baseline data, establishing what the region looks like without the border wall.
Burns said that when the wall does go up, it could lead to members of the same species being completely cut off from each other, resulting in the extirpation of some species from either country.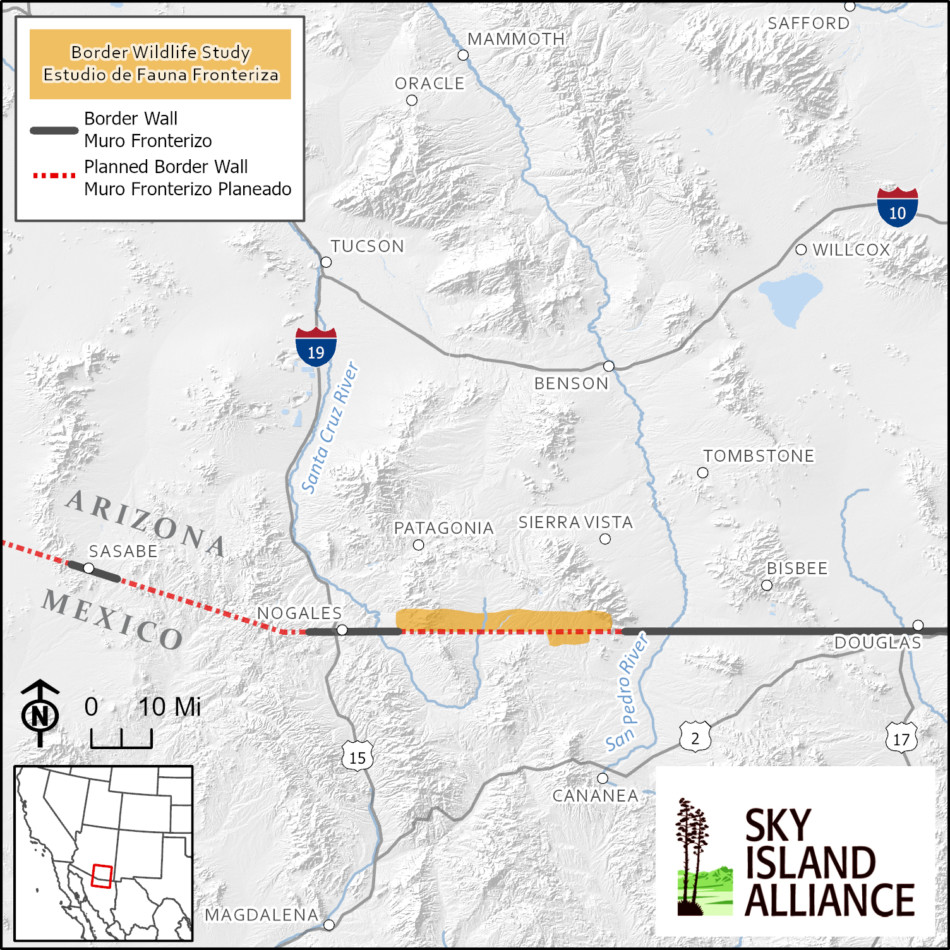 VIEW LARGER A map of cameras set up by the Sky Island Alliance to monitor wildlife activity along the border.

Courtesy Sky Island Alliance.
---
Pima County is the largest of the Arizona counties along the southern border. Sheriff Mark Napier said a lot of deputies' time is consumed directly and indirectly by border issues, including responding to calls for help from migrants. He thinks that physical barriers at the border are needed, but that monitoring technology and human response will also remain necessary.
"They'll make a difference, but I think the false perception is that it's a one-shot fix-all," Napier said. "And that's simply not the case."
Napier, who is running for reelection this year, said he suspects that as long as there is demand for illegal drugs, people will find a way to smuggle them across the border. The same goes for migrants who cross the border, as the wall does nothing to address the reason people are choosing to make the dangerous journey.
Some of the current barrier construction sites have been built in terrain that is easier to navigate, which might funnel people into more dangerous territory.
"Unfortunately, I think it's going to lead to more migrant deaths," Napier said.

The Buzz
airs Fridays at 8:30 a.m. and 6 p.m. and Saturdays at 3:30 p.m. on NPR 89.1. You can subscribe to our podcast on
iTunes
and NPR One. See more from
The Buzz
.