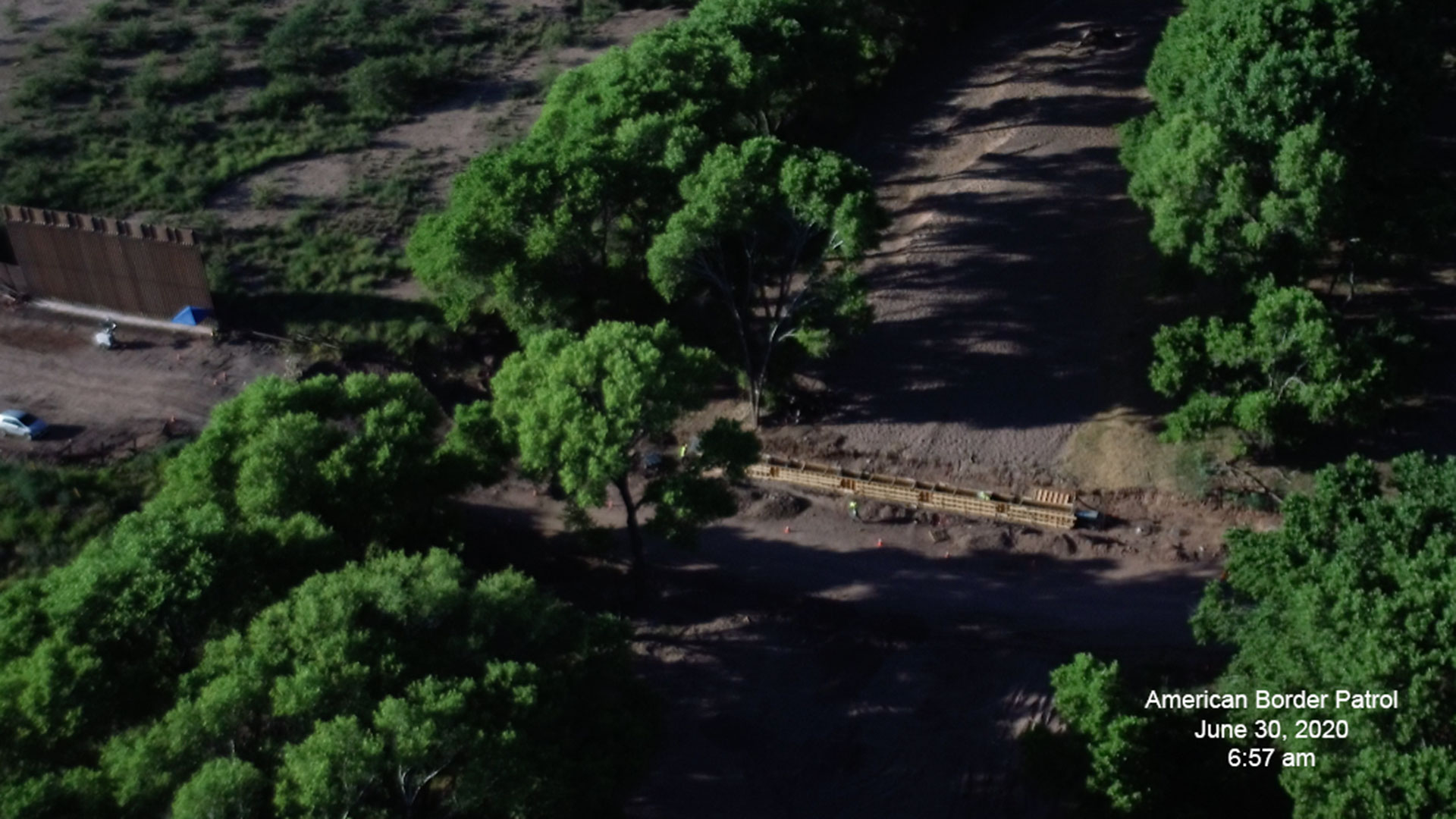 A drone photo shows construction work beginning in the San Pedro riverbed on June 30, 2020.
Courtesy Glenn Spencer.
After months of controversy, construction has begun on a section of a new border wall across the San Pedro River. A drone shot taken by a local resident shows work beginning in the riverbed.
Customs and Border Protection was unable to respond to a same-day request confirming the project status, but in an email statement in early June the agency confirmed construction was underway in surrounding areas, and would continue at the San Pedro once the design had been finalized.
While construction of President Trump's border wall has been ongoing for months across equally controversial and environmentally sensitive places like Organ Pipe Cactus National Monument and the San Bernardino National Wildlife Refuge, border residents and environmentalists have repeatedly objected to this section of the new wall in particular, which promises to wall off Arizona's last free-flowing river and a vital cross-border migratory thoroughfare for wildlife. Elsewhere on the border, the new barriers are 30-foot high steel bollards spaced 4 inches apart, which wildlife experts say will block the passage of nearly all wildlife.
Concerned residents and local officials have requested information about the details of the San Pedro crossing for months, citing concerns about potential damage the barrier will cause to wildlife, the local hydrology and the river itself, a regional ecological treasure.
In a June 12 virtual meeting, Customs and Border Protection provided details of the project for the first time to a limited number of pre-approved stakeholders. According to CBP's summary of the meeting, the initial design of the San Pedro River bridge was a series of culverts. That was rejected by CBP after feedback from the U.S. Bureau of Land Management, which manages the San Pedro Riparian National Conservation Area, through which the San Pedro River flows.
The final design will consist of a bridge structure that will run 550 feet across the river, unconnected to the border barrier, with a series of swing gates that open to the north. CBP said they will leave those gates open during monsoon season, from late June to September, which raised questions from those in the meeting about the efficacy of the barrier during those times.
The San Pedro project is part of a 63-mile project in the Tucson Sector and funded by Department of Defense counter-narcotics money. In the June 12 briefing, CBP stated that 38 miles of the 63-mile project have been completed so far, and the project is expected to be complete by the end of 2020.