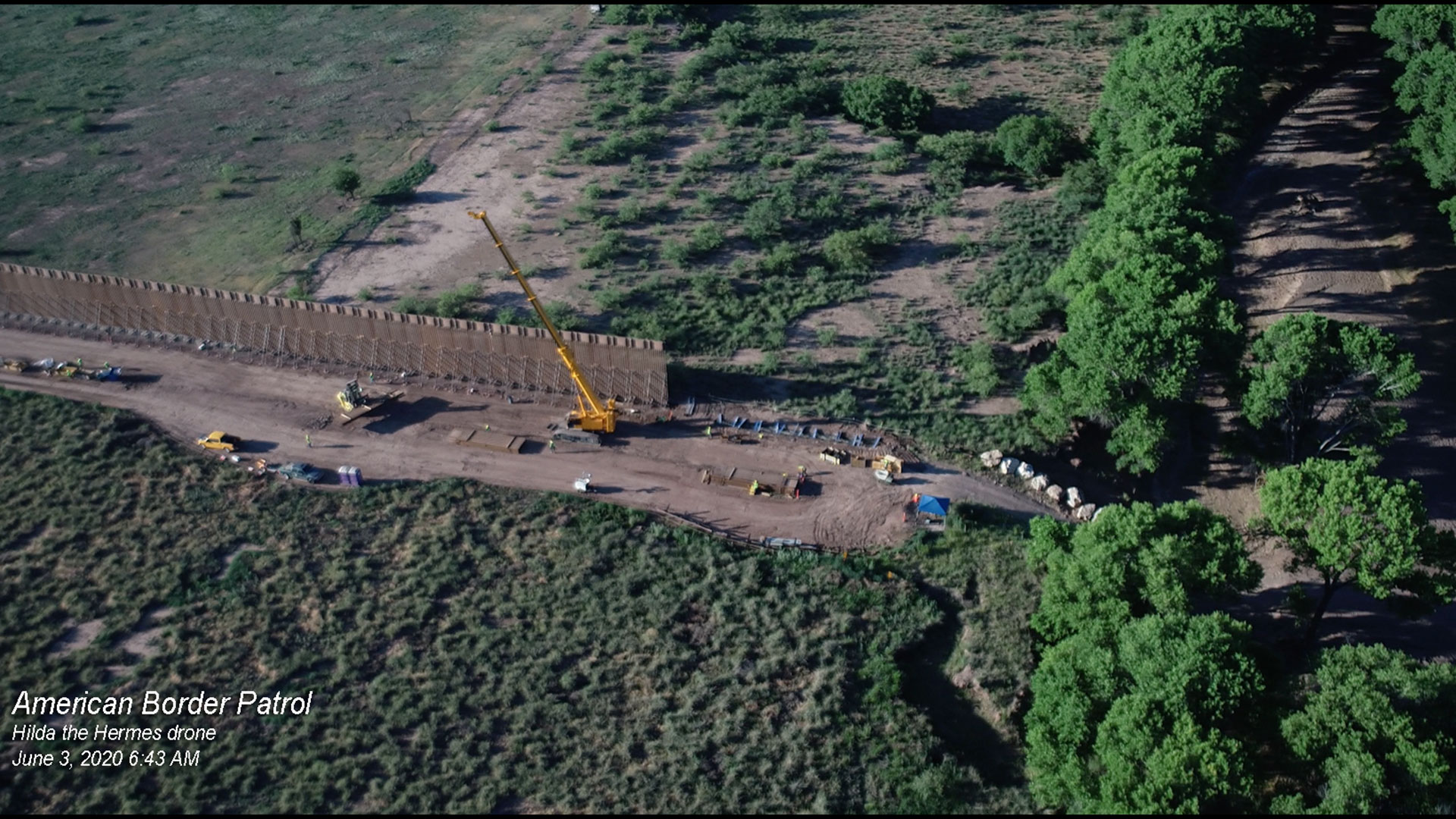 Drone camera image of border wall construction along the San Pedro River in early June, 2020.
Courtesy Glenn Spencer.
Tucson's local Border Patrol office was not in the loop on plans for President Trump's border wall, but instead found out about the projects through the media.
That information came to light Friday during a stakeholder meeting about the barrier being built across the San Pedro River, following months of little to no communication from the agency, as AZPM has reported.
U.S. Customs and Border Protection held the invitation-only virtual presentation to update a select few of those interested in the wall construction project across Arizona's last free-flowing river. AZPM requested an invitation but was declined.
Laiken Jordahl, borderlands campaigner with the Center for Biological Diversity and a staunch critic of the ongoing border wall projects, live tweeted the meeting.
I'm on a (private) webinar with @CBP about their plans to build the #BorderWall across the San Pedro River. It's the first time they're speaking on the topic after a year of stonewalling.

We're hoping to get some answers.

I'll tweet out quotes and info in this thread:

— Laiken Jordahl (@LaikenJordahl) June 12, 2020
According to two attendees, the barrier expected to be built soon across the San Pedro will include gates that would stay closed most of the year but open during flood season, from June to September. The local Border Patrol station would be in charge of opening and closing the gates.
Staff with U.S. Rep. Ann Kirkpatrick's office asked why the Department of Homeland Security hasn't responded to multiple letters sent by the congresswoman. According to attendees, CBP said they haven't read or received them.
Attendees said many questions remained unanswered, including how much the San Pedro border wall will cost taxpayers.