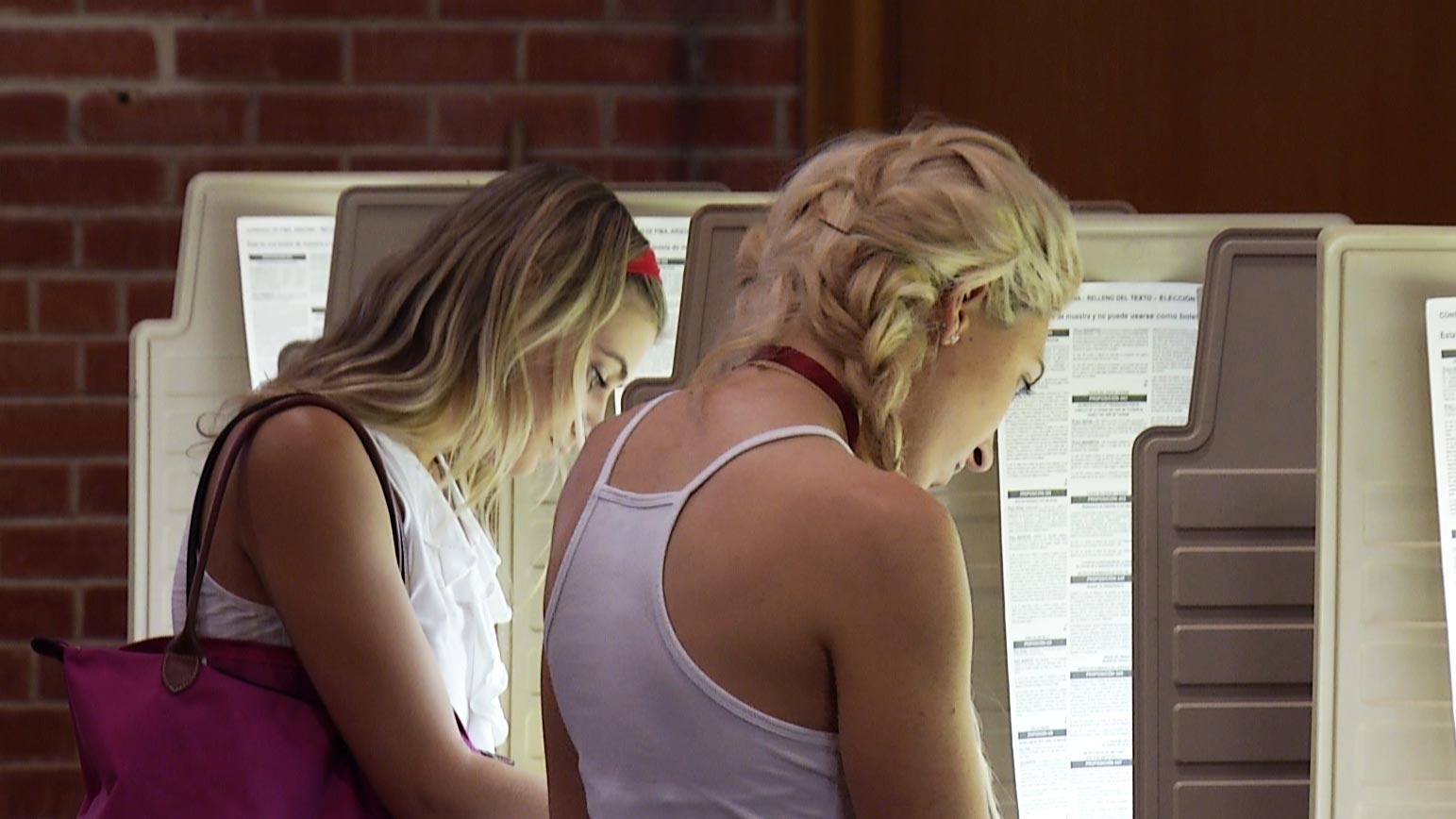 Two women fill out their ballots at a polling place in Pima County.
AZPM Staff
Voter rolls are closed for the general election. In Arizona, Republicans still have the most registered voters but for the first time since the 2010 general election, Democrats are the second-most popular political group in the state.
Nearly 4.5 million people are registered to vote in this year's general election in Arizona. The final numbers released by the Secretary of State's Office show that Republicans still outnumber Democrats and no-party registrants in the state.
Thirty-five percent of Arizona voters are registered with the Republican Party, 32% are Democrats, and 31.7% are registered with no party.
The 2020 general election marks the first time since 2010 that Democrats have outnumbered voters with no party affiliation.
In Pima County, 40% of voters are Democrats, while no party voters outnumber Republicans by a half percent.
"People are getting in the game, people are picking sides, this is a very tumultuous period that we are going through, people are hardening on either side and sometimes it is hard to find people who are in the middle or people who just want to vote but don't want to declare a party," said Barrett Marson, Republican strategist.
In 2016, the last presidential election, the parties were nearly evenly split in Pima County.
The total number of voters in the state increased by 19.5% since the last presidential election to 4.2 million. At the same time, Arizona's population increased by 4.8% to 7.3 million.
Arizona voter registration has been dominated by Republicans since 1988, according to records from the Secretary of State's Office. Democrats have maintained the same gap in registration for the most of the last two decades.
No-party voters have surged since the 2004 election, but political scientists say that is due to a change in Arizona law that allowed voters with no party affiliation to participate in the primary elections.
The parties have spent millions of dollars on voter registration across the country in advance of this election. That spending has been particularly high in states, like Arizona, that are regarded as in play. But registration does not mean a win for a party's candidate.
"We still have a [Republican] governor who won his race just two years ago [by] 13 points, so I think that tells you a lot about how this state really is," said Marson.

In that same election, Democrat Kyrsten Sinema won a statewide election for U.S. Senate.
The parties now must work to get their registered voters to cast votes.
About half of registered voters have voted early as of Oct. 28., according to daily tracking from Data Orbital.
---

Read more coverage of national, Arizona, and local elections at our 2020 elections portal,
Your Vote 2020
.
--