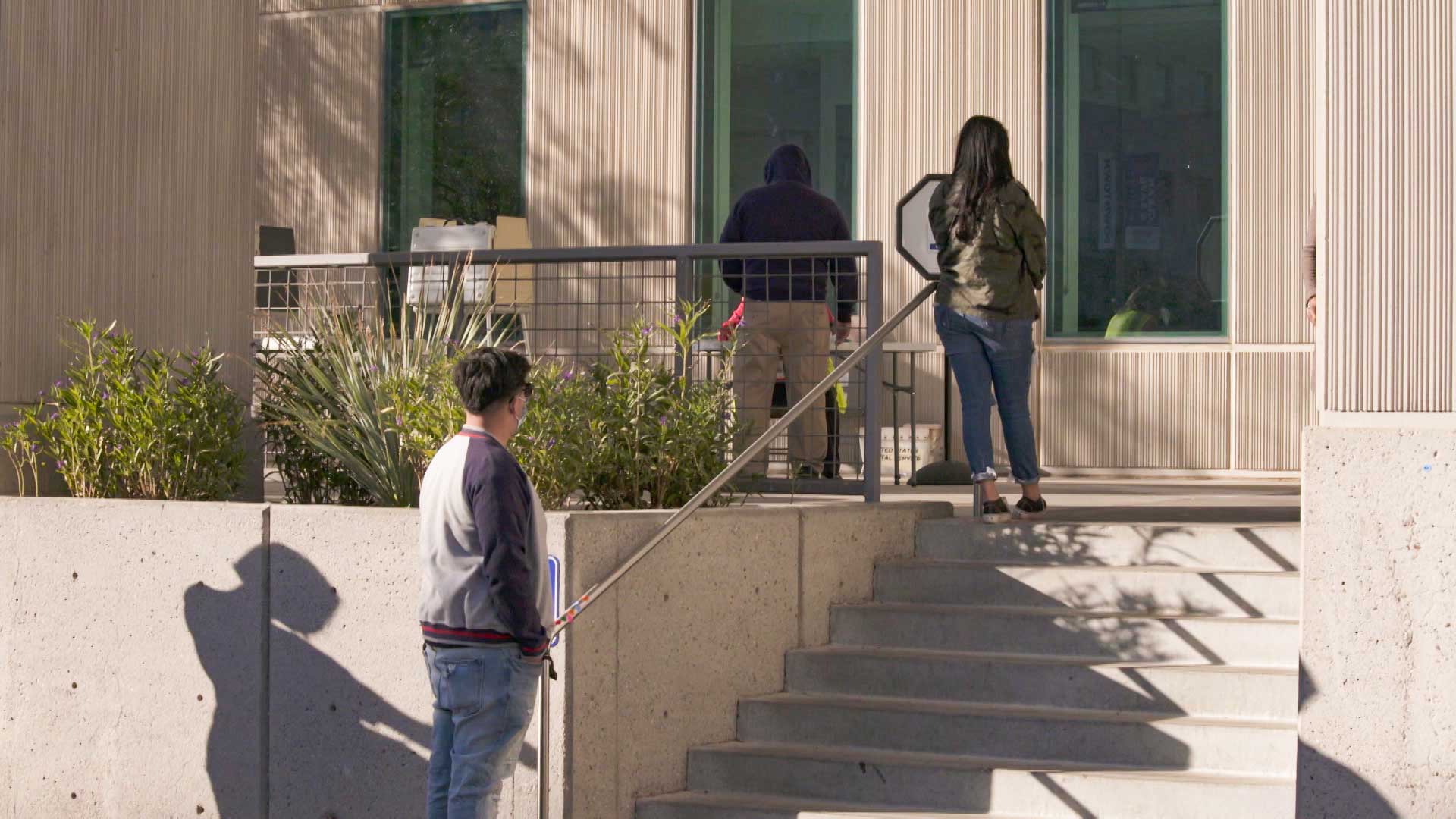 Pima County residents wait in line to cast an early ballot outside the Pima County Public Service Center in Tucson.
AZPM
Pima County, and the state of Arizona as a whole, registered a record number of voters for this year's election, according to state and local election officials.
The trend of increasing voter registration is not new for this election, registration numbers have been on the rise all year.
Data from the August primary shows a change in Pima County voter registration. Areas like the Foothills and Green Valley, traditional Republican areas, registered more Democrats.
University of Arizona political scientist Samara Klar said that is in line with national trends.
"Voters over the age of 65 very reliably break for the Republicans, and that is something we are also seeing shift this year. The polling I'm seeing is showing Trump and Biden almost tied even with voters over the age of 65," Klar said.
Increased Democratic registration in more traditional Republican areas does not surprise pollster Mike Noble with OH Predictive Insights in Phoenix.
"Democrats are emboldened. They've never been more confident than they ever have here in Arizona. Because they really haven't won and they've been in the minority, however, since the rise of Donald Trump Democrats have not only started winning but they are pouring their energy, time and they are seeing a lot of money pour in," said Noble.
Change in Pima County voter registration between 2016, 2020 primaries
Nick O'Gara/AZPM. Sources: Pima County Open Data Portal, Pima County Elections. Some shifts in registration may reflect changes in the number of precincts and their boundaries between 2016 and 2020.
In Pima County, Democrats picked up more than 25,000 voters since the August primary. Republicans in Pima County picked up about 10,000 fewer.
In Pima County, the latest registration numbers show 40% of registered voters are Democrats and 29% are registered as Republicans. The rest have no party affiliation.
Voter registration is only part of the equation for candidates and political parties. They also must get those voters to cast ballots.
"Our turnout record is going to be absolutely smashed this year and that was largely predicated by the big registration numbers we saw over the summer," Klar said.
Despite Pima County moving further into the Democratic column, the state is still strongly Republican. The latest numbers show 1.5 million Arizona voters as registered Republicans, 1.37 million are registered Democrats, and 1.35 are registered with no party affiliation.
At the end of last week, election officials across the state had already received 2.3 million ballots. In the 2016 general election, 2.6 million people cast ballots.

Read more coverage of national, Arizona, and local elections at our 2020 elections portal,
Your Vote 2020
.