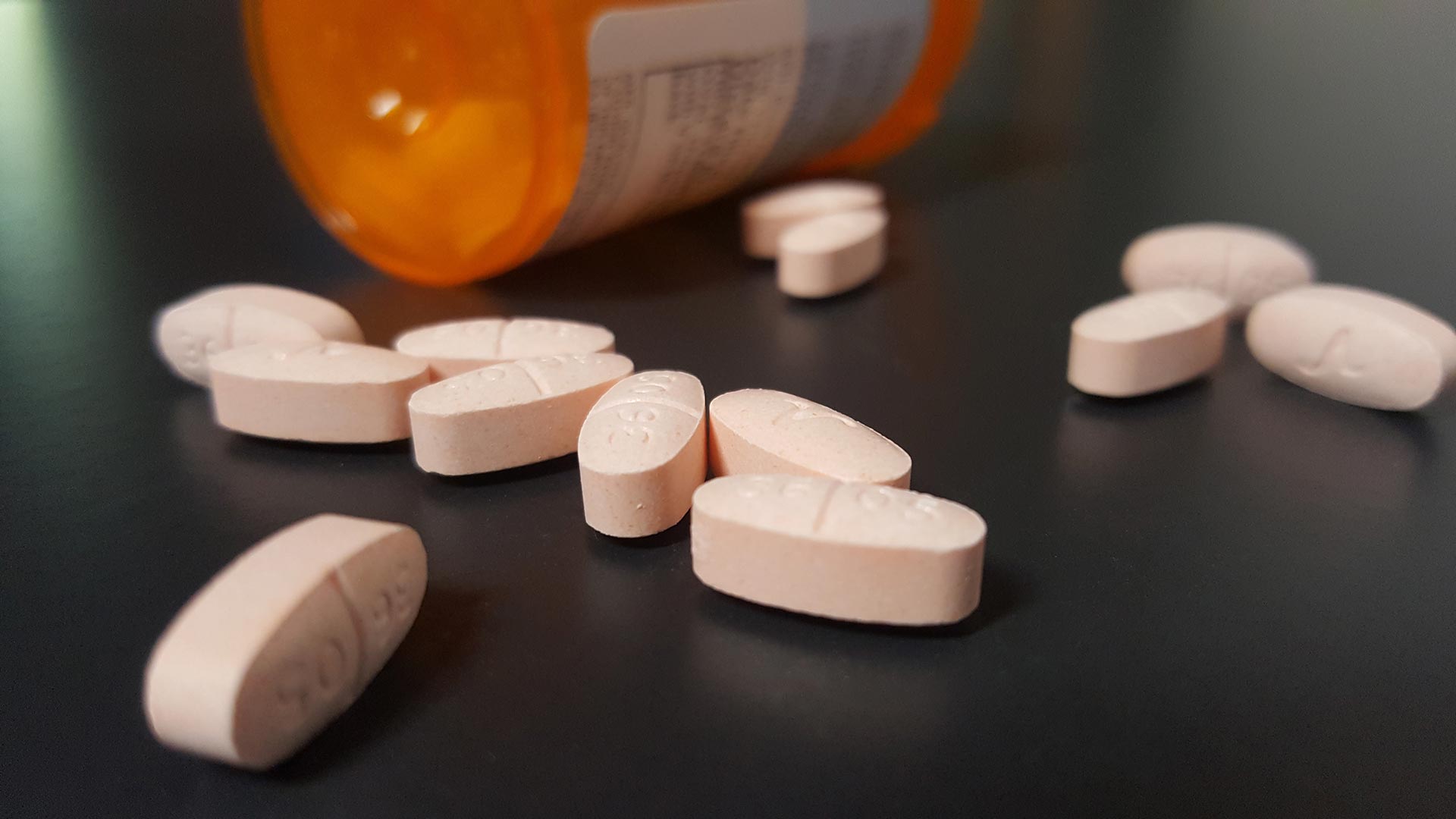 Opioid-related deaths are on the rise in Arizona.
AC Swedbergh/AZPM
Opioid substitution drugs are widely used to treat people who are recovering from addiction. But in the midst of the nationwide opioid crisis, some Arizonans are finding their insurance company won't cover the drug their doctors have prescribed for them.
Methadone has been used for many years to help people ween off heroin or other opioids. For a time, it was the only option. These days, though, doctors have a number of choices when prescribing opioid substitution drugs.  
Janet Vargas, a psychiatrist in Tucson who specializes in addiction, said she prescribes a drug called Suboxone in her practice
"It'll take the patient out of the withdrawal and it allows them to continue to experience the quality of life that they were used to. And it also takes away the cravings," Vargas said.  
Suboxone is a critical component of the treatment she administers to several dozen patients, all of whom she said became addicted after being prescribed opioid pain medication by their doctors.  
Amir is one of Vargas' patients. He asked Arizona Public Media not to use his last name because he says he never told most of the people he's close to about his addiction, which started about five years ago.
He said he was a busy man, and at one point ended up at the doctor after not feeling well. There, they found suspect tissue in the colorectal area. That led to multiple surgeries to remove the pre-cancerous tissue.
"The pain was excruciating. Like, it was beyond belief. I really wouldn't wish it upon anyone. And, of course, to get the pain under control you're on narcotic painkillers," he said.  
In Amir's case, that narcotic was oxycodone.  
That's a common one, said Doctor Vargas. Others include morphine, OxyContin and hydrocodone.
Amir said he took a dose of oxycodone every six hours. And it helped him feel better, in a way. But in other ways, he really didn't like what the drug did to him.  
"I was a bubbly, bright social butterfly, and then I became this couch potato introvert. My whole lifestyle changed. I wasn't the same person I used to be."  
Amir said when tried to get off the prescription medicine, the pain of withdrawal was worse than the pain of surgery.  
"You feel like your bones are falling apart. Your muscles have no energy. The cold sweats. Rapid heartbeat. For me, my side effect was uncontrollable crying."  
He says that's when he turned to Vargas for professional help.
"You feel like your bones are falling apart. Your muscles have no energy. The cold sweats. Rapid heartbeat. For me, my side effect was uncontrollable crying."  
"So when they come to me, their first meeting with me is two hours long. We talk about addiction in general," Vargas said.
"Most of them, the information and education that they have is either what they've read on the internet or what they've learned from quote-unquote friends. And we talk about getting prepared for the following day, which is called the induction process. The induction process required the patient to go through either 24 hours or 48 hours of withdrawal symptoms."
And that's what Amir did.  
"So after the 24 hours, I went into go see Doctor Vargas. She monitored my vitals and she sent my partner out to the pharmacy to go pick up the prescription medication," Amir said.  
That prescription? Suboxone.   
But his insurance company, UnitedHealthcare, wasn't covering that drug, which comes in the form of a film that dissolves when its placed under the tongue.
A few years earlier, another pharmaceutical company had developed a drug called Zubsolv. It has the same main components as Suboxone but is different in a few ways. Suboxone is a film that's dissolved under the tongue. Zubsolv is a tablet. But more importantly, said Vargas, it comes in a lower dosage.
She said when Zubsolv came on the market, UnitedHealthcare said patients needed to go on it or they wouldn't cover their treatment.  
"And at the time I was at another clinic. We had three patients at that clinic that were covered by UnitedHealthcare. All three patients had been in treatment for six months or longer and stabilized and doing well," Vargas said.
"Within those first 30 days, all three patients relapsed when we put them on Zubsolv. What Zubsolv said was we can take them from the 8 milligrams of Suboxone and just start them on the 5.7 because they were bioequivalent, but that wasn't the case."  
According to Vargas, initially, UnitedHealthcare said if a patient failed on Zubsolv, Suboxone would be covered, a position that Vargas took issue with.  
"Why should anyone be put in a position to fail, especially in a situation like this, where failure could mean death?"  
Vargas said although she disagreed with that approach, most of her patients still had their treatment covered.  
"Why should anyone be put in a position to fail, especially in a situation like this, where failure could mean death?"
"We could send the prior authorization, and if needed actually fill out an appeal. And UnitedHealthcare was more than willing to make that decision based on the fact that the patient had been in treatment for a period of time, had been successful and allowed that. As of January that changed."  
She said UnitedHealthcare no longer covers Suboxone for any of her patients, meaning patients like Amir are left to pay out of pocket.  
Amir said his treatment costs him about $2,500 a year, and Vargas has been a big help in this area, too.  
"She really does care about her patients, and for them to remain in recovery. So she did lots of research to help get me on different programs that can help you financially," Amir said.  
Some of her other patients have much needed assistance through the manufacturer as well.  
"Of my patients, 100 percent of them are employed. So they're not a burden on the state of Arizona," Vargas said. "But they are what we know as the working poor. They earn too much to be on public assistance and not enough to pay for the medication, which is expensive, on their own.   
But that is exactly where those with UnitedHealthcare find themselves.  
Arizona Public Media reached out to the health insurer for this story to ask why, in the midst of an opioid epidemic, the company chooses not to cover one of the main drugs used to treat people in recovery.  
The company's communications department responded with a statement saying UnitedHealthcare has been investing in programs to reduce the overuse of opioids for more than a decade and that their coverage gives members quick access to needed treatments.
In a nutshell, UnitedHealthcare contends that Suboxone and Zubsolv are the same drug, produced by different manufacturers but with the same active ingredients.
Statement from UnitedHealthcare:
"For more than a decade UnitedHealthcare has been investing in programs to reduce the overuse of opioids, and our coverage policies and programs give our members quick access to needed treatments for opioid dependency as well as proactive interventions to help prevent opioid addiction. UnitedHealthcare's preferred drug list for commercial plans covers both buprenorphine and Zubsolv to ensure members have access to treatment for opioid dependence."
In a follow-up email, the insurer said that in some cases after review of prior authorization, Suboxone may be approved.  
The American Medical Association has weighed in on the matter.
AMA statement:
"When a patient seeking care for an opioid use disorder is forced to delay or interrupt ongoing treatment because of a health plan utilization management coverage restriction—such as prior authorization—that can be harmful to their care and health.  With respect to opioid use disorders, that could mean relapse or death from overdose."
Vargas said UnitedHealthcare has denied all her prior authorization requests.  
"There's nothing you can do," she said.  
Although that's the case right now, she does think there's a solution.  
"Each state gets to govern how insurance is dealt with in their state and i do think it's something that needs to be dealt with at the legislative level," Vargas said.  
She said legislation could prohibit insurance companies from requiring prior authorization or denying patients treatment for opioid-use disorder.
She's meeting with state lawmakers in the hopes of getting her cause on their radar in the next legislative session.  
Amir would like to see that change, not really for his benefit, but for others. And going forward, he wants to use his experience to help people in his position.  
"Ever since I was a kid, I wanted to be a doctor or scientist, and so my long-term goals, at some point in my life, is to pursue my interest in being able to help others and help them heal," he said.
"There's nothing better in life than being able to see an influence you've had on someone's life or being able to help someone to heal, or to treat someone. And I think with the experiences that I've had I'd really be able to help people."
He has a few months left in his treatment, and is looking forward to being entirely drug free.