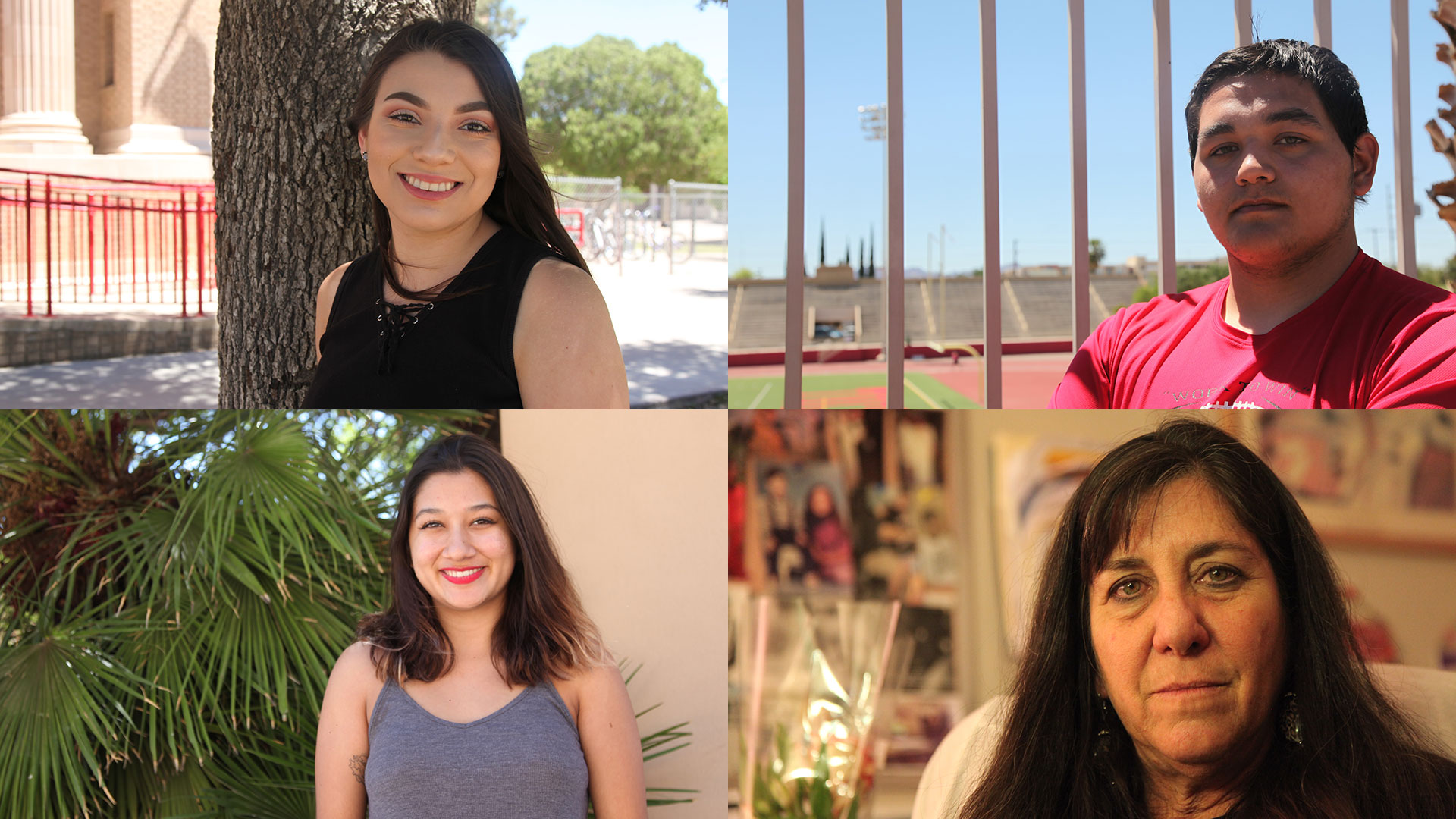 Counterclockwise from top right, Youth On Their Own participants and Tucson High graduates Michael, Victoria and Alyssa; Tucson High social worker Bonnie Kneller.
Nick O'Gara, AZPM
There are a number of reasons a student might pass through Bonnie Kneller's office in Tucson High Magnet School. In the school year that just ended, she said, more than 75 kids found their way there because they were homeless or not living with their parents.
As a social worker, Kneller serves around 3,000 of the students at Tucson High, she said, and for six years has also been the school's liaison for Youth On Their Own (YOTO), a nonprofit located in Tucson that aims to keep such students in school. It does so by providing food, clothing, monetary stipends and guidance, and kids often find the program by way of friend, teacher or administrator, according to Kneller.
What ties the students in the program together is that, for some reason or another, they don't live with their parents, she said, and the reasons for their displacement vary widely. She cited myriad major traumas as common factors leading to them being unaccompanied, including violence, abuse, abandonment and the deportation of one or more parents.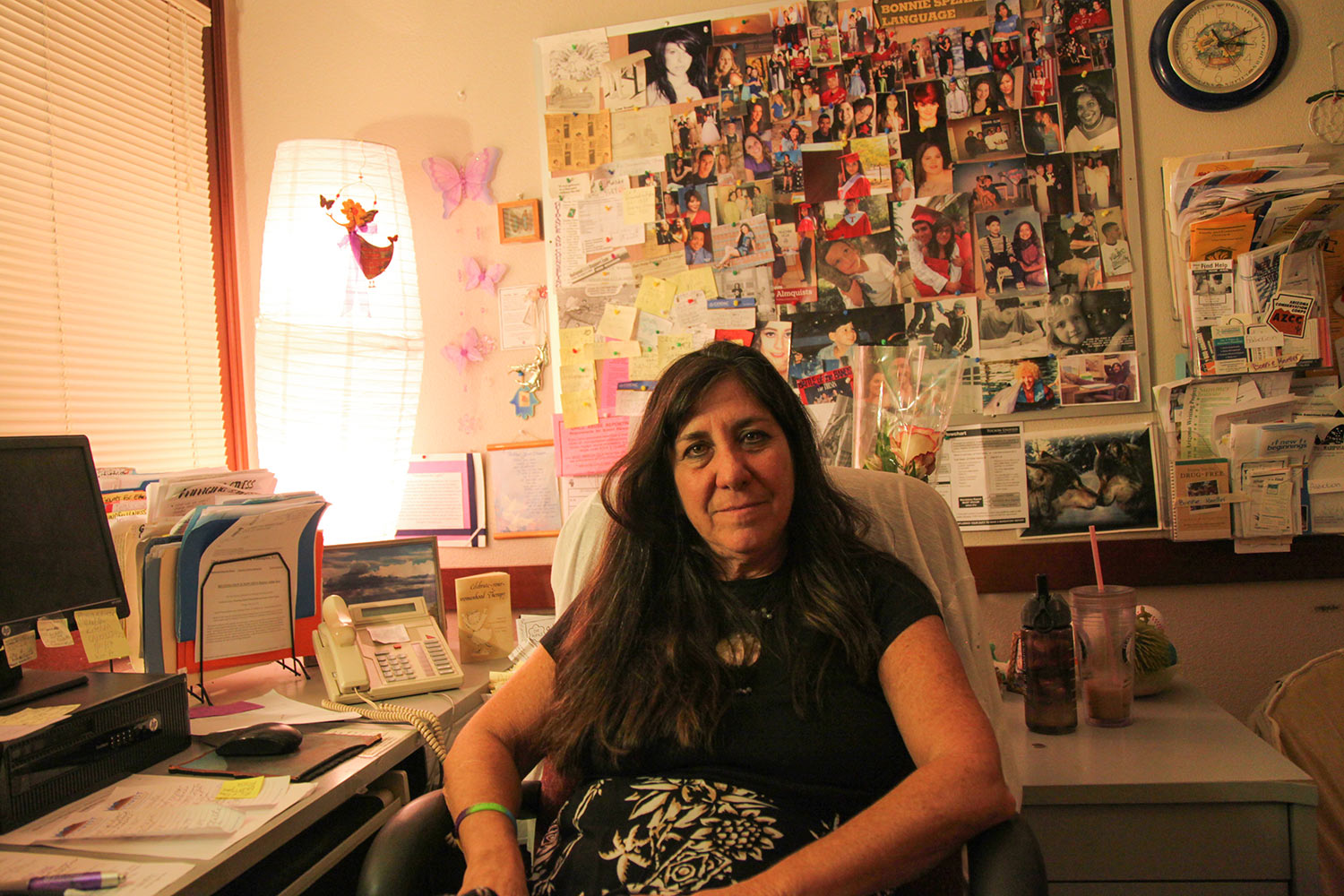 VIEW LARGER Social worker and Youth On Their Own liaison Bonnie Kneller in her office at Tucson High.

Nick O'Gara, AZPM
"So many kids have circumstances in their lives that are so difficult. … We have a lot of kids in foster care because there's a lot of broken families, there's a lot of parents in prison. There's a lot of parents that are drug addicts. We have a pervasive drug problem and we are not addressing that problem," she said.
A 2015 report by the Arizona Department Economic Security called unaccompanied homeless youth "the most difficult subpopulation of homelessness to quantify." Kneller suspects there are many more homeless or at-risk kids in the school system who don't find their way to a YOTO liaison.
"A lot of times they don't want to talk about their circumstances. They don't want to share what's going on, either because they're embarrassed or ashamed or think they're going to be judged. So many kids don't say anything."
YOTO's website says it has worked with 16,000 kids in Pima County since it was founded in 1986 by Ann Young, at the time a guidance counselor in the Amphitheater School District. In the recently concluded school year, more than 1,600 youth participated in the program. The group runs a mini-store and offers internships, in addition to its other services for homeless youth, who are four times more likely to drop out, according to the website.
The odds are stacked against students living without their parents, Kneller said.
"[Kids] need continuity. They need consistency. They need safety. They need shelter. They need food. And if they have all those things, then they can be successful, but if they don't, it's almost impossible for them to be successful."
Three Tucson High students in the program who graduated last week talked to Arizona Public Media about their experiences and plans.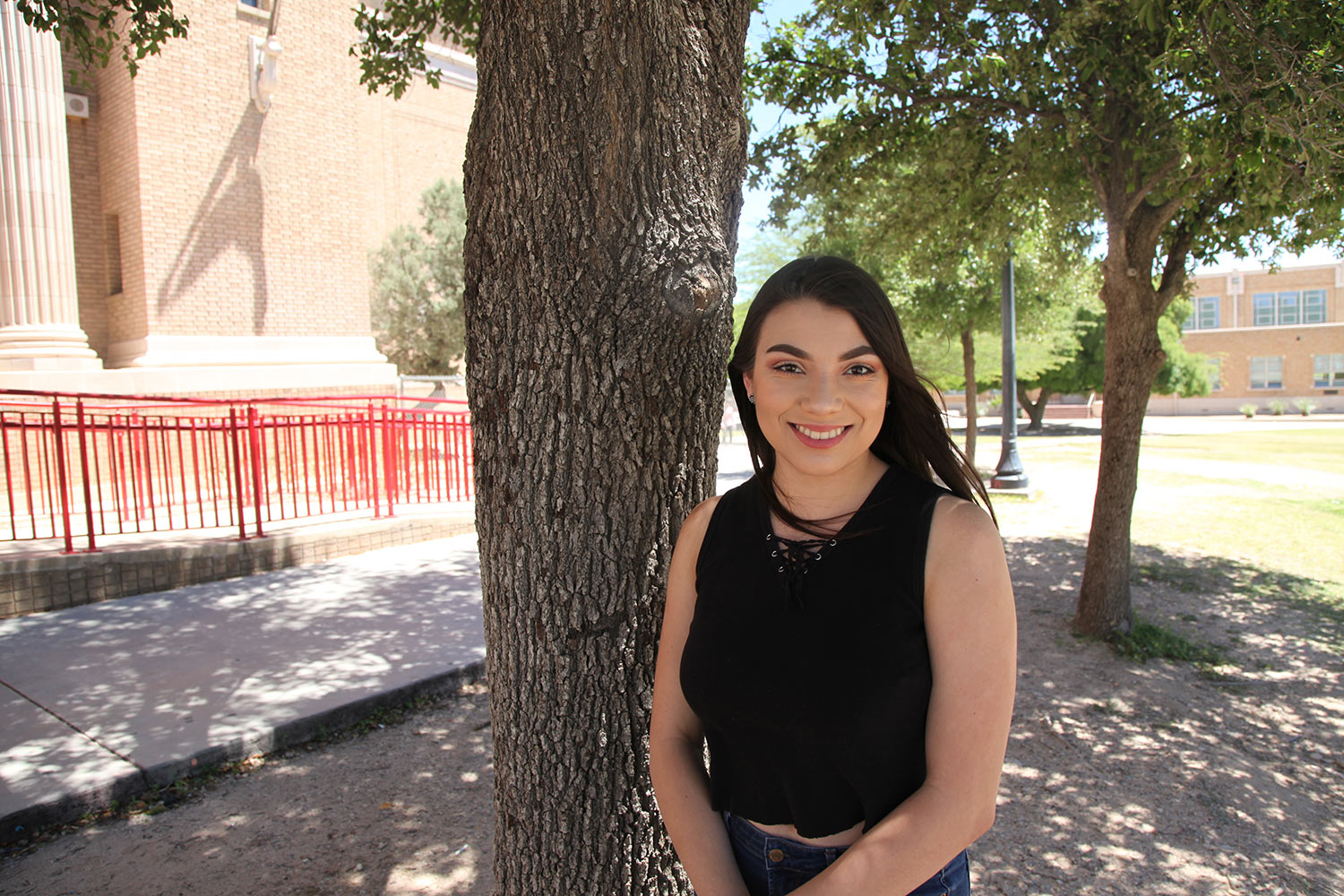 VIEW LARGER Victoria plans to study geology or geochemistry.

Nick O'Gara, AZPM
Victoria said she lost her mother when she was nine. She recently left her previous school and the support of her father and has been staying between her sister's house and her boyfriend's house, she said.
"I think that if a lot of people had to be in my position, those are the kind of people that I want to touch. The people that feel like there's nothing in this world when there's everything at the palm of your hands and you just don't have the energy to reach out, you know? So I want those kind of people to know that there's someone out there, and there's always going to be someone out there."
Victoria is participating in a YOTO internship this summer and will attend Pima Community College in the fall, she said. She eventually plans to attend the University of Arizona for geology or geochemistry.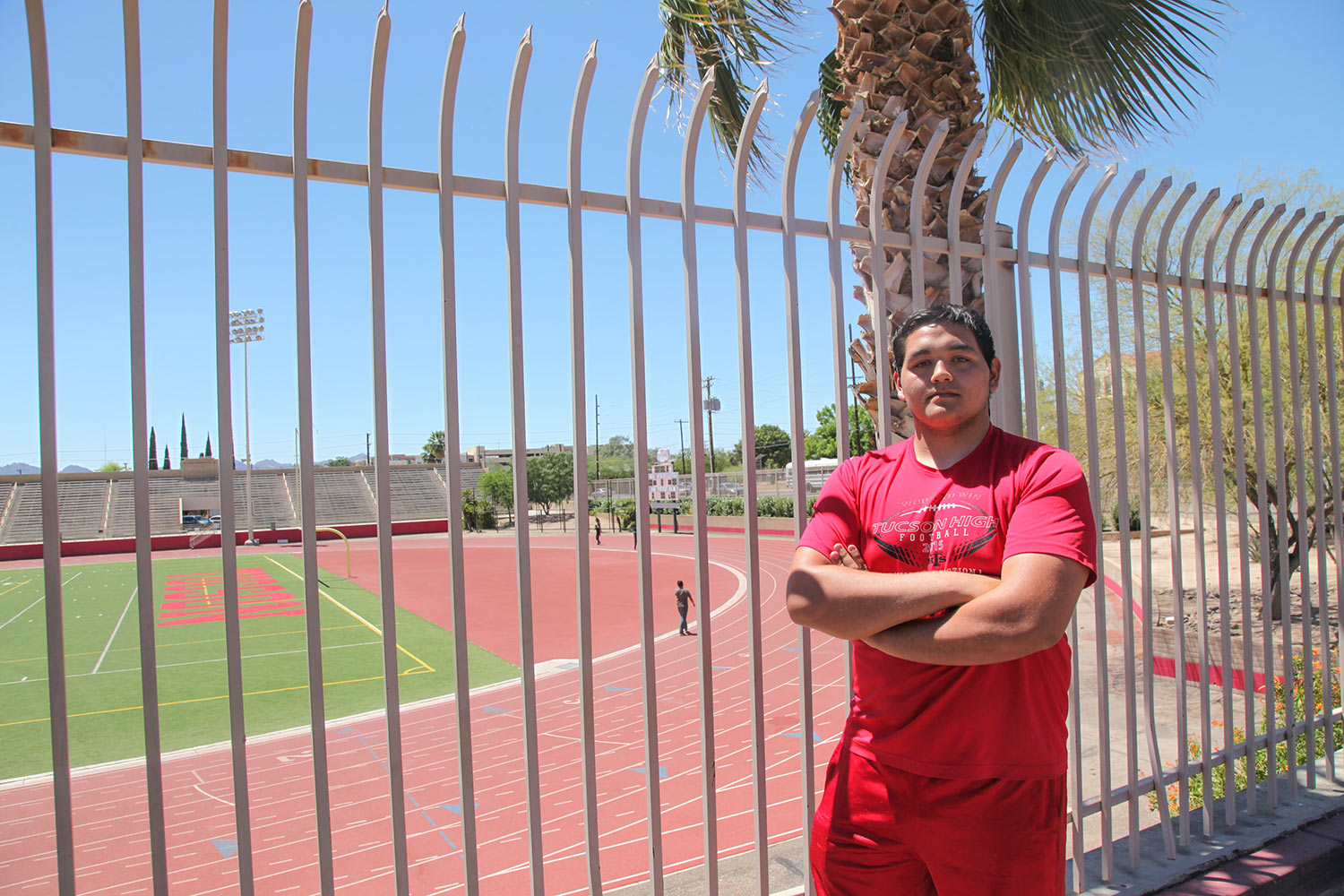 VIEW LARGER Michael is headed to Arizona Western College on a football scholarship.

Nick O'Gara, AZPM
Michael's parents are proud of him graduating, and he talks to his mother about five times a day. His father was deported before he was born, he said, and he lives with his brother in Tucson. He came to Tucson High so he might be recruited to play football in college. Because of YOTO's help, he said, he didn't have to work, and could instead focus on football.
"I don't live with my parents. My dad's deported, he's been deported ever since I was a little kid. I've lived in Mexico - there's no way I could get a football scholarship living in Mexico. … I knew I was going to pass high school, I knew there was nothing that was going to stop me. All I was thinking was ahead to the future: get to the NFL, take care of my parents."
Michael has a football scholarship to Arizona Western College.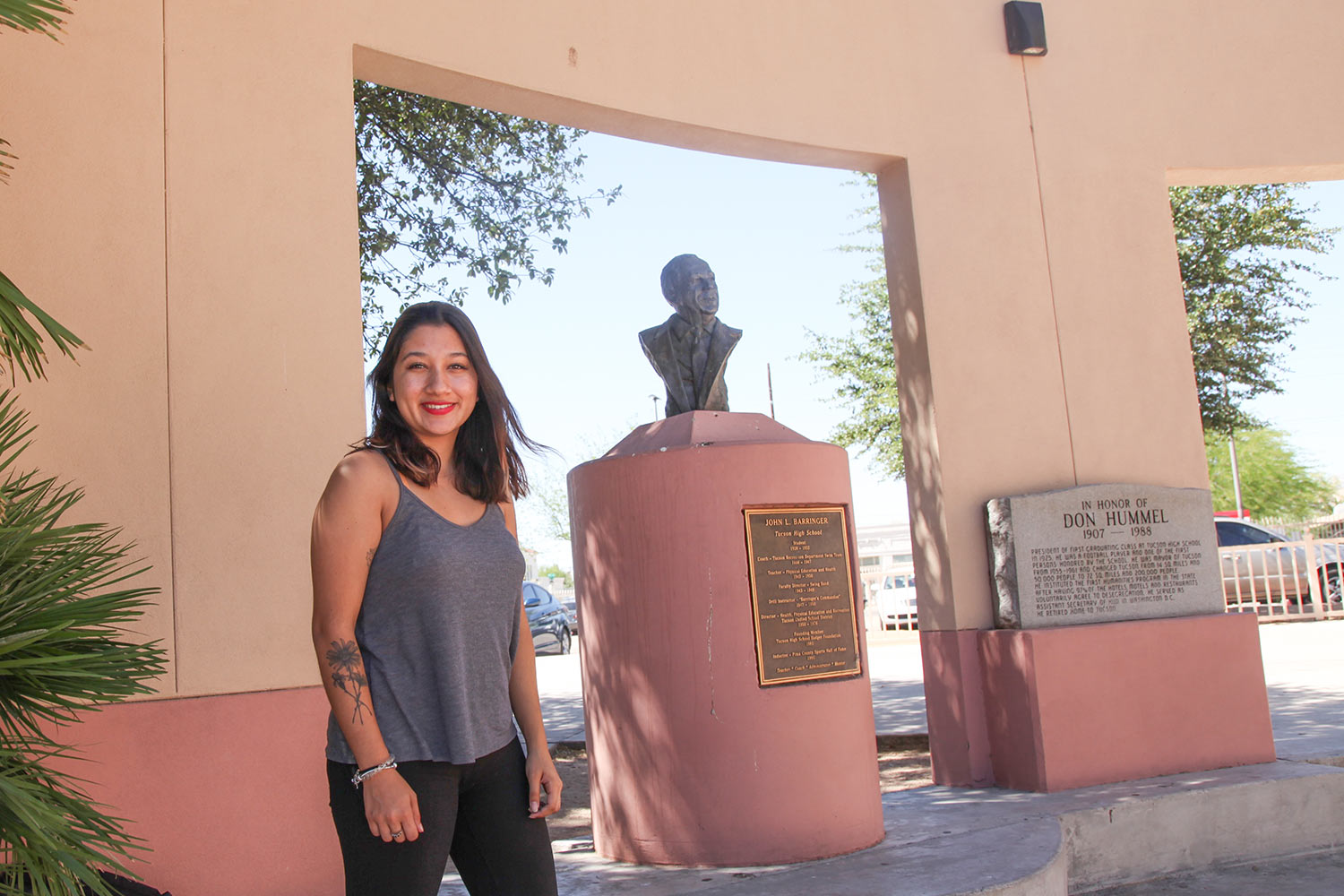 VIEW LARGER Alyssa plans to study photography and business.

Nick O'Gara, AZPM
Alyssa said her parents are divorced, and difficult issues at home compelled her to move out her senior year so she could focus on graduating. She spent nights her car and later at the house of a relative before eventually finding an apartment. She works full time.
"After all the struggling and everything that - I sat there and put myself down, telling myself I couldn't do it on my own - graduating. It's truly a breath of fresh air, kind of telling myself, 'I did this.' … I really struggled with finding out who I was my freshman year, like a lot of kids do, struggling with who they are, where they fit.
"It was really hard seeing everyone's parents together every once and a while because I didn't have that. What changed the most for me, was definitely the confidence in myself, regarding that I could graduate because it was something that I wasn't really told I could do at home."
Alyssa plans to attend Pima Community College and later transfer to a university to study business and photography, which she said has always been a "light" for her.
CORRECTION: The article previously stated Youth On Their Own has worked with 1,600 youth since 1986. That number is 16,000.