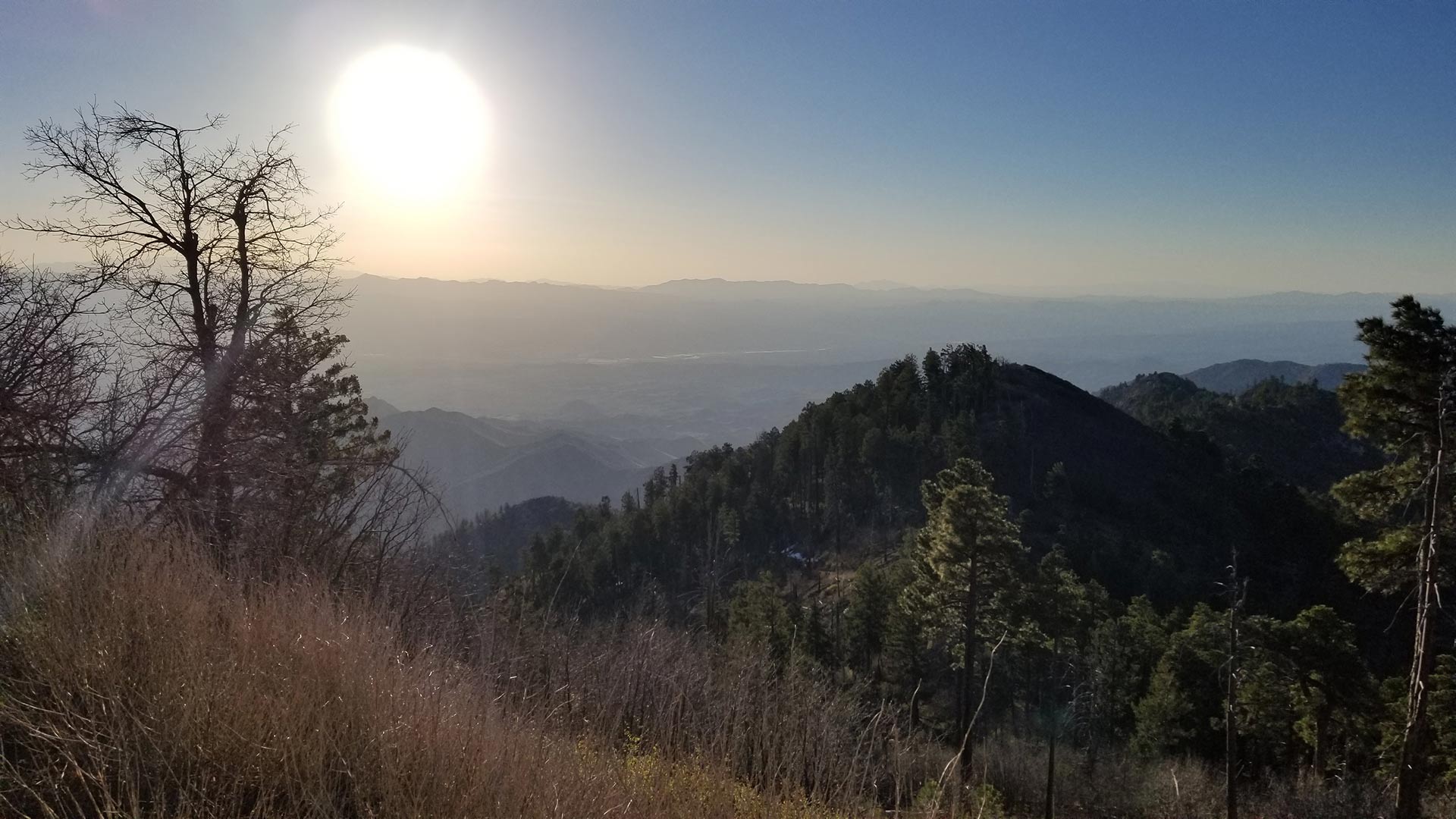 The sun rises over the Rincon Mountains in this view from Mt. Bigelow
AC Swedbergh/AZPM
A note of appreciation. This is the final episode produced with the help of AZPM student staffers Samantha Larned and Phil Howard. Phil helped produce this show and the Fact Check Arizona podcast in his year at AZPM, and Samantha has been a production assistant, occasional lead producer and reporter for The Buzz in her two years at AZPM. Both of you will be missed. Congratulations on graduating!
Summer is on its way, and temperatures across the region are fast approaching triple-digits.
Temperatures in our cities continue to rise, leading to more issues such as heat-related illness and death among residents.
Part of the problem is a phenomenon known as the urban heat island effect. It happens in areas where natural vegetation has been largely or wholly replaced by man made structures, particularly those made of concrete or asphalt.
"The buildings hold onto the sunlight during the day. It doesn't get excessively hotter than normal, but at night what we are seeing is our temperatures are warmer than normal," said Arizona's State Climatologist Erinanne Saffell.
In highly urbanized areas like Phoenix and Los Angeles, the result can be temperature increases of as much as 30 degrees.
While the heat island effect is known and accepted as a part of life in large southwestern cities, Saffell said her office plans to better study heat island effects in areas that are less than urban.
"Every location that has those buildings and roads that we install to make our lives easier, they all have an urban heat island. It may just not be as big as what we experience in Phoenix."
She notes that her office is launching studies in Yuma and Benson, and that the National Oceanic and Atmospheric Administration has chosen Sedona as one of 18 partner cities across the country for a study it is conducting this summer.
Sedona may seem an odd choice to study the urban heat island effect. It's 9,700 residents are spread across 18 square miles, giving it a population density that is less than a quarter of a city like Tucson. It is also known for zoning and building codes that are meant to keep the natural red rock desert landscape present in the city. A famed example is the city's McDonald's restaurant, which had to give up the typical golden arches logo, in favor of turquoise arches instead.
"This is basically just a baseline for us, to figure out is it a really severe heat island effect or not," said City of Sedona Sustainability Coordinator Zach Schwarz. "We have a lot of good reasons to be doing this, even though we may not be as hot or built up as, say, Phoenix. Extreme heat impacts a lot of different groups of people."
Schwarz said that one of particular not in Sedona is the elderly. About 45% of Sedona's population is over the age of 60, according to U.S. Census data.
There is also the concern of how urban heat islands affect those who live in economically disadvantaged areas.
"Maybe you can't afford to keep your [air conditioning] on or you live in a community where maybe there aren't as many trees, bushes or vegetation in general," he said.
Much of Sedona's economy is based around tourism. That means many of its jobs are in the lower-paying service sector. That paired with a lack of housing that has caused the city to lose population in recent years as it struggles to tame a problem with short-term vacation rentals can exacerbate the problem.
Schwarz said he hopes the resulting data from this study will help inform how Sedona and the nearby city of Cottonwood, which share a housing coordinator, work to solve their housing needs while considering environmental needs also.
"Affordable housing is in many ways a sustainability issue and in a way a climate change issue as well. We have quite a large workforce that sometimes has to drive in from some pretty far distances because they're not able to find housing in Sedona or anywhere close by. That leads to quite a lot of emissions in terms of getting our workforce here and home."
In the much-larger Tucson metro area, a group is working to alleviate an already known urban heat island effect while also helping its economically disadvantaged neighborhoods regain tree canopy.
Tucson Clean and Beautiful is working with a number of partners to help bring low-cost trees to the city, including as part of the Tucson Million Trees initiative.
"When we add trees, we're cooling that environment by shading the ground and the buildings around us, but also for an equity reason. A lot of our low-income areas also have low canopy.By adding more trees in those areas we're able to decrease electricity bills and increase happiness because trees and nature in general makes your mood better," said Rebecca Johnstone, Trees For Tucson Program Manager."
Trees also provide other benefits to areas that are urbanized.
"[Trees] absorb pollutants and carbon emissions through carbon sequestration. The trees take that in and convert it to wood," said Pedro Perez, co-manager of TCB's Trees for Tucson program.
TCB is focusing on shade trees that are indigenous to the area, meaning they have adapted to hot summers and arid year round conditions.
"Especially on the residential scale, it's best to go with trees that are adapted to our desert," said Johnstone. "They're not going to need as much water to provide that shade."
Perez said that does not mean that people whose homes already have established non-native trees should rip them out and plant new, indigenous vegetation.
"If you have a mature fruit tree in your yard and it's using a lot of water, well, think about it, you know that water could be going to a lawn, which would be a complete waste in our environment. But in that case you're getting food, you're getting shade, you're providing food and habitat for wildlife."
Johnstone said that, if thoughts of impending summer heat are motivating residents to plant new trees, it's best to hold off until the hottest days have passed.
"You definitely want to wait and not plant right now. We recommend planting from October until the end of March, because that's going to be our coolest time. Especially in October and the fall, that gives your trees time to establish before they have to endure that really hot summer."
MORE:
Arizona
,
Climate Change
,
Environment
,
Housing
,
Infrastructure
,
News
,
The Buzz
,
Tucson
,
U.S.
,
Utilities
,
Weather