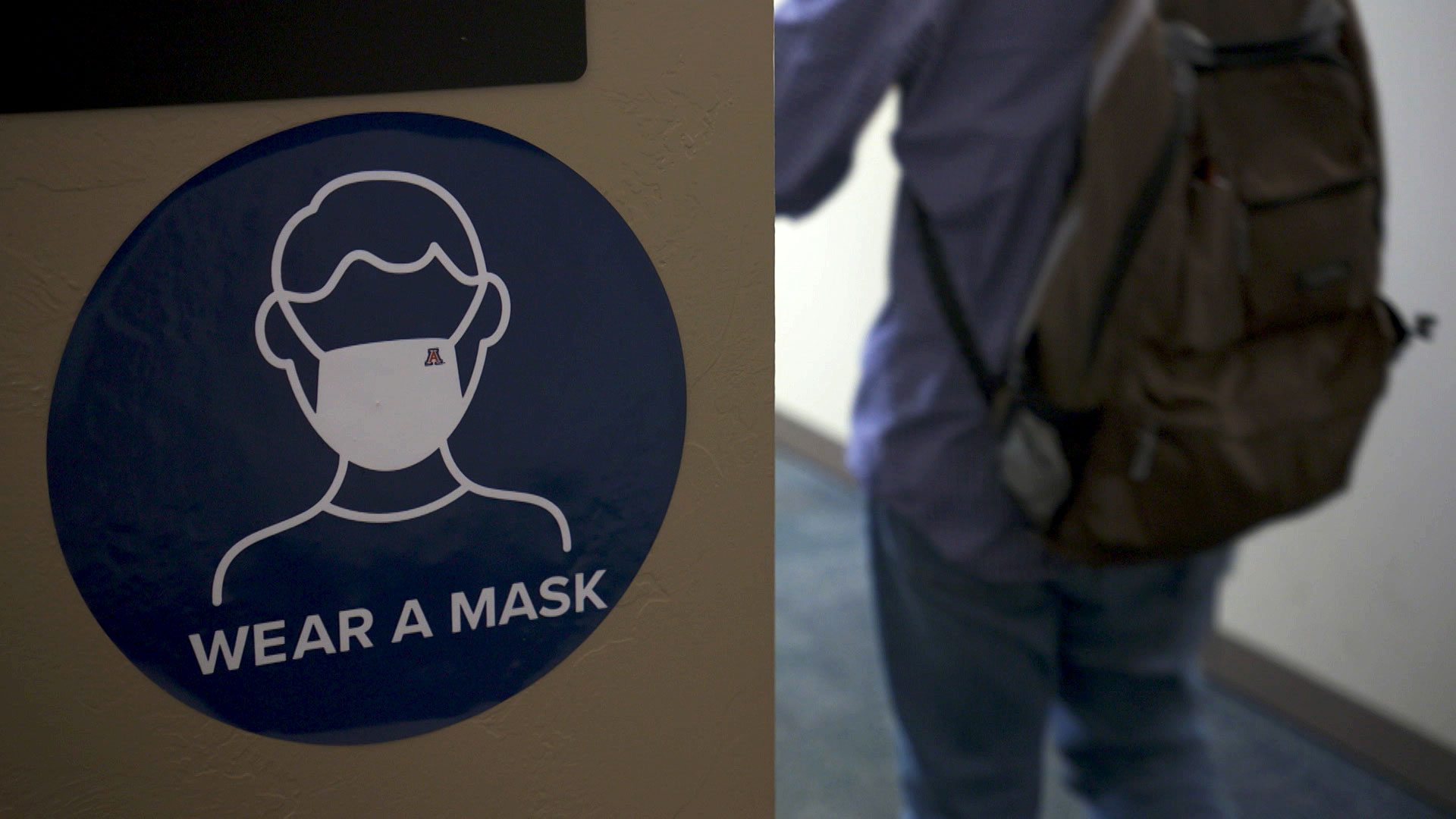 Signage inside a building at the University of Arizona promotes mask wearing on campus, July 2020.
Robert Lindberg/AZPM Staff
Restrictions to fight the spread of COVID-19 have some people saying government has overstepped its bounds. A group of law professors has written an essay that says the highest law in the land defines the issue differently.
The U.S. Constitution was written in 1787 and does not discuss global pandemics, but University of Arizona James E. Rogers College of Law professor Toni Massaro and her colleagues write that the document can drive public health decisions made by government at all levels in the country.
"The Constitution actually only constrains government actors. It doesn't constrain a private business, per se. But we think the norms that you can pull out of the due process clause and equality and basic liberties really should inform all health care or pandemic policy planners," said Massaro
The essay explains that the Constitution offers a blueprint when it comes to how people should think about the limits on their liberty. For example, being required to wear a mask, something opponents say is unconstitutional.
"So, the mask plays a role here that is based on science. It's a rational limit on our liberty. Justice [Robert] Jackson once said the Constitution is not a suicide pact. There isn't one fundamental liberty that is absolute. It's a balancing test, it has to be.

"Way back in 1905, the court decided a case. It was a mandatory vaccination case during a smallpox outbreak. A vaccination is a bodily intrusion I would say is a bigger burden on liberty than a mask would be. But the court recognized the authority of a state to enact quarantine laws and health laws of every description. So, the constitutional law is that these laws can be imposed on us to protect the whole," said Massaro.
Massaro said the guiding principal when it comes to liberty is we are not alone in our liberty and there are times when your liberty may collide with someone else's liberty.
"The Constitution says 'life, liberty and property.' Life matters. And a life well lived in a social world of collaboration means respect for your fellow citizen and your fellow people, and that means giving some things up so that you can go jogging and I can go walking; you can swing your arm, but not where it hits my nose; you can't cry 'fire' falsely in a crowded theater — on and on."
"Justice Jackson once said the Constitution is not a suicide pact. There isn't one fundamental liberty that is absolute. It's a balancing test, it has to be."

To understand the intersection of the Constitution and the global pandemic, Massaro said you have to look to the earliest history of the U.S.
"The United States was not formed under strict libertarian principals. Civic republicanism was the order of the day. In other words, we come together, we share responsibilities — not just autonomy," she said.
Rulings from the U.S. Supreme Court dealing with public health issues are not all from the early 1900s, according to Massaro. She said the current court recently upheld a California rule keeping churches to 25% building capacity to limit the spread of COVID-19.
"A majority of the United States Supreme Court upheld the California rule because looking at it more closely they saw, yes, it's crunching liberties, but it did so in a way that was rational, and the religious institutions were treated the same as similarly situated places of congregation," she explained.
Massaro said people should think of government attempts to get control of the spread of the novel coronavirus as the government waging a war.
Full conversation about the Constitution and COVID-19