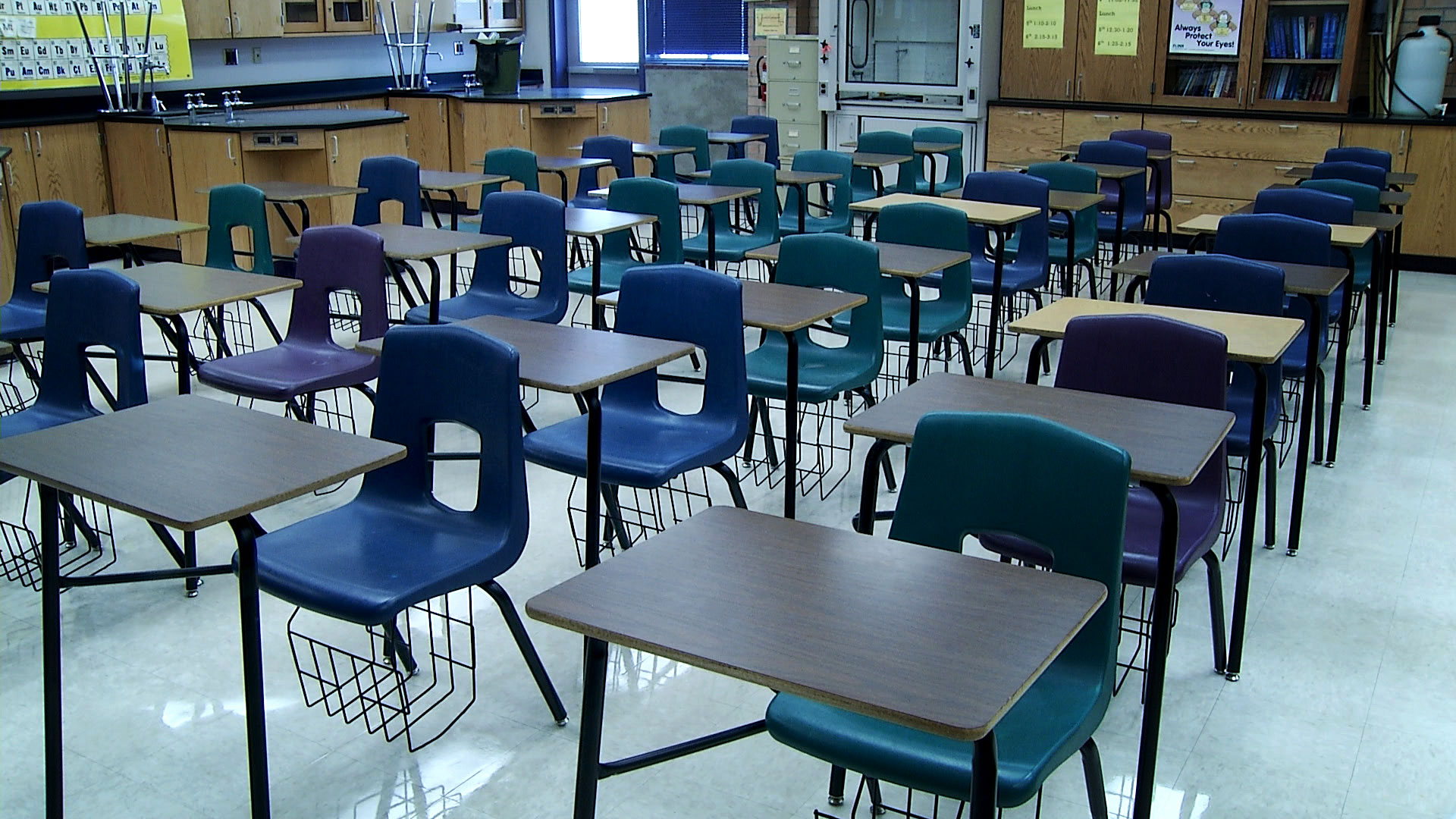 File image of an empty classroom at Sabino H. S.
AZPM Staff
A change in the Arizona Department of Education's assessment rules could mean more English Language Learning students will be considered proficient in English.
Students will now be able to score as intermediate on listening, reading, speaking, and writing exams as long as they continue to score at least 1,000 points on the Arizona English Language Learner Assessment. Before, students needed to score proficiently in all four portions along with earning at least 1,000 points.
Arizona's Superintendent of Public Instruction Tom Horne says he began the move to change the rules after school administrators told him that there were cases in which English Language Learning students were stuck in the program for as long as five years.
"That's really child abuse to keep someone in that program for five years. They should be getting out of there in a year or two," Horne told AZPM News.
In 2000, a voter-approved ballot measure–Proposition 203–placed English Language Learning students in English-only immersion models for four hours a day with the goal that they would then become proficient in one year. However, years of data showed that those students fell behind and instead stayed in these programs for years.
As a response, in 2019, lawmakers instructed the state board of education to adopt new models to curb low graduation and proficiency rates. The board approved a number of new models including dual language immersion–a model Horne says breaks Prop 203.
However, as schools began to launch these new models, the pandemic forced English Language Learning programs, like many schools in the country, to adapt to a new landscape. Now, a few years post-pandemic, advocates for dual language immersion say there is no state data that accurately proves its efficiency.
"I don't think we even had a chance to prove that these new structures are beneficial for ELL students," said Georgina Monsalvo, the Organizing Director for Stand for Children.
She says she is concerned that Horne pushed for the change in hopes of showing an increased amount of proficiency when there might not be, especially after he has spent the summer pushing for the end of dual language immersion.
"Are we going to be reclassifying students that are actually not proficient yet? I think it's tough because at the end of the day, we want students and ELL students to reclassify. But what is the motive? Is he doing it because of the backlash?" Monsalvo said.
Horne contends this, saying dual language is a "totally different issue."
"The interesting thing is, people who don't like me said, they agreed with what we did, but they questioned my motives. I've always thought it's a mark of low intellect to challenge people's motives rather than deal with it," Horne said. "We want to get the kids into regular classrooms as quickly as possible. And if they are reclassified, they can take as many languages as they want to. I encourage that. But first, they have to be proficient in English."
Monsalvo says she wants to ensure that issues within English Language Learning models and classifications are actually being addressed instead of just lowering testing standards. She is worried that students will once again be misclassified, especially since she has a son in an English learning program.
In 2012, a U.S. Department of Education and U.S. Department of Justice investigation showed that 28,000 English Language Learning students were misclassified as proficient in English when they were not.
"They're going to become proficient. It's going to be easier. But at the end of the day, I can't imagine what the repercussions were of all of those students being misclassified," said Monsalvo.