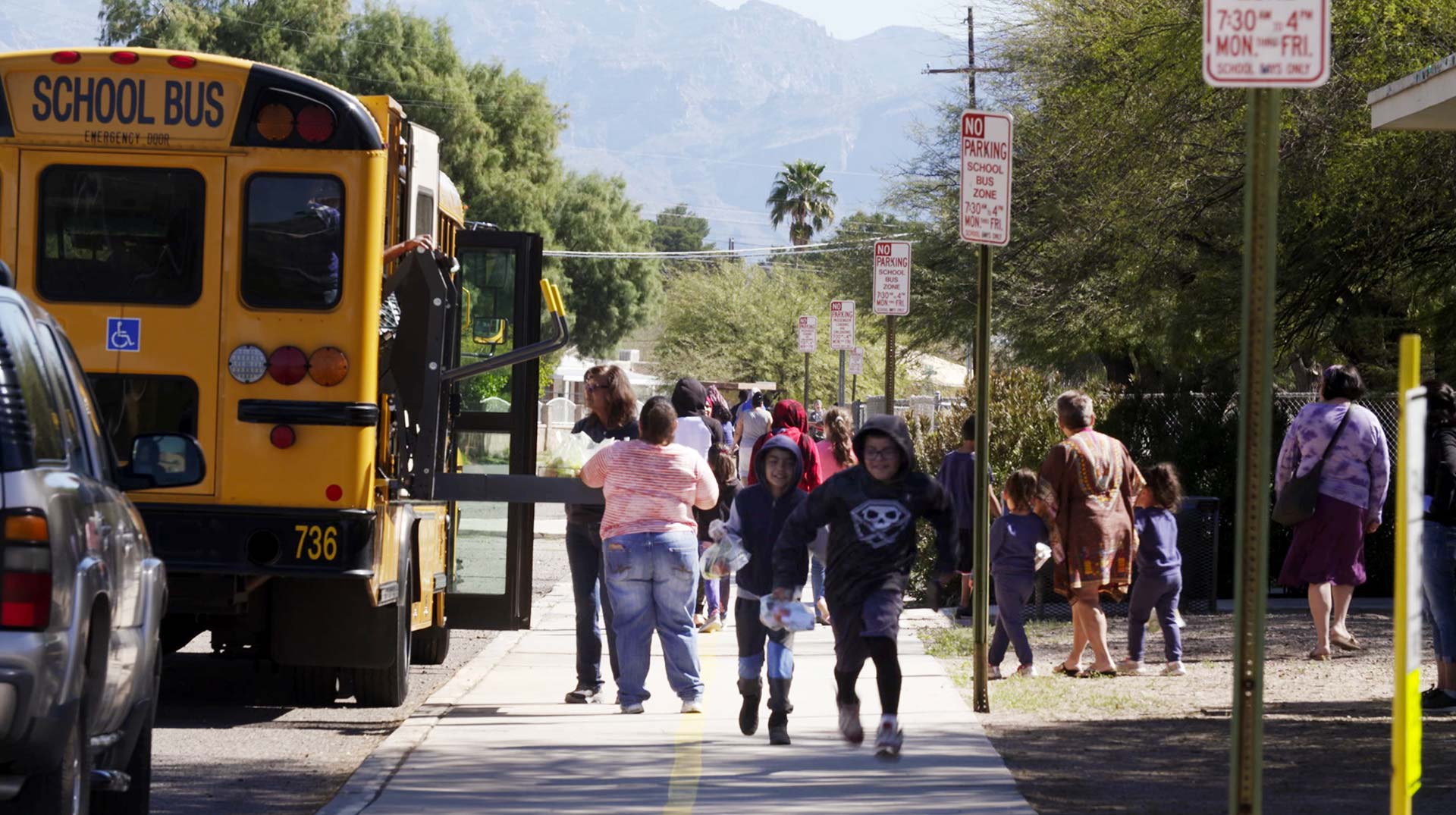 Students and families receive packaged meals from Tucson Unified School District workers who are distributing meals along the district's bus routes during closures associated with the COVID-19 pandemic.
Gage Judd/AZPM Staff
The Tucson Unified School District Governing Board unanimously approved a new version of the district's Code of Conduct during their Tuesday meeting.
The changes come after many teachers, including the district's union, called for what they deemed as a needed revision. Gage Stewart, an Area Director for the Tucson Education Association and teacher at Pueblo High School said this push is rooted in trauma-informed practices and restorative justice.
"The intention behind this work is to flip the narrative on our approach to disciplinary policy," Stewart said. "We're not here as a union to call for more police in our schools. We are not here to have more punitive measures for our students or to facilitate police states on our campus. We're here to prioritize an approach of discipline that addresses what actually keeps our community safe."
The code was last updated in 2019. Now the new changes include definitions for defiance and disrespect, an increased level of consequence for when staff are threatened or disrespected as well as a new progressive model. For example, if a high schooler now gets into a fight, they will progressively receive more out-of-school or in-school suspension depending on how many times it has happened before. In addition, for the first time, tardiness will progressively have a stronger offense–one of the issues that teachers had been calling to be addressed.
Board President Dr. Ravi Shah says the changes are about equal consequences
"I speak for all of our governing board members as well as on behalf of the district in saying that we are not a district that tolerates perpetuating the school-to-prison pipeline," Shah said. "We are a district that wants to hold our students properly accountable for their behavior while employing evidence-based restorative practice, and we want to ensure that our campuses are safe and have environments conducive to our students learning and growing."
The district engaged with 9,645 stakeholders throughout the revision process, including 1,834 students. The district hopes that these changes will eliminate the disproportionality seen in Black and Latino students that receive discipline in comparison to their white peers. The new code will go into effect this upcoming school year.
Special bond election in the fall
The board also approved a special bond election for this November. The board is asking voters to weigh in on a $480 million bond that will be used to update facilities as well as improve classrooms and install new security measures. All 88 schools across the district would receive improvements under the bond program.
The money will specifically target a few areas: transportation, technology, security, and facility improvements/repairs. Superintendent Gabriel Trujillo says both the bond and new code of conduct work towards the same mission.
"We want the next two years for TUSD employees and students and parents to be so much better than the last three, in terms of coming to schools that have amazing facilities that scream you matter, we love you, we want you here and going into classrooms where learning is the primary focus of how time is spent."