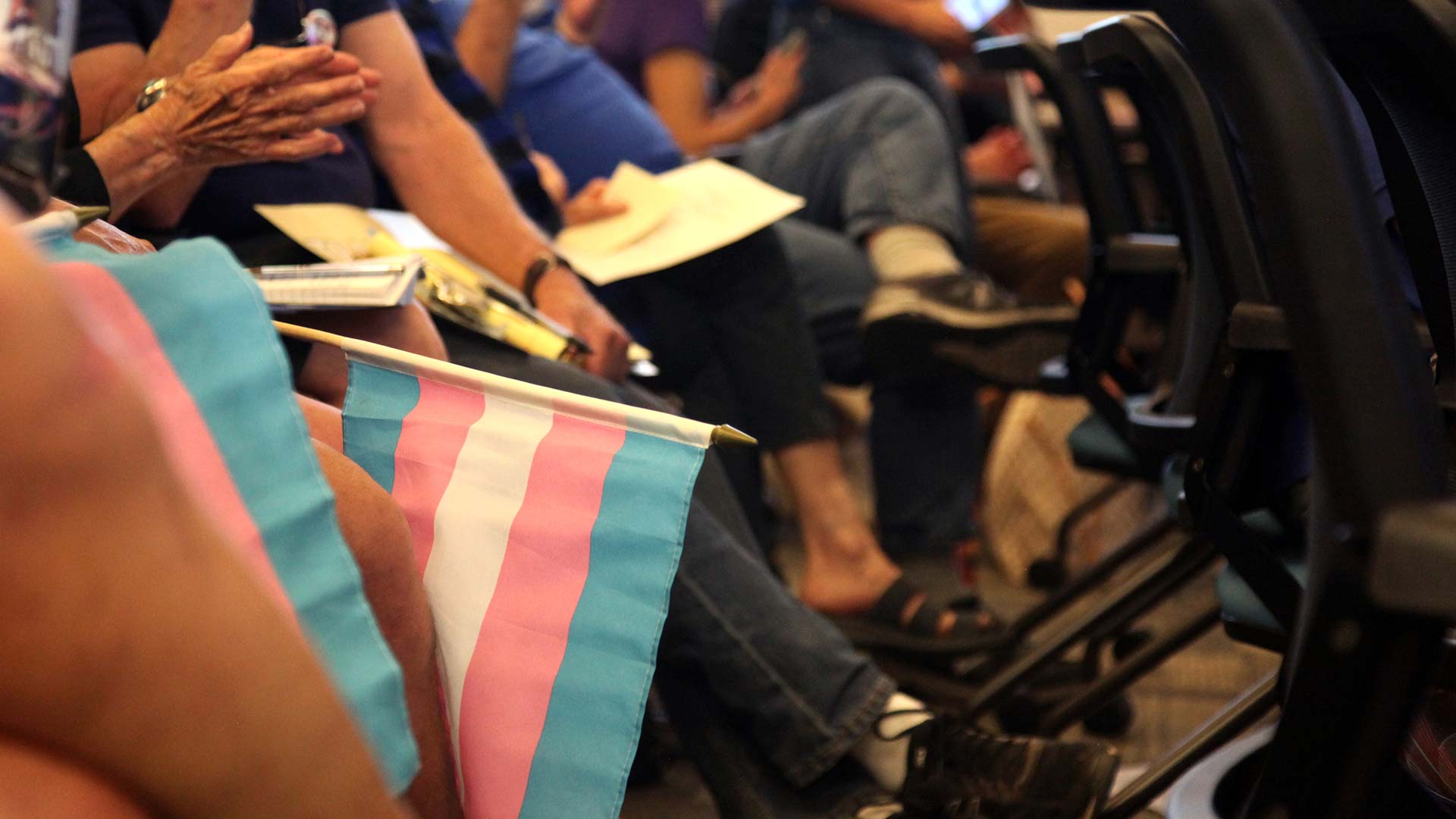 Transgender pride flags filled a Catalina Foothills School District Governing Board meeting on Tuesday, April 11, 2023.
Paola Rodriguez/Arizona Public Media
State Superintendent of Public Instruction Tom Horne announced on Wednesday morning that he is fighting to uphold a state law that bans transgender girls from competing on girls teams in schools after a claim was filed last month.
The claim represents two Arizona families that have transgender daughters that want to compete on girls teams in schools. But the Arizona statute is stopping them from doing so. The lawsuit is against two Arizona school districts, Horne and the Arizona Interscholastic Association. It claims that A.R.S. 15-120.02 violates both federal nondiscrimination laws and the U.S. Constitution. The law, signed by previous Governor Doug Ducey last year, says "athletic teams or sports designated for females, women or girls may not be open to students of the male sex."
But, Horne says this lawsuit risks the impact that Title IX has on women's sports.
"I feel very deep sympathy for people who feel they were born in the wrong body," Horne said during the Wednesday news conference. "But I also believe that biological males should not compete against females, because it's unfair. And it will ultimately undermine women's sports."
Attorney General Kris Mayes disqualified herself from defending the statute. However, earlier this month, Senate President Warren Petersen and House Speaker Ben Toma requested to intervene in the lawsuit after Mayes announced her dismissal in hopes to defend the law.
Horne is now represented by Phoenix law firm Wilenchik and Bartness. As of Wednesday afternoon, he is the only defendant to file an answer to the complaint.
"We are devoted to winning this case, on behalf of every citizen of Arizona, who cares about women's and girls sports," Horne said.
In his response, Horne argues that the law does not target trans athletes, saying it actually excludes all biological boys from girls teams, regardless of their "voluntary choice of gender identity." The response also says the purpose behind the legislation is "not to discriminate but rather to prevent discrimination in the form of unfairness against females in sports."
Horne's attorneys are requesting the court to grant an additional 90 days for Horne to prepare for litigation as well as a denial to the motion for a preliminary injunction that would put that law on halt.
In the news conference, Horne was joined by former University of Arizona Women's swimming champion Marshi Smith. She, along with other athletes, sent a letter last year to the NCAA and UA for its choice to allow transgender women to compete against cisgender women.