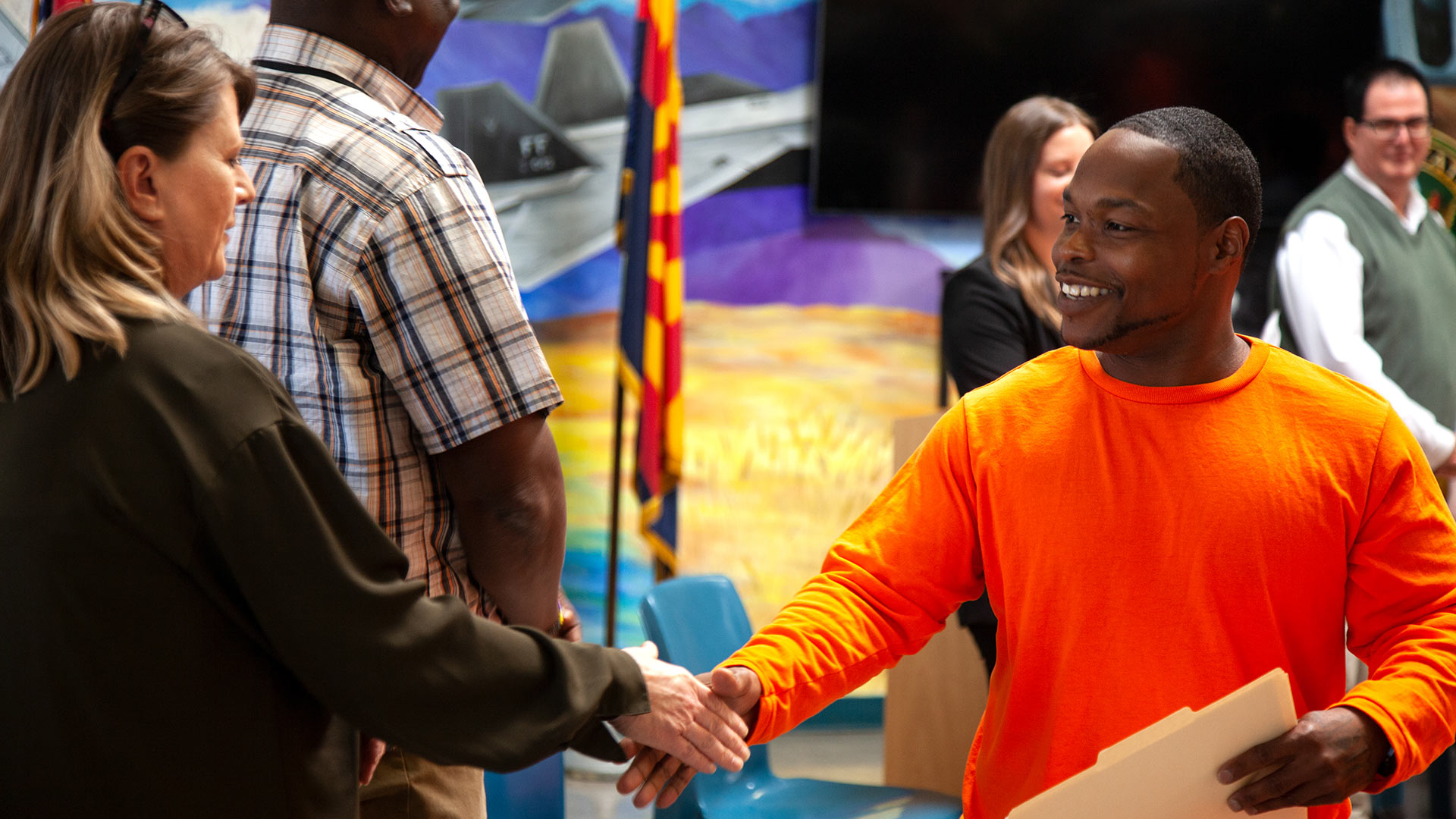 A graduating student enrolled in the Persevere Now program shakes hands as he picks up his certification in software development on Wednesday, May 10, 2023.
Paola Rodriguez/AZPM News
After twelve long months of studying, students are finally walking across the stage–well, a makeshift stage in a southern Arizona prison's visitor center.
Nashid Mateen is imprisoned at the Whetstone facility, one of 13 sites in the Arizona State Prison Complex system, where for one-year, he studied software development through the Persevere Now Program.
"My number one goal was to make it to the end of it no matter what," Mateen said. "But as I started and learned and grasped the concepts, a lot of my personal ideas of businesses and software development kind of came forth, changed and grew my goals and ideas along the way."
For five days a week, six hours a day, students, like Mateen, dedicated their time to earning certifications that they never thought they would have the chance to get. Studying was their life.
"One of the first things that we were told when we came to the class was, when you're in class, everything else doesn't matter," he said. "The outside world doesn't matter. The yard doesn't matter. What matters is the concepts and the ideas that we have here in class and taking the time to learn them.'"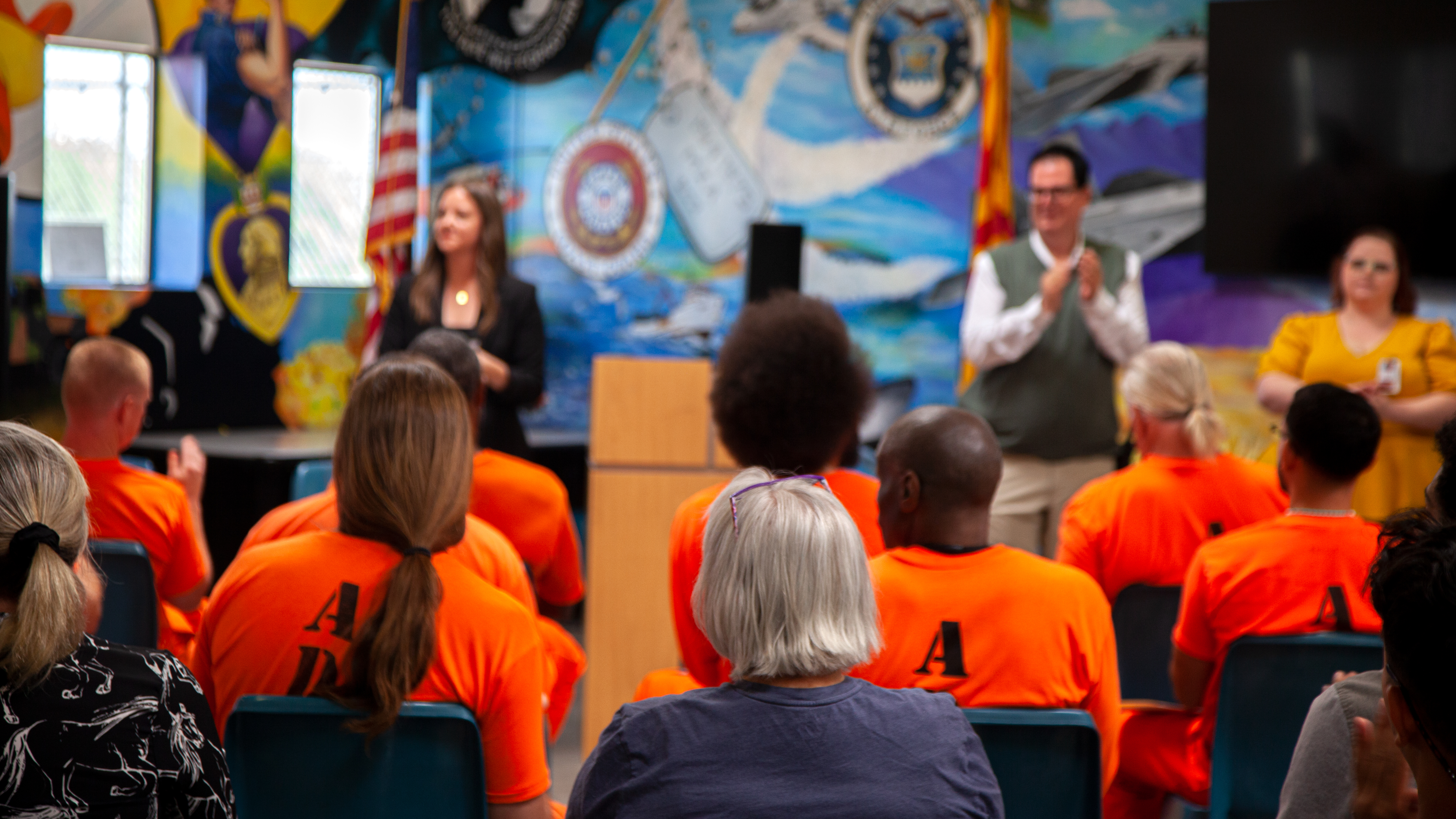 A crowd of family, friends and inmates listen to graduation speeches as incarcerated men receive their certifications in software development on Wednesday, May 10, 2023 in the Whetstone Facility in Tucson.
Paola Rodriguez/AZPM News
Mateen says he found that coding soon seeped into every corner of his life.
"I don't think we ever stopped. After class, we would talk about it. Before class, we would talk about it. During commercial breaks of our favorite show, we would talk about it. It's life changing because it engulfs everything you do."
The skills Mateen learned are not limited to just coding. Program coordinator and case manager Shayla Scott teaches the students career readiness skills that can be taken into the real world like problem solving. After they finish the program and are released, she follows their cases to further support them when they reach the real world. But for her, the real impact is not the employment or certifications.
"But for me, the story is of, 'I have reunited with my children, I never thought I would get custody of my kids back. I've been sober for eight years, I'm not going to relapse again.'"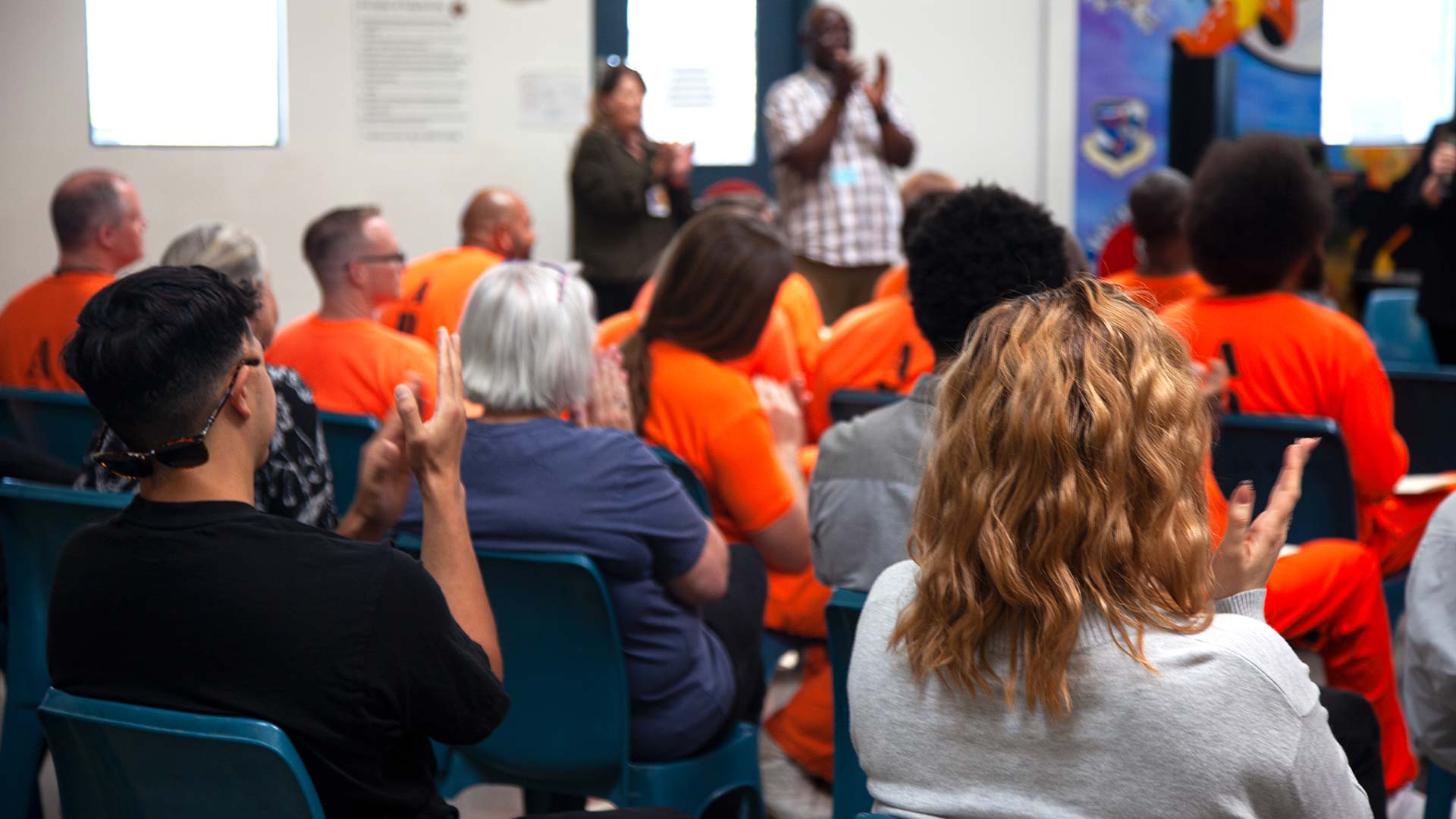 A crowd of family, friends and students enrolled in the Persevere Now program clap as students received their certifications on Wednesday, May 10, 2023.
Paola Rodriguez/AZPM News
She says programs like Persevere that follow their lives from the inside-out lower recidivism rates. Those who participate experienced a 1.8% recidivism rate versus Arizona's 42.4%, meaning those who just go through the system without support face a higher chance of being re-imprisoned.
"Society often doesn't realize how easy it could be to land here," Scott said. "They have this idea of, 'Oh, it must be some great length to have ended up incarcerated.' And oftentimes, that's not the case. And so how we combat it is by giving them those necessary skills to go be successful at home, and then ultimately in the workplace, creating kind of a cycle of positivity versus a cycle of recidivism." Persevere not only offers training but transitional housing as well as job placement.
While programs like persevere help in the long run, Arizona Program Manager Stephanie Morales says it is often difficult to navigate the barriers that come with incarceration. Right now, the program is in only four sites in Arizona and six states across the nation.
"Programs like ours are underfunded; they're not prioritized," Morales said. "If the department doesn't have money or the legislature does not push through funds for that, then rehabilitative programming like ours, that really is the most powerful, is the last priority."
But, when Persevere has the opportunity to operate in facilities, Morales says it offers a way of re-imagining what support looks like.
"If we want to change the way that folks not only interact with the carceral system but are successful after, we have to look at programs like ours who are providing wraparound services, because the reason that our folks are so successful is because they have a community, they have love, they have connection, in addition to the things that our basic needs."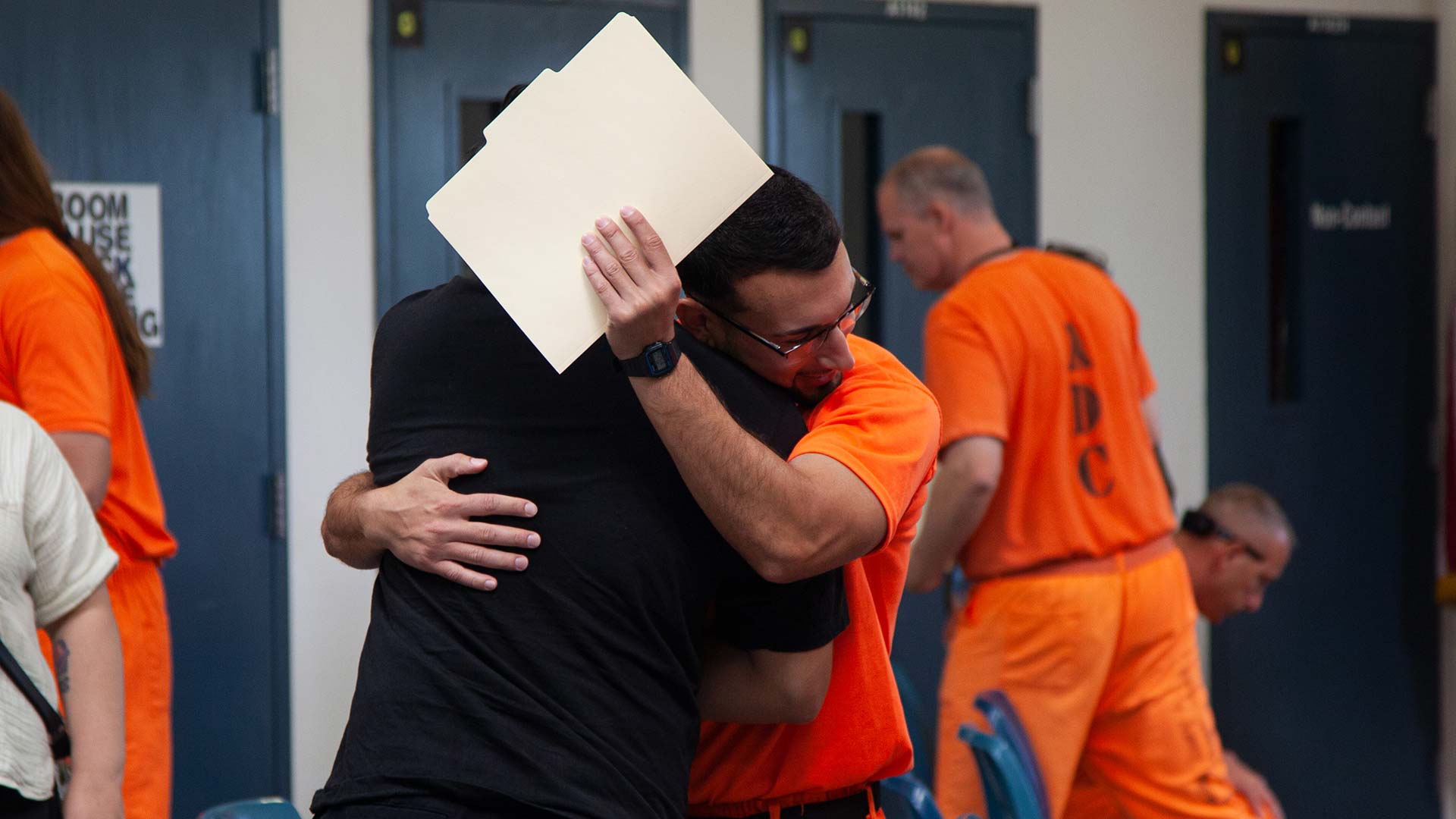 A student hugs family after he receives his certification in software development on Wednesday, May 10, 2023 in the Whetstone Facility in Tucson.
Paola Rodriguez/AZPM News
For Mateen, it took almost two years until he could enroll, going as far as to transfer to Whetstone for the opportunity. Now he says this has changed his life. His next goal is to pay it forward.
"I would like to create a company and create jobs for individuals who are coming out of prison that go through Persevere and give them a start. Give them a place that they're welcome, regardless of their history, and to give them a LeapPad onto their career."