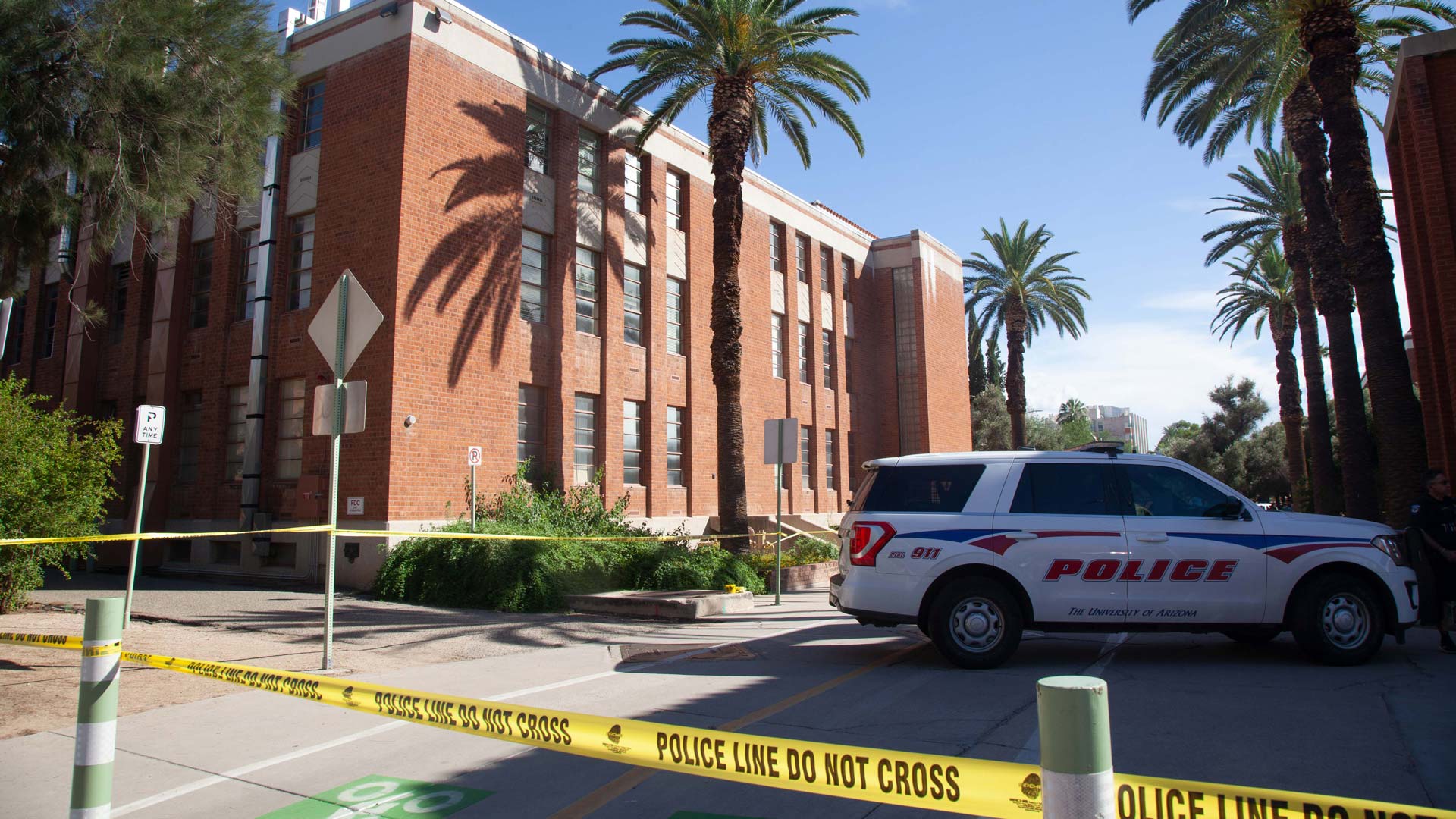 Samantha Larned/Arizona Public Media
The University of Arizona began the first of a series of safety briefings Friday morning. The move comes after UA received calls for a more comprehensive threat assessment model following a deadly on-campus shooting last October.
The briefings will be held bi-weekly to update the university's progress towards implementing safety recommendations made by external security consultants Pax Group, LLC. During the briefing, Interim Chief Safety Officer Steve Patterson said threat assessment management is not just a law enforcement issue.

"We need to do a better job in making sure that everybody knows what to do should something happen. But at the same time, behind the scenes, try to work to minimize some of these risks that we have out there."
UA President Robert Robbins announced a new reporting structure for UAPD, the establishment of a safety advisory committee and the reimplementation of the Incident Command System, which will expand to meet the university's threat assessment needs. The last time the system was used was during the COVID-19 pandemic. He also shared that the university will be working towards partnering with other campus stakeholders, like faculty, to better approach community needs.
Robbins did not mention any moves for accountability, despite community calls for them. In an email shared with AZPM, Faculty Senate Chair Leila Hudson told Robbins she did not hear about accountability for different departments that "did not manage threats effectively or even professionally when the campus 'saw things and said things' loudly and repeatedly in the months leading up to Dr. Meixner's murder and other dangerous campus incidents."
In a UAPD press conference after the shooting, University of Arizona Police Department Chief Paula Balafas told the community, "if you see something, say something." In the months before the deadly shooting, faculty, staff and students, who were allegedly harassed by shooting suspect Murad Dervish, reported their fears to different UA departments, including UAPD. However, they say there was not enough support forcing them to seek outside support and defenses, like bullet proof vests.
"Without accountability for the professional failures of the managers responsible for our students' and employees' wellbeing, we leave perilously unchallenged the broken organizational culture that was highlighted in the interim faculty report," Hudson wrote. "The aspirational partnership between your new team and faculty-led shared governance…depends in no small measure on enhanced and respectful communication as you know, but also on accountability for chronic and continuing unacceptable performance by administrative offices."
The university has not yet responded to AZPM's request for comment about accountability measures, but has acknowledged our request.