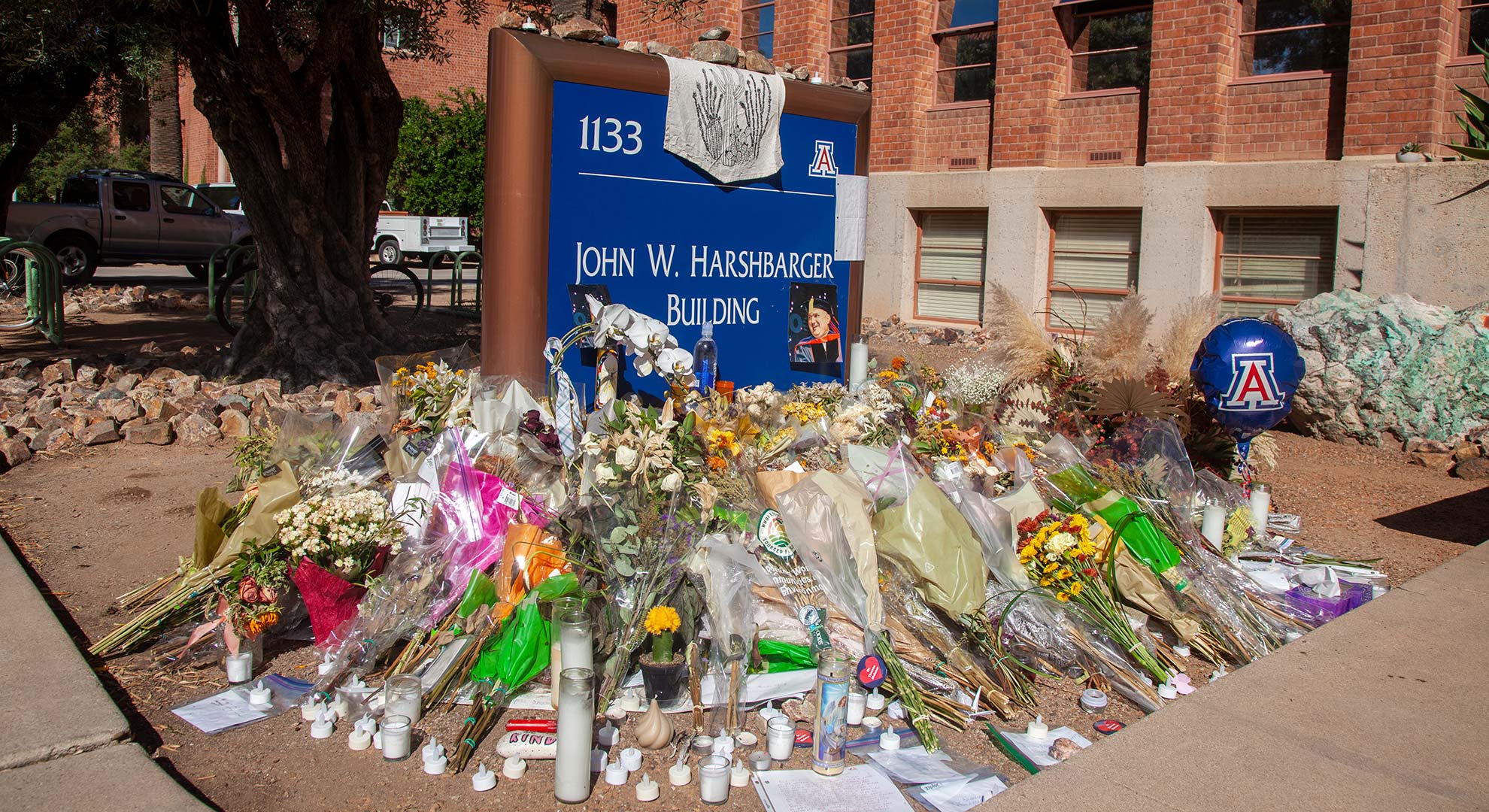 Flowers, candles and letters lay in front of the Harshbarger building sign following the murder of Professor Thomas Meixner on Wed. Oct. 5, 2022 at the University of Arizona. Meixner was killed by a former student on campus.
Paola Rodriguez/Arizona Public Media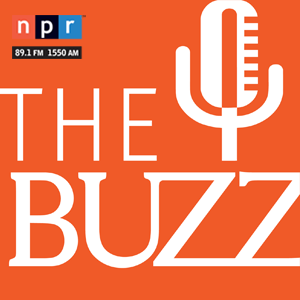 Earlier this week, the University of Arizona released its long-awaited external campus security report. That report was commissioned shortly after the Oct. 5 shooting that killed Hydrology and Atmospheric Sciences Department Head, Dr. Thomas Meixner. For more than a year before the shooting, affected faculty and students reported threats and harassment to UA departments but say they received little support.
UA President Dr. Robert Robbins says the report cost $250,000 and was meant to investigate the university's actions leading up to and after the shooting, as well as review current campus safety protocol.
PAX Group, LLC, the security consultants contracted to make the report, found that the university needs to improve on three themes: understanding and managing threats; providing a consistent, empathetic and compassionate response; and the decentralization and breakdown of communications. The group also identified four areas/units in need of improvement: the Threat Assessment Management Team; Crisis Response; the University of Arizona Police Department, and Communications.
Overall, the external report shares many of the same themes that were outlined in a February security assessment made by a Faculty Senate ad-hoc committee. However, at the time of the internal report's release, university officials largely dismissed it, saying it was filled with "misleading characterizations" and a "selective use of facts and quotations." Robbins has since apologized publicly and privately for the university's response.
However, the PAX report does not list trust as one of the improvement needs–it was listed in the internal report.
"In our Faculty Senate report, we emphasize that in order to actually have a security apparatus that is successful and effective, we need to have trust where individuals feel safe to report and trust the competency of university officials to meet their safety needs," Dr. Jenny Lee, Chair of the ad-hoc committee said. "Many of the themes actually were quite similar… But a fundamental difference has to do with this idea that we pose, not even an abstract idea, the fundamental basis of securing trust within the institution."
Both Lee and the vice chair of the ad-hoc committee Barak Orbach expressed concern over the external report's lack of diversity with who they spoke with.
"We know in our society throughout the country that there are populations that don't trust the UAPD," Lee said. "According to those who spoke to us, they don't feel safe even coming on campus. So how important or why is it important to have these particular measures and security measures in place when individuals don't even feel safe to come on campus?"
While the external report lists different units that were represented, it does not explicitly share what demographics were reached. This was listed in the internal, ad-hoc committee's report.
Following the release of the internal report, Robbins expressed the need to work together at a February Faculty Senate meeting. With that in mind, members of the ad-hoc committee attempted to work with PAX Group, LLC to share their findings and realities of what it is like to be a UA community member.
According to emails shared with AZPM, after one month's worth of meeting requests, PAX's cofounder Phil Andrew did not respond with availability until two hours after the committee shared a resignation letter saying they disbanded due fears of retaliation and claims of "stonewalling."
"If you read the [PAX] report, it could be written for the University of Utah. It could be written for the University of San Diego. How is it related? It identified specific features, but it didn't capture what it is like to be a faculty here, what our daily reality is, which I think that all of us feel that the daily realities could be and should be better," Orbach said.
Lee says that throughout PAX's investigation, there were questions regarding its independence.
"When the organization that's being investigated hires this outside group and then that group reports to the group that's being investigated, there are natural questions about whether or not anything that is said will remain confidential, whether or not there'll be fears that there will be some backlash or negative consequences," Lee said.
Andrew says they were able to create their inquiry without restrictions or directions from university officials.
New findings
While the report shares what is now well-known as a need for an improved threat assessment and violence risk response, new findings show further downfalls from the University of Arizona Police Department and the university's Threat Assessment Management Team.
The inquiry lists three moments when intervention could have happened with shooting suspect Murad Dervish, including an instance where Dervish entered the UAPD station to run license plate numbers to see what came up on his new vehicle on Sept. 27–just eight days before the shooting.
According to the PAX report, UAPD did not include that instance in their Oct. 5 After Action report. UAPD also did not include that the fire alarm was pulled during the shooting, which confused those in the Harshbarger building on whether they should remain in place or leave, according to the PAX report.
The external report also said that the Threat Assessment Management Team was part of a reveiw from a different external security expert group in 2019 that resulted in recommendations for an "effective model of threat assessment and threat management." According to the PAX report, those recommendations made four years ago are "consistent with reforms currently being implemented by TAMT."
Overall, according to the report, the murder of Meixner was "not unforeseeable." While the campus is "relatively and comparatively safe," there has been a steady increase in reports of violent crime since 2018, with a peak in activity last year, the report said.
Faculty Senate
The Chair of the Faculty Senate, Dr. Leila Hudson, along with other members, met with President Robbins earlier this week to discuss how the university and its community may move forward in creating a safe campus.
Hudson said the Faculty Senate is not looking for a change in leadership, but rather a call to action in regard to their recent approval of a limited "no confidence" motion in Robbins and his administration due to their response to violence risks both before and after Oct. 5.
She hopes that recent tensions can allow for more honest conversations about what needs to change at UA.
"I think that this episode of friction will allow us to air some of our differences and our grievances, all with the intent of moving forward proactively to fix what needs to be fixed," Hudson said.
After the Faculty Senate's vote, the Board of Regents came out in full support of Robbins.
New Chief Security Officer
During a Monday news conference, Robbins announced a new position within his administration–Chief Security Officer. The new role will be held by Steve Patterson, a career FBI agent who rose to the rank of Assistant Special Agent in charge of the Bureau's Tucson operations. Patterson has served as a consultant for the university since the shooting, primarily working with the Threat Assessment Management Team.
Patterson said that his role will mainly work towards implementing the 33 recommendations within the PAX report, while also pushing the university to expand its understanding of threat management.
"I would like to say that we may not get through all 33 not because of lack of effort, but because we may find better ways to get to where we need to get to," Patterson said. "The other thing is my job is not going to end when those 33 issues are dealt with… President Robbins tasked me to make this campus as safe as possible. My goal is to make this the safest campus as safe as possible."
When asked what Patterson's plan is to promote security, but not over-policing, he says "we need to make sure that we are trying to keep everybody as safe as possible, while in no way making people feel uncomfortable with what's going on."
The organizational structure of who reports to Patterson has not been determined yet, but he will report directly to Robbins. He starts his new role on May 1.