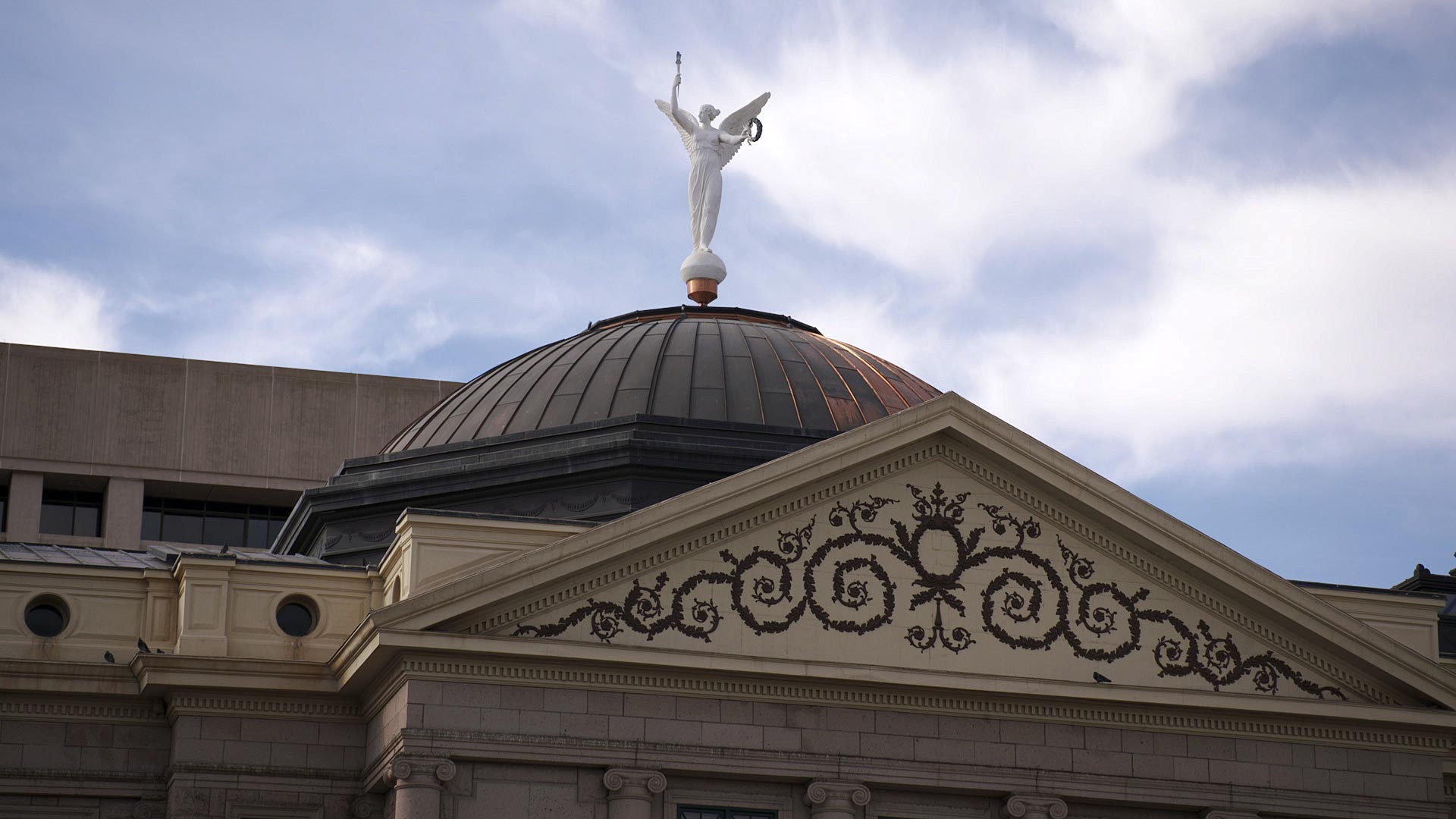 The dome atop the Arizona Capitol Museum at the State Capitol in Phoenix. January 2021.
AZPM Staff
Arizona lawmakers voted Wednesday to let public school districts spend all the money they were promised by the state, eliminating the risk that schools would abruptly lay off teachers or close before the end of the year.
The move allows schools to spend nearly $1.4 billion that exceeds an arcane spending cap approved by voters in 1980.
Some Republican lawmakers had pushed to make major changes to education policy in exchange for lifting the cap, such as expanding the value of private school vouchers. School administrators feared they'd hit the cap before lawmakers acted, forcing them to abruptly cut off their spending.
"Our teachers can focus on giving students every opportunity to achieve success, not shutting down classrooms," Democratic Gov. Katie Hobbs said in a statement.
The Senate approved the measure in a 23-7 vote on Wednesday, a day after the House passed it 46-14. Approval required a two-thirds supermajority and does not need a signature from Hobbs.
Voters approved the spending cap in response to a growing anti-tax movement in the 1970s and '80s spurred by California's approval of strict property tax restrictions. It was meant to restrain the growth in school spending, tying it to the size of the student population and inflation.
But school expenses have grown considerably, due in part to the proliferation of technology that didn't exist in the 1980s. Other factors have combined to trigger the cap as well.
When voters in 2000 approved a sales tax increase to boost school spending, they exempted the additional revenue from the spending cap. But when lawmakers extended the tax in 2018, they didn't include the exemption.
The bipartisan state budget adopted last year included a substantial increase in school funding. Democrats say then-Republican Gov. Doug Ducey promised to call a special session before leaving office to lift the cap but never did so.
Lifting the cap lasts for one year. A permanent fix would require voter approval. Otherwise, lawmakers will likely face the same issue again next year.
Senate President Warren Petersen, R-Queen Creek, said in a statement that the additional funding has not brought big enough improvements in test scores.
"With extra funding comes a greater responsibility from our K-12 public school districts to provide a better education for all students, and we intend to make sure this happens," Petersen said.
Marisol Garcia, president of the Arizona Education Association, said the teachers union is grateful for lawmakers "who voted to end the infuriating uncertainty."
"But our state Legislature ultimately needs to eliminate the cap entirely, so that we are not forced to have this same fight year after year," Garcia said. "Educators are signing contracts for the 2023-2024 school year right now, and the constant, looming possibility of monthslong school closures only makes it that much harder for schools to retain qualified and passionate educators."