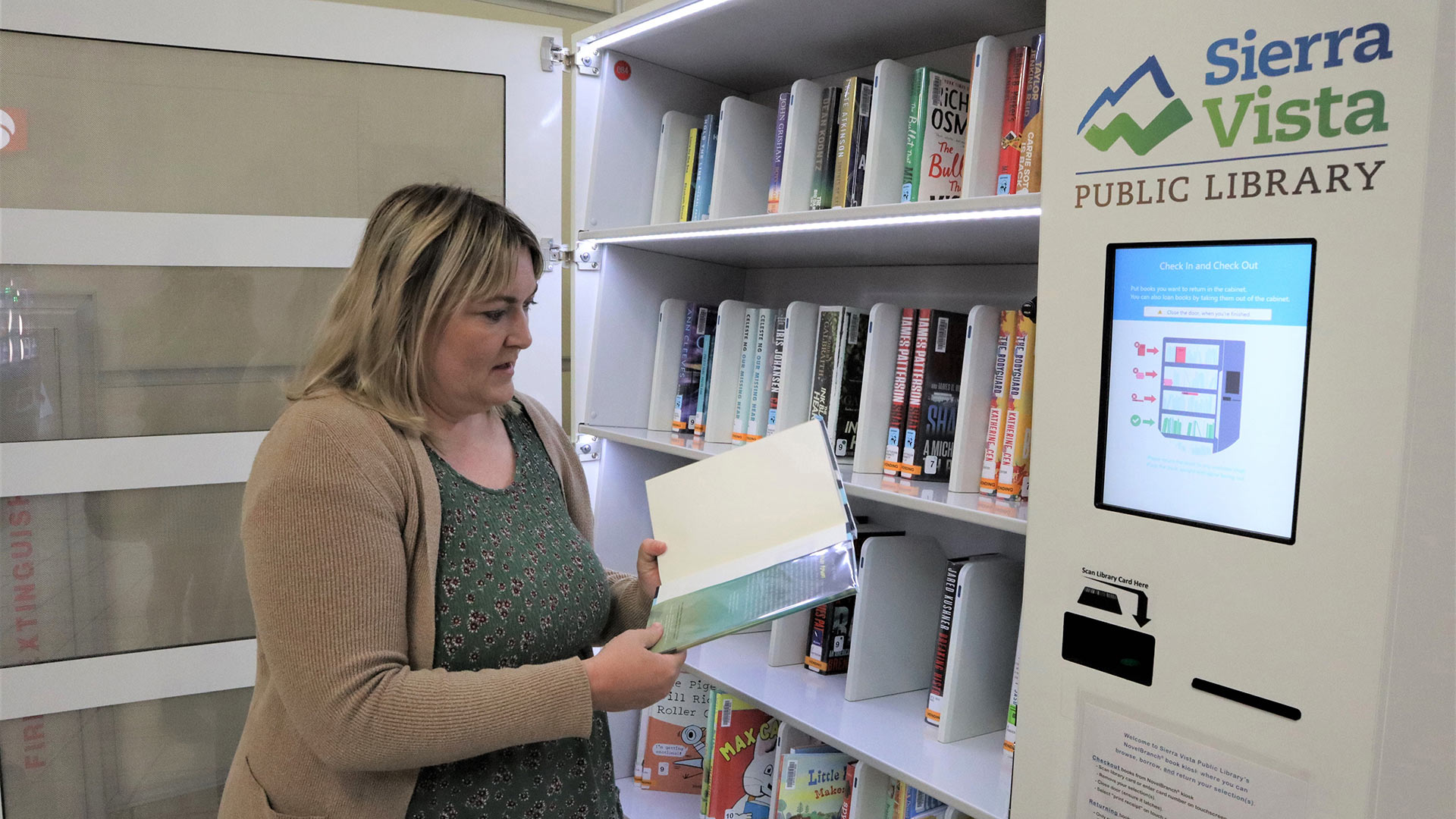 Sierra Vista Public Library Manager Emily Duchon said that the goal was to make books more accessible.
Summer Hom, AZPM
Books at the drop of a hat? Well maybe more like books at the drop of a library card. The Sierra Vista Public Library's purchase and installation of a book vending machine at the Mall at Sierra Vista hopes to make reading more accessible to the city's central and southside neighborhoods.
City of Sierra Vista Library Manager Emily Duchon said that it's about getting into people's backyards and making access to books easier and more hands-off.
"As long as your card is in good standing, you just swipe your card and the door opens for you," said Duchon. "And everything is RFID technology. So, when you take out a book to look at it, the machine understands if you put it back or if you don't put it back."
The vending machine, which was installed in late November, holds 125 books and includes in its selection books for children, young adults and adults.
"We are starting out with basically bestsellers," Duchon said. "We want things that moved. So think, like, the New York Times bestseller list for adults, teens, and children, and anything within the latest, three months. And then another two or three months, will change everything out to — again — the newest best sellers."
Duchon said that the machine cost a little over $30,000, of which $20,000 came from the Friends of the Sierra Vista Public Library, a nonprofit organization and used book store. She said that the rest was covered in the library's budget.
She added that users can return the books to the machine by scanning their library card and returning the book to the machine, or they can return the books to the library's main branch.
As much as the vending machine is a new way to interact and entice readers, Duchon said it is also gauging interest in a possible satellite branch of the library, which is located in the north-central side of the city off of Tacoma Street.
"I think this is the start of serving those areas, but going out to those areas and then seeing if maybe in the future a small branch is needed out there, we can really analyze the number of checkouts and activities going on in this vending machine," she said.
In the future, Duchon hopes to add more book vending machines around the city.
"There's some practical things that you have to consider," Duchon said. "For instance, the machine has to be indoors, and so it was difficult to come up with a lot of indoor places with foot traffic enough to warrant, you know, this expensive machine."
"So I think there's some things we'd have to think about, but we're absolutely hoping that people use it and we can start to think about more of them all around town, ideally including Fort Huachuca," she concluded.
The book vending machine is the second book vending machine to be installed in the area, as General Myer Elementary School on Ft. Huachuca installed their book vending machine two-years-ago. That machine enables students to purchase books with tokens.