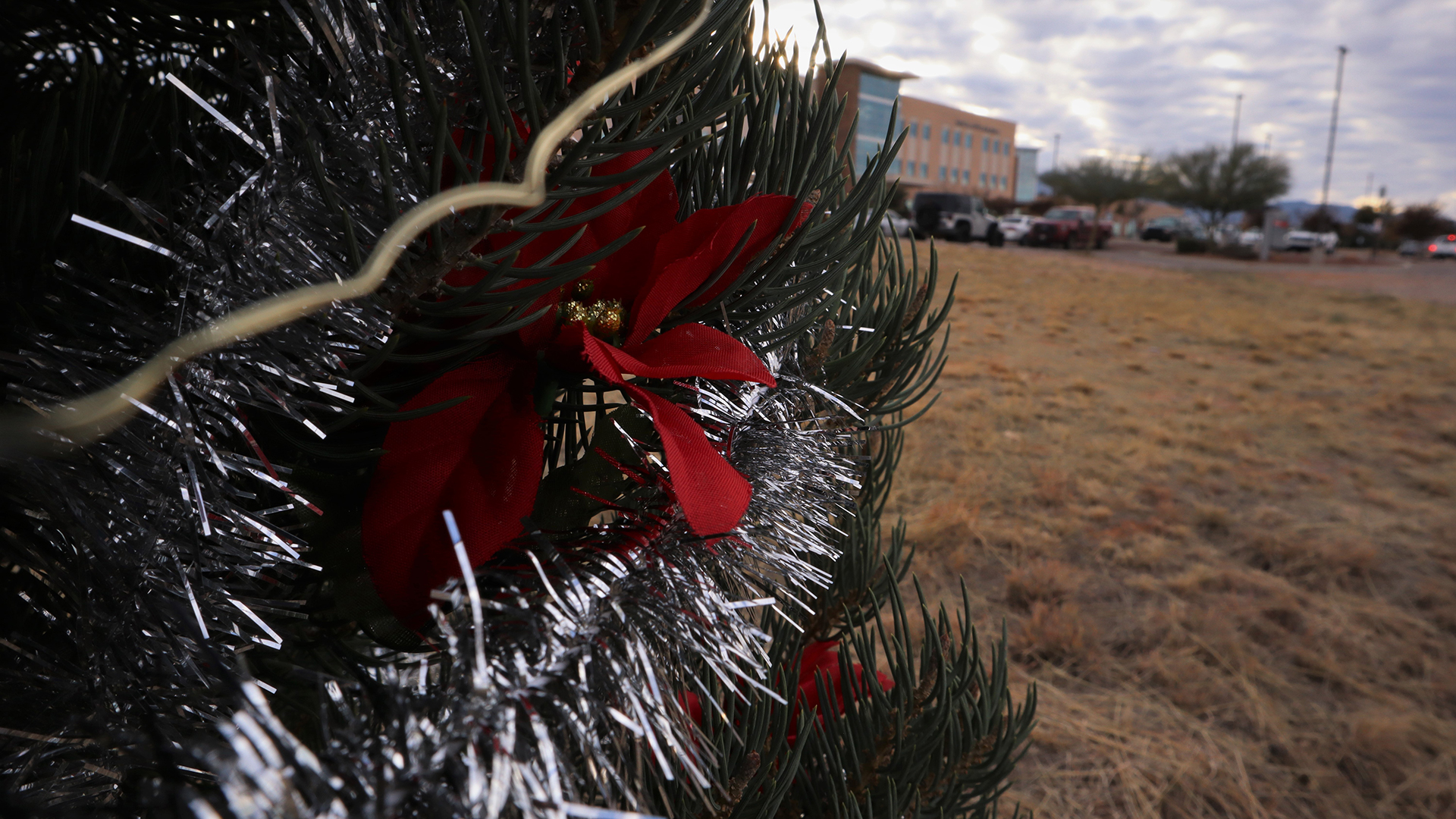 Summer Hom, AZPM
While the holidays can be filled with cheery festivities and happy memories, for many, the holidays can also be difficult and remind us of hard times and those we have lost.
But Sierra Vista residents Nancy Thompson and her grandson Sam Foster hope to help bring a smile to those going to Canyon Vista Medical Center by decorating one of the small pine trees outside the hospital and inviting the community to join in.
The pair have been decorating the tree for five years, since the hospital moved from its location on the corner of Willcox Dr. and El Camino Real to State Route 90.
Foster said that the main reason they decorate the tree year after year is to bring a little light to those who are heading to the hospital, as the tree faces the northwest lawn, right in front of the entrance to the emergency department.
"I just wanted to make people smile, so people aren't so scared of going to the emergency room," said Foster, who is 16 years old.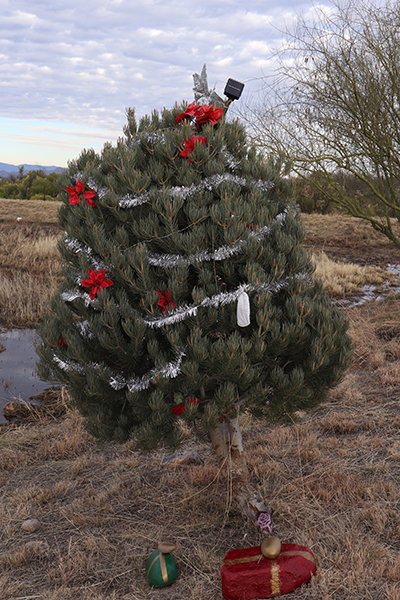 Summer Hom, AZPM
To Thompson, the roughly five foot tree that is a lone wolf on that side of the lawn resembled another famously adored Christmas tree.
"We saw this little pine tree out there one day," said Thompson. "We thought it was like a Charlie Brown tree and thought it needed some love."
Previously, Thompson and Foster have decorated the tree anonymously, quietly adding a bit of tinsel here and there, an ornament or two. But this year, the pair decided to invite the community to pitch in.
Thompson posted a picture of the tree she and Foster decorated to a Facebook group called Sierra Vista Rocks, which is a group of people who paint rocks and place them around town.
"This was the first year that Sam decided he wanted to paint rocks and turn them into like presents for people," said Thompson. "And so we did that, and I posted it on the Sierra Vista Rock page, which I'm a part of."
"We've noticed that since we posted it in Sierra Vista Rock page that a couple other people have put rocks out there and one lady even put some solar lights," She continued. "One lady did post something on Sierra Vista Rocks and she said, 'I was wondering who did that. I see it every day when I go to work and it makes me smile.' So, that made our day."
Considering the tree's location, both Thompson and Foster felt that it was important to add a little hope to those heading to the hospital.
"We know the ambulance goes out there all the time and it's not always a good reason to be going to the [emergency room]," Thompson said. "So, we thought maybe they would see that and maybe smile a little bit, or anybody going into the emergency room [would] just to see it and think 'oh, a little bit of hope out there.'"
With the holidays bringing a mixed bag of emotions for some, both said that they want help by providing a little bit of light.
"My mom passed away on New Year's Day many, many years ago," Thompson said. "And so, it's like every year at Christmas, I remember how down we were. We had to go to the hospital and it was just kind of a sad time. And so, we thought 'well, you know, maybe this would help somebody,' even if it brings a grin not a full smile."
In her Facebook post, Thompson invited the community to add ornaments, lights or paint rocks as presents to place under the tree.