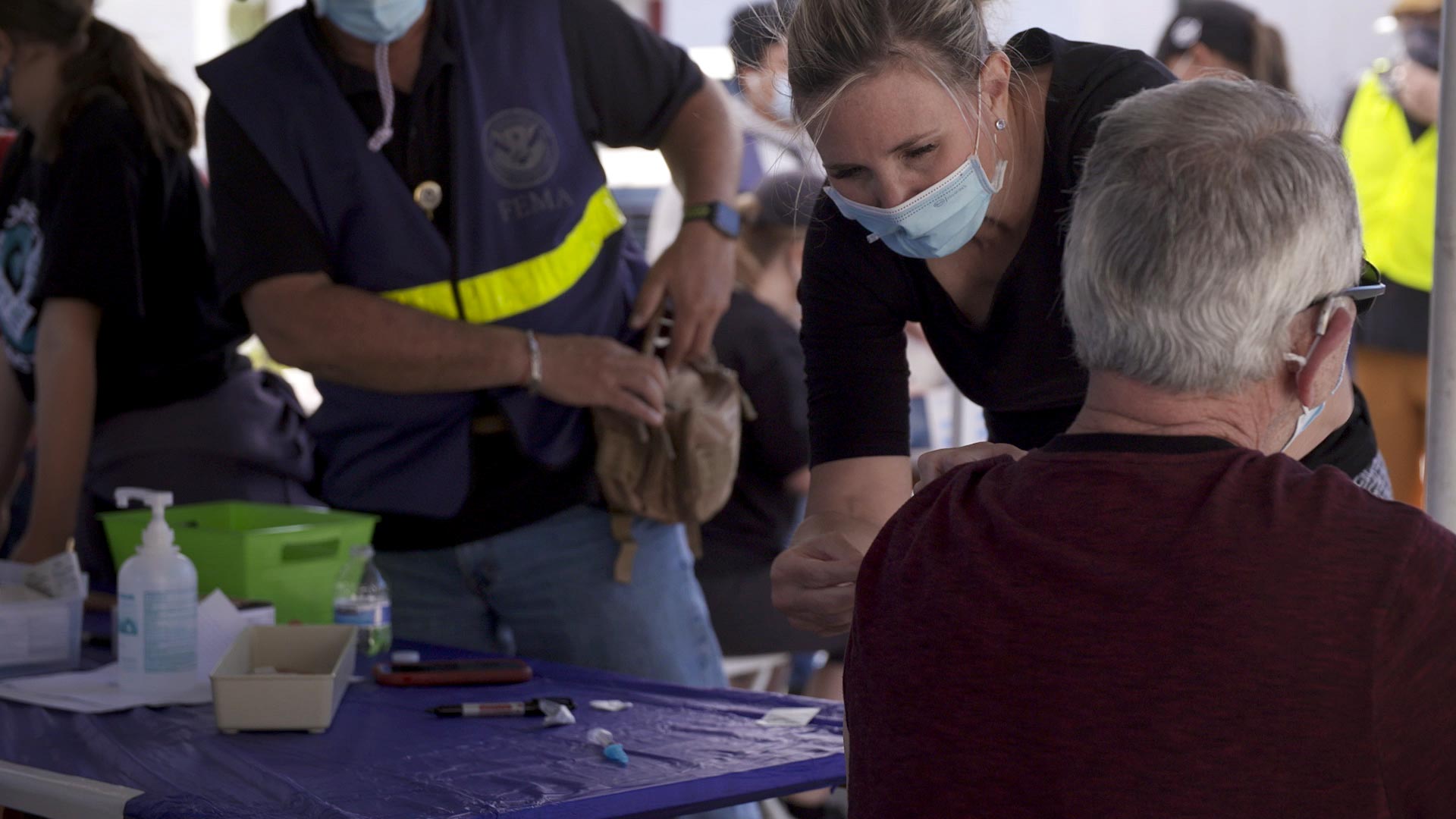 A health care worker administers a COVID-19 vaccine on a man at St. John the Evangelist Catholic Church in Tucson. March 2021.
Nate Huffman/AZPM Staff
Pima County will host four influenza and COVID-19 vaccine clinics in Green Valley over the next few weeks.
The clinics will provide either or both vaccines and at-home COVID tests, free of charge.
Pima County Health Department Division Manager for Clinical Services Andrew Rowe said vaccine adoption is on the rise as cases of respiratory illnesses become more common.
"Specifically for the bivalent booster. And then for flu, we do have some increase in requests. That's really the reason we're trying to get out and have some of these mobile pop-up clinics, to get out closer to where people are so they're not having to drive to other areas or bog down the clinics."
Demand for both vaccines has been on the rise recently, as COVID spread remains at high transmission levels in Pima County and flu and RSV rates remain well above normal.
Rowe said the rise in demand could also be seasonal.
"I think this time of year, especially for flu vaccination, people are looking to protect themselves over the holidays."
Green Valley clinics are scheduled to take place: Wednesday, December 21, 10 a.m. – 2 p.m. Elks Lodge, 2951 S. Camino Mercado Thursday, December 22, 1 p.m. – 4 p.m. Valley Presbyterian Church, 2800 S. Camino Del Sol Wednesday, December 28, 10 a.m. – 2 p.m. Valley Assistance Services, 3950 S. Camino del Heroe Friday, January 6, 10 a.m. – 2 p.m. Valley Assistance Services, 3950 S. Camino del Heroe
Information about ongoing clinics is available on the Pima County Department of Health website.