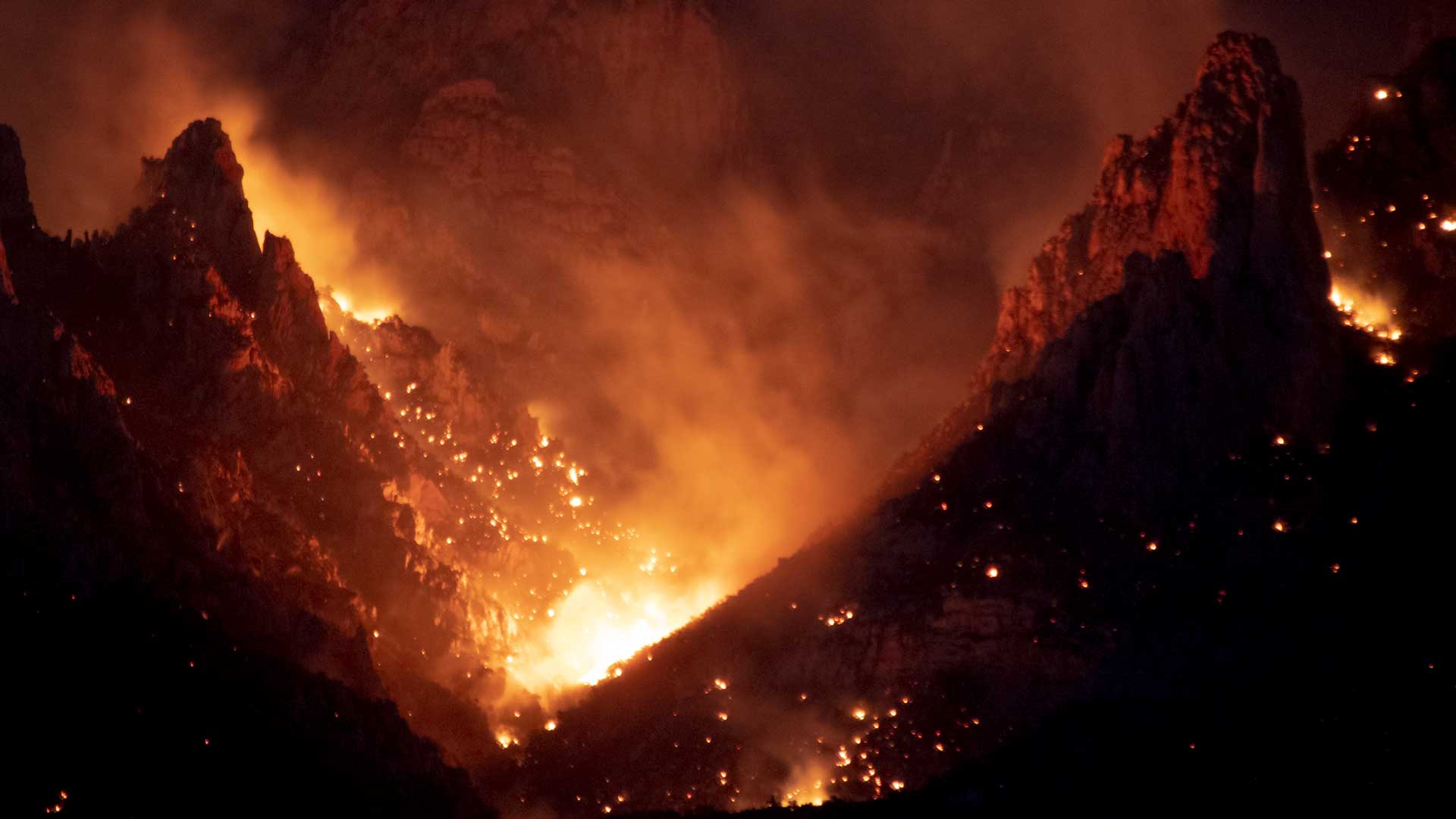 The Bighorn Fire burns in the Pusch Ridge Wilderness near Oro Valley on June 7, 2020.
Christopher Conover/AZPM

In 2020, more than 80% of Arizona's wildfires were started by people, according to the state Department of Forestry and Fire Management. Those fires burned nearly a million acres of federal, state and private land.
While the prevalence of human-caused fires is on the rise, it is not an entirely new phenomenon.
"There's evidence that our pre-hominid ancestors had mastered fire and were using it, and that's one of the factors that accelerated the evolution of our species, said Donald Falk, a professor in the School of Natural Resources and the Environment at the University of Arizona.
Falk said the fires were burning frequently, which meant they often did not have much fuel to burn, making them beneficial to the ecosystem.
"The vast majority of fires were what we'd call low-severity. That means they'd be burning grass and shrubs and small woody fuels on the ground, but infrequently getting into the [tree] canopy," said Falk.
But humans began extinguishing many fires starting in the 1900s, which allowed fuels to build up and cause resulting fires to increase in intensity.
That increase in intensity has led modern officials to encourage people who are in the outdoors to practice fire safety or even periodically ban public use of fire from public lands, as happened in Flagstaff and parts of Coconino National Forest after the Pipeline and Haywire fires.
While fire may be barred, outdoor activities such as camping remain available during all but the most severe restrictions.
What often goes missing when those announcements are made is talk of how to continue to enjoy public lands without fire.
"You just have to take in a couple of considerations to make sure that you're well prepared," said Dana Davis, a frequent fireless camper and co-owner of outdoor retailer Summit Hut.
She mentions that a camp stove could take the place of a campfire for cooking, unless restrictions are severe enough to ban those too.
"You should always call in advance to find out for certain exactly what might be restricted" before heading to your chosen camping area, Davis said.
Lanterns and other small electric lights can help with a lack of lighting, and a sleeping bag and pad can help campers keep warm on cool nights.
A final concern is what to do with human waste and hygiene products such as toilet paper.
"The best thing to do is pack it out," Davis said, noting that her store carries a product called blue bags, though any durable, disposable bag will work.
While the best way to protect the environment from human-caused fires is to not start them, they do still happen. When fires grow large and endanger valuable resources from homes to important watersheds, dropping flame retardant from aircraft is a common tactic to slow the spread.
Some of the larger aircraft that help fight fires are called tankers. They drop lines of fire retardant to help protect homes and steer the fires.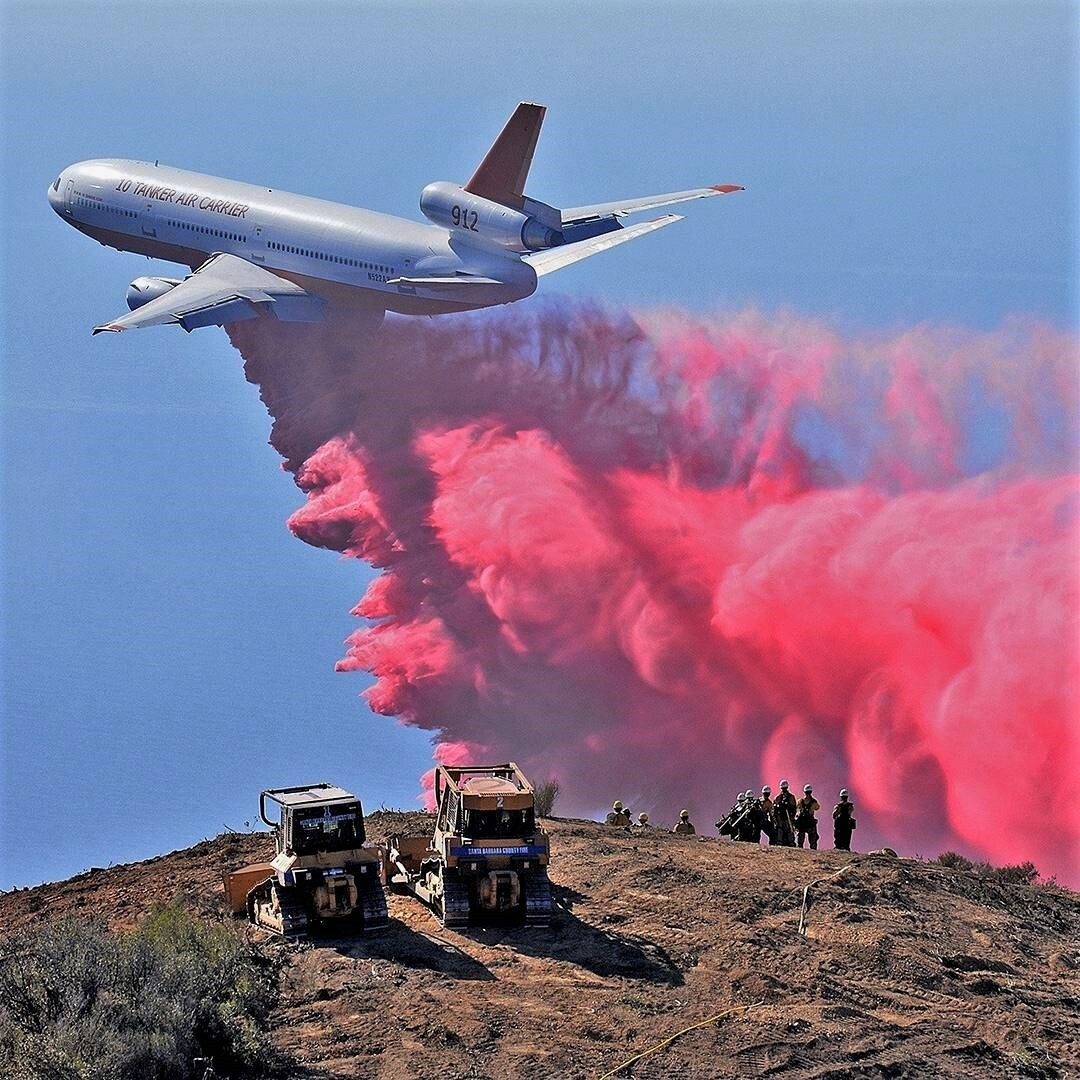 Each 10 Tanker DC-10 carries 9,400 gallons of fire retardant and can spray a mile-long line.
10 Tanker Air Carrier
Some of the largest belong to Albuquerque-based 10 Tanker Air Carrier. The orange and white McDonnell Douglas DC 10s are becoming synonymous with large fires in the West. The jetliners dropped nearly 450,000 gallons of the bright red fire retardant around the Bighorn and Tortolita fires near Tucson in summer 2020.
John Gould is 10 Tanker's president. He said in 2006 when the company got their first contract, they were not what fire managers were used to when it came to air attack since they were so large.
Each of their DC-10s holds 9,400 gallons of fire retardant, Gould said, three times as much as an average-sized plane. He said that can make a big difference when trying to put out a fire as quickly as possible.
"Time is money," Gould said. "If you need 10,000 gallons or 20,000 gallons on the fire, we can bring it in two loads. We can get that done in a couple hours."
During the off-season, 10 Tanker also fights fires in Mexico, South America, and Australia.
Thursday one of their tankers flew to the the Margo Fire near Dudleyville in Pinal County.
The tanker flew to the fire four times and was able to spread more than 37,000 gallons of retardant.

The Buzz
airs Fridays at 8:30 a.m. and 6 p.m. and Saturdays at 3:30 p.m. on NPR 89.1. You can subscribe to our podcast on
iTunes
and NPR One. See more from
The Buzz
.