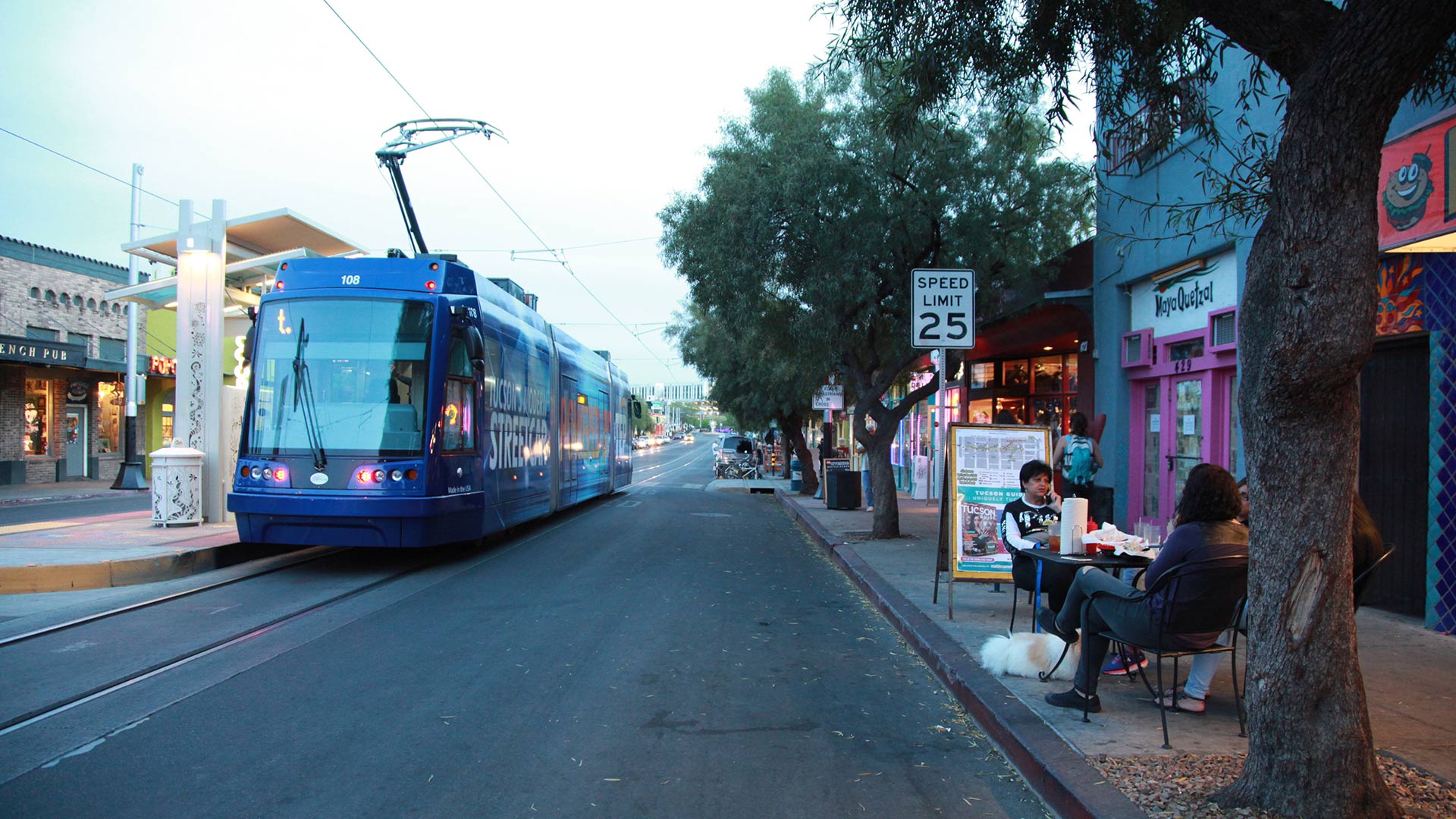 The streetcar passes people eating dinner on 4th Avenue on April 5, 2015.
Tess Salmon, AZPM
Traffic is not just small talk in Southern Arizona.
After all, there is Tucson's potential split with the Regional Transportation Authority, the recent passage of the Infrastructure and Jobs Act, and the long-running talk of a train connection to Phoenix.
This week, The Buzz examines how Arizonans get where they are going, and how that could change.
More from this episode
Tucson weighs future with RTA over representation disputes and claims of underfunded projects.
Listen here
.
Yonah Freemark, a senior research associate at the Urban Institute, said the new infrastructure legislation will support the types of projects states and cities have been trying to do but have not necessarily had the funds to complete.
"We're talking about a lot of money going to things like highway expansion, transit projects and an improved power grid — things states have really wanted to invest in and have been investing in but which could always use some additional money from the federal government," he said.
But he added: "There are some elements of the infrastructure bill that are new and will expand our thinking of what infrastructure looks like in the U.S."
The bill makes a significant share of money available to tribal governments and also provides billions of dollars for intercity rail.
"I'm extremely optimistic right now," said Todd Liebman, president of All Aboard Arizona, which advocates for passenger rail in the state. "I'm extremely optimistic because, first of all, now we have funding — if the state can apply for the funding and get a group of units of government together that want the funding, there is money available."
Liebman said a passenger rail service from the Tucson International Airport to Phoenix and Buckeye could operate at speeds at least as fast as driving while using existing routes.
"We have the rail. Portions of the rail have plenty of capacity," he said. "They're not over utilized by freight traffic."

The Buzz
airs Fridays at 8:30 a.m. and 6 p.m. and Saturdays at 3:30 p.m. on NPR 89.1. You can subscribe to our podcast on
iTunes
and NPR One. See more from
The Buzz
.