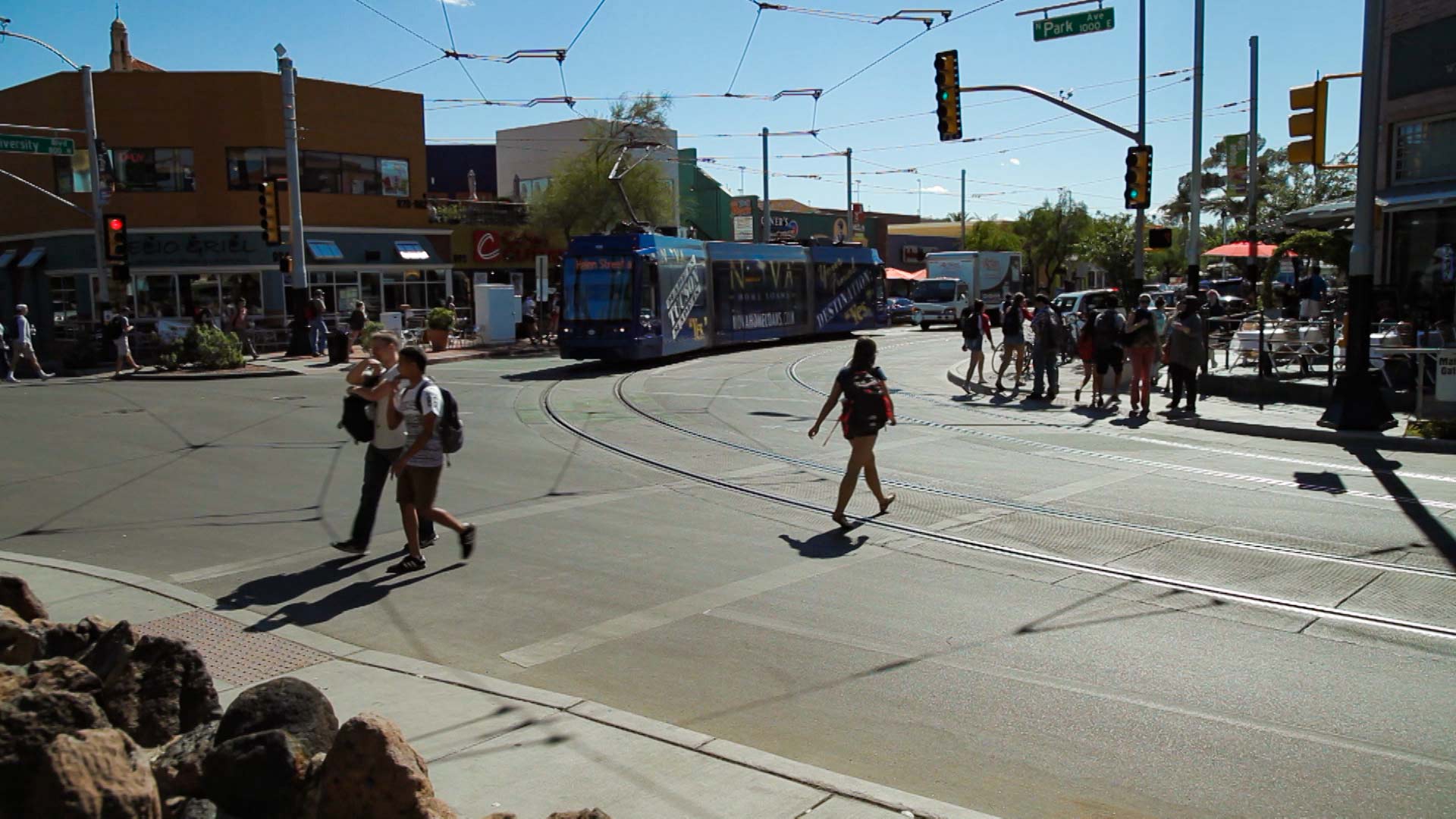 Tucson's streetcar passes by Main Gate Square, at the University of Arizona Campus.
AZPM
The Regional Transportation Authority got its start 15 years ago with a voter-approved $2 billion plan. It has fixed roads, added bike lanes and built the light rail in Tucson.
Still, the mayor and city council of Tucson say smaller municipalities have an outsized vote in the RTA, and that's preventing Tucson from keeping up with the transportation needs of its own citizens.
That is a major topic of discussion this week for the city and the RTA as Tucson nears its February 1st deadline to decide whether to withdraw from the next phase of the RTA.
Former Arizona State Senator Steve Farley sat inside a Tucson streetcar parked at a maintenance facility in Downtown Tucson. The streetcar didn't exist when he moved here in 1995.
"I was shocked by how rundown the bus system was, how it was simply all cars everywhere all the time," Farley said.
He and some like-minded locals started Tucsonans for Sensible Transportation in 2000 and tried unsuccessfully to get a streetcar initiative on the ballot and voted into law.
"We stood out in front of Casa Video night after night, for months and months, got 18,000 signatures from across the city," Farley said.
Homebuilders, car dealers and others who were invested more in roads than trains were pushing back hard against the group's efforts, so after years of making little progress, Farley reached out to them.
"The only way to win an election, and to overcome the people that wouldn't vote for anything is to get together the people who want transit and roads," Farley said.
He credited the compromises that followed with getting the RTA off the ground and with it, the streetcar in place in 2014, and said it also created scores of jobs and brought business to the area.
"It has developed our tourism industry, has kept things like the gem show here, who said they were thinking of moving to Vegas, before the streetcar got into place, and the streetcar kept them here," Farley said.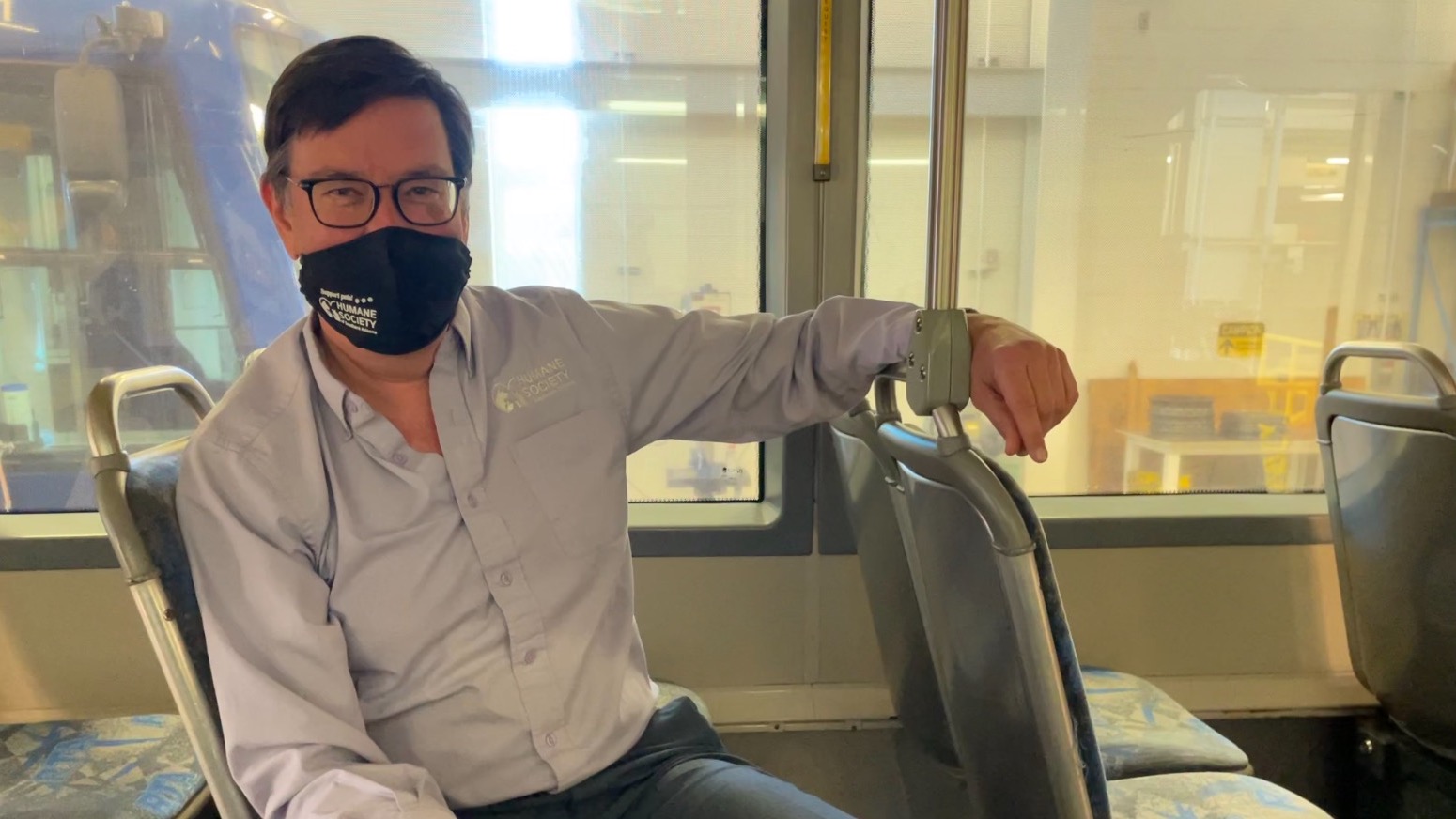 Steve Farley
Megan Myscofski/AZPM
One compromise made in those negotiations was to give each municipality involved one vote, meaning Tucson, which has over a half a million residents, has the same voting power as Marana or Oro Valley, which each have fewer than 50,000.
Since then, Tucson officials have said the RTA has left the city's projects underfunded, even though it provides the most tax revenue as the biggest municipality involved.
Mayor Regina Romero says RTA leadership has not been forthcoming with solutions to bridge that gap.
"I want to be a good regional partner. But we, the citizens of Tucson, also need good regional partners from the member jurisdictions of the RTA," Romero said.
The mayor and city council voted unanimously in September to withdraw from the next phase of the RTA by February 1st if the issues they raised were not addressed.
Pima Association of Governments Deputy Director Jim DeGrood said PAG leadership plans to move forward as if Tucson is staying in the RTA until it hears otherwise.
"That's an uncomfortable conversation to have that has to happen, and we'll see if everybody can work it out," DeGrood said. "It's amazing how much we've been able to accomplish with the RTA over the last decade."
Beyond the funding gap, critics of the RTA also say communities who use public transit, including low-income communities and people of color, are underrepresented in the decision-making process.
RTA leadership is considering applications for new members of the Citizens Advisory Committee, and DeGrood said board members are doing so with an eye towards diversity.
Yolanda Herrera is a member of the committee and wrote an op-ed in the Tucson Daily Star last fall highlighting the lack of diversity in the group.
Vanessa Gallego is a founder of Families United Gaining Accessibility and said that lack of diversity has long-term consequences.
"There's areas that have been historically marginalized, and historically underfunded," Gallego said. "And we're talking about real infrastructure change in these communities and, and if the current plans don't reflect that, then you're leaving a community behind for far longer than 20 years."
---
The Buzz
This story first aired during the January 28, 2022 episode of The Buzz. Hear the whole episode. Subscribe on Apple Podcasts.
---
Gallego said she would like to see a more diverse committee. But she also thinks the onus should not entirely be on new members to represent a diverse set of voices in the area. The RTA should take more initiative in getting community input, she argued.
"I don't know what the solution is, but I definitely can tell you that it's in the streets," Gallego said.
Arlie Adkins, an associate professor of urban planning at the University of Arizona, said he hopes to see a good faith effort from PAG to balance representation — especially as 82% of transit users in the region live within Tucson's borders.
"If we've learned one thing about issues related to social equity, related to social justice, and climate justice, it's that we can't just rely on the way that we've done things for the last 50 years," Adkins said.
He also said that although Tucson is required to work with regional partners on transit issues in order to receive federal funding, it does not have to be as dependent on those partnerships as it is now. In fact, many cities of the same size and structure around the country are not.
"And if we're not seeing action from our regional government in the way that that really, you know, fits what the city of Tucson wants to be doing, we've got to be asking ourselves, is the system working?" he said.
This week, the Tucson City Council voted to hold a special meeting on Monday. During that meeting, they will decide whether or not to add a half-cent sales tax for transportation to a special election ballot in May.