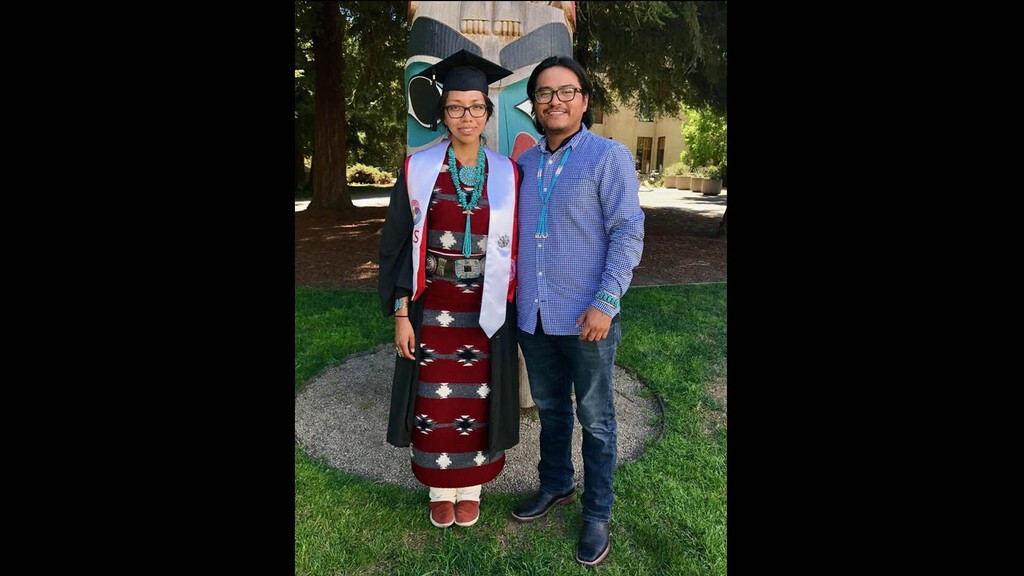 Arizona State Rep. Jasmine Blackwater-Nygren and her husband at her graduation at Stanford University.
Courtesy of Rep. Blackwater-Nygren
High school graduation is a ceremony that most young adults look forward to each spring.
Madeline Jeans was one of those students back in 2017 at Pueblo High School. She wore her auntie's Navajo regalia for the ceremony — a black Pendleton dress with red accents.
"So it was very emotional. I was just very proud to graduate and wear my regalia that day — to just like represent my people," she said.
But she had to ask the Tucson Unified School District for permission for that honor — for permission to be herself as a Navajo, Pascua Yaqui and Otoe woman.
"It was just kind of heartbreaking like when I got accepted but my other peers didn't get the permission. It was just for me, like alone, so few of my peers had to sneak their feathers in or their regalia in," she said.
In December 2018, she was one of the students who advocated for TUSD to allow people to wear their regalia at the upcoming graduation.
They won, but it wasn't until the following spring that the district changed its policy permanently to allow students of all backgrounds to wear culturally significant regalia for graduation.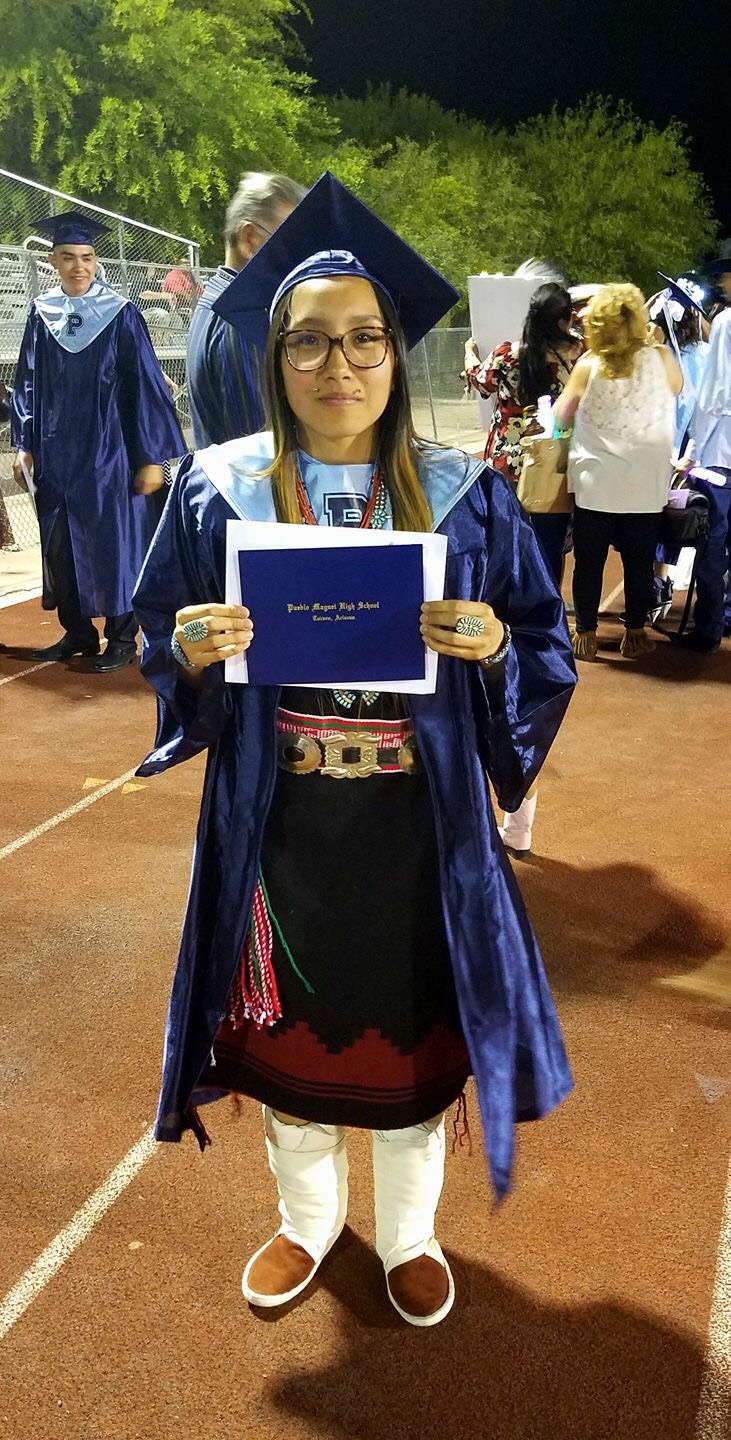 VIEW LARGER Maddy Jeans at her 2017 graduation.

Courtesy Madeleine Jeans
After a year of racial justice protests, former Arizona State Representative Arlando Teller introduced a bill allowing Indigenous students to wear their regalia at graduation.
State Representative Jasmine Blackwater-Nygren, who replaced Teller earlier this year, picked up the bill. As a member of the Navajo Nation, she knows personally why this is important.
"At a time when it feels like we're losing our language and our culture, this is something that will allow students to be proud of who they are and what they wear, and not face any challenges," she said.
When she graduated from Stanford University, she wore a Navajo red rug dress that retold a portion of the Creation story, jewelry from her grandmother and her moccasins.
"They say when you wear your moccasins, you are in a holy state of being, and that you are directly connected to Mother Earth," she said.
---
Listen again
This story first aired in March 2021. Listen again.
---
Governor Doug Ducey signed the bill in April 2021 prohibiting public or charter schools from blocking students from wearing culturally-significant regalia.
Kelsey Dayle John is an assistant professor at the University of Arizona in American Indian Studies. She is also Navajo and says it is important to remember that Native Americans across the country were taken from their families and forced to give up their culture and language all in the name of schooling.
"Having a policy that says, 'Hey, you don't have to feel like you have to ask permission to be yourself' is showing that schools are supportive of Native people being Native and being successful in education at the same time," she said.
John said both Black and Indigenous communities know what it's like to have their dress, their cultures and their hair criminalized through the racial systems set up through colonization.
In the Tucson City Code, the city prohibits discrimination based on someone's sex, age, and more, including race. Tucson's Mayor and Council adopted a city ordinance the same day the regalia bill was passed to include hair textures and types and certain styles under those racial protections.
"It is really important to not make being a Black person or being a Native person in schools something that's against the rules," she said.
She said these moves are one step toward dismantling school policies that enforce racial hierarchies.