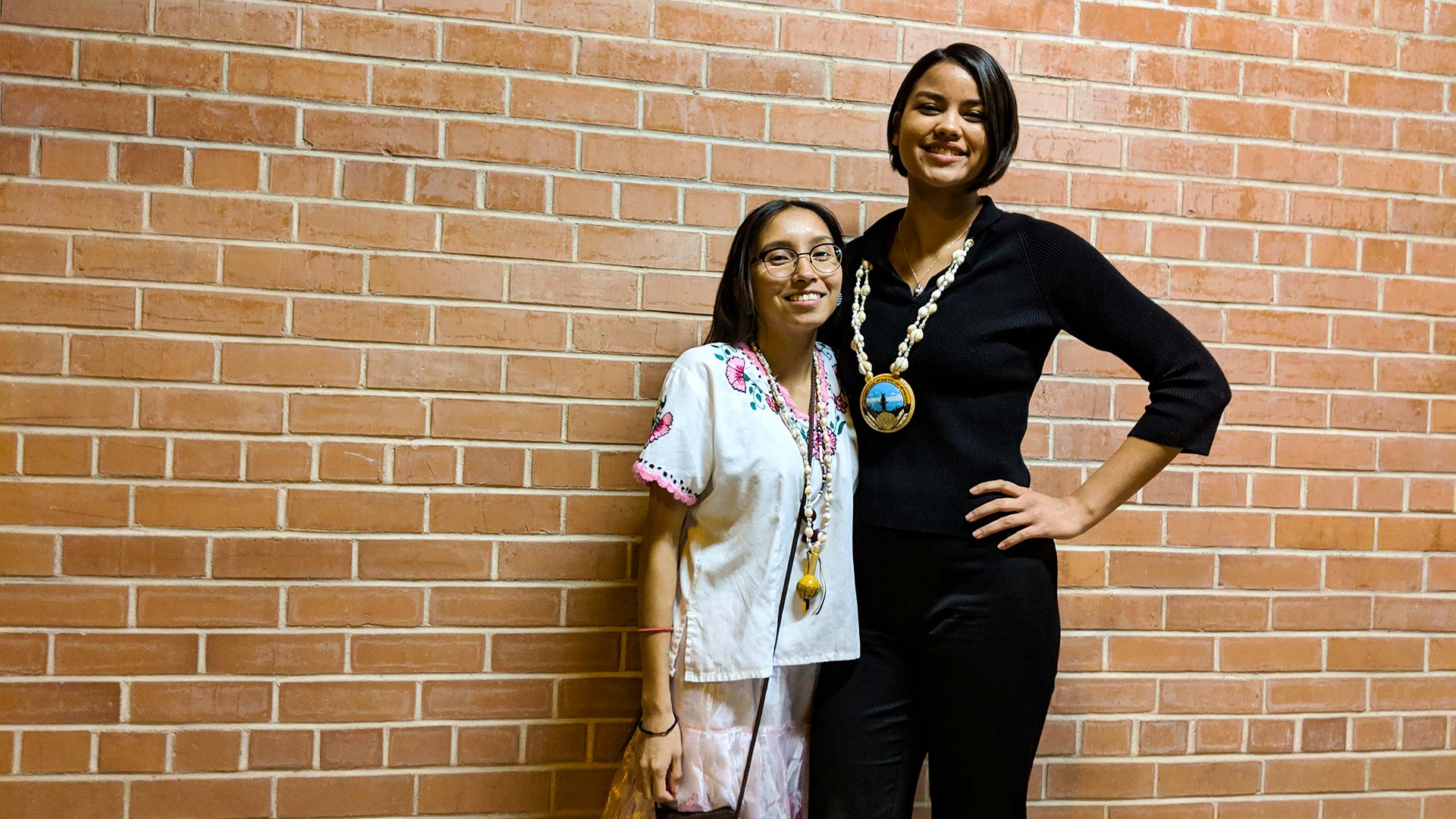 Maddy Jeans, left, and Lourdes Pereira.
Nick O'Gara/AZPM
The TUSD Governing Board Tuesday night voted to temporarily change the policy that barred Native American students from wearing sacred tribal regalia to graduation ceremonies, a shift that came about primarily through the efforts of current and former students in the district.
The organizing of Maddy Jeans, a 2017 graduate of Pueblo High School, and Lourdes Pereira, a senior at Pueblo High, drove the conversation that led the board to introduce temporary language to allow Native American students to wear sacred regalia to the upcoming winter commencement ceremony, a change that administrators say will also affect students of other religious and cultural affiliations.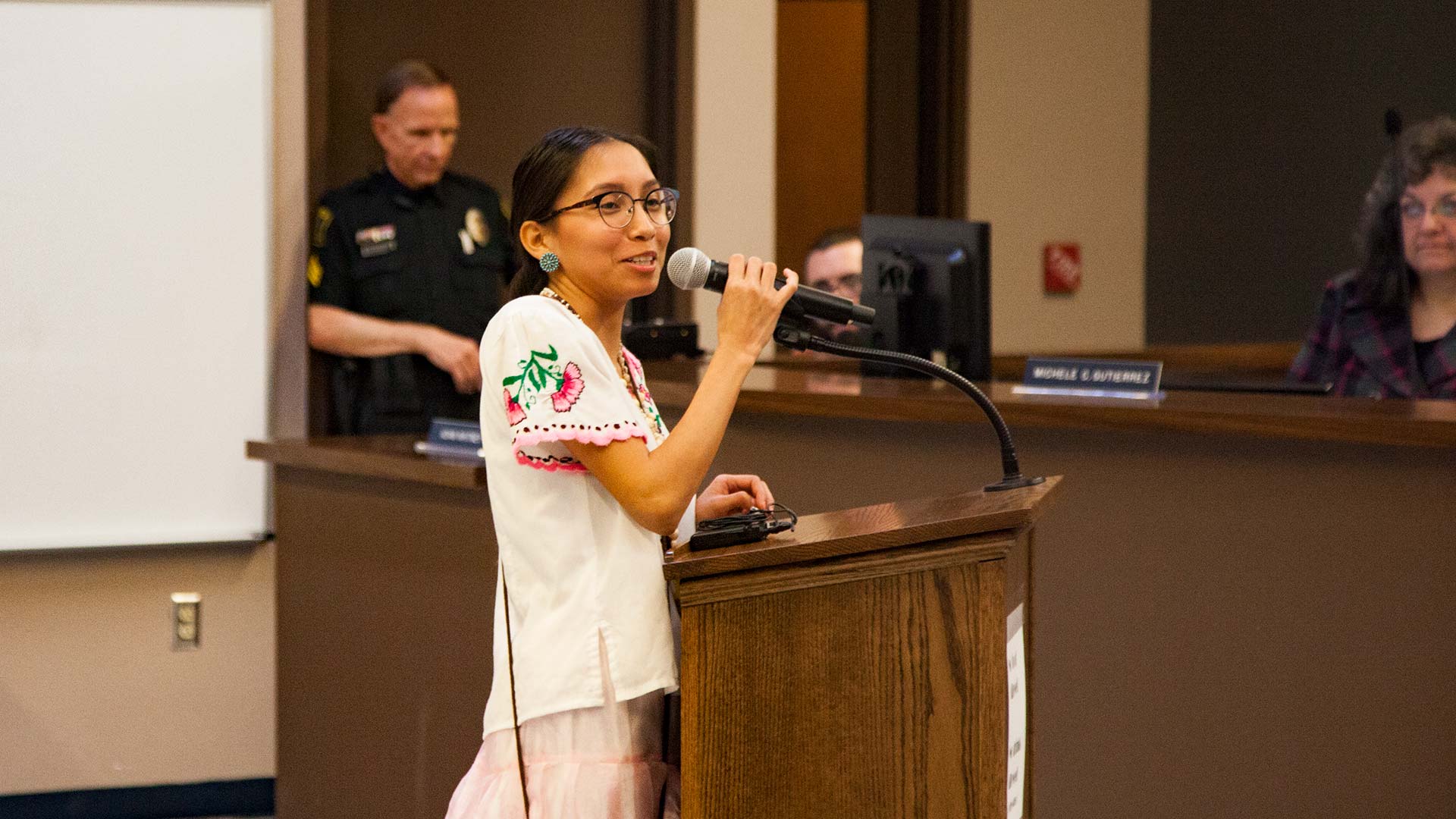 VIEW LARGER Maddy Jeans speaks in front of the TUSD Governing Board, Dec. 11, 2018, to advocate a change to the district's graduation dress code.

Nick O'Gara/AZPM
"This is something that needed to be introduced and it needed to be changed," said Jeans, a Pima Community College student who serves as secretary for the Tucson Native Youth Council (TNYC).
Language regarding the temporary change will be sent to parents early next week, the district told AZPM, in time for the Dec. 20 graduation.
While Jeans (Yaqui-Navajo) and Pereira (Hia-Ced O'odham) counted the vote as a victory, they pointed to the temporary nature of the change. After winter graduation, changes to the policy affecting graduation dress will have to go through the longer, standard district process, and Jeans and Pereira say their work isn't done.
"We're very excited. Still, I think there's work to do, obviously, and we know that. It's still a process," said Pereira, co-president of TNYC.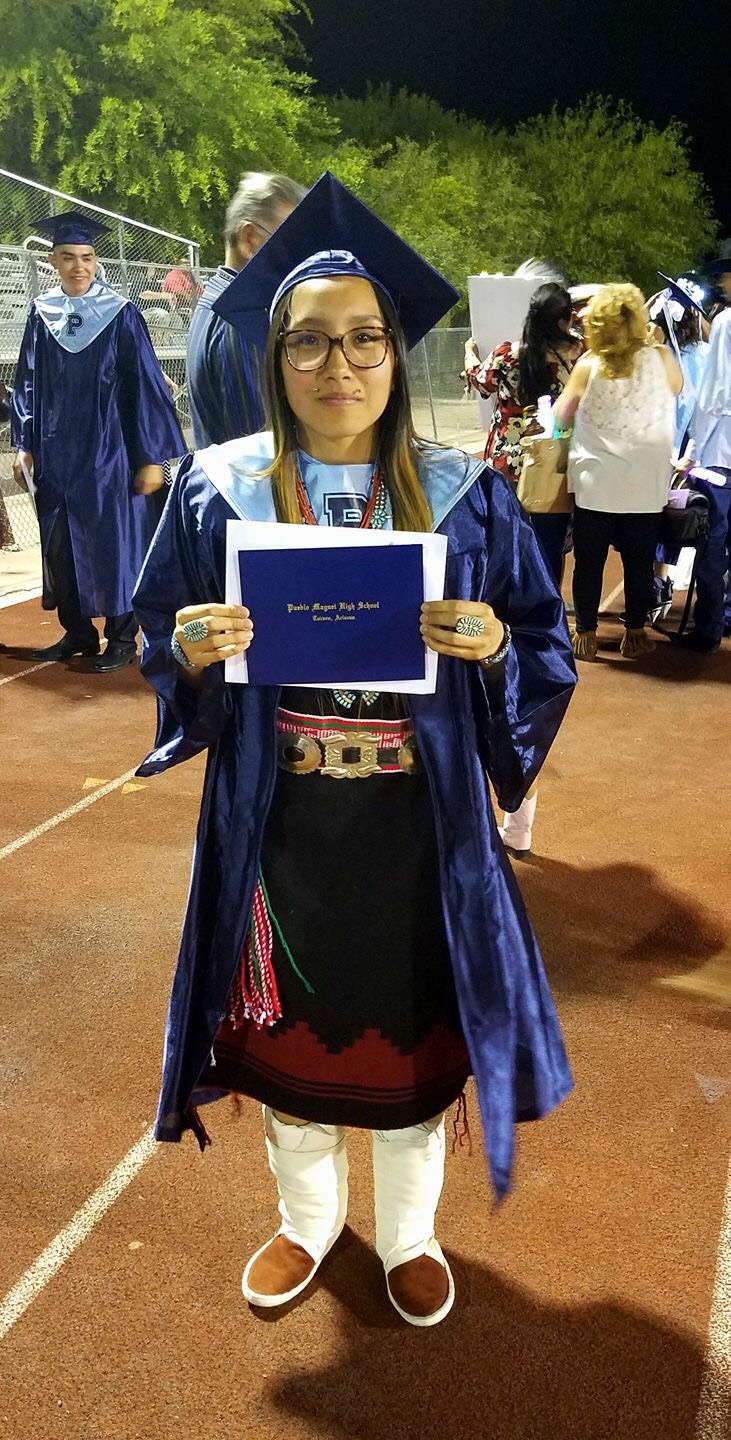 VIEW LARGER Maddy Jeans at her 2017 graduation.

Courtesy Madeleine Jeans
Some discussion at the meeting centered around the language of the change, circling around questions of how to make it both inclusive and specific. Jeans says that language is important. She says she was given permission to walk in her regalia in 2017 following a succession of emails, meetings and phone calls, but added there is a long list of students who were told "no."
"There have been students that asked principals, asked counselors for permission, and they were denied it," Jeans said. "We've had this opportunity taken away from us before, and we don't want that to happen again."
The language presented at the meeting for winter graduation said the "superintendent or designee" may grant exceptions to the traditional cap and gown requirement. That language is being reviewed before going out to parents next week, the district said.
Jeans and Pereira, who appealed to the board on the issue at the call to the public at its Oct. 16 meeting, said the idea of asking for permission is problematic.
Getting the policy right will be the work of the district next year. The governing board is expected to take up the issue in time to impact graduation for Pereira in May. She plans to wear a traditional dress made by an elder in her tribe.
"And she's amazing, which is an honor. ... That is why it means so much. She made that by hand," Pereira said.