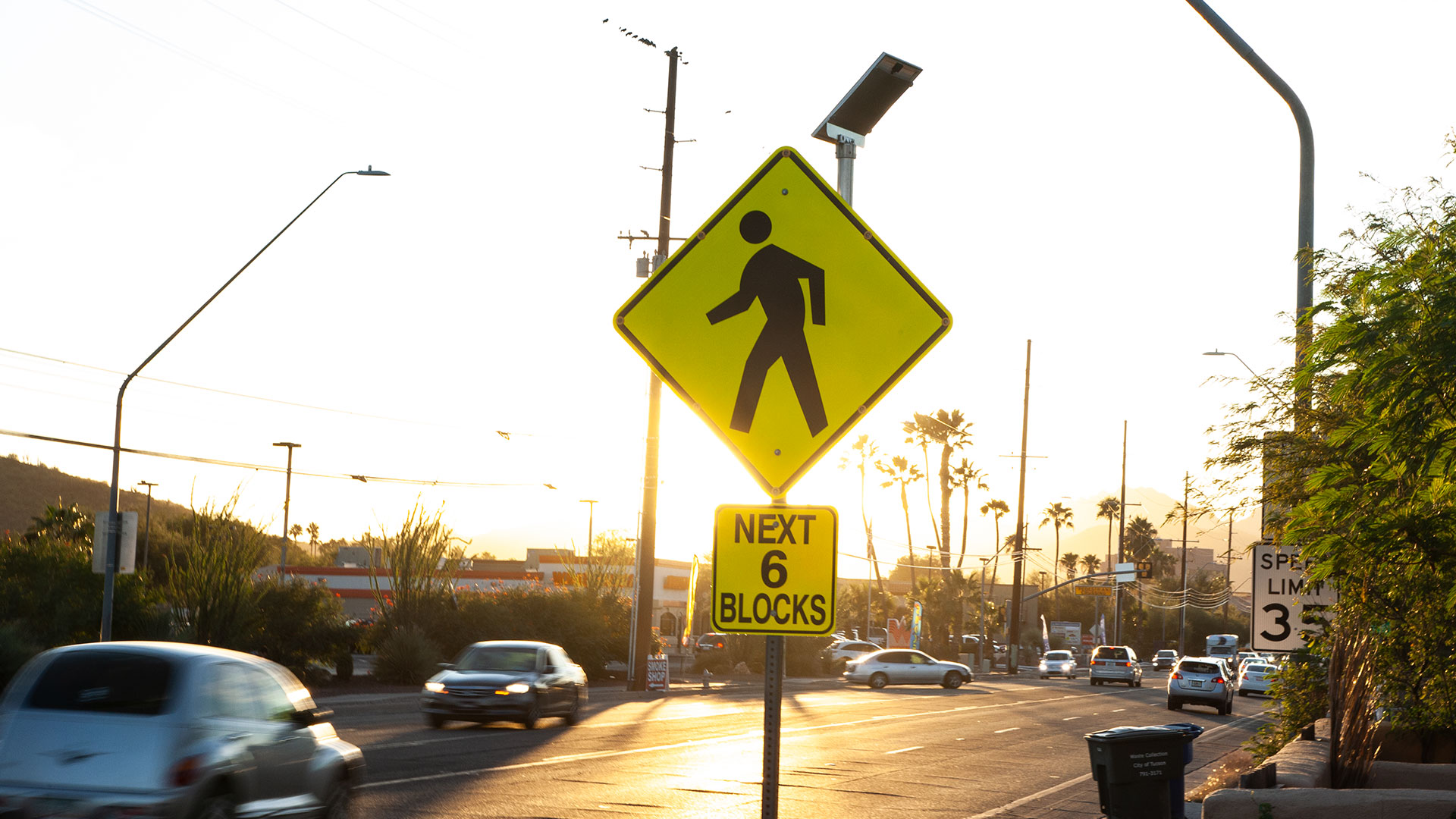 A sign warning drivers of high pedestrian traffic on West St. Mary's Road in Tucson on a late October afternoon.
Nick O'Gara/AZPM
The number of people killed in automobile crashes around Arizona during 2021 is on track to surpass 2020 and reach the highest level in over a decade.
By the end of November, 998 people had been killed on the state's roads, according to preliminary data from the Governor's Office of Highway Safety. A total of 1,054 people were killed last year, the most since 2007.
In Tucson, traffic fatalities may also top 2020. A total of 87 people were killed on the city's streets in 2020. As of Saturday, 84 people had died in crashes around the city since the start of the year.
Authorities do not point to any single explanation.
The Tucson Police Department declined to make anyone available for an interview for this story.
Alberto Gutier, the director of the Governor's Office of Highway Safety, said he suspected at the start of the pandemic that the state could see a decline in traffic fatalities.
But Gutier and other observers suggest less traffic at the start of the pandemic may have only encouraged more speeding and dangerous driving.
"We have people who say, 'oh gee, less people on the road. That means I can go faster,'" Gutier said.
But that is only one factor, he added.
"If you combine two or three things — speed, distracted driving, not wearing a seatbelt and not paying attention to what you're doing — that's a very deadly combination," he said.
Joey Iuliano, a lecturer at the University of Arizona's College of Architecture, Planning and Landscape Architecture, said there was a noticeable change on Tucson's streets at the start of the pandemic when he was cycling around the city by himself or with the University of Arizona's cycling team.
"We just noticed a lot more people running stop signs, red lights, on their phones while driving," he said.
Iuliano added that in a city where many streets are designed to keep vehicles moving quickly, infrastructure to keep pedestrians and cyclists safe is needs improvement. But he said that local residents have much to be hopeful for, such as the Move Tucson master plan.
"The big thing when it comes to safety for people walking and biking is that it all comes back to the infrastructure we provide for those people. Making sure that it's good quality separated infrastructure is what's really needed to keep people safe," he said. "Paint is not protection."
The increase in traffic fatalities is not unique to Tucson or Arizona, however, and comes as vehicle technology is advancing.
"We have all these new technologies coming online that have the potential to save a lot of lives — including automatic braking and automatic pedestrian detection — and we still see these very, very bad outcomes," said Angie Schmitt, a planning consultant and author of Right of Way: Race, Class and the Silent Epidemic of Pedestrian Deaths in America. "And not only are they getting worse than in previous years, we're really falling behind our international peers."
But Schmitt said change could be coming to the ways automakers and federal regulators account for pedestrians and cyclists on the roads.
"In the infrastructure bill, there was some language inserted that would require new vehicles to be tested for their impacts to pedestrians for the first time so they'll get a five star rating next year based on how safe or dangerous they are for pedestrians."
Still, Schmitt noted, it could be a few years before we see the effects of these policies on the roads.