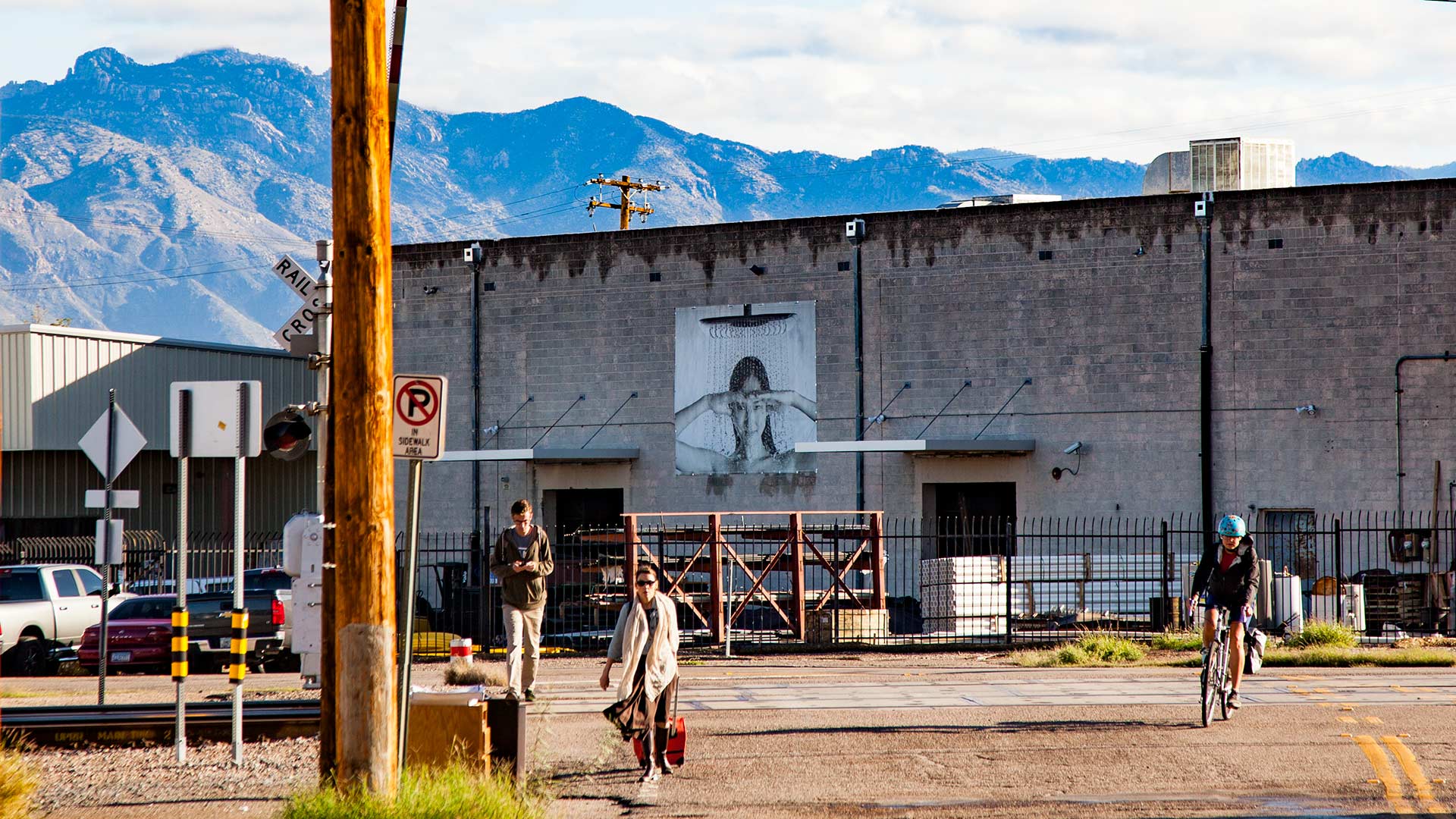 A bicyclist and pedestrians on their morning commute, Oct. 16, 2018, the day of the Pima Association of Governments annual bike and pedestrian count.
Nick O'Gara/AZPM
Tucsonans have till next Friday to mold draft guidelines the city wants to use to prioritize transportation projects over the next 20 years.
Move Tucson is a long-term transportation plan. The city started asking the community in February 2020 what transportation changes they wanted to see, and now, it needs help prioritizing all the suggested projects. Andy Bemis, the main project manager for Move Tucson, said they plan on prioritizing the projects using draft guiding principles and vision statement that they've published at the end of a "virtual open house."
Bemis is asking for public input before the March 12 deadline, because he wants to confirm they correctly captured the values of the community via the six principles: authentic, connected, optimized, safe, equitable and resilient.

"The next step is using those guiding principles to develop a prioritization framework," Bemis said. "We're certain to have more needs than we have funding, so we'll be using the guiding principles to rank them at the end of the process."
For him, the principle that stands out is safety. An analysis of Tucson's transportation system showed that between 2014-2018 over 1,700 people were killed or seriously harmed on city streets. Pedestrian injuries and deaths increased by 90% over the same time period.
"It is becoming more dangerous to walk and bike in Tucson," according to the virtual open house presentation.
The draft guiding intention for safety is, "Move Tucson will advance safety by focusing on polices and programs to eliminate traffic fatalities and serious injuries and by developing continuous networks that serve all ages and abilities."
At the end of the virtual open house, the public can say to what degree they agree with a particular guiding principle and submit their edits.
Bemis said by the end of April they plan to share the full project list and the prioritization plan with the public, with the goal of sending it to mayor and council for consideration by June.
"We'll use that project list that comes out of Move Tucson to direct transportation funding as it's available," Bemis said. "It's important to have our priorities in order, so that when that funding is available, we know where we should be putting it."