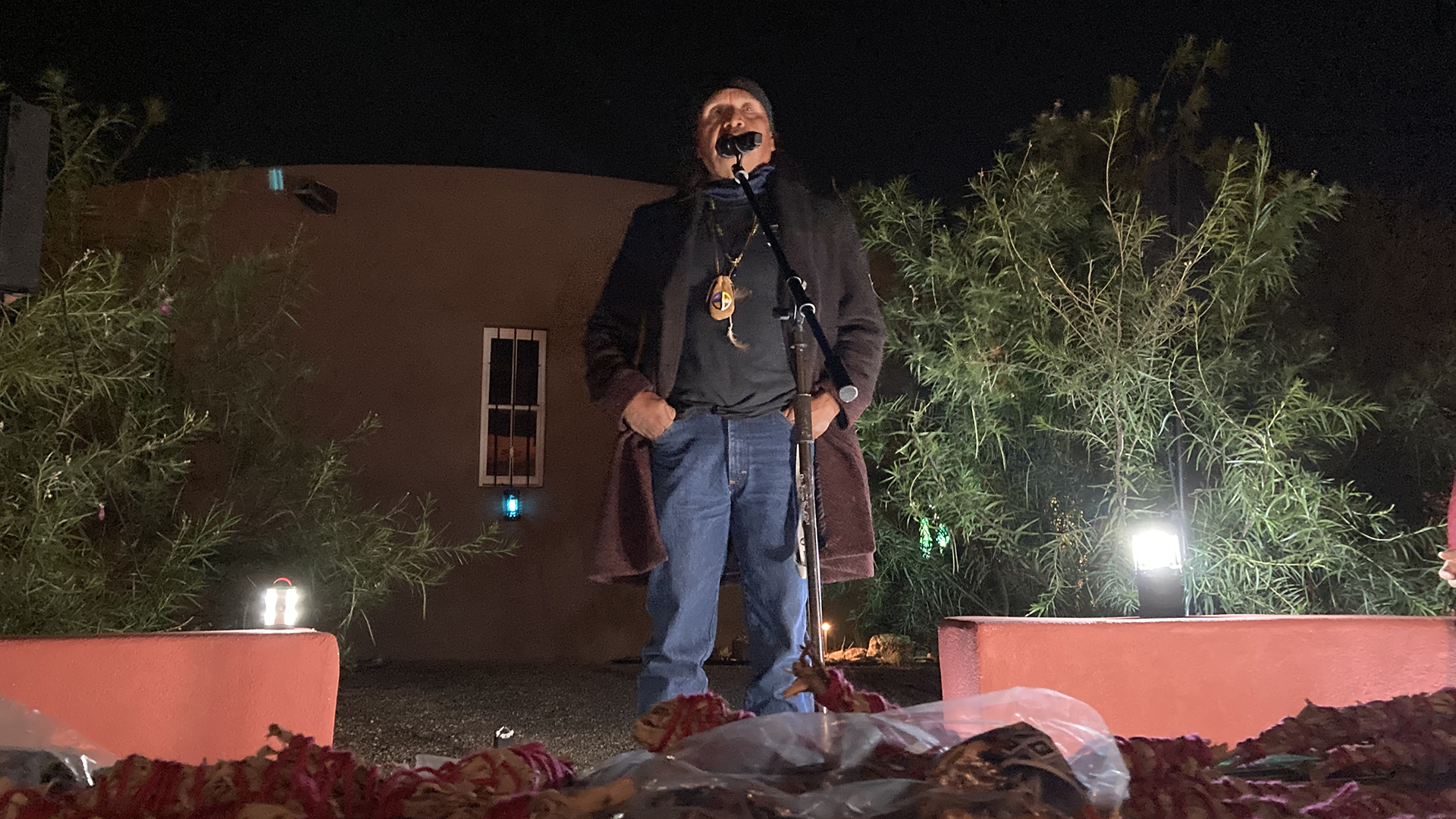 Wendsler Nosie Sr. at Southside Presbyterian Church October 13, 2021, during Apache Stronghold's "spiritual convoy" to the U.S. Court of Appeals for the Ninth Circuit concerning their motion for Temporary Restraining order and preliminary injunction at Oak Flat.
Emma Gibson/AZPM
An Arizonan family is making their way to the United States Court of Appeals for the Ninth Circuit starting this week to advocate that a sacred site in their religion not be turned into a copper mine.
Wendsler Nosie Sr. leads the effort to safeguard Oak Flat, an Apache sacred site. He's a former chairman of the San Carlos Apache Tribe, and he has taken legal and legislative action over the last decade to protect Oak Flat from mining.
Along the way to the court in San Francisco, the family is stopping at different communities, churches and sacred sites to be prayed over, and collect blessing or words of encouragement.
The first stop for Nosie, his daughters — Dr. Lian Bighorse and Vanessa Nosie — and other members of the "spiritual convoy" was Sentinel Peak in Tucson.
As the sun set Wednesday, Tohono O'odham drummers sang and blessed the Apache Stronghold, a nonprofit advocating to stop the mine at Oak Flat or Chí'chil Biłdagoteel as its known in some Apache communities. After the ceremony, the group moved to Southside Presbyterian Church.
"There's battles all over the country, important ones that are affecting these sacred and holy places," said Nosie while asking the church's congregation to stand with him to "save Oak Flat." "There's got to be a point in time where we all stand together, because if all religious people stand together, we can stop this."
A recurring theme throughout the evening was the phrase, "one drum, one prayer, one circle." Nosie said this as how his tribe describes North American "in the beginning" — people were connected together as they cared for the earth.
The Nosies started the call to unite — "one drum, one prayer, one circle" — in the legal battle over Oak Flat but Tohono O'odham and community leaders at Southside Presbyterian continued it that night.
"And I tell Indian Country — and this is something for you to know — is that this is going to set precedents of all Indian Country. If this happens, then totally, our sacred places are on death row," Nosie said.
Alongside calls to block mining at Oak Flat for religious reasons, people also call attention to the environmental impacts of a copper mine for public lands and groundwater supplies.
Resolution Copper and some community leaders like, Superior Mayor Mila Besich, draw attention to technological needs for copper across the country and the new jobs stimulated by the 40 years the mine will be in operation.
Apache Stronghold will argue in front of the U.S. Court of Appeals for the Ninth Circuit October 22 for a temporary restraining order and preliminary injunction to stop the mine.
Apache Stronghold argued in federal court in February for a preliminary injunction to stop progress on a land swap connected to the proposed mine by Resolution Copper, but they did not succeed.
Two recent polls about Oak Flat have contradicting results. According to one by FM3 Research advertised by the Center for Biological Diversity, 74% of potential Arizona voters oppose the mine.
Resolution Copper quotes from another August 2021 poll from OH Predictive Insights show 53% of respondents initially support the mining project with strong support from Republicans, males, people over 55 years of age and white respondents.
OH Predictive Insights' poll shows that after hearing arguments for and against the project respondent didn't "statistically" change their opinion on the Resolution Copper project. It shows that none of the groups they polled — people of difference sexes, political parties, ages, and races — after hearing the arguments opposed the project more than 29%.
OH Predictive Insights Oak Flat Poll

View at Google Docs
|

Download File