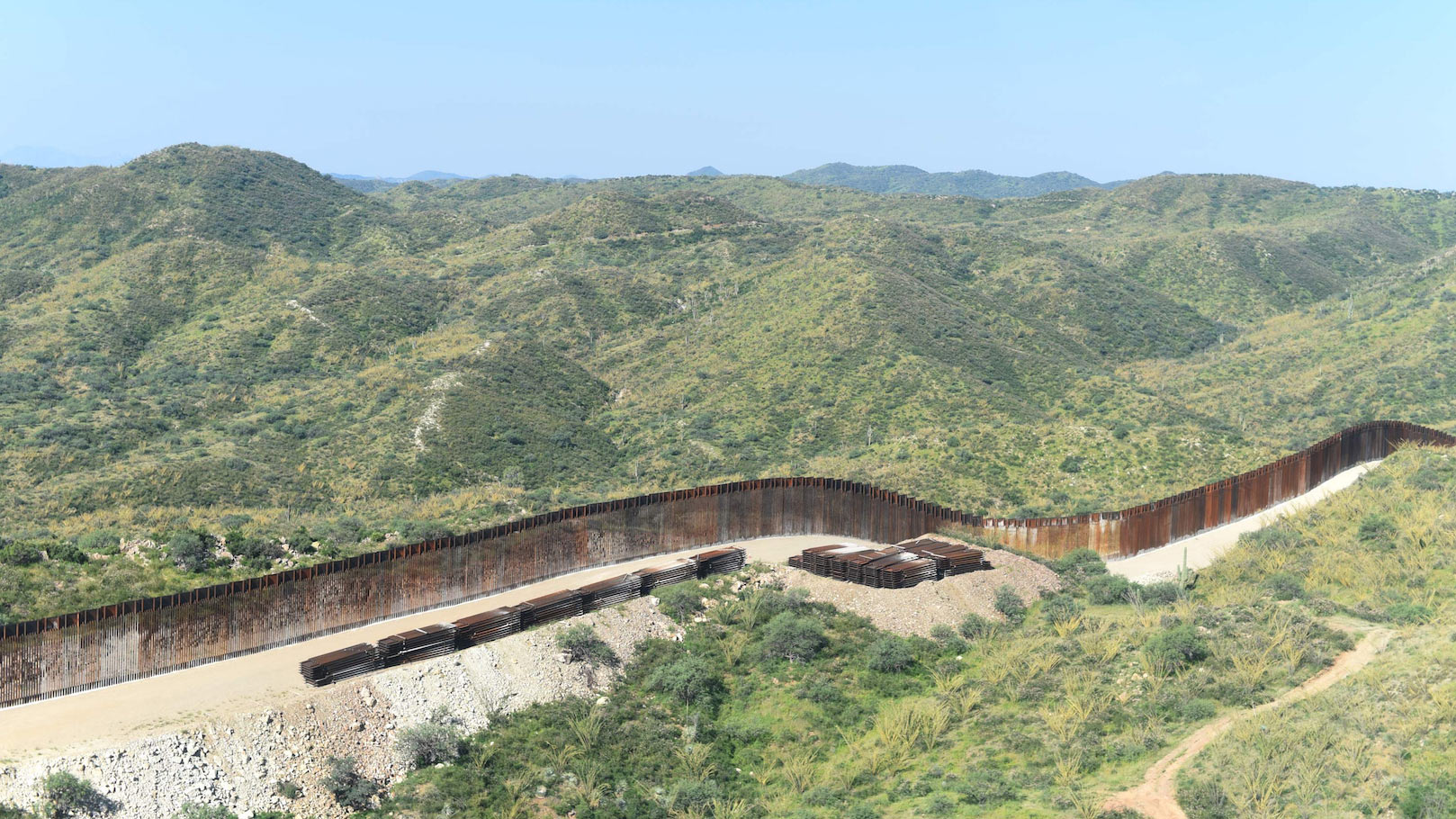 The U.S.-Mexico border in Southern Arizona, photographed from the air in August 2021.
Alisa Reznick/AZPM
Customs and Border Protection (CBP) data shows the number of apprehensions across the southwest border this year are the highest they've been in two decades.
Data also shows the number of rescues this year is more than double what it was last year.
That's true across the entire border with Mexico, except in the Tucson Sector.
Data shared with Arizona Public Media by the Border Patrol shows 225 rescues sector-wide between last October and July of this year. It's less than half as many as this time last year.
And that is despite a brutal heatwave in June, when 43 sets of human remains were found in the Arizona desert, according to the Pima County Medical Examiner's Office.
Not everyone died in June, but the majority were found days after they perished.
During that month, the Tucson Sector reported just 10 rescues.
We asked multiple people within the Border Patrol in Tucson and CBP headquarters in Washington D.C. about the discrepancy.
Stephen Atkinson, division chief of operations for the Tucson Sector, attributed it to the fact that in other sectors, agents are encountering large groups and families who often need rescue, while most who need help here are single migrants on their own. He said the number of 911 calls in the Tucson Sector are spiking. The sector has logged more than 2000 calls since last October, including up to 40 a day during the heatwave in June. But he said not all calls result in a rescue, only those that require life-saving medical aid are counted.
"It's not that the numbers are going down, it's just a different type of accounting now," he said.

Doug Murray, a helicopter pilot and supervisory agent with the Tucson Air Branch of CBP's Air and Marine Operations, said: "We're really just seeing a flood of humanity cross that border. And that flood of humanity is completely unprepared."
For decades, presidents have promised to hire more Border Patrol agents. Those hiring surges have resulted in the Tucson Sector having the largest number of agents of any sector on the U.S.-Mexico border.
"More agents means more border security, absolutely, and then of course it is more people to respond to everything we've talked about -- the rescue calls that we deal with all the time and just everything else that comes up in that border environment," said Border Patrol Tucson Sector Chief John Modlin.
Right now, the normally rocky terrain in the Tucson Sector north of Nogales is covered with lush grass and trees. That makes it harder for helicopter crews like his to see the people they are looking for. Most of the people that come through the Tucson Sector are not part of the large groups seen on the news waiting to get picked up by Border Patrol agents.
"They are going to young seemingly fit males and they are all going to be wearing camouflage and they will resist Border Patrol agents," said Murray. "They are going to run from Border Patrol agents, they are going to fight and their goal is to get away."
CBP reports that since October, its officers and agents along the U.S.-Mexico border have used force during migrant apprehensions and other encounters nearly 600 times.
Serious incidents are investigated to determine whether or not the agent acted correctly.
"Agents, they know to use, they are trained to use the minimum amount of force necessary to effect an arrest," Modlin said.
CBP data shows almost 20% of the use-of-force incidents that happened this year were in Arizona.
The majority involved "non-lethal" devices, like a taser or baton. Agents used guns the least often, 15 times border-wide.
The agency doesn't report how many of those incidents are fatal. But a database launched this month by the ACLU in Texas uses media reports and CBP press releases to make a count. They found 177 people have died during CBP encounters since 2010, including 12 minors.
Over the last two decades, Tucson attorney Bill Risner estimates he's handled about a dozen cases for people hurt or killed during encounters in Arizona.
"Citizens can sue any agent of the federal government under the same circumstances that you can sue a person… if a person runs into your car, assaults you... you can sue the United States under the Federal Tort Claims Act," he said.
These are not criminal cases and are not heard by a jury. Plaintiffs sue for damages and a decision is made by a single federal judge.
Risner has taken on suits that involve fatal shootings by agents and Border Patrol car crashes that left migrants seriously injured. He said these cases get complicated because of the border.
"If a bullet fired by a Border Patrol agent wrongfully, in the United States, but you're standing in Mexico, and it hits you in Mexico, tough luck, you can't sue our government," he said.
Last year the U.S. Supreme Court ruled that interpretation of the law is correct. Risner said that further narrowed the legal recourse that families and individuals have in cases like cross-border shootings.
Outside the courtroom, people with complaints about CBP conduct can file official claim with federal oversight agencies like the Office of Professional Responsibility and the Office of Inspector General.
Joanna Williams with the Kino Border Initiative has been helping migrants with that process for the last six years. She said she's documented everything from serious use of force claims and sexual assault, to medical neglect and due process issues. But she says it's not an easy system.
"The public facing complaint mechanism, so what a migrant could access if they didn't have somebody on staff at KBI helping them file the complaint, really does in some ways, feel like a black hole," she said.
Williams said that's especially true because of how long complaints can take to get a response from the government. She said more serious allegations can lead to investigations, but the process can take years.
Agents also face assaults by the people they try to stop from crossing the desert. Border Patrol data shows that since October there have been 39 assaults on agents in the Tucson Sector. The assaults on agents change with the number of apprehensions.
"The more people you deal with, the more likely you are to be assaulted during the commission of your duties," said Modlin.
Atkinson said this year, many migrant smugglers are also guiding people by cell phone from the Mexican side of the border, and breaking people off into smaller groups.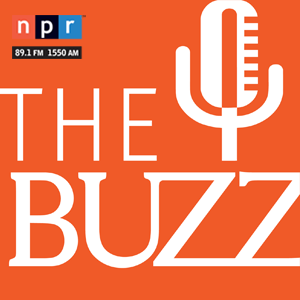 A conversation with Michael Montgomery, Director, Air and Marine Operations at the Tucson Air Branch of Customs and Border Protection.
"So when we get a rescue, it is a rescue on the top of the Baboquivari peak," he said, referring to a towering mountain peak on the Tohono O'odham Nation. "As those smugglers on the southside draw the map, they're not really thinking hey, this guy has to go up 8000 feet."
Last month B was in that situation. B is a 25-year-old asylum seeker from Honduras. We are using only her initials because she fears for her safety.
She said she left home because an ex-boyfriend was in prison back in Honduras and she and his family were receiving threats. She also lost her job during the pandemic. She moved to a bigger city to find work, but gangs there started pressuring her to sell drugs. She fled when a friend was nearly killed because she refused.
She's tried five times to cross through the Arizona desert.
"I keep trying because I cannot return to my country," she said in Spanish. "No matter how much I suffer trying, burning, being hungry."

She said each time the Border Patrol has found her she has tried to tell them the same thing.
"Each of the five times I said, 'please I need asylum. I need help," she said. "But they never listen."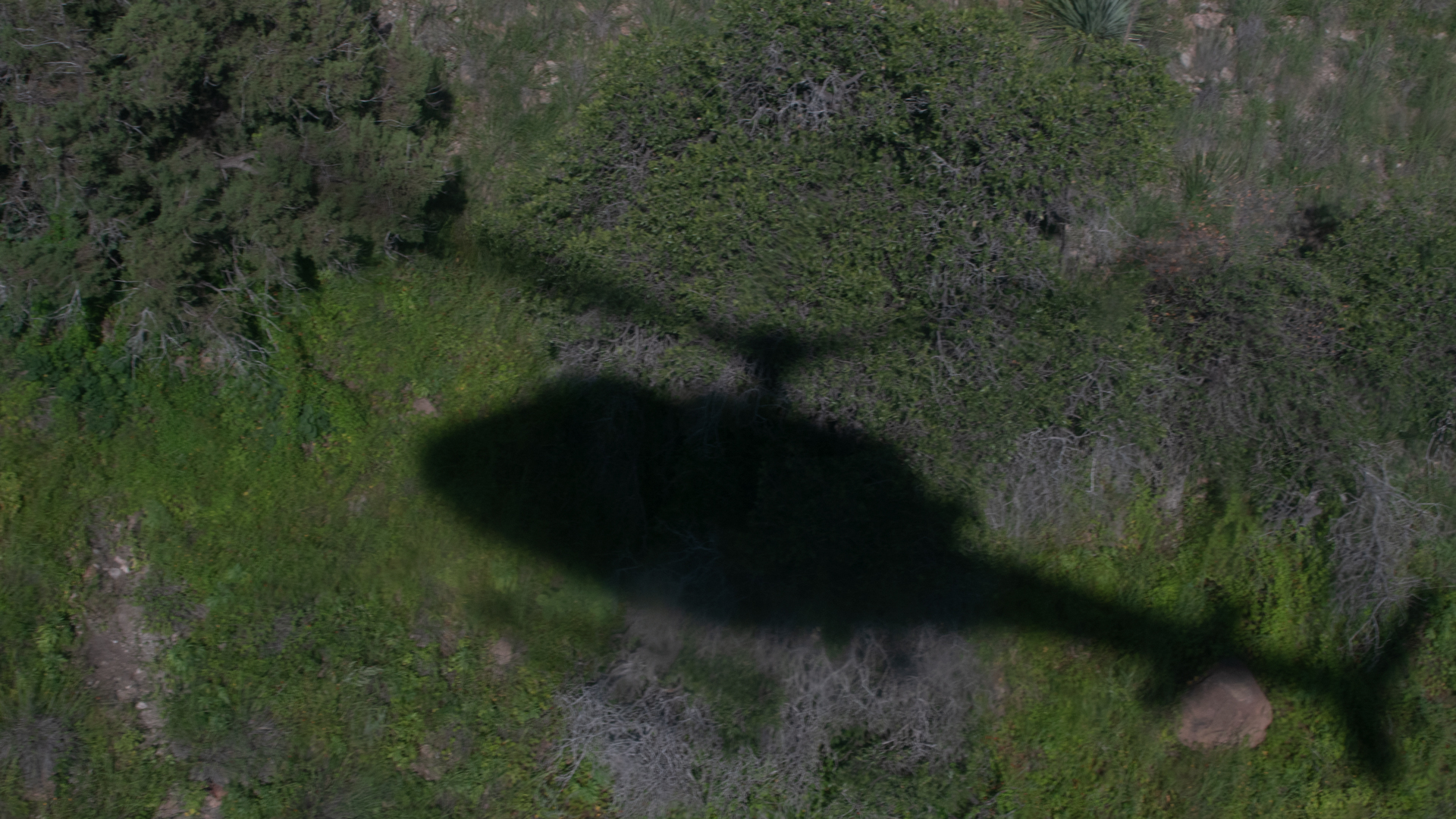 VIEW LARGER A U.S. Customs and Border Protection helicopter hovers over the desert just north of Nogales. August 2021.

Christopher Conover/AZPM
B has been turned right back to Mexico every time under the pandemic-era protocol Title 42, which allows Border Patrol agents to circumvent normal processing and send migrants back across the border within hours of their apprehension.
On her last attempt in July, she fell down a steep peak while running away from an agent. She said she knew right away that something horrible had happened to her leg.
"I dragged myself to a bush that was nearby for the shade, because I couldn't bear the pain and the sun was burning me," she said.
B said she thinks she waited there for an hour, screaming out as a helicopter circled above and Border Patrol agents tried to catch other migrants in her group.
Finally, she flagged another agent.
She was transported to a hospital in Arizona, where she found out she'd broken her tibia. But a day later, she was back across the border in Nogales, Sonora.

In a photo taken there, her right leg sits in a black brace and a purple hospital gown swallows her slight frame. It's the only clothing she was dropped off with.
Now, like many migrants, she's stuck in Nogales.
This week, a U.S. Supreme Court ruling mandated the return of the Migrant Protection Protocols, the controversial Trump-era program that forces asylum seekers to wait in Mexico.
Rights activists warn the ruling could drive even more people to attempt a journey through the desert that could cost them their lives.
Already this year, the Pima County Medical Examiner's Office says it has received more than 140 sets of human remains from the Arizona desert. The number is on pace to set a record.
But despite everything, B is staying. She filed a complaint with the federal government about her treatment in the hospital and desert.
She said she hopes people understand that migrants do not come to the border as tourists — they leave everything behind.
"We all leave for a reason," she said. "And we deserve to be heard, and I feel we deserve to have peace, freedom, and above all else, to not be afraid."

The Buzz
airs Fridays at 8:30 a.m. and 6 p.m. and Saturdays at 3:30 p.m. on NPR 89.1. You can subscribe to our podcast on
iTunes
and NPR One. See more from
The Buzz
.