Secretary of the U.S. Department Interior Deb Haaland. She represented New Mexico in the U.S. House of Representatives from 2019-2021.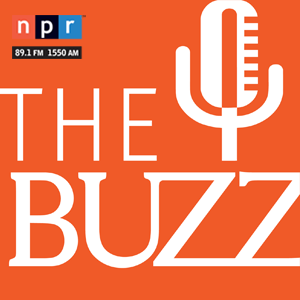 The Buzz
American Rescue Plan Act - Tribes

The $1.9 trillion American Rescue Plan includes tens of billions of dollars for tribal nations. That's a change from the CARES Act, according to Secretary of the Department the Interior Deb Haaland.
"When we passed the CARES Act, we fought for $20 billion for tribes. we got $8 [billion], and so the need is great," Haaland said.
The Centers for Disease Control and Prevention reported last year that American Indian or Alaska Native peoples were contracting COVID-19 3.5 times more than non-Hispanic whites.
The disparity can be tied to chronically underfunded services within many of the 574 tribal nations in the United States, as well as underlying conditions with the community members.
The CARES Act signed into law by President Donald Trump sent $8 billion to tribal governments and an additional $2 billion of emergency funding to federal Indian programs.
The American Rescue Plan Act signed in March by President Joe Biden allocates $31.2 billion for tribal communities, including the 22 tribes in Arizona.
Within that, the Bureau of Indian Affairs received $900 million for tribal governments, housing, and drinking water, and the Bureau of Indian Education got $850 million for BIE-schools, and tribal colleges and universities.
The U.S. Department of the Interior oversees many of the federal programs that work with tribal nations. According to the department, the American Rescue Plan is "the largest single investment the U.S. has ever made in Indian Country."
One issue, Secretary Haaland said she wanted to address is the lack of running water in tribal lands. A 2019 report from DigDeep and the U.S. Water Alliance found that 58 out of every 1,000 Indigenous households do not have plumbing, while white households without plumbing drops to 3 out of every 1,000.
"I remember way back when my grandmother didn't get running water to her home until the mid-70s," Haaland said. "And it's 2021 and still a lot of Indian tribes don't have running water."
That lack of water has been detrimental to tribal health during the pandemic.
A lack of broadband internet access has also negatively impacted residents in tribal nations, Haaland said.
"If we had telehealth opportunities for rural communities and tribal communities, they would have been able to attend their doctor visits as usual, and we'd be in a much better place," Haaland said.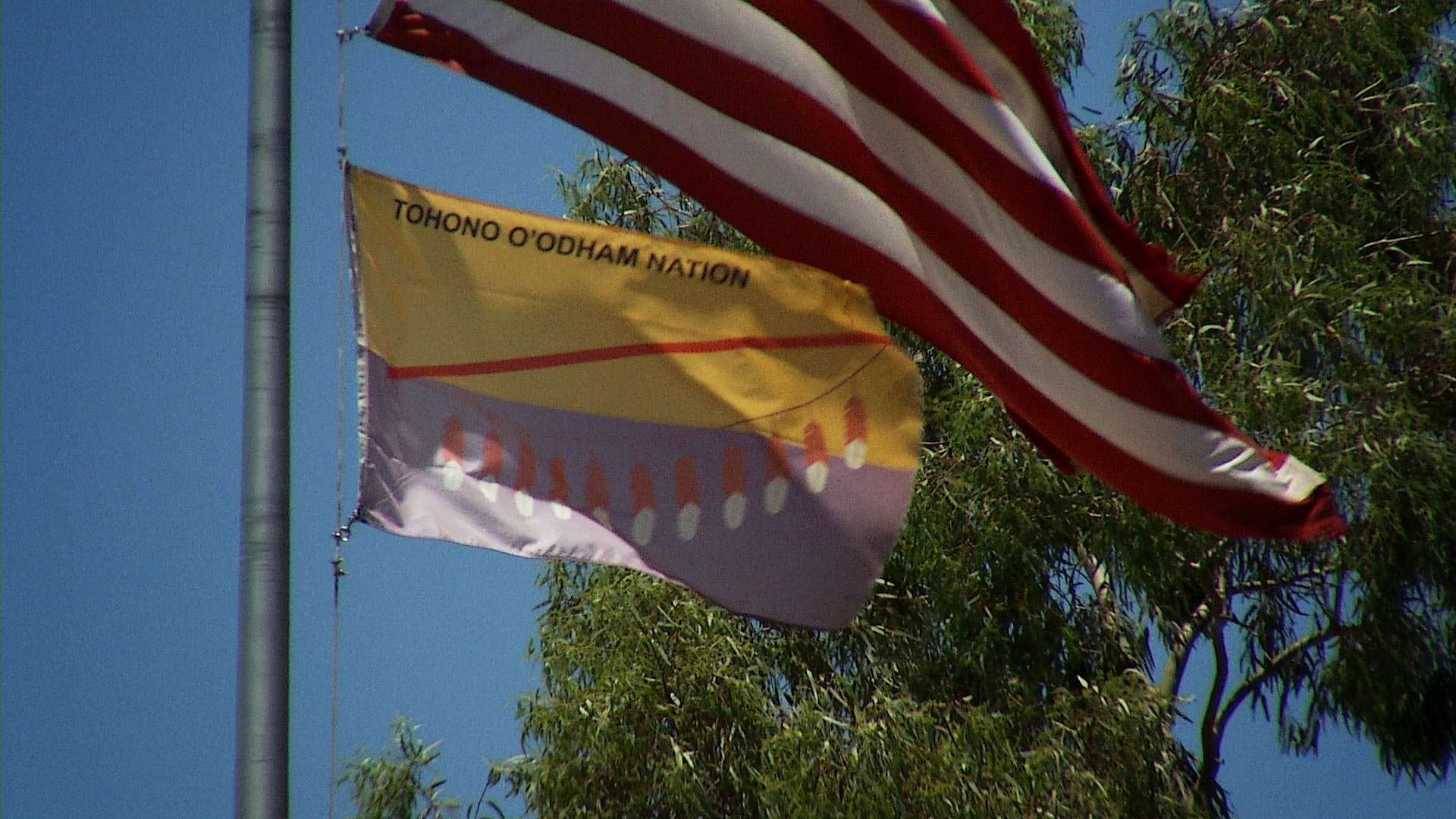 A flagpole flies the flag for the Tohono O'odham Nation and the American flag on the nation.
AZPM Staff
The Tohono O'odham Nation lies to the west of Tucson. According to the latest COVID data reported on March 24, the nation has had 1,748 COVID-19 cases and 69 deaths. Tohono O'odham Chairman Ned Norris Jr. told Congressman Raúl Grijalva, D-Ariz., in late March that previous COVID relief funding was problematic.
The Buzz spoke with Chairman Norris this week and said he's hopeful the American Rescue Plan funding will come with clearer instructions, especially since the Treasury Department has been consulting directly with tribal leaders.
Chairman Norris said with this money they've been responding to the pandemic, but also addressing larger health, economic and social issues.
"One of the things that really has had a significant impact on our ability to communicate is the fact that we've got 2.8 million acres, and it's extremely remote," Norris said. "We don't have the infrastructure necessary to establish [internet] connectivity with our tribal communities."

He also said he hopes Secretary Haaland's appointment will bring change to policies regarding construction in sacred tribal lands, like Quitobaquito Springs.
"Secretary Haaland's appointment is a historic moment," Norris said. "She brings a very unique and long overdue perspective to the department."
He said he expects her to be an ally for Indigenous rights and the environment, as he said she was as a member of Congress.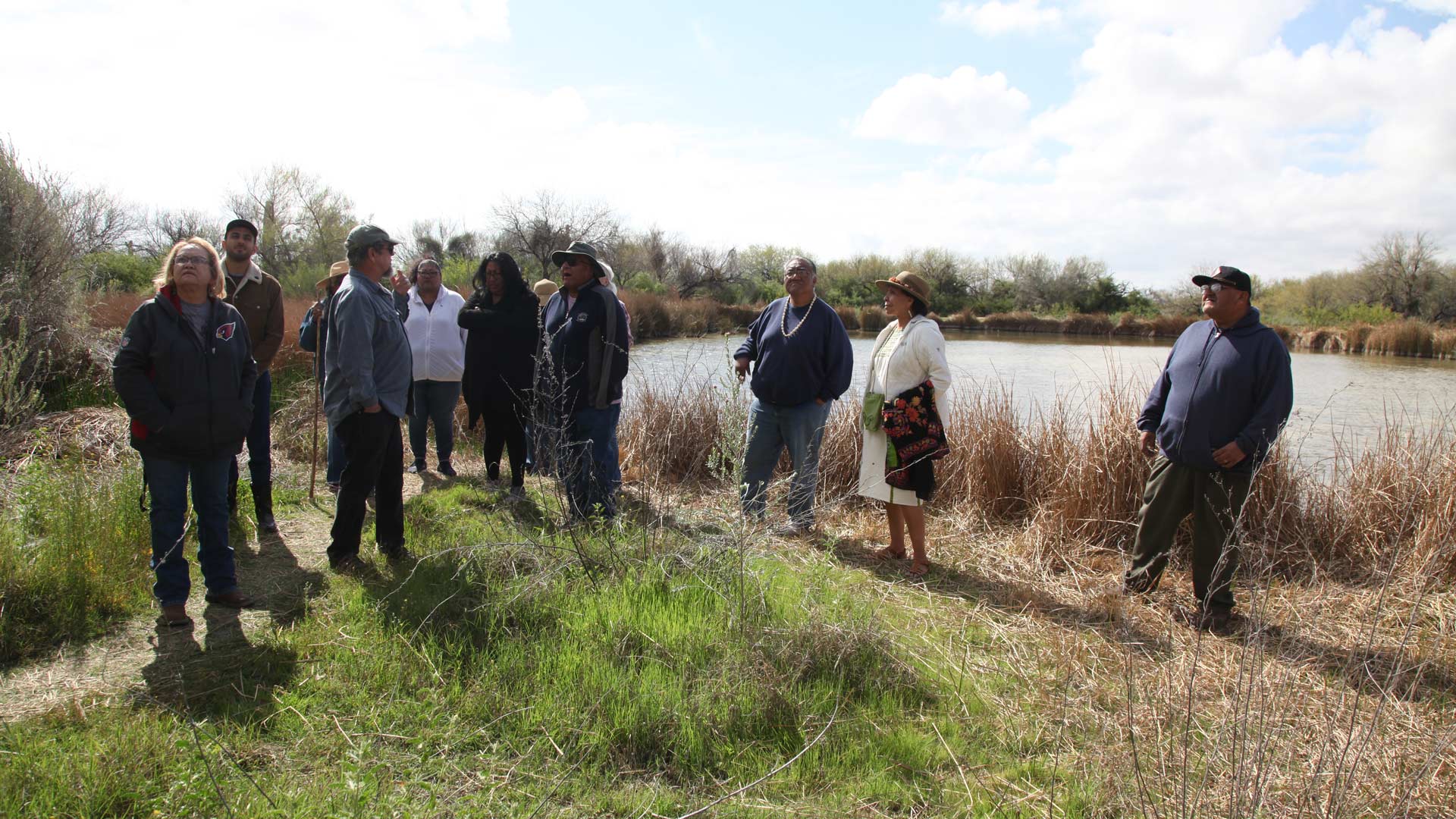 A group of Tohono O'odham, Hia C-ed O'odham, Pascua Yaqui and their non-Indigenous allies gathered, Sunday, March 8, 2020, beside the pond fed by Quitobaquito Springs to discuss how building the border wall and pumping local groundwater to make cement is harming the area cherished by the local Indigenous peoples.
Emma Gibson/AZPM
When Haaland was confirmed in March, many people hailed it as a step forward for the country, but also a step towards rectifying sometimes traumatic relationships with tribes.
Dr. Octaviana Trujillo was the first woman to chair the Pascua Yaqui Tribe, which is just southwest of Tucson. She was on the tribal council from 1992-1996, rising from vice chairwoman to chairwoman when Chairman Albert Garcia died.
Trujillo is now a professor within the Applied Indigenous Studies department at Northern Arizona University.

She said while she was chair, the tribe's relationship with the federal government was "just okay."
During her time on the council, the Pascua Yaqui tribe was involved with a lawsuit against former Gov. Fife Symington over gambling policy.
Since then, Trujillo believes relations have improved.
"Now tribal leaders do have a seat at the table," Trujillo said. "I hope that tribal consultation continues in a very respectful and meaningful way."
Trujillo said that she thinks since Haaland already respects Indigenous sacred sites and traditional knowledge, she doesn't have to "get up to speed."
She said marks the historic nature of the American Rescue Plan for tribal communities.
"I think this what going to be very important historically, that there will be major, major funding to really, truly do the rebuilding of tribal nations because of what has happened with American policy, early policy toward American Indians," Trujillo said.
---
The Buzz is taking a short break while we work on future stories. While we are off, listen to our archived episodes online as well as some new, shorter looks at topics we will explore in-depth in the future.

The Buzz
airs Fridays at 8:30 a.m. and 6 p.m. and Saturdays at 3:30 p.m. on NPR 89.1. You can subscribe to our podcast on
iTunes
and NPR One. See more from
The Buzz
.