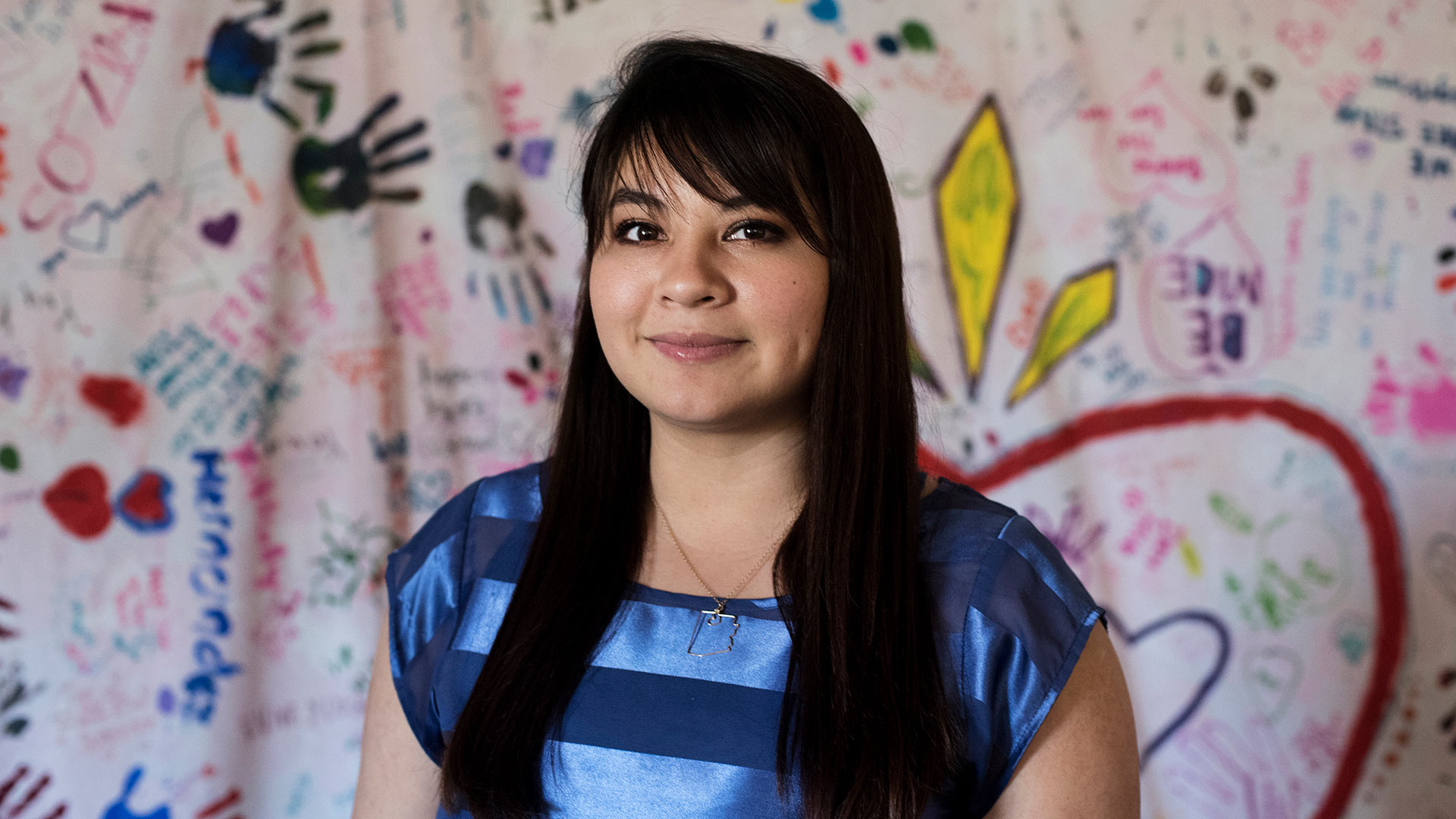 Reyna Montoya is a DACA recipient and the CEO and founder of Aliento, a nonprofit that helps mixed immigration status families work through trauma. She said the new state bill would give more Arizona graduates a chance to stay in the state for college.
Alisa Reznick / AZPM
The Arizona House will consider a bill that could pave the way to give all Arizona high school graduates access to in-state tuition, regardless of immigration status.
Roughly 2000 people graduating from Arizona high schools each year are undocumented, according to a poll by the Migration Policy Institute in 2019. In a few years, Maria Dominguez, a high school sophomore in Phoenix, will most likely be one of them.
"I'm the oldest in my household, so I don't have an older sibling to look up to and gain their experiences from college. And I'm just kind of forging my path as I go," she said.
Dominguez has lived in Phoenix her entire life. Her parents brought the family from Mexico when she was just a year old. Some of her siblings are U.S. citizens, she was born in Mexico. But growing up, she didn't really think much about what it meant to be undocumented in Arizona.
"I really, I didn't know we didn't have the same opportunities as someone from here did," she said.
Accessing some of those opportunities is more complicated for people like Dominguez because of a law approved by Arizona voters more than a decade ago called Proposition 300, a far-reaching ballot initiative that blocked non-citizens from receiving publicly-funded services like child care assistance, adult education — and in-state tuition.
It wasn't until recently that Dominguez knew anything about Proposition 300, and what it meant for her prospects of going to college.
"I knew we were, I knew we didn't have the same rights, but in education, I thought everyone had access to the same things," she said.
She said paying for out of state tuition just isn't an option for her and her family. That's a conundrum Senate Concurrent Resolution 1044 hopes to solve. The bill passed with a narrow 17 to 13 margin in the Arizona Senate earlier this month. If approved by the House, it would put the question of allowing in-state tuition for non-citizens who have graduated from Arizona high schools and been in the state for at least two years back to voters next year.
"Should we pass this out of the House, then it would tell Arizona voters through a proposition if they want to allow Dreamers to receive in-state tuition," said the bill's sponsor, Republican Senator Paul Boyer of Glendale.
Dreamers is a term that refers to a lot of different young immigrants. It includes recipients of the Deferred Action for Childhood Arrivals program, or DACA, the policy enacted under former President Barack Obama that gave some undocumented people protection from deportation and a work permit. Almost 24,000 Arizonans belong to the program today. Boyer said he believes Arizonans are more receptive to their plight now.
"I've noticed this year in particular, there's more of a groundswell of support for these students," he said.
The term also includes people who were either too young or too old to qualify for DACA, and those who became eligible for the program just as it was coming under intense scrutiny during former president Donald Trump's time in office. His administration tried to cancel the policy altogether, then blocked first-time applicants like Dominguez for years afterward. She said her immigration status is in a sort of limbo now. Seeing the in-state tuition bill pass would be one step toward clarity.
"I'm waiting to put in my papers to apply for DACA," she said. "This bill would give us an opportunity to gain a higher education and fulfill the dreams of our parents that they have for us to continue and pursue education."
Under current Arizona law, both DACA recipients and undocumented students are ineligible for in-state tuition or public financial aid. But whether to give DACA recipients that access is a question that has bounced around Arizona courts ever since the program began in 2012.
Back then, the Arizona Board of Regents and some community college boards ruled recipients were entitled to pay the same rates as other in-state students. But shortly after, a state Supreme Court ruled in favor of an appeal brought by Attorney General Mark Brnovich. Recipients now pay 150% of in-state tuition. Advocates argue that rate is still too high for many Arizona families, and, as a state with one of the highest DACA populations in the country, they say Arizona is forcing talented gradates out of state by blocking that access.
Reyna Montoya, the CEO and founder of Mesa-based immigrant and education advocacy network Aliento, knows what that's like firsthand.
"I was a student who was impacted by Proposition 300 because of being a Dreamer, being undocumented. It has been over 14 years now that this has been the law," she said.
Today Montoya is a DACA recipient. But when she was going to college the program didn't exist yet. So, she cobbled together private scholarship money and took out loans to school. Then, working as a high school teacher after graduation, she starting hearing her students echo the same fears she had growing up.
"Saying that 'miss, like, I really want to go to school but they give me no option. I have to pay three times more than any of my classmates and we grew up in the same schools, we have done everything that our teachers have told us,' I remember those words from my students," she said,
Montoya said the new bill could change that reality. Seeing it in the House now feels like a light at the end of the tunnel, because it's been so much time since voters have been given the chance to reassess that part of Proposition 300. She said she'd like to believe this time around, after seeing Dreamers take on essential roles in healthcare, education and in their communities, Arizonans will make a different choice.
A previous version of this article inaccurately stated Senator Paul Boyer's legislative district. It has been corrected.