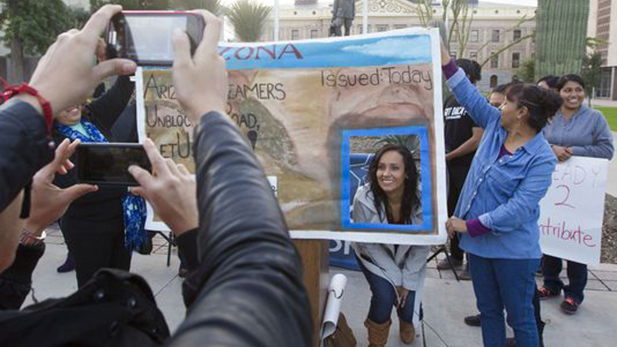 A woman poses in a drivers license at a demonstration in support of "dreamers."

AZPM Staff
A nationwide survey found Arizona is in the top five of the states with the most residents who have Deferred Action for Childhood Arrivals, a status that allows them to temporarily work or attend school in the U.S. without permanent legal status.
Researchers said the nationwide online survey, conducted at the University of California in San Diego, was the largest ever done on the economic impact of "Dreamers" on the U.S. economy.
Dreamers, or DACA recipients, are immigrants who were brought into the country when they were children and do not have a permanent legal status in the U.S.

The survey found Arizona was in the top five states for residents who have been granted DACA. Almost 3,000 Dreamers were surveyed nationwide.

Tom Wong is a political science professor at UCSD and was the key researcher. He said 91 percent of the DACA recipients interviewed from Arizona are currently either in school or working, or both.

And when it comes to earning power, Wong said that the data show that once DACA status was granted, almost 70 percent were able to get a better job with better pay. More than half were able to purchase a home or a car, he said.

More than 70 percent of those surveyed had an American citizen sibling, spouse or child, Wong said.