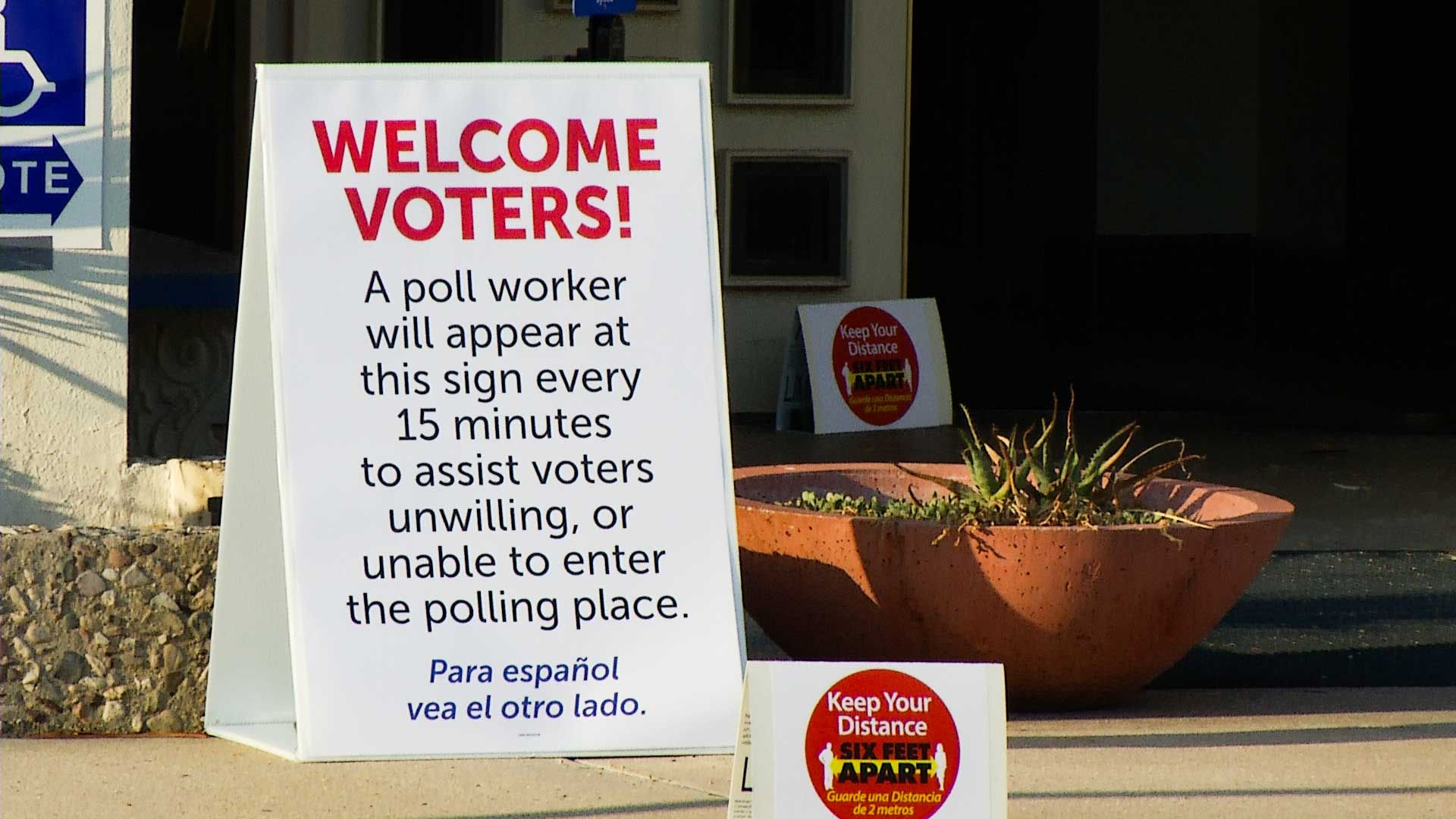 VIEW LARGER A sign instructs Pima County voters casting their ballots on primary election day, Aug. 4, 2020.

AZPM
Early ballots have been mailed out and early voting locations are opening across Arizona, election month is underway.
Secretary of State Katie Hobbs said she expects as many as 90% of Arizona voters to cast an early ballot in the general election.
"We are encouraging as many people as possible to vote by mail. And you can request and early ballot up until Oct. 23," said Hobbs.
Hobbs encourages people to turn in their early ballots as early as possible. The sooner ballots get back to county recorders the more quickly they can be processed.
"We are doing two shifts at the ballot processing center to process the signature ballots as they come in," said F. Ann Rodriguez, Pima County recorder.
Early ballot returns can also lead to more results on election night.
"We can start tabulating those ballots 14 days before the election, and so that early tabulation allows for quicker results," said Hobbs.
Early voters in Arizona can cast their ballots by mail and at early voting centers, or they can return their mail ballots to an early voting center. When it comes to mail, voters need to remember to use both envelopes, sign where indicated, and not put stamp on the envelope.
"Do not, emphasize, do not, put a postage stamp on it. The envelopes are designed on barcodes for expediting our permitting, and if you put a stamp on it's going to foul up and kick it out and it's going to handled by hand. We don't want that," said Rodriguez.
If you choose to vote in person bring an ID and a mask.
"For those citizens who do not believe in wearing a mask, we are respecting them. However, they will have to be outside and a poll worker or somebody who is working an early voting site will go outside, ask them for their ID or information, get their ballot and take it outside, we're having booths set up outside so that they can vote outside," Rodriguez said.
In the past, questions have arisen about the security of the state's voting system after it was revealed a number of election systems were the target of hackers.
Hobbs said people should not be concerned about the security of Arizona's voting system.
"Our office follows best practices in terms of network security, multifactor authentication — all those kinds of things with our voter registration database. And then of course all of the machines which we need to be concerned about, none of them are connected to any network — the tabulators, the express votes, those kinds of things, they are independent," Hobbs said.
Not all voter fraud comes from stuffing ballot boxes or people who shouldn't vote casting ballots. Some fraud comes via the internet, usually on social media, and involves false information about polling locations or voting times.
"Don't listen to the national news about what's going on in other states, only listen to Arizona, we are the trusted sources," said Rodriguez.
The Pima County Recorder's website allows early voters to see when their ballots are received, signature verified and ready to be counted.

Read more coverage of national, Arizona, and local elections at our 2020 elections portal,
Your Vote 2020
.