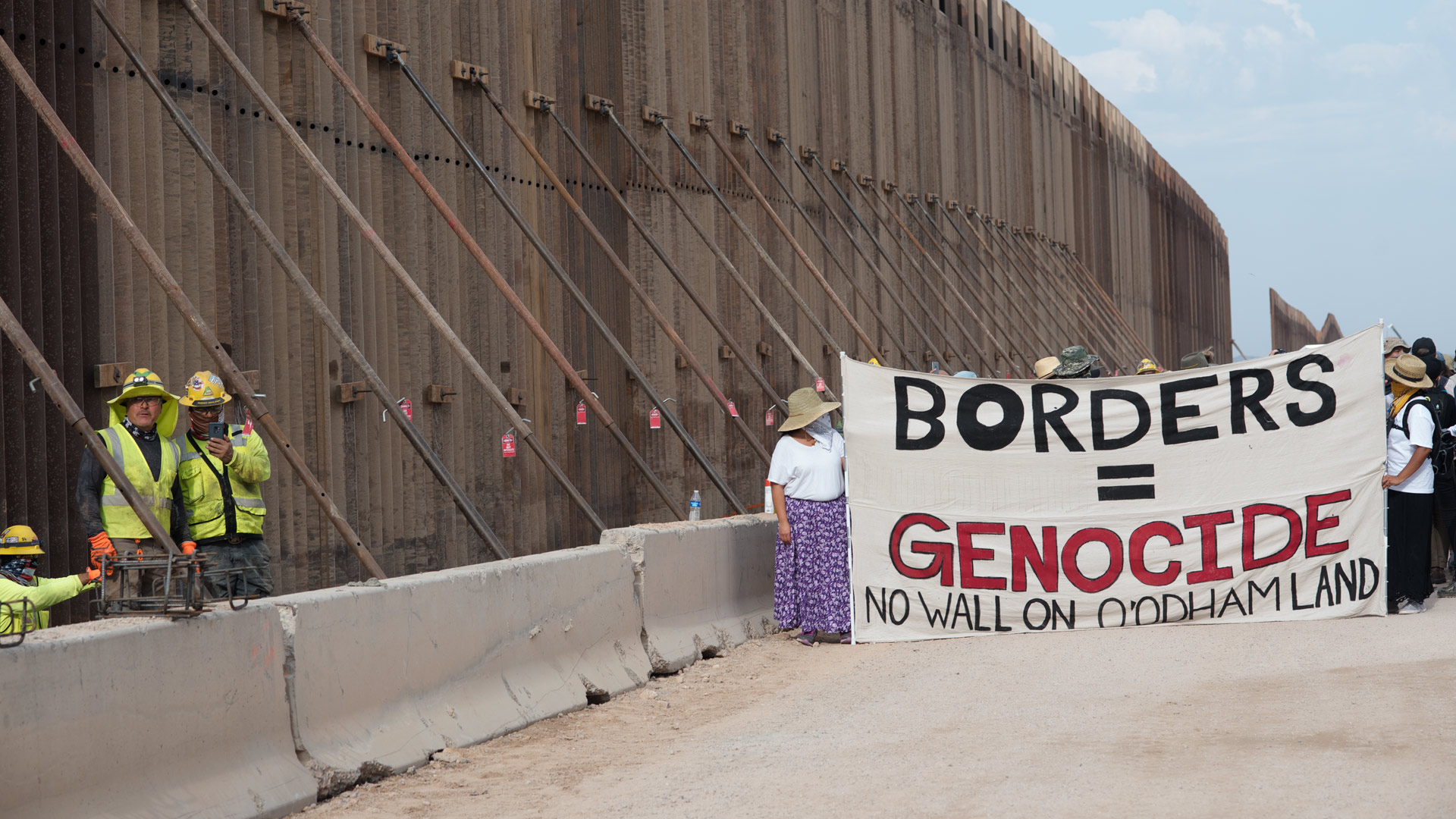 Indigenous demonstrators hold up a banner after arriving in front of a border wall construction line at Organ Pipe Cactus National Monument on Sept. 21, 2020.
Alisa Reznick/AZPM
A peaceful, Indigenous demonstration against the border wall in Organ Pipe Cactus National Monument ended with demonstrators in a stand off and physical altercation with U.S. Border Patrol agents and National Park Service officers Monday afternoon.

Construction was brought to a halt for most of the day. As a light drizzle fell around 8:45 a.m., about two dozen O'odham demonstrators and non-Indigenous supporters marched down an access road along the border, pushing past construction security and stopping at a site where new panels are being erected for the Trump administration's 30-foot, steel bollard wall.
The action was put by together the O'odham Anti Border Collective and Defend O'odham Jewed, a network of Akimel O'odham, Tohono O'odham and Hia-Ced O'odham organizers — not all of which are federally recognized tribes.
Ancestral O'odham land spans the Phoenix area and Tucson and continues across the border into neighboring Sonora. Speaking in front of a huge canvas panel reading "Borders = Genocide, no wall on O'odham land," one Akimel O'odham demonstrator said they'll keep returning to protect it.
"I hate that word, protest," she said. "We are not activists, we are not protesting, we are O'odham and this is O'odham land."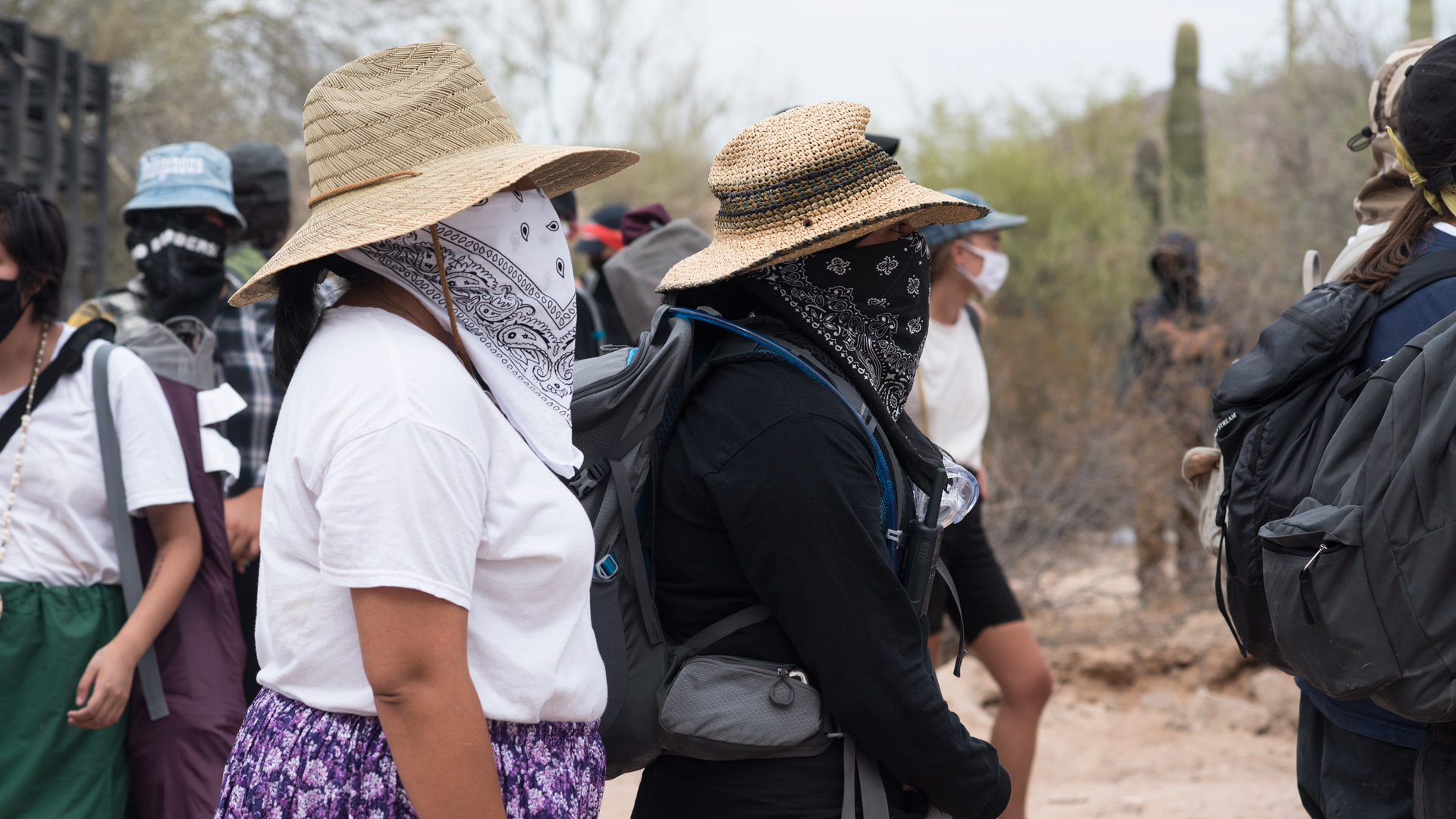 VIEW LARGER Two O'odham organizers stand behind a lineup of supporters during a demonstration at Organ Pipe Cactus National Monument on Sept. 21, 2020.

Alisa Reznick/AZPM
Department of Homeland Security contractor Kiewit Construction began work on the border wall in Organ Pipe last year. Construction is now less than a mile from Quitobaquito Springs, a rare freshwater source a few paces from the international boundary that's considered sacred to the O'odham.
Before it became a part of Organ Pipe in the 1950s, Quitobaquito and the man-made pond it drains into was home to generations of Hia-Ced O'odham communities.
"We had a land, we had a history. We had farms. We were able to live right here. Our ancestors are buried in that mountain. We have a children's shrine where you're desecrating," one speaker said. "That water aquifer that you're draining helped us survive and helped every traveler that came through survive, that water didn't discriminate."
Trenching for the border wall could be seen in the area in front on the thicket of trees surrounding Quitobaquito. Bollard panels lay flat nearby.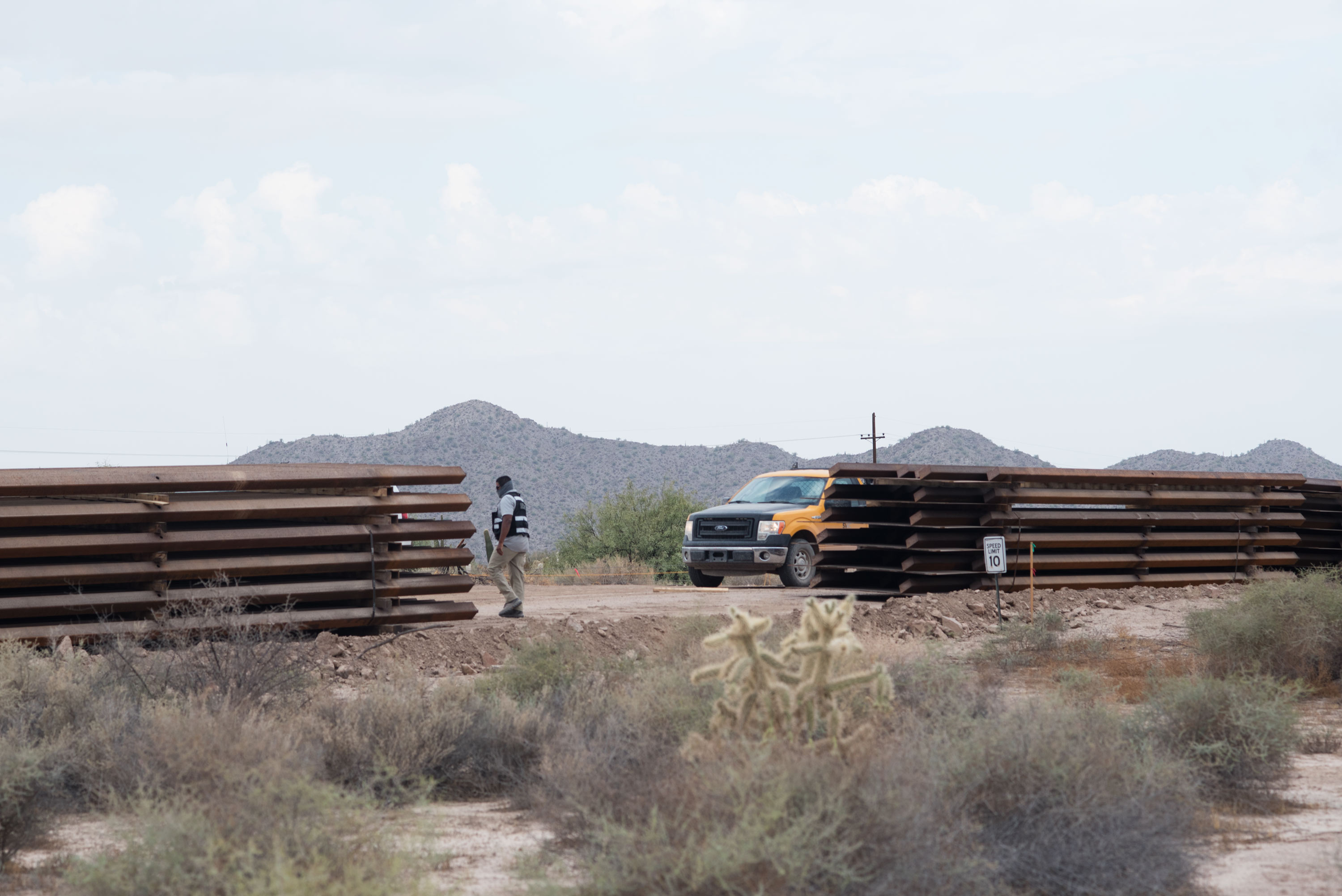 VIEW LARGER A stack of steel bollard panels sits beyond the thicket of trees surrounding Quitobaquito Springs on Sept. 21, 2020.

Alisa Reznick/AZPM
In addition to blocking critical corridors used by wildlife living on both sides of the border, environmental advocates and Indigenous organizers argue the wall project is causing irreparable damage as workers pump groundwater, dig trenches and use dynamite for construction.
Demonstrators spent more than five hours at the site praying, singing and chanting over the hum of stalled machinery. Private security personnel and National Park Service were on scene. A Mexican Federal Police vehicle sat with its siren on on the other side of the border. Some construction workers filmed the scene with their phones before leaving the area.
Two National Park Service officers approached the group twice throughout the morning and asked them to move to the side, citing safety concerns.
The demonstration continued without incident until around 1pm, when more than a dozen U.S. Border Patrol agents, some armed with paint ball guns and rifles, arrived on ATVs and in SUVs. Two National Park Service officers charged the line of demonstrators, breaking into a brief scuffle trying to forcibly break through the human chain before pulling back.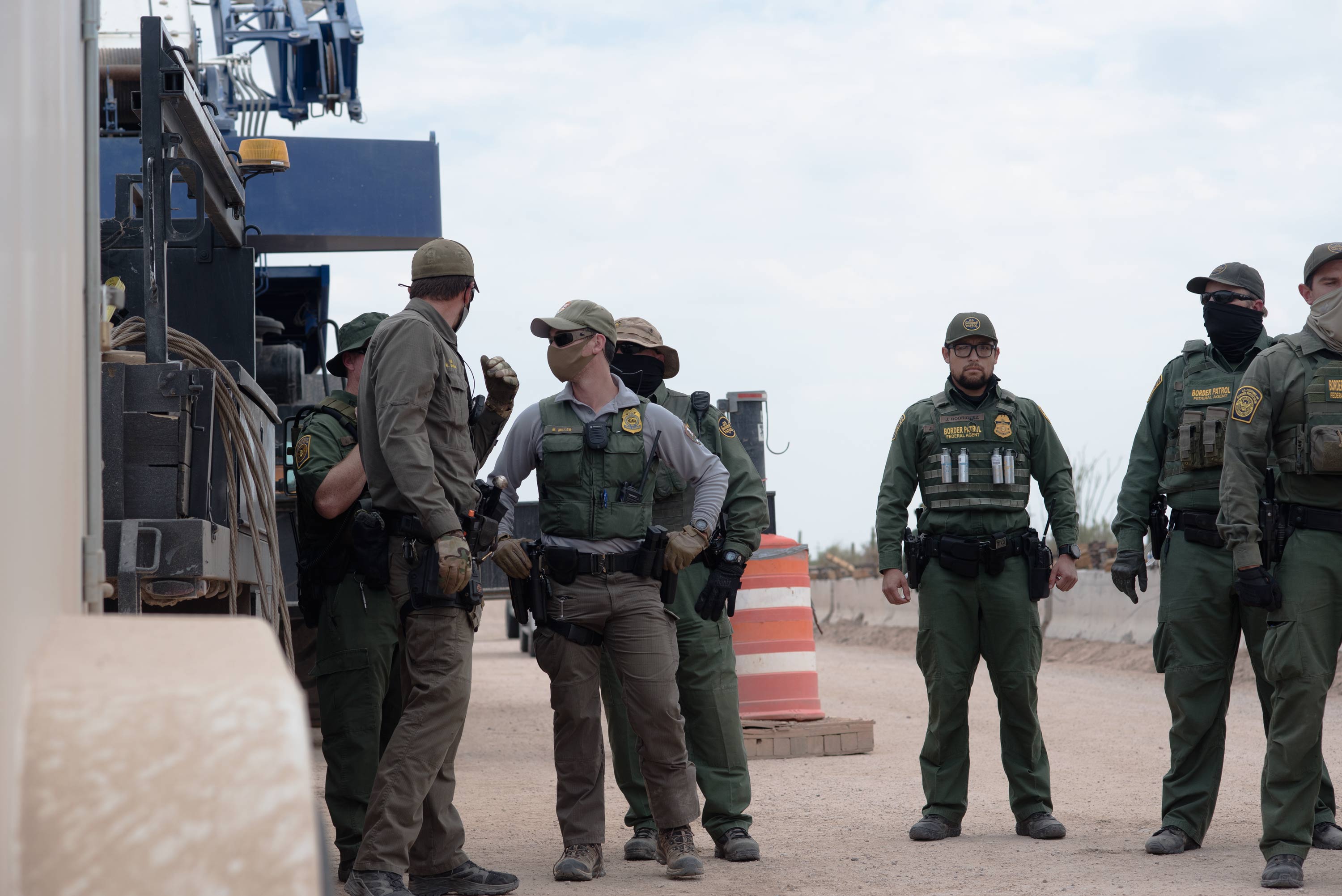 VIEW LARGER Border Patrol agents and National Park Service officers convene in front of a row of Indigenous-led demonstrators in Organ Pipe Cactus National Monument on Sept. 21, 2020.

Alisa Reznick/AZPM
The protesters faced off against a line of Border Patrol agents and Park Service officers for almost an hour as O'odham organizers continued to speak and sing. One Tohono O'odham speaker described how living along the border has shaped her community.
"We cannot move without you all over us, we cannot walk through our desert without these cameras filming everything we do, you don't have that in your community," a Tonono O'odham speaker said. "But then you come here, thinking you can take whatever you want."
Another speaker said the wall was the latest affront to Indigenous land in a long list.
"We want our ancestors bones back, we want all of our artifacts back, we want everything you've stolen back," said one demonstrator. "Do not hurt us. You've already caused so much pain. You killed our people already."
Another scuffle broke out when park service officers backed by Border Patrol agents moved in on the line again. For several minutes, officers and agents shoved protesters and attempted to pull them away from each other as they crumpled to the ground. A Border Patrol agent stood over the scuffle with a paint ball gun.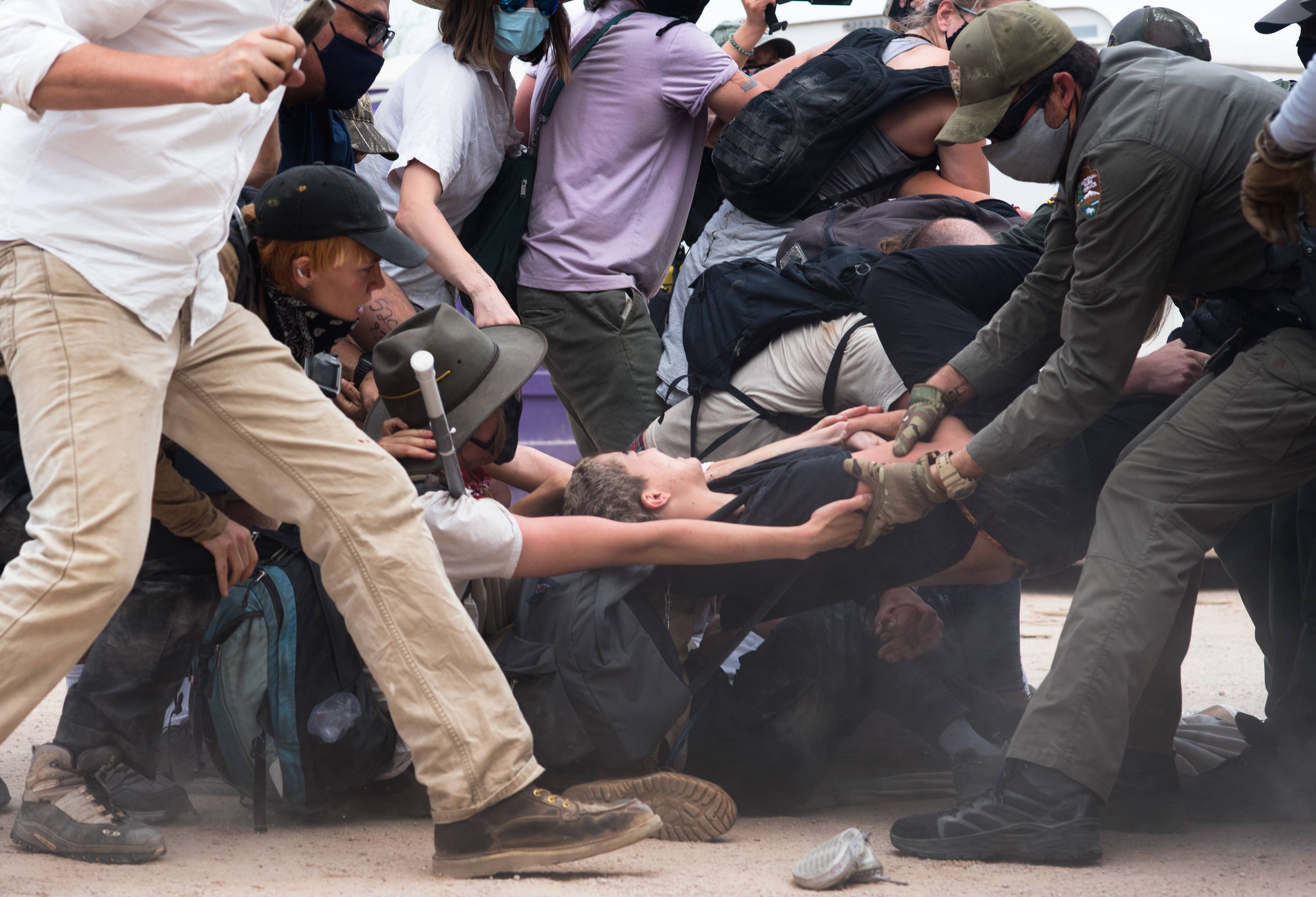 VIEW LARGER During the last of two physical encounters with Border Patrol agents and park officers, a protester is pulled from a fallen human chain by a National Park Service officer at Organ Pipe Cactus National Monument on Sept. 21, 2020.

Alisa Reznick / AZPM
The crowd moved out of the area after the second scuffle, picking up a face mask and a pair of glasses that had been thrown off in the confrontation.
In a statement emailed to AZPM, a park service spokesperson said the area was closed over public safety concerns, but confirmed no arrests were made.
"We welcome our visitors' right to demonstrate, while also taking their safety seriously," the statement read. "The closure is in response to public safety concerns associated with border infrastructure construction activities. Implementing the closure protects the public from potential exposure to heavy machinery and construction activities."
A Customs and Border Protection spokesperson said agents were there to assist park service officers.
The Trump administration has completed more than 330 miles of border wall to date and aims to complete 450 by the end of the year.
The incident at Organ Pipe is the latest in a series of demonstrations against construction taking place on ancestral Indigenous land in Arizona. Earlier in September, Nellie Jo David and Amber Ortega, both Hia-Ced O'odham and Tohono O'odham women, were arrested by park officers after impeding construction by sitting inside machinery. They face federal misdemeanor charges for violating a lawful order and violating a closure order.