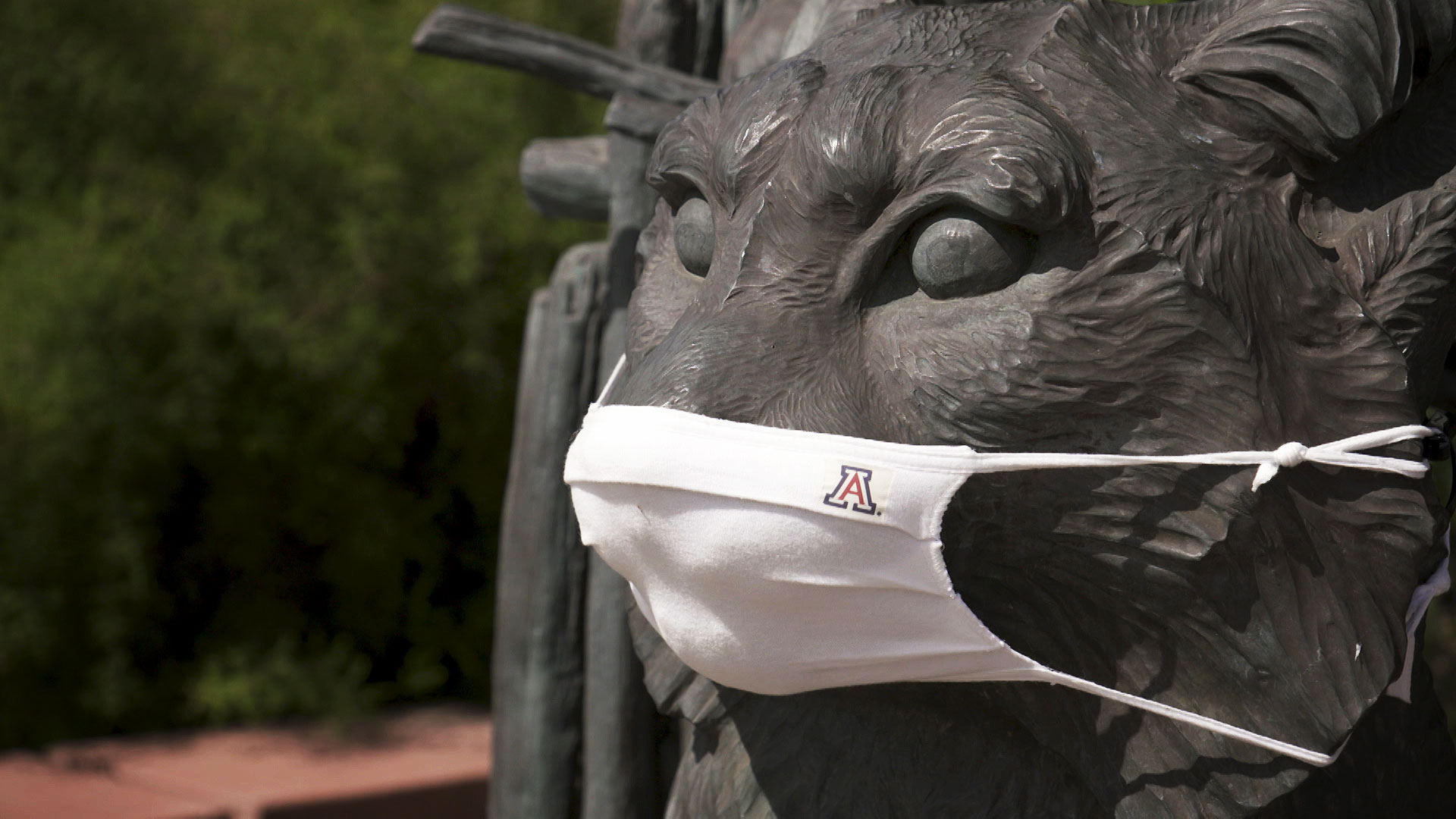 A wildcat statue at the University of Arizona sports a custom mask. July 2020.
AZPM Staff
The University of Arizona reported 150 new COVID-19 cases on campus on Monday. The campus has increased the number of tests administered to more than 1,000 a day but the positivity rate has risen to 8.8%.

Many of the cases are coming from students who live off campus. Of particular concern are fraternity and sorority houses. Officials will not say which houses have experienced outbreaks, but they do confirm so far most of the cases came from three houses.
"Some of the houses, they translate into positivity rates that are far beyond 10%, in one case 60%," Pima County Department of Health Director Theresa Cullen said in a Wednesday media briefing.
UA President Robert Robbins in the briefing said he finds the numbers "alarming."
"These numbers show to me we're not doing a good job of controlling the virus," said Robbins.
The spike in cases, especially at fraternity and sorority houses, could lead to a change in the way the university looks at its quarantine procedures. Instead of quarantining individuals, whole Greek houses or dorms could be put under lockdown.
"That's fairly draconian, but this is what I think we've come to. We've educated, we've given everybody a chance, but now this has risen to the level where I think we need more strict intervention," said Robbins.
He also said the university is willing to work with the county health department to quarantine the high-rise apartment buildings near campus. Robbins said that idea raises legal questions he does not have the answers to right now.
When on-campus dorms opened last month, the university set one aside as a quarantine facility. Currently, there are 471 beds in the dorm, but that number can grow to 600 if needed. Initially, that facility was not getting much use but now there are close to 100 students in the quarantine dorm.
"We're probably at about 20% of our capacity, about one-in-five beds being used," said Richard Carmona, the head of the UA reentry task force.
More than 700 COVID-19 cases have been reported on the UA campus since the end of July.