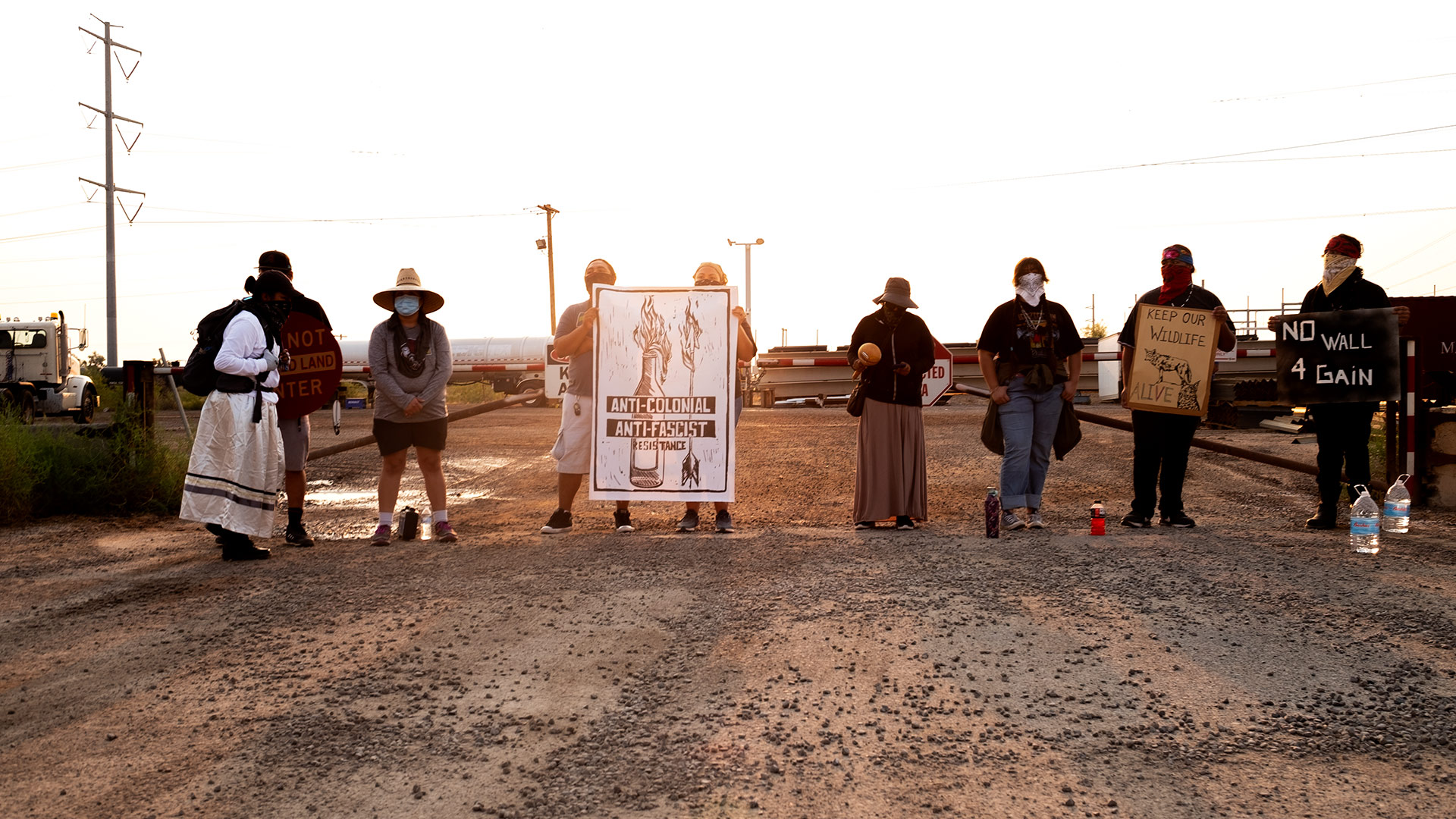 Demonstrators stand in front of the southern entrance of a staging area at fabrication company Stinger Bridge and Iron in Coolidge on Aug. 26, 2020.
Alisa Reznick/AZPM
About a dozen Indigenous protesters gathered this morning at the Coolidge facility of fabrication company Stinger Bridge and Iron to condemn ongoing construction of the Trump administration's border wall on ancestral Indigenous land in Arizona.
Stinger is a subsidiary of Fisher Sand and Gravel, a North Dakota-based construction firm with an office in Tempe that was awarded a $1.3 billion wall contract in May. From the staging area in Coolidge, the wall's 30-foot, metal bollard panels are loaded onto trucks and carried to construction sites along the border.
The protesters, all of whom declined to give their names, partially blocked the southern entrance of the outdoor facility for about two hours. Stacks of bollard panels could be seen behind the gate as protesters sang traditional songs, spoke and stood silently with protest signs.
Members of the group were from Akimel O'odham, Hia-Ced O'odham and Tohono O'odham communities — not all of which are federally recognized tribes. The tribes have ancestral homelands that stretch from the Phoenix area into northern Mexico, all of which they said are now being desecrated by the border wall.
"You did not have permission to demolition our sacred sites," said one protester with family from both Hia-Ced O'odham and Tohono O'odham tribes. "You did not have permission to disturb our ancestors' bones. You did not have permission to take our water."
The speaker said holding the protest at Stinger was a way to demonstrate the breadth of ancestral O'odham territory and the interconnectivity of the three tribes that have always lived within it.
"They need to remember and know that this [Coolidge] is Akimel territory. Down the road four miles is the Casa Grande ruins, where the Hohokam, our ancestors, resided," she said. "The lands were once abundantly occupied by O'odham, same as southwest Tucson, same as Ajo, Arizona, same as Quitobaquito and Sonoyta. Before the border, we had connections there [in Mexico.]"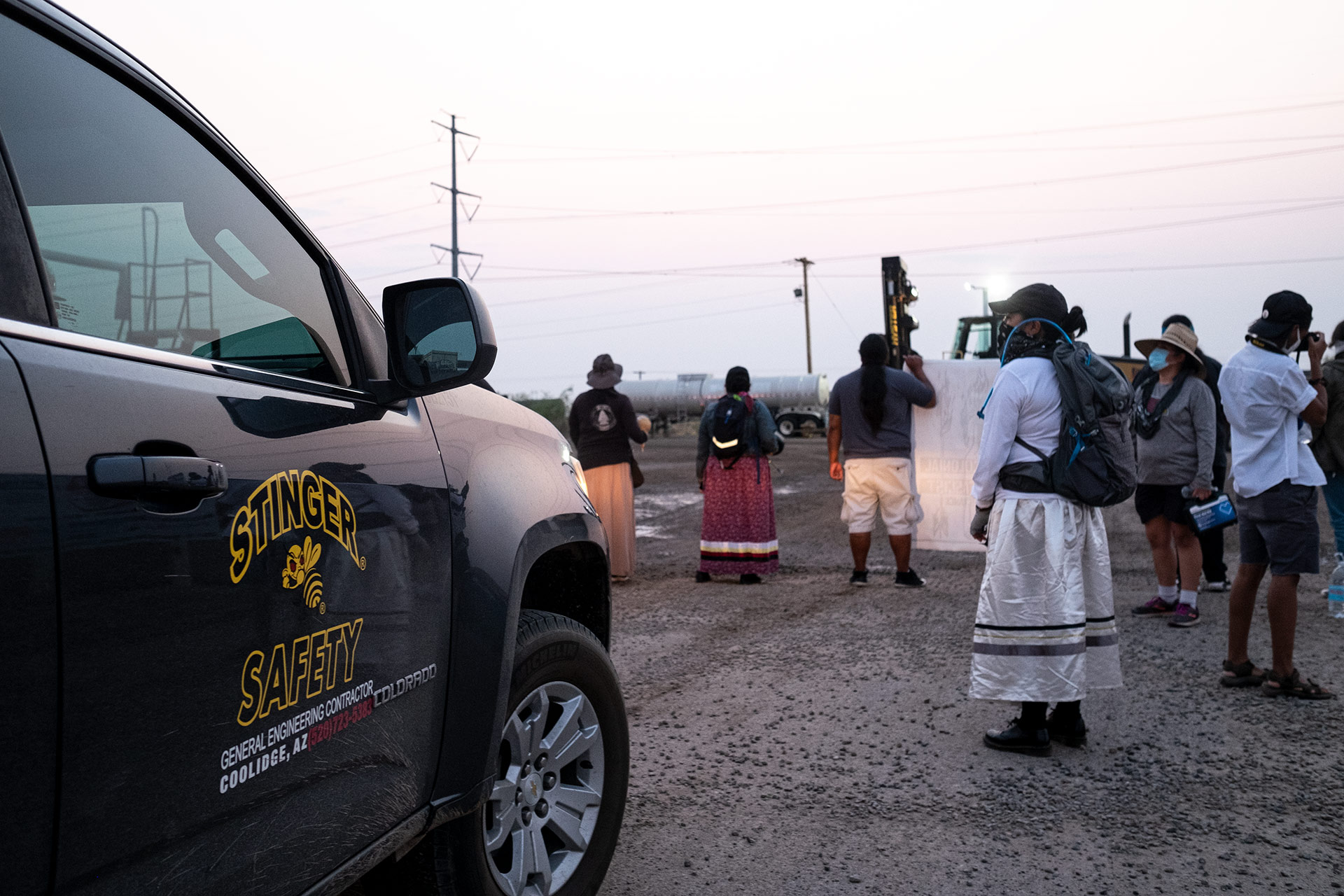 VIEW LARGER A Stinger Bridge and Iron truck sits in front of the southern entrance of the company's Coolidge facility partially blocked by demonstrators on Aug. 26, 2020.

Alisa Reznick/AZPM
A few representatives from Stringer watched but did not interfere with the protest. A handful of officers from the Coolidge Police Department and Pinal County Sheriff's Office arrived on scene and left without incident. Coolidge City Manager Rick Miller said he directed officers to leave because protesters were demonstrating peacefully, on public land, and did not pose any harm.
The 30 foot, bollard-style paneling now runs along more than 250 miles of borderland. Fisher Sand and Gravel has been awarded more than $1.5 billion in federal contracts for projects in Arizona.
Panels fabricated at Stringer supply construction sites in the state's wilderness areas like the Cabeza Prieta National Wildlife Refuge and the Buenos Aires National Wildlife Refuge, both of which the tribes say house important cultural sites.
But beyond those issues, one Akimel O'odham speaker said non-Indigenous Arizonans must also consider the wall's environmental consequences.
"They're doing it to our mother, to Mother Earth," she said. "Not just my home, but our home. That's where their confusion lies, that's where their insanity is. They can't see that they destroy the very thing that gives them life, that gives them water, that gives them food and shelter."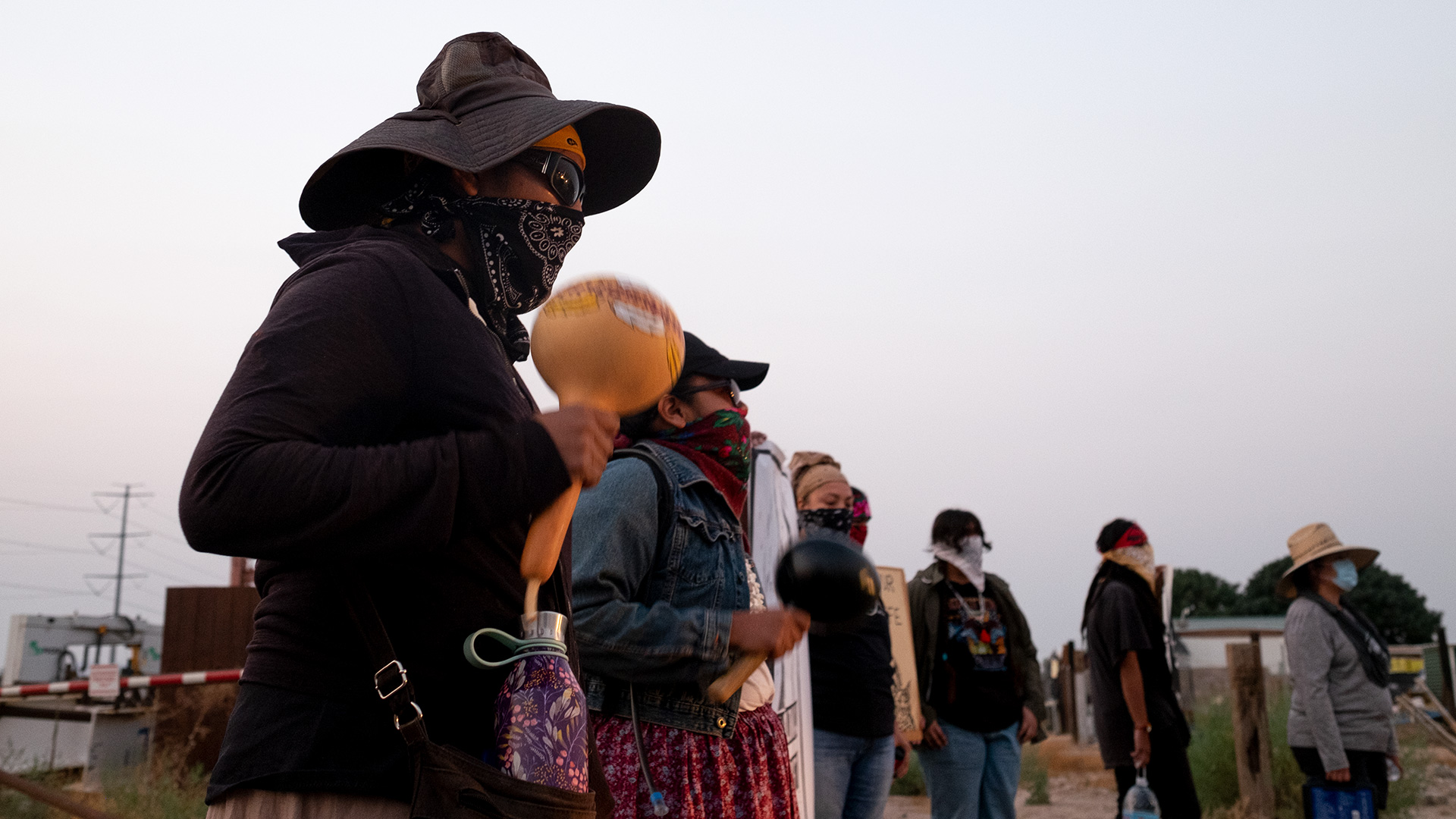 VIEW LARGER An Indigenous demonstrator shakes a rattle during the early morning protest in Coolidge on Aug. 26, 2020.

Alisa Reznick/AZPM
Protesters also highlighted other wall projects being carried out on ancestral land. Just west of the Tohono O'odham Nation at Organ Pipe National Cactus Monument, Quitobaquito Springs is a rare desert water source that drain into a man-made pond a few paces from the border. Hia-Ced O'odham communities lived there until the 1950s. Protesters said the border wall was now less than a mile from the site.
Department of Homeland Security is expected to announce completion of the 300th mile this week in Texas. The agency says it aims to complete 450 miles by the end of the year. Speaking to the crowd, an Akimel O'odham activist said watching the construction was especially painful to tribes who've lived on the land for generations.
"This is our land, this is our community," she said. "Our children are going to have to deal with this while you can go move to another state or another country. We're here forever, you are temporary."