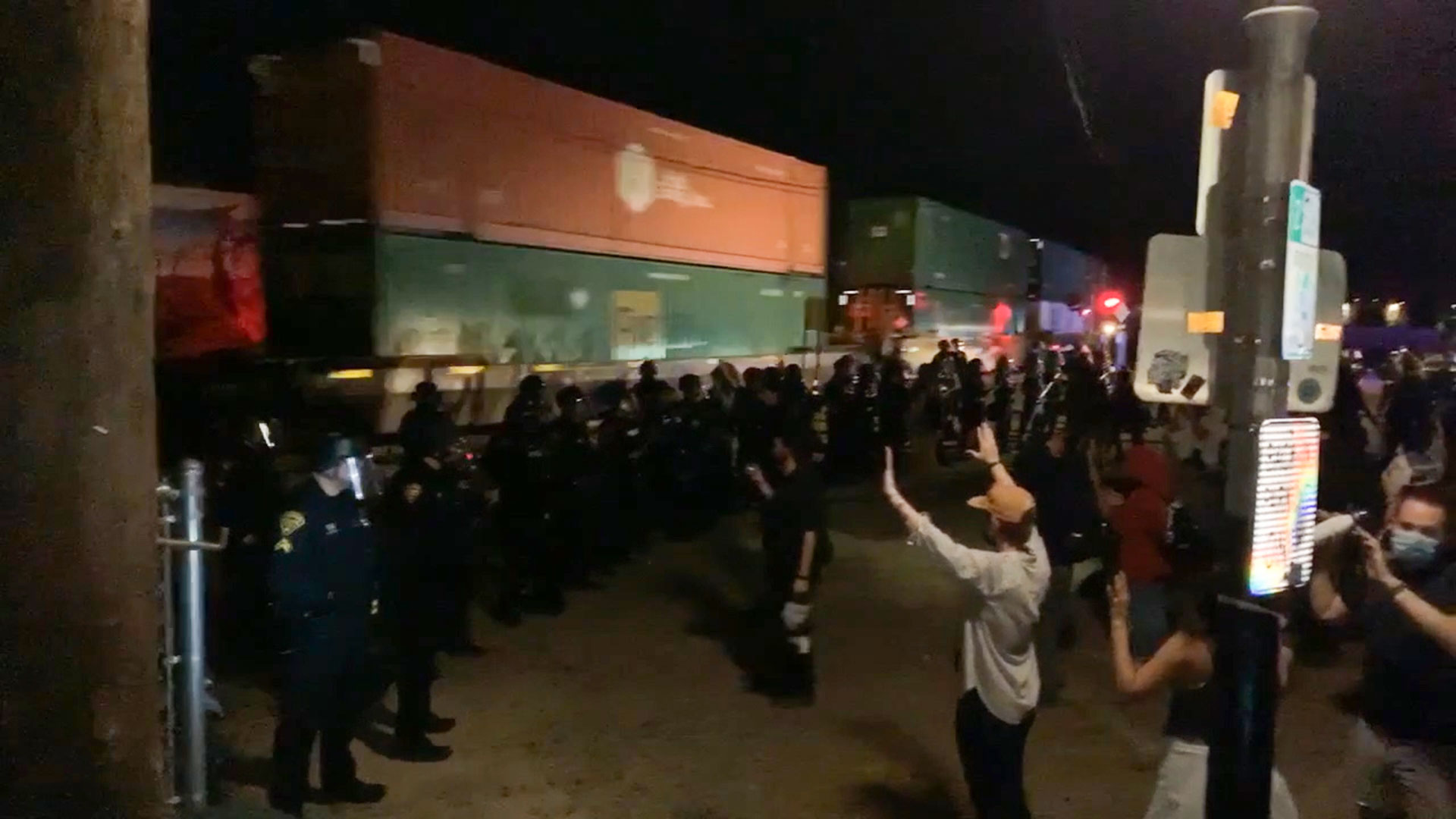 As a train passes, marching demonstrators raise their hands after being stopped by police near downtown Tucson Saturday night in this still image from a video, as protests over the death of George Floyd spread across the country.
Ahmaad Lomax/AZPM
Gov. Doug Ducey declared a state of emergency Sunday afternoon following two nights of protests that turned violent. The declaration includes a statewide curfew from 8 p.m. to 5 a.m. through next weekend. The order also allows the governor to call out the National Guard.
The first notification of the curfew came Sunday afternoon in a series of tweets from Ducey. The declaration caught many by surprise including Tucson Mayor Regina Romero, who saw the notification on Twitter.
At an early evening news conference Sunday, Romero expressed her frustration about not being called before the tweet went out as other mayors in Arizona apparently were.
"We didn't receive a call from Gov. Ducey, I did not, [Tucson Police Chief Chris Magnus] did not. We both found out at the same time because, frankly, the chief was going to recommend to me that we institute a curfew," she said.
Arizona Public Media reached out to Patrick Ptak, Ducey's communications director, to confirm the office did not call Romero but did talk to other mayors. Messages were not returned.
---
Read Gov. Ducey's order here
---
Protesters took to the streets in Tucson and the metro Phoenix area on Friday and Saturday nights. In Tucson, the protests were mainly peaceful with sporadic incidents of violence and vandalism. Friday night there were incidents of graffiti and smashed windows in downtown Tucson.
In Scottsdale, windows at the Fashion Mall were smashed and there was looting on Saturday night. On Thursday, marchers broke windows at the state Capitol in Phoenix.
Three hours before the curfew went into effect, Tucson Police Chief Magnus explained how his officers will handle enforcement this week.
"Our intention is to focus on individuals who are involved in criminal behavior and frankly in areas where we have been struggling with that kind of behavior," Magnus said.
The executive order does allow private businesses to stay open past 8 p.m., but many are closing early anyway.
Magnus told members of the media he is happy to have the additional legal tool to quell the violence that is springing up in some of the protests, including in Tucson on Saturday night.
"Look, I just have too many officers that have put themselves in harm's way, they have been injured in many cases. They have been beyond tolerant and patient in dealing with this crowd. I think it's fair that they have a resource to keep not only themselves but the community safe as well," Magnus said.
Both Magnus and Romero said they do not have a problem with people protesting, but they will not tolerate violence and destruction of property.
Romero said even though the governor's order allows for the use of the National Guard she does not see a need for that right now in Tucson.
Violating the curfew is a class 1 misdemeanor punishable by up to six months in jail, fines up to $2,500, and probation.