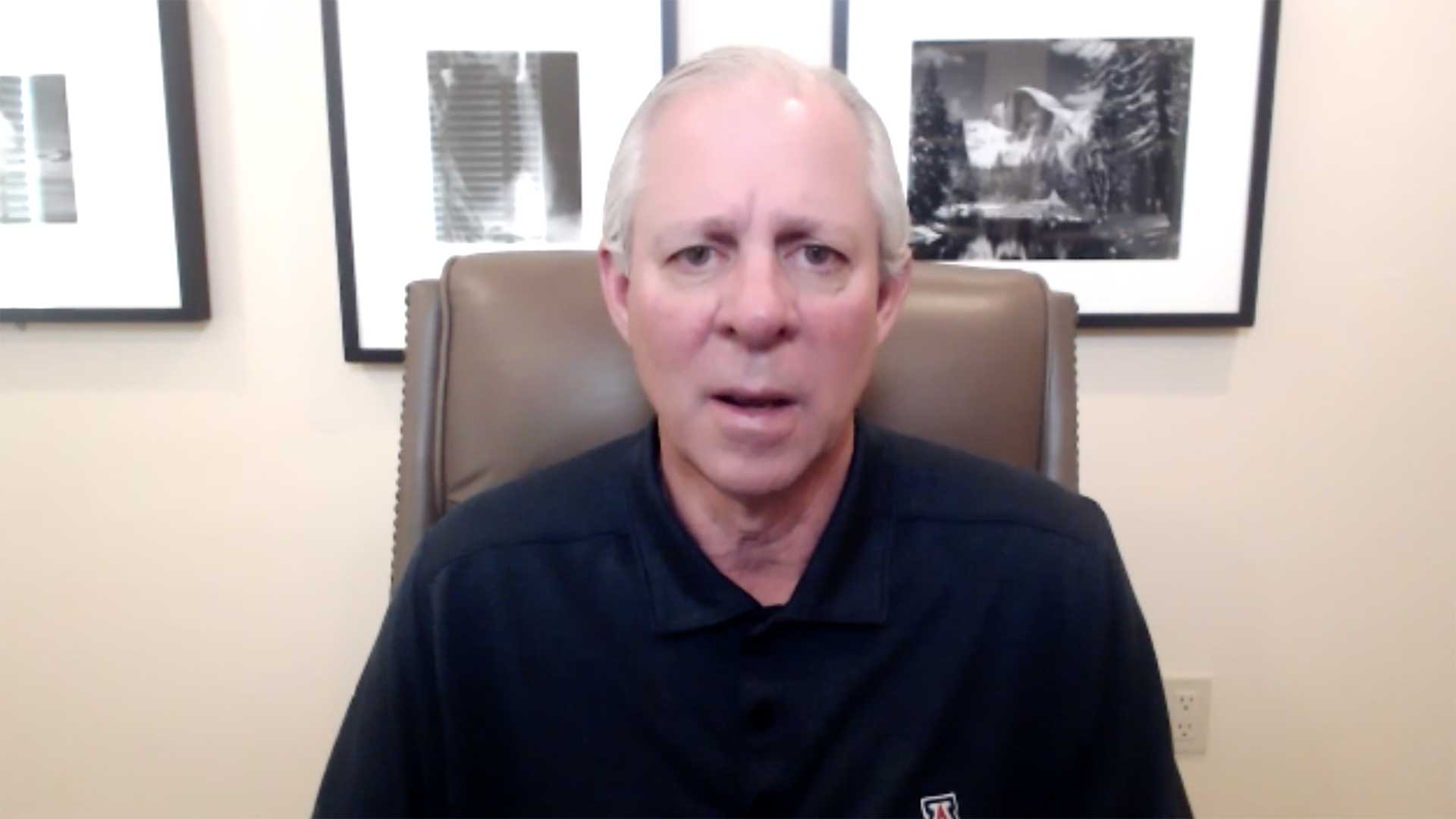 UA President Robert Robbins speaks with AZPM May 14, 2020.
AZPM
Full interview with Robbins
The fall semester for the University of Arizona begins in a little more than 100 days, and President Robert Robbins still plans on having in-person classes.
He told AZPM, however, that the decision is nowhere near final until about 60 days from the start of classes and even then if the situation changes after that he will move classes back online.
"Hopefully at about that 60 to 75 day mark we can make a final decision about a true go-no go. If we determine there is a huge spike in cases, if the governor, obviously reinstitutes his order about safer in place than we would have to abort our mission here. But our mission is try to bring people back to campus in the safest possible way we can," Robbins said.
Robbins said the university is still developing the final plan for reopening campus but he expects that everyone will be wearing masks while in class or in a university building.
He also said he wants as many students, faculty and staff as possible to get tested. He said that right now the tests are voluntary, but that will change if somebody is symptomatic.
The university is also looking at other ways of testing to watch for an outbreak of the novel coronavirus.
"We've been exploring is the use of wastewater-based epidemiology to look at our large buildings to see if there could be a potential hotspot even before someone would even get sick or symptomatic requiring a test," he said,
Robbins said professors will have the option to use Zoom or some other technology to teach their classes even if the students are in the physical classroom. He envisioned a scenario where graduate student teaching assistants would be in the classroom in those situations.
Robbins originally made the announcement at the end of April, saying the university wanted to give students the on-campus experience.
That original announcement coincided with the launch of an antibody testing effort in conjunction with the state. Antibody testing of the campus community has been a central talking point in Robbins' proposal to bring students and faculty back. Robbins has said they can use their test results to help make decisions about returning to work or class.
Robbins said experts assume the presence of antibodies likely confers immunity for some amount of time, based on knowledge of other coronaviruses. It is not yet known if the presence of antibodies guarantees immunity and, if so, for how long, but Robbins says testing will remain key to the fall opening process.
The discussion comes at a time Arizona has begun to relax coronavirus restrictions, leading to increased discussion of what subsequent waves of infections could look like. One of the nation's top infectious disease experts this week warned states not to reopen too quickly and thus risk avoidable "suffering and death."