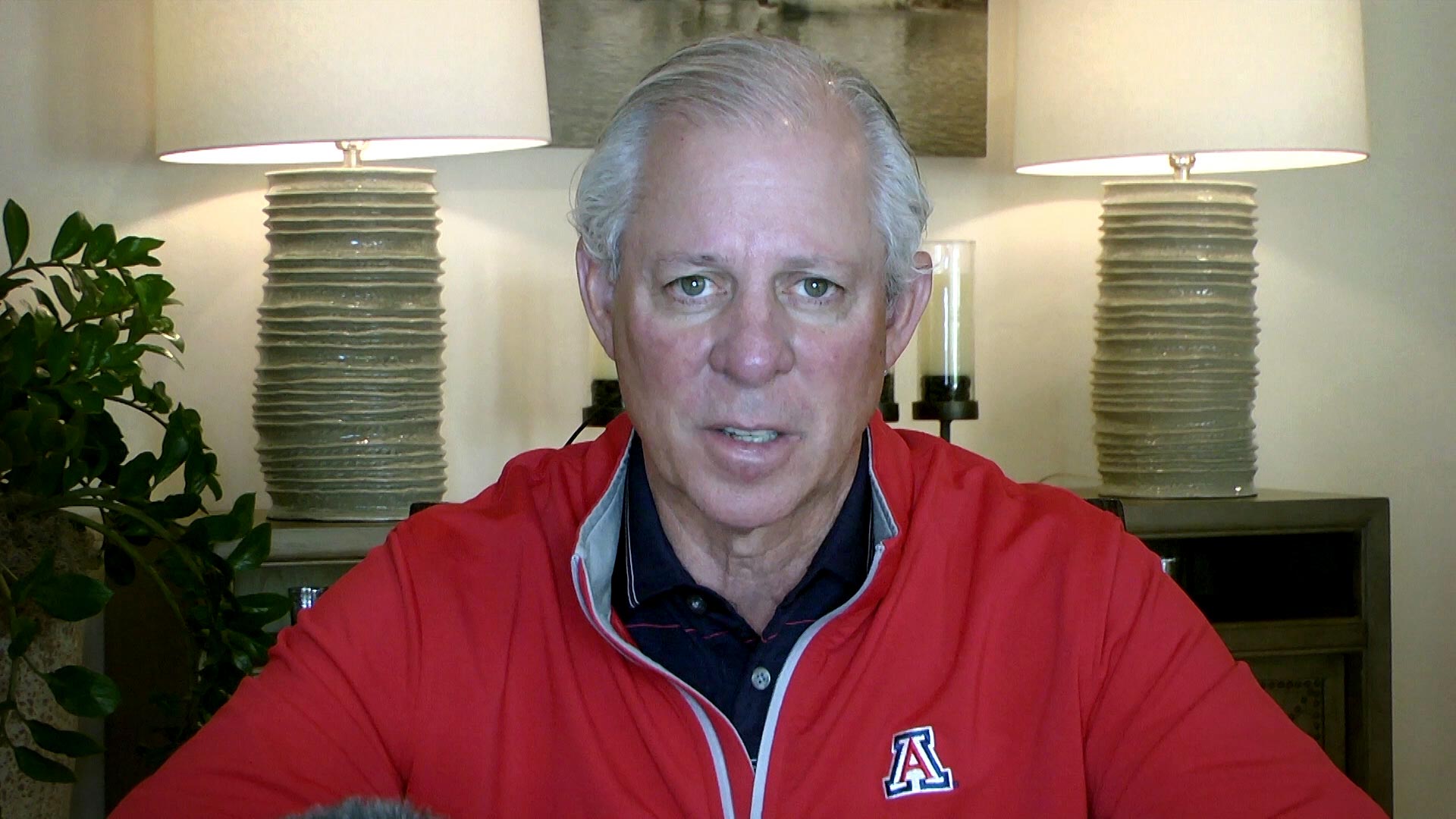 University of Arizona President Bobby Robbins during an interview with Arizona 360 on April 15, 2020.
AZPM Staff
No matter what happens in the coming months, life may not return to normal at the University of Arizona for years.
That was the grim message UA President Robert Robbins and his team delivered to nearly 4,000 faculty and staff members in an hour-long conference call Friday afternoon.
"Together we're in a fight to save the University of Arizona," Robbins said. "Frankly the situation is dire. We are projecting unprecedented loss in revenue with no auxiliary revenue to support the losses."
The reason, in a word, is tuition. UA Chief Financial Officer Lisa Rulney says tuition, especially the higher tuition paid by out of state and foreign students, represents 30% percent of the university's $2 billion annual revenue, and much of that is going away because of the pandemic.
"We anticipate on the order of 10% to 30% drop in retention of our current students as a result of the very real stress they and their families are facing in response to the coronavirus. We also project that almost none of our new international students will be able to join us in the fall because the embassies are closed and our students can't get visas at this time," Rulney said.
And she said, for the people who govern the university, this is more than academic. It's personal.
"I know the magnitude of the losses that we're projecting is hard to digest. Honestly I'm losing sleep over this," Rulney said. "This is the hardest thing than any one of us has ever had to manage."
The conference call came hours after president Robbins released a plan to furlough most of the university's work force for two to eight weeks, with days spread out over time. Those who earn the least - up to $44,500 annually, would be required to take 13 unpaid days off between May 1, 2020, and June 30, 2021. Others who earn up to $150,000 would get 26 or 39 furlough days depending on pay level, and top earners who receive more than $150,000 a year would see pay cuts of 17 to 20%. University Provost Liesl Folks called the plan "progressive."
"Those among us who earn the least will contribute a relatively small amount of their time and money to preserving employment for the majority of people on the campus and those who are paid the most will contribute more," Folks said.
Rulney said the magnitude of the financial crisis facing the University of Arizona is far greater than what it faced in the wake of the Great Recession, in 2009 and 2010.

"We were solving for a $5 million problem then. We are now solving for between $200 and $350 million, so we have to take ... incredible sacrifices for our communities, but they are to ensure the long-term viability of our institution," Rulney said.
Besides the question of how the university is going to survive financially, there's the question of how 45,000 students and 15,000 faculty and staff are going to stay healthy when the world has just been rocked by a pandemic.
University scientists have developed an antibody test to determine who might be immune to the coronavirus going forward. President Robbins sought to reassure university staff that no one would be forced to take an antibody test as a condition of coming back to work, nor would they be required to pay for the test.
"It would be my preference that everybody would be tested. I think everybody in this country should be tested and we can only focus on our family and I'm just grateful that we have the opportunity to be able to provide that option," Robbins said.
Despite the grim message, Robbins and his team reiterated their hope that things eventually have to get better.